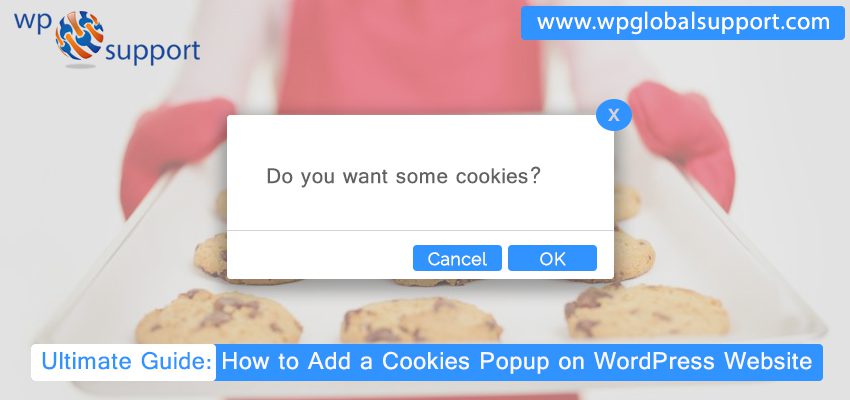 Most of the users face problem while adding a cookies consent popup on WordPress Website. So today through this blog we are going to guide you how you can easily add a Cookies Popup in WordPress. Every website uses cookies for tracking visitors information when they are browsing pages or posts using their computers, telephones, tablets etc. To safeguard online privacy the Cookie Law is released to organize the use of cookies. The European Union's cookie law needs a website to get user consent to set any cookies on their computers. As a WordPress site owner, your website may be using cookies. Before this, you must know what is Cookie and reasons why you need it. Have a look:-
What are Cookies and Why Do We Need Cookies in WordPress?
A cookie is small file browsers use to save information about a user's interaction with a website. They'll be used to carefully save different types of session data. They offer a simple and beautiful solution to do things like maintain sessions for your visitors as they browse, save user preferences and collect data for your site.
WordPress does not use sessions by default. It shows the same behaviour indifferent of the user navigating the website. It saves a cookie for user authentication when you or your staff login to the site's backend but that's just about it. WordPress itself will not give you the functionality for creating shopping carts using cookies or retrieve visitors personal data via cookie for improving the user experience. It's got a lot of things going for it out of the box but cookies just aren't one of them.
WordPress itself does not maintain sessions but most of the plugins or themes you may have activated almost exactly do. So in case you have found some of your WordPress site's cookies stored in your browser, major possibilities are it was implemented by one of these.
All About Cookie Law
The Cookie Law is a piece of privacy legislation, needs websites to save or retrieve any information on the premise that visitors have allowed their consent. And this legislation is approved by all EU member countries. It means that if your website is owned by the EU or targeted towards EU visitors you have to comply with it.
Nowadays every browser has a setting of "Accept" or "Deny" cookies choices to ask for consent. Still, this is not enough to make your website trusted. For this, you are required to make some changes, which to be more generally refers to inform visitors about how you use cookies and give them the permissions to control over their privacy.
How WordPress Uses Cookies?
WordPress uses cookies by default for authentication purposes to store session information for logged in users. When someone leaves a comment on your site it also sets a cookie.
Aside from these, WordPress plugins can set their own cookies to store various information. Cookies are very useful, they can also be used to collect information about a user and share it with third-party advertising platforms.
That's the reason why Europe and few other countries, website owners are needed to let users know about their usage of cookies. If your website is based in one of those countries or mainly targets audiences in those regions, then you require showing a cookie consent disclaimer on your website.
Let's see how to easily show a cookie consent popup in WordPress.
Displaying a Cookie Consent Notification in WordPress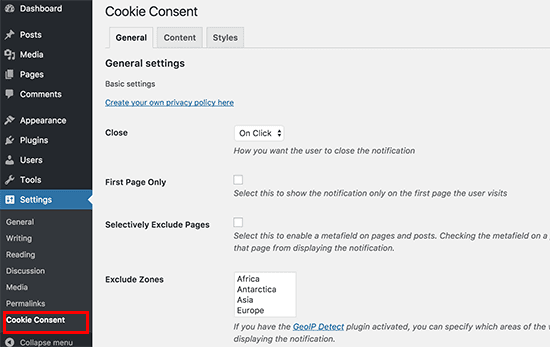 You can control when and where you want to show the cookie consent notification on this page. You can also choose how you would like it to be closed.

Next, in other settings, you can show or hide it for people visiting from general geographic locations and set an expiration time for the cookie.

The default settings would work for most websites. After that click on the 'Save Changes' button to store your settings.

Switch to the 'Content' tab. In this, you can edit the content that will be showed to your users in the notification.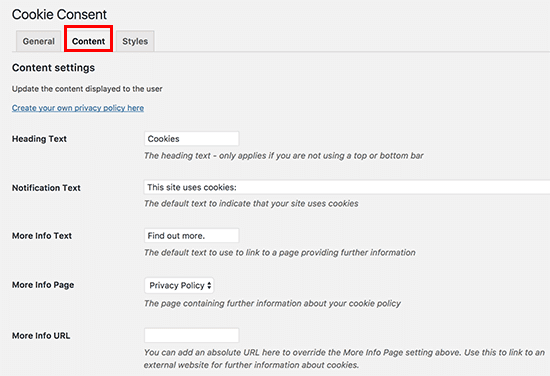 Just select your privacy policy page. After you have

finished it click on the save changes button to save all your settings.
Changing the Appearance of Your Cookie Consent Notification
As you know that your cookie consent popup is almost ready. You are just required to set up how you would like it to be showed.
First of all visit Settings » Cookie Consent page and then after click on the Styles tab.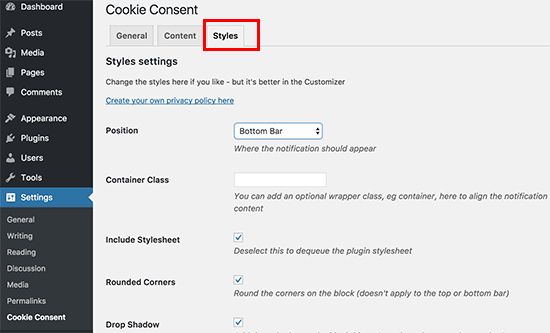 On this tab, you can select the position, borders, colors and style for your cookie consent popup notification. You can set a container class and then add custom CSS to your popup.
After you have finished tap on the save changes button to store your settings. Visit your website to see your cookie consent popup in action.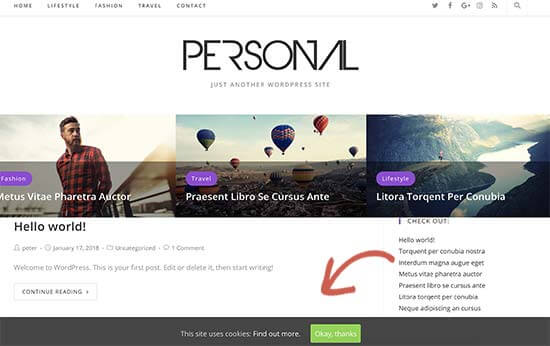 That's all on our behalf and we hope that this article helped you for adding Cookies Popup on WordPress Website.
You have also another option of getting help for WordPress Website Maintenance just feel free to contact us and avail our support services, dial + 1 844 275 0975(Toll-Free). We will be glad to help you.
Read More Blogs: