Creating a Multi-Page Form in WordPress: Complete Guide
Last Updated:

Sep 15th, 2018

Posted by:

Editor

Category:

WordPress Knowledge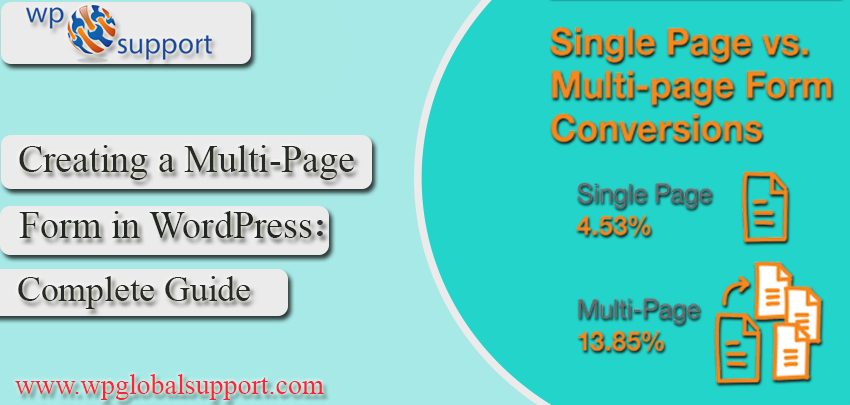 Do you wish to know how to create a Multi-Page Form in WordPress? However, Multi-Part Form permits you to collect more information without scaring the users away.
Here, in this today's guide, we will introduce you how you can create a multi-page form in WordPress.
When and Why you need the multi-page form in WordPress?
The form is the easiest way to gather all data and get in touch with your users. Whether it is a contact form, email capture form, or a simple survey.
However, long forms are daunting for users and boost from abandonment.
The user experience experts suggest multi-page forms to overcome this problem. Therefore, this way form fields are divided into sections and pages.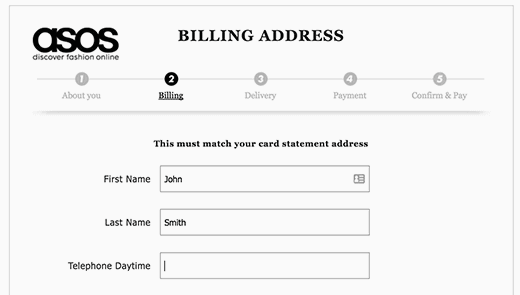 With the progress bar on the top and lower fields on the screen, users feel comfortable in filling the form. This provides a more engaging and interactive experience for your users.
Read Also: Creating a Client Dashboard in WordPress
Now let's take a look at:
How to easily create a multi-page form in WordPress
Creating A Multi-Page WordPress Form with WPForms
Here we are going to show you the use of WPForms which is the most interactive friendly contact form plugin for WordPress. You will need at least a basic license costs $39.
The very first thing, you have to install the WPForms plugin and activate it. To know more details, read our guide how to install a WordPress plugin.
After activated the plugin, you must enter your license key. You can receive this key by signing in to your account at the WPForms site.
Copy the license key and go to the WPForms>>Settings page on your WordPress website. Paste the license key and click the Verify key button.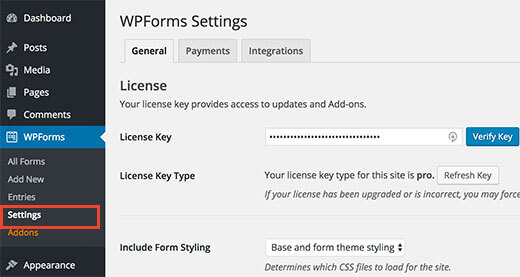 When your license key is verified, now you are ready to create your first multi-page form in WordPress.
Just go to WPForms>>Add New page, and it will launch the Form Builder.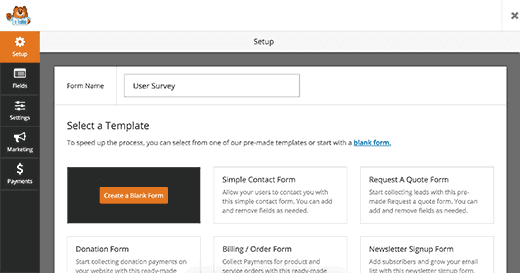 Provide a title for your form and choose one of the templates shown below. Although the WPForms provides the ready-made form for speed up the form creation process.
Furthermore, you can choose the person who matches your form requirements closely or chooses an empty form. By clicking on a template will launch the form editor.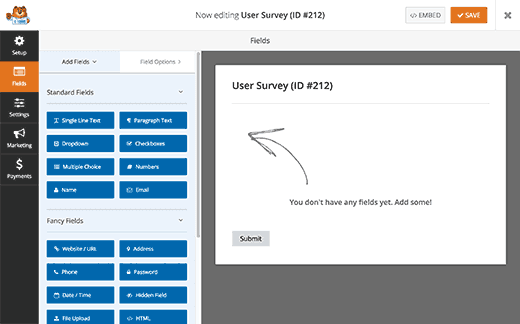 Just click on the field from the left column to add it to your form. Thereafter, click a field in the form to edit it. You can also drag and drop form fields.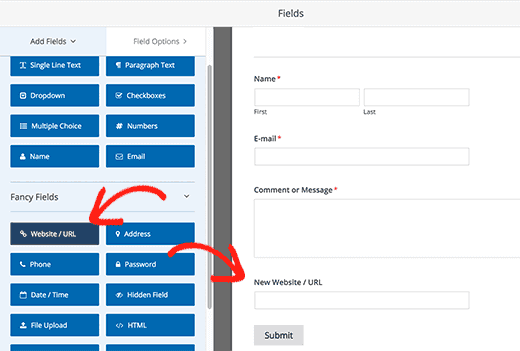 After adding some form fields, you are ready to add a new page to your form. From the left column, under the fancy field sections click the Pagebreak field.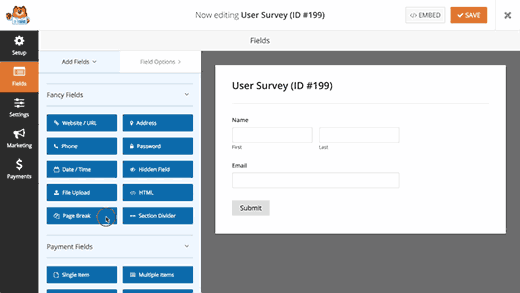 However, you will see that WPForms will add a pagebreak marker at the bottom and a first-page marker to the top of the page.
It will also press the submit button on the next page, and your first page will now have the 'Next' button.
Press the first-page marker at the top to edit your multi-page form properties. In the left-hand column, you can choose a progress bar type. WPForms permits you to use a simple progress bar, connector, circles or any progress indicator.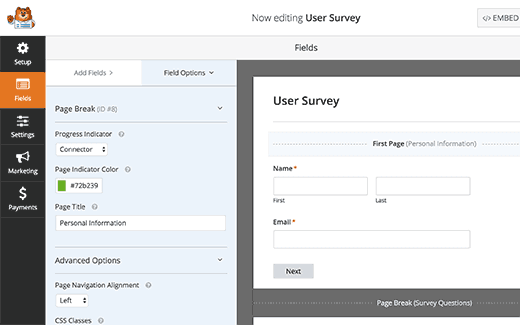 For this guide, we will use the connectors as the progress bar. You can also select the color of your page indicator. Finally, you can provide a title for the first page.
Furthermore, now you have to click the Pagebreak marker to edit its properties. Here you can provide a title for the next page. Also, you can edit the text to display on the next button.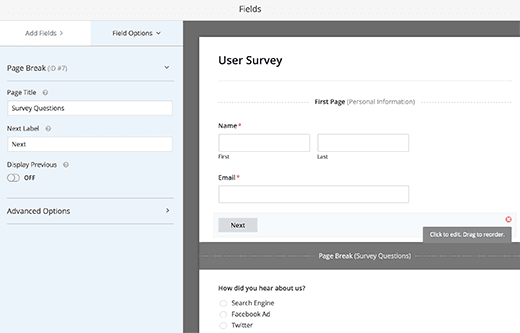 You can continue to add form fields after pagebreak. In case you are using the Pro version of WPForms, you can also use conditional logic to show and hide form fields that are based on user responses.
After adding more fields, you can add more pagebacks if you need it. Once you've created your form, click the Save button at the top right corner of the screen.
Now, you've created successfully your first multi-page form.
Add Multi-Page Form into WordPress Posts and Pages
Although, WPForms makes it very easy to add forms to WordPress pages and posts.
Create a new page/post or edit existing one. At the top of the post editor, you will see an 'add form' button.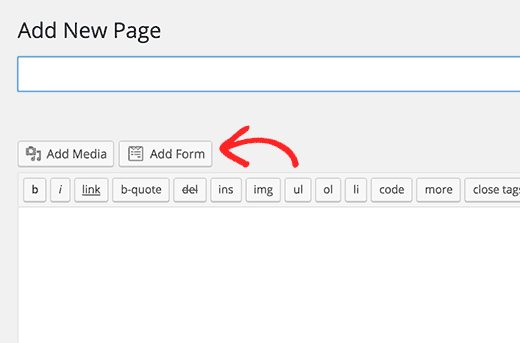 However, by clicking on it will bring an insert form popup.
Choose your form from the drop-down list and after that click on the Add form button.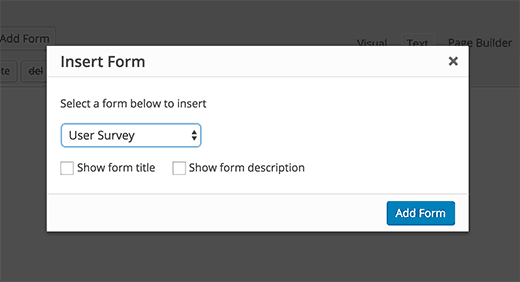 Also, you will notice the added WPForms shortcode in your post/page. Now you can save or publish this post or page.
Visit your site to see your multi-page form in action.

Wrapping Up
Wrapping this all end! Here, we have discussed a complete guide on How to Create a Multi-Page Form in WordPress? Often, we concluded When and Why you need the multi-page form in WordPress
We hope this blog helped you to learn it. If you have any problem with creating the same, tell us in the comments section provided below.
If you liked this post, please share it with your peers.
In case you have any WordPress questions feel free to ask us as you can get our expert advice. For the same, our support team is always ready to deliver WordPress Customer service. Just dial our support phone number +1 888 614 0555(Toll-Free) to know how our professionals can help you.
Read More Blogs: