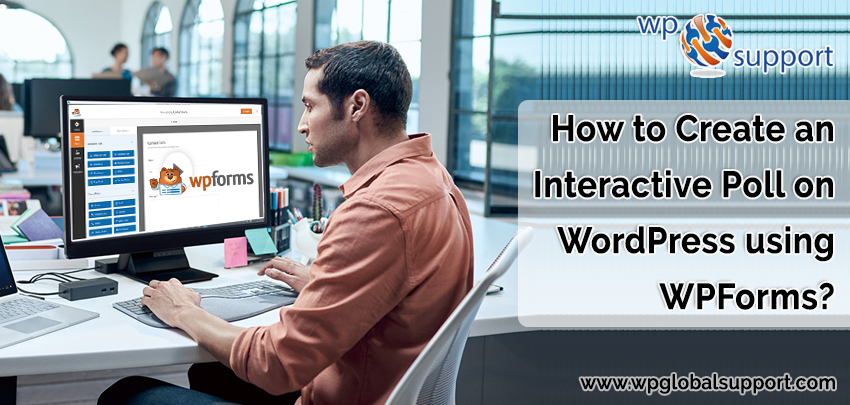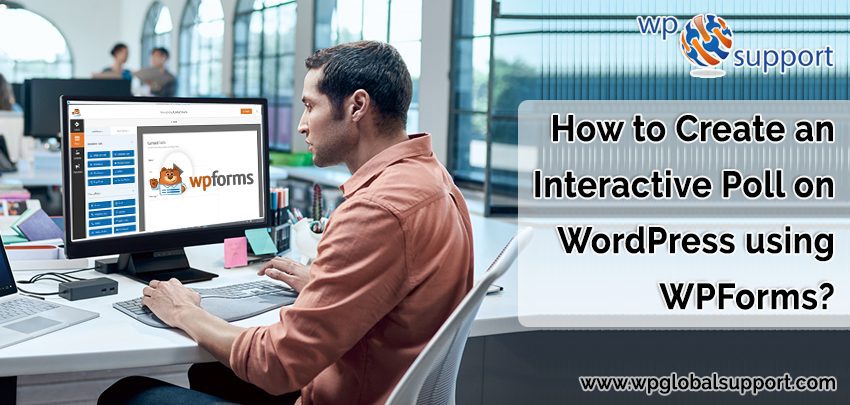 Polls are an interactive way to connect with your audience, and collect information from them. Now, the question is how to create an interactive poll on WordPress? In this article, we give you a guide to creating an interactive WordPress Poll From WPForms.
WPForms includes a powerful drag & drop WordPress form builder. This plugin enables you to quickly create the contact form, subscription form, payment form, etc.
This is very much suitable for beginners that can take the advantage of its pre-built form templates and workflows. This WordPress plugin is also highly mobile responsive and very well optimized for the web and server performance.
The best tool to add WordPress Poll From WPForms
It provides a drag and drop form builder.
Gathers poll result on your own website.
Display vote counts and auto-update each time when user vote.
You can display a poll anywhere on your website.
Now, let's take a look at how easy to add and create an interaction poll in WordPress.
Creating online polls in WordPress:
The first step is to install and activate WPForms Plugin. For more details visit our step by step guide on How to install a plugin in WordPress.
As, where a plugin is defined as a type of software that contains a group of functions that can be added to a WordPress website. They are used to provide additional functionality to your application.
WPForms survey and polls addon is part of their Pro plan which you'll have to purchase.
Once your plugin is activated then click on the WPForms Settings page to enter your license key. You can get his license key from your WPForms account.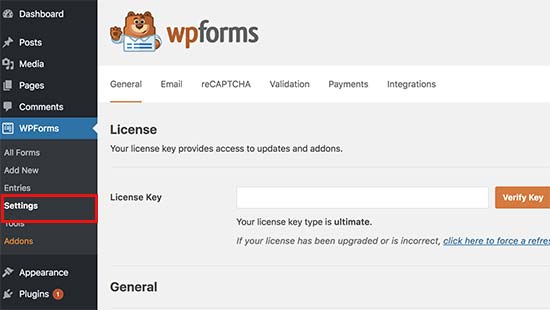 Now, visit Addons page of WPForms and scroll down to the Surveys and Polls addon.
Click on the Install addon button. Once installed, you need to click the 'Activate' button to start using the addon.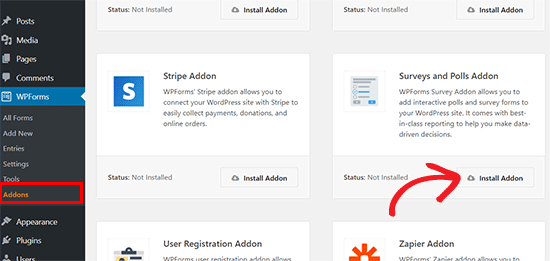 Now you are ready to create a poll form.
Click on WPForms » Add New page to create a new form.
This will show the WPForms' drag and drop form builder interface. This will load a poll form template with example fields already edit the form as needed.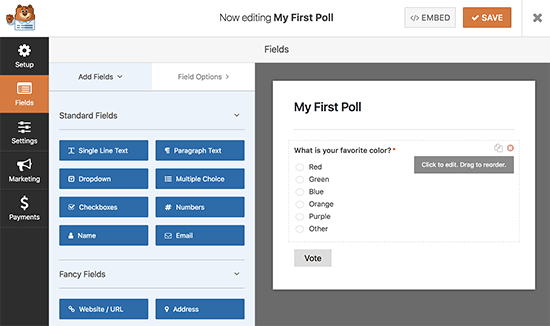 Here, you can edit any field and rearrange them with drag and drop, or remove them. You can also add new form fields from the left column.
Poll results can be collected and displayed for any of the following field types:
Dropdown
Checkboxes
Multiple Choice
Now, click on the Settings button from the left menu and then click on the Surveys and Polls tab. Here you can enable or disable poll results.
By default, WPForms poll template will display poll results to users after they submit their vote. Where, templates are those files which control how your WordPress site will be displayed on the Web.
If you uncheck this option, then users will not see the poll results.
Instead, you can show users a custom message or redirect them to another page or URL. Absolute Path is a location of a directory, It contains the root directory as well as all other subdirectories.
Paths are used largely in operating systems for representing the file and directory relationships. They are also crucial to the operation of the internet and basis formation of URLs.
You can configure the confirmation setting by clicking on the 'Confirmation' tab.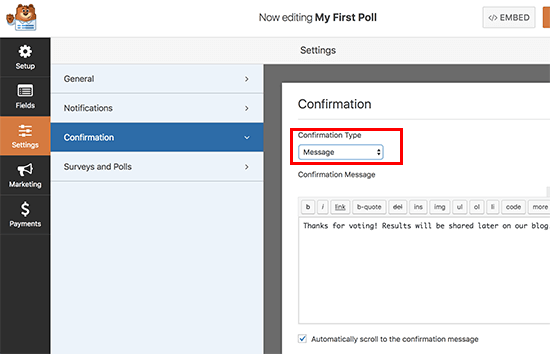 Once you have created the poll form, click on the save button to save the form and then click on the close button to exit the form builder.
Add the poll to your WordPress website:
By using WPForms it's quite easy to add your online poll anywhere on your website including posts, pages, custom post types, and sidebar widgets.
As the articles posted by the admin of a WordPress site are called posts and pages are like posts. Pages can be managed in a hierarchical structure in WordPress.
Also, widgets allows you to add content and features to your sidebar without writing any code and sidebar is a theme feature, which is basically a vertical column provided by a theme for displaying information other than the main content of the web page.
Simply edit the post, page, or post type where you want to add the poll. On the post edit screen, click on the 'Add Form' button.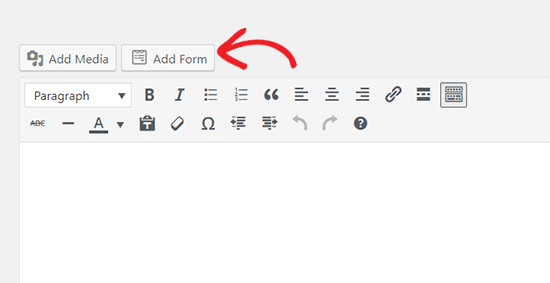 Now, you can select the poll form you created and click on insert form button to continue.
Here you will see the form shortcode added to the post editor. Where, shortcodes are those special functions/tags that allows the user to quickly and easily pull related bits of mentioned functionality into their content.
Now, you can save or publish your post/page and visit your website to see your poll in action.
To add your poll to a sidebar or widget ready area you need to go to Appearance » Widgets page and drag the WPForms widget to a sidebar where you want to display the poll.
In widget setting, select the poll form to provide a title for the widget as well as show form name and description and click the save button to store setting.
Now, visit your website and see your online poll displayed in a sidebar or another widget-ready area.
Show live poll result to the user:
If you want the user to see the result after submitting their vote then just simply go to the settings button and from the left menu click on the Surveys and Polls tab to enable or disable poll results.
The result of the poll can also check without submitting any vote. Simply visit WPForms » All Forms page and click on the 'Survey Results' link below your poll form.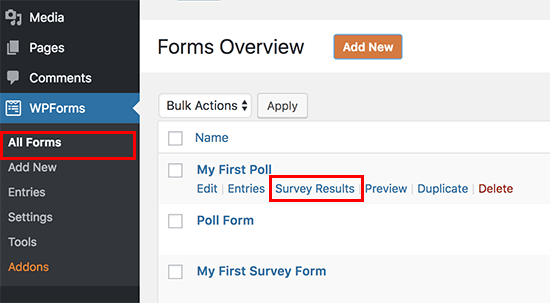 Display poll results in WordPress:
WPForms also allows displaying your online poll results anywhere on your website. This is useful if you had disabled poll results and wanted to share them later.
How to display the poll result in WordPress?
First, find out your poll form ID. This you will get by going on WPForms » All Forms page and looking for the shortcode next to your poll form.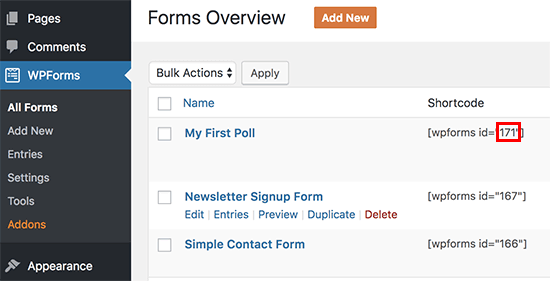 Now, you need the field ID. This is the field of the form for which you want to show the result. For this edit your poll form and click on the poll field. Field ID is written in the left column.
Now you have both the ID. Add these ID's to poll result shortcode like
[wpforms_poll form_id="form ID"field_id="field ID"label="true"counts="true"
Conclusion
Connecting with your users and determining what they want from your site is not a simple process, adding the poll in your website will help you to interact with the audience and build the trust on your website
We hope that the article helped you to add and Create an Interactive Poll on WordPress.
If you like the article please like and share and if have any query please leave a comment in the comment box.