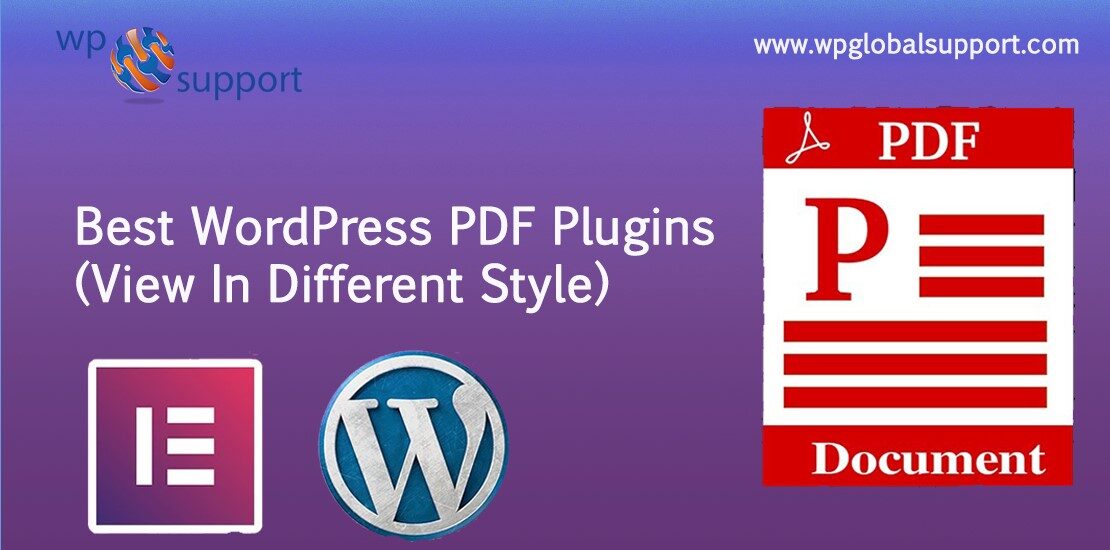 Very often, a PDF file can be quite valuable for a blog or website! Furthermore, in the business world, there are many instances where you wish to show the PDF file on web pages. WordPress PDF Plugins allow you to open and view the PDF file on the same website. Notice that WordPress does not support the integration of PDF files by default. Therefore, you can show these types of files only via links.
Further on, you might be thinking of what a WordPress PDF plugin is. Thereafter, have a glimpse of the best WordPress PDF viewer plugins.
This time we gathered a ton of information about the best WordPress PDF Plugins. Some of these you must have heard before and some not.
What is WordPress PDF Plugin?
Well, a PDF file is similar to the document format. Further, these files are very popular on the internet because they make the documents look quite professional.
Bending towards the point! PDF Plugins are the pieces of software that will help you to embed a pdf file into your WordPress site.
With the help of these plugins, the users can overturn via actual documents such as pages, take notes while zooming in, and print the document if necessary.
Continuously, some of the PDF plugins provide other tools to convert a blog post to a PDF file or generate a cover image for PDFs that you can upload to your WordPress blog.
When Should You Use WordPress PDF Plugin?
While you have already a large huge document formatted and you want to convert it into a PDF. Then it would be a deplete to rewrite.
Next, display the large documents which will look like Blogs post or pages.
If you need to share links to documents that shouldn't be modified If you are required for sharing the links to documents that should not be altered by the people who downloaded them, then you can convert a pdf to a modifiable document. Further, there are several ways of securing the PDFs or making them harder to modify.
If you wish to share something online and it is not detectable by a search engine. For example, an eBook, where you would quite protect the content, but the search engine would not be crawling for it. where the Crawlers are any type of "bot" that visits websites on the internet.
Last but not least, if you wish to create a current content-based PDF like a series of blog posts, then you have to look into an eBook.
Best WordPress PDF Plugins
PDF Viewer

PDF Viewer plugin is one of the best WordPress PDF Plugins. Further, it is entirely accessible so that the admin can show the PDF file easily over their site and on each & every device.
In addition, this plugin allows you to show PDF files within your WordPress posts and pages. However, it uses Mozilla's PDF.JS script to represent smoothly PDF documents with tools for scrolling documents, jumping between pages, printing PDF files, and downloading.
This means to say, it is a feature-rich plugin. However, you can get access to the majority of this plugin's features with one payment of $17.
Features
It can be translated into more than 100 languages.
Links and Bookmarks are also supported in the documents.
You can connect this plugin to Google Analytics to know how many people read and download your PDFs.
The developers provide some of the best support and documentation in this category.
DK PDF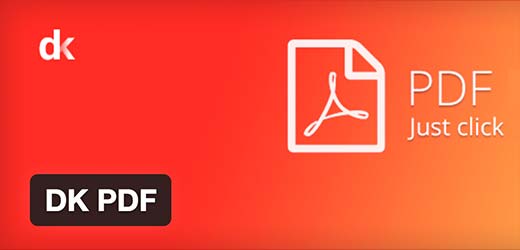 DK PDF is a feature-rich plugin that allows users to download their posts and pages in PDF format by clicking on a button. Further, with the help of this plugin, users can switch their posts and pages into PDFs and download them.
The DK PDF plugin from the WordPress PDF Plugins comes with an easy-to-use interface to install the PDF download button and creates its own custom header and footer to download the PDF. However, the easy interface of this plugin helps you to insert this button into posts, pages, and custom post types.
Additionally, by using custom CSS, where Custom CSS is a specific post of themes related to the customer's "Additional CSS" screen. Each post has its own post and you can create your own custom header, footer, and logo.
Last but not least, it also comes with a Shortcode, where shortcodes are those special functions/tags that allow the user to quickly and easily pull related bits of mentioned functionality into their content. that allows you to control what content will be inside the PDF. You can also hide the content that you do not want to include in the PDF.
WordPress PDF Light Viewer Plugin

WordPress PDF Light Viewer Plugin is another of the best WordPress PDF Plugins. It allows you to add large PDF files. Furthermore, it shows the multi-page PDF files as Flipbooks using the Turn.js JavaScript library. This means, in case you added very large sizes files then your site will not slow down.
Continuously, the navigation between the PDF pages is smooth and easy. However, the PDF Light Viewer Plugin also comes with multiple features such as zoom, a full-screen mode, lazy loading of images, etc.
Being compatible with multisite, it is fully responsive and can work on various screen sizes. However, the premium version of this provides per-page printing, single separate pages, simple PDF page search, and PDF categories.
WordPress PDF Viewer and Embed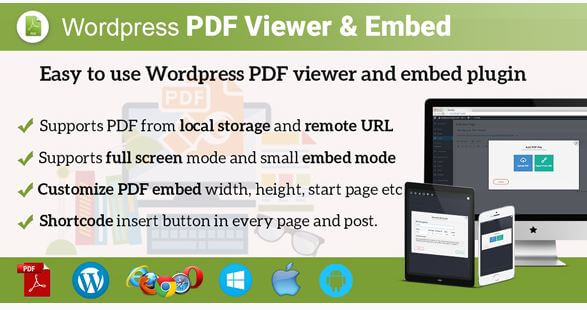 WordPress PDF Viewer and Embed is a simple-to-use, WordPress PDF Plugins. It gives you a full-screen reading view of your PDF document. You can add it anywhere on your web pages by using shortcodes. There are two PDF upload modes. The first option allows directly uploading PDFs from your PC. Another option allows you to add the URLs of a PDF file.
Feature:
The plugin offers the customization option to set the width, height, start page, etc.
Gives the option to show or hide the toolbar.
You also get a usable Shortcode to insert button on every page and post.
Responsive Flipbook WordPress plugin
Most of the WordPress PDF Flipbooks plugins first convert the document into an image and then display the results. Because of this, you can lose the document quality as well as increase the loading time of that web page. But the Responsive Flipbook WordPress plugin is quite different from other plugins
The advantage of this plugin is that allows you to insert the PDF document into Flipbook without converting them into an image. Also, this is one of the important WordPress PDF Plugins where you can add a PDf document of any size and any number of pages. Comparatively, this plugin is better than the other one.
Doc Plus – WooCommerce Doc Viewer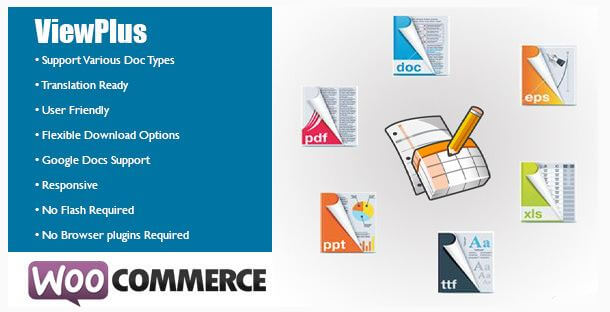 If you want to add PDF, PowerPoint, Excel, or MS Word Document files to your WooCommerce product then this plugin is best for you. Doc Plus – WooCommerce Doc Viewer allows you to embed these common file types in your WooCommerce site. This plugin is one of the best WordPress PDF Plugins as It provides an inline view and optional downloading of the file types like PDF (Adobe Acrobat ), PPT/PPTX( Microsoft PowerPoint ),  DOC/DOCX(Microsoft Word), XLS/XLSX ( Microsoft Excel ), TIF, TIFF ( TIFF Images ), PAGES ( Apple Pages ), DXF ( Autodesk AutoCAD ), AI ( Adobe Illustrator ), PSD ( Adobe Photoshop ), SVG ( Scalable Vector Graphics )
The highlighting feature of this plugin is it Support various file type, allow quick translation, is user-friendly, support google docs, responsive. It also doesn't require the browser plugin.
Google Doc Embedder

Google Doc Embedder is one of the quite beneficial WordPress PDF Plugins. Moreover, it also supports a broad range of file types. However, you don't require to convert your PDF file to Google Docs, but according to me, this plugin was made when this was the case.
The important thing is that – most of the features of this plugin are covered in a free version. Therefore, you don't have the need to go for its premium version.
Features
With the help of this plugin, while you are writing content, you can add PDFs and other files through the embed button that shows up in your WordPress post editor.
The plugin supports most things like PDFs to Word docs and PSDs to OTFs.
It presently translates into ten various languages that allow for more people to access it and use the plugin on their own sites.
If you have more style then you also have the option to work with a shortcode.
PDF and Print by BestWebSoft


As the name suggests, the PDF and Print by BestWebSoft adds a PDF download & print button to your WordPress post, page, and custom post types. In addition, with the help of this plugin, you can also add site title, features images, custom styles, and fonts.
Furthermore, this plugin can also execute a shortcode when generating PDF or creating a printer-friendly version.
However, It acts as a converter when you would like to make a blog post and convert it into a PDF. This means to say, it allows the users to complete the entire conversion directly from your site.
Finally, most features are covered within its free version. But it also provides premium plans for some things such as creating custom document headers, adding watermarks, and integrating with WooCommerce and other categories.
Features
It allows your users to download PDFs from your posts.
This plugin provides various icons for your print buttons.
It supports search results, pages, archives, and custom post types.
By using shortcode or widgets you can add the conversions buttons.
PDF Embedder

The PDF Embedder plugin is one of the best WordPress PDF Plugins which present PDFs over a site. Further, it allows you to embed PDF files into WordPress posts and pages.
In addition, this plugin uses javascript to add the files along with functional toolbars, that allow users to navigate, zoom, and even download the PDF files.
In its free version, a lot of features are included that you will need such as a PDF embed function, regular navigation buttons, and quickly upload buttons.
However, it offers the premium version with advanced features such as a full-screen button, mobile-friendliness, page jump technology, etc.
Features
With this plugin, you can upload the PDF with a single click.
You can also adjust the PDF dimensions manually.
The plugin's paid version only has a small one-time payment.
WP Advanced PDF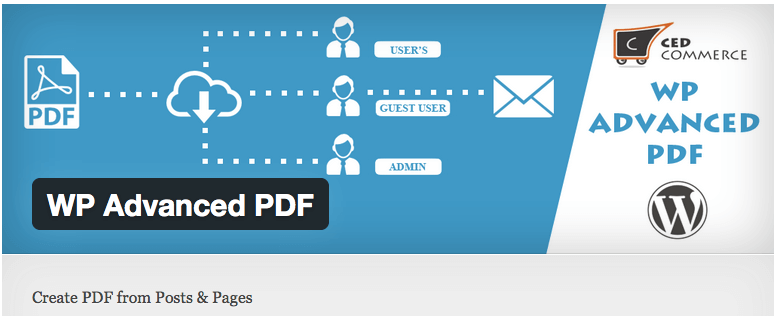 WP Advanced PDF is a PDF generator plugin for posts and pages in a PDF format by using TCPDF class. In common words, we can say! It enables your blog readers to create PDFs of your blog posts.
In addition, the entire process is self-contained. Even the users can withdraw the blog with a single click in case you provide the links.
Continuously, the users registered in this plugin have limited access possibility to PDFs or existing links.
However, it has many options to use custom fonts such as headers, footers, set spacing, logo, and even add a watermark to your PDF files.
PDF Image Generator

PDF Image Generator creates a cover image for the PDF files in the WordPress post. Furthermore, with the help of this plugin, you can show the thumbnail image and link it to the PDF file.
In addition, this plugin can generate the cover image by using the first page of the PDF or featured image. And it can show as a download icon on your WordPress site.
Finally, you can create thumbnails for all existing PDFs in the Media Library. The important thing that you should be noticed here is – Your server must have ImageMagick and GhostScript installed.
BSK PDF Manager

This BSK PDF Manager plugin is a file manager for PDF files on your WordPress site. Further, if you frequently upload a lot of PDF files to your WordPress site on a regular basis, then you need some help to arrange them.
Moreover, these plugins help the admin crack them into categories or show these categories in a list. Hence, the readers can download the complete category within a single click.
In addition, this plugin is easy to use. Further, you need to copy the shortcode into posts or pages where you wish to display the links.
Lastly, its premium version offers a lot of additional features.
PDF Thumbnails
Similar to the PDF Image Generator plugin – The PDF thumbnail also creates the thumbnails of the initial page of your PDF file. Further, the plugin fastens into your Media Library to create a thumbnail while you upload a PDF file.
However, your PDF file and thumbnail image are residues as two different files. You have to enter the generated thumbnail manually and afterward link it to a PDF file. Finally, by using this you can handle the way that thumbnails are generated via shortcodes.
Vanilla PDF Embed
Vanilla PDF Embed is a commonly used and freely available plugin to insert a PDF on a page in WordPress PDF Plugins. It gets 4.5 stars in the ranking. When the plugin is activated you are able to upload the PDF file into the media library of WordPress, copy the PDF attachment URL and paste it separately into WordPress Visual Editor. Where The Visual Editor is the default mode for WordPress.com blogs and looks very similar to a word processor. The visual editor icons allow you to format text, change font alignment, insert bulleted, and more.
When you open a pdf it must be zoomed within the frame. So that it fits the frame. Chrome Default PDF viewer will not support the PDF file So, the PDF document probably is scaled to 100%.
GroupDocs Viewer for Cloud

GroupDocs PDF viewer plugin facilitates you to easily embed and Show PDF and Microsoft Office files right on your WordPress website. The user doesn't need Adobe Reader or other browser plugins. It comes with a suitable user interface for smooth navigation when viewing multi-page documents.
The Plugin is developed by using the GroupDocs. This means all documents are collected and processed on GroupDocs cloud storage. That's why you can't save files locally with this plugin.
Conclusion
We hope these 15 of the best WordPress PDF Plugins in the 2023 blog help you find the PDF plugin that this plugin allows you and visitors to view the PDF file on the same webpage. These plugins allow you to show the PDF files within your WordPress posts and pages, allow users to download their posts and pages in PDF format, allow you to add large PDF files with multiple pages format, provide a full-screen reading view of the PDF document, convert the document into the image and support different document formats.
Also, WordPress PDF Plugins allow you to embed common file types, download & print PDFs, generate PDFs by PDF generator plugin, and create PDF thumbnails for the WordPress website. Thus, if you have any questions regarding these WordPress PDF Plugins, let me know in the comment section provided below. If you liked this post then share it with your peers.
If you still need help contact our WordPress Technical Support Team. Please Dial +1-855-945-3219 (Toll-Free). We have a team of good professional who can resolve all your issues related to WordPress.

That's all, Thanks!
Read More Blogs: