WordPress featured images are the images that automatically become the thumbnail of any post. However, the featured images in WordPress are also known as post thumbnail. Further on, it is a WordPress theme feature that allows you to add a representative image for posts, pages, or custom post types. It becomes the default image when you shared your post on social media platforms.
Even though the featured image is the official term of WordPress feature, but still some template tags and functions use this term as post thumbnail. The fact to change the name from"Post thumbnail" to "Featured image" is that – the "post thumbnail" did not represent the customizability of this image.   
In other words, an image that showcases the contents, mood or theme of a post or a page is known as a featured Image. These posts and pages can only have a single featured image, where many themes and tools can use to enhance the presentation of your site.
Moreover, this kind of images helps you to grasp the attention of your visitors. These are also used to attract people to read your stories, to increase the visual quality of your blog, and even these images play the best role in social sharing.     
With custom header images, you can easily display your own photo on your blog's page headers. These type of images allow for even greater customization. It gives you the option to display unique custom header images for specific posts and pages or set thumbnails for special features of your theme.
However, theme authors can add featured image support by adding a simple snippet in their theme's function.php file and also configure how to handle that image. By clicking on "set featured image" link in the post edit screen you can set your post featured image.
How to set a featured image?
Featured Image can be set in the following way "As soon as you add support for Featured Images, the Featured Image meta box will be visible on the appropriate content item's Edit screens. In case a user is not able to see it, they can enable it in their screen options."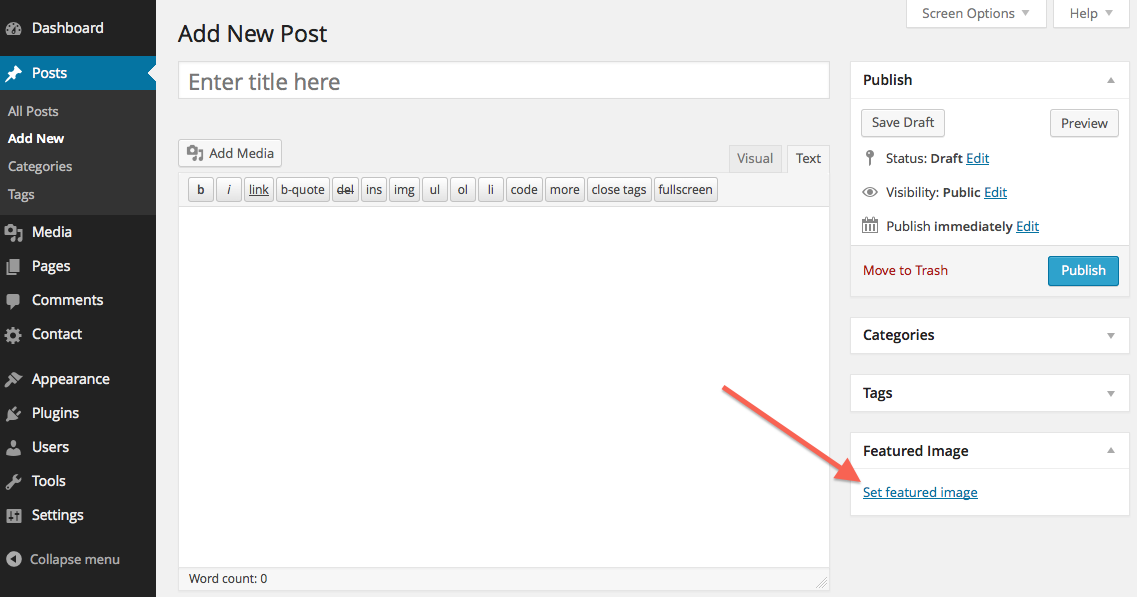 By default, this box is displayed in the sidebar of the Edit Post and Edit Page screens.
The very first, click the "set featured image" link.

Thereafter, a new window will open as Media Library.

Choose an image that you want to set a featured image.

And press the "set featured image" button.
Example
Default Usage
// Check if the post or page has a Featured Image assigned to it.
if ( has_post_thumbnail() ) {
     the_post_thumbnail();
}