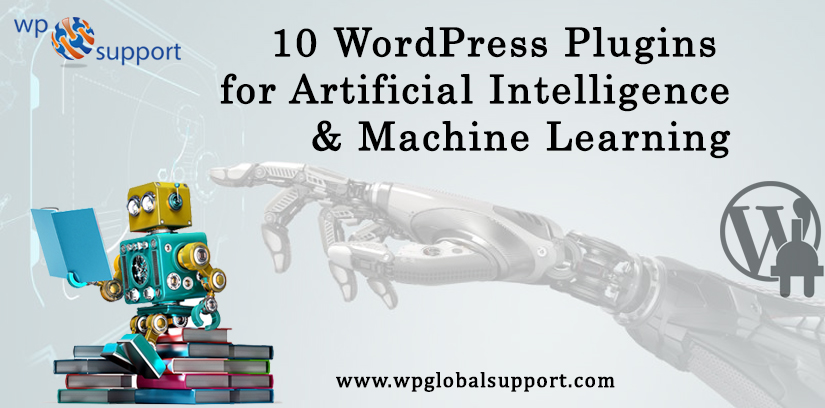 Are you wish to use machine learning and artificial intelligence on your site? There is a chance that you can already use one. Here, in this post, we will discuss some WordPress plugins for AI and machine learning. This plugin will offer smart features for your WordPress site.
Before this, we are going to tell you a little bit information about Artificial Intelligence and Machine Learning.
What is Artificial Intelligence and Machine Learning?
If you follow this news, you should know about artificial intelligence or machine learning.
However, Artificial Intelligence and Machine Learning both are computer technologies. These both technologies are used to provide smart solutions in computer devices, GPS devices, smart TVs, apps, home assistance devices, and much more.
Artificial intelligence gives the computer programs ability to make choices without human Intelligence.
Also, Machine Learning helps the software learn from the experience, user activity, and data to improve artificial intelligence and make better choices.
thus, these techniques allow developers to automate those tasks, which usually require human intelligence. For instance: search patterns, voice recognition, image detection, translations, and most that are currently being used by smart devices and modern mobile phones.
Artificial Intelligence can decide on the basis of program Intelligence.
Apart from this, Machine learning enhances the artificial intelligence by self-learning via collecting information and user activity.
It strengthens artificial intelligence and allows it to make more precise decisions.
What about the machines carrying around the world?
A lot of prominent engineers, scientists, and entrepreneurs have expressed their concerns about the potential danger to human society from artificial intelligence and self-learning machines.
However, there is also a great potential to improve the lives of billions of people. This is the reason that even the most prominent AI skeptics have encouraged their careful usage for the greater good.
What can artificial intelligence do for WordPress websites?
Artificial Intelligence can provide a smarter and better user experience for your users.
For example, this can improve WordPress search, style checking, grammar and improve conversions, show relevant content, increase e-commerce sales, and much more. There are several other grammar and punctuation checker tool, which you also must try to avoid doing any grammar mistake.
Your WordPress site becomes faster, smarter, and more personalized to your users. Also, it saves you time that allows you to do other things to increase your business.
Now, let's take a look at the WordPress plugins that are using AI and machine learning.
Top 10 WordPress Plugins for AI and Machine Learning
Best WordPress Plugins for AI and Machine Learning
WordLift

This plugin integrates its web-based service on your site. With the help of its knowledge graph, WordLift offers SEO tips for improving your content.
WordLift analyzes your content so that you can offer facts, statistics and media to match and build relevant relationships between your articles, thereby increasing the better content recommendations.
It creates a knowledge graph for your own site that becomes smarter by adding more content to your site.
Results: Increasing traffic, page views and conversion rates. Whats not to love?
Akismet is one of the only two plugins that gets already installed on every WordPress site. Also, it uses the artificial intelligence and machine learning to detect spam comments.

It is used by millions of sites, Akismet has improved to detect all the spam presented by bots over the years.
Also, it can detect spam comments manually submitted by actual human users by learning from its mistakes and recognizing patterns in millions of sites.
Google Language Translator
If you wish, your users are translating your own site content easily, then without really creating a multilingual site, Google Language Translator is the easiest way to do this.

In addition, it brings Google's artificial intelligence and machine learning translation engine on your WordPress site.
Although, you can only choose the languages on your website that you want to display. After this, you can add the translator to your site by using the sidebar widget or shortcode.
MyCurator Content Curation
MyCurator is a cloud-based content curation service. With this, you can add artificial intelligent power content aggregator, which shows the content related to your chosen topics and improves the results by learning from whatever you add or vote on.

You can create a curated content section to your website by bringing the best bits of content relevant to your audience. Also, you can add an article with a fraction of your website and link back to the original source.
Finally, you can add manually pieces of interesting content.
After The Deadline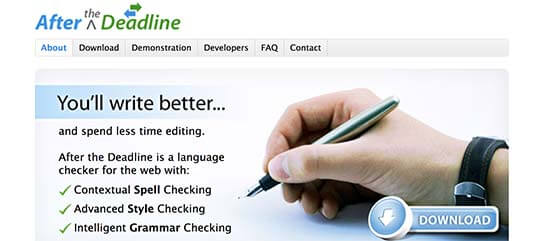 This was previously available as a standalone WordPress plugin. But now it is available as part of the JetPack plugin suite.
After the Deadline is an artificial intelligence powered grammar checking tool that analyzes the readability of your content so that this can help you in writing better.
Once installed, just switch it to WordPress editor. After switch it, the plugin will display spelling errors in red, grammar mistake in green, and style suggestions with the blue underline.
It supports many languages such as American, Canadian English, and British with limited grammar support for French and German languages.
And also it is available as a Google Chrome addon as an alternative to the JetPack module.
Quttera Web Malware Scanner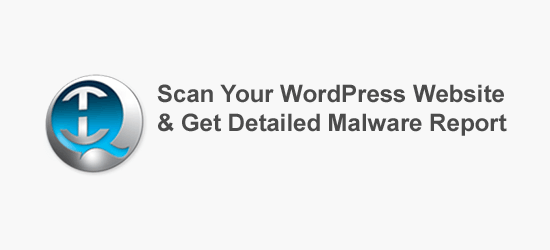 This Quttera Web Malware Scanner allows you to scan your WordPress website for malware and malicious code. This is particularly useful if you suspect that your website has been blacklisted or hacked from the search engine.
This plugin uses artificial intelligence to learn from false positives and scans the results based on usage. Although it is helpful to scan an infected website, it does not protect your website from being affected.
WatsonFinds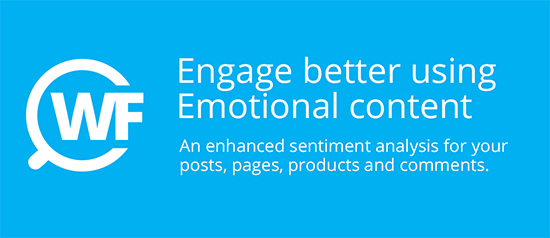 WatsonFinds uses IBM Watson's cognitive artificial intelligence to analyze the emotional effects of your content. However, it helps you learn a way to improve user engagement by adjusting the emotional value of your content.
However, on activation, this plugin adds the icon of WatsonFinds in your WordPress post editor and after that clicking on it will bring a popup with the emotional score of your content.
Based on the overall context of the data and words you choose, the plugin will tell you how your content can feel to your human readers.
Related Posts for WordPress by Bibblio

Related Posts for WordPress by Biblio is a WordPress related posts plugin powered by Artificial Intelligence.
It learns from user activity on your WordPress site to improve related posts displayed on your website. Also, you can display related posts below the content, in the sidebar, or by using the shortcode.
However, it is free to use up to 500 pages. If you have more content, you will need a monthly plan. Also, you have to create a free account to use the plugin.
Live Chat – 24/7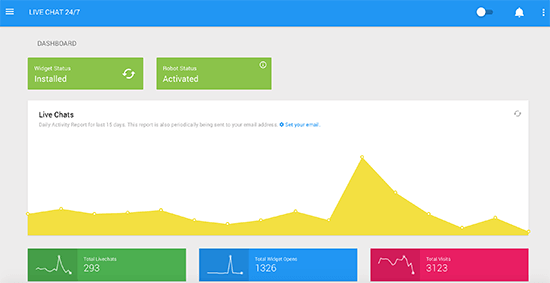 Live Chat 24/7 offers artificial intelligence powered virtual chat agents to your site. However, if you cannot afford to add live chat support on your site, so this bot can perform basic tasks to point your users in the right direction.
Also, you must sign up for a free account on the plugin's site. Next, it will start learning as you use it. You can also train it to know what the user has to say and how to respond to user queries. It can be easy to keep users engaged on your site and generate more leads.
Recomendo

This is another artificial intelligence powered recommendation engine with machine learning capabilities. It can show related content anywhere on your website. The recommendations are improved based on how they interact with your users.
However, it is compatible with multi languages sites by using WPML and online stores using WooCommerce. Means it can show related products to users based on what they have already seen on your website.
---
Conclusion
Artificial Intelligence and Machine Learning will continue to creep into our lives. This is a fast-growing field of technology, as we have seen above, we already found its way in the WordPress area.
We have discussed some WordPress Plugins using Artificial Intelligence and Machine Learning.
Often, we concluded both technologies definition and differences.
We hope this post helped you. If you have any suggestion related to this, let me know in the comments. We are very happy to help you!
Thanks for visiting us. For more help on any other issues talk to our WordPress Support team to get instant advice & support, Dial +1-855-945-3219 (Toll-Free) to avail our WordPress security services.

thanks!
Read More Blogs: