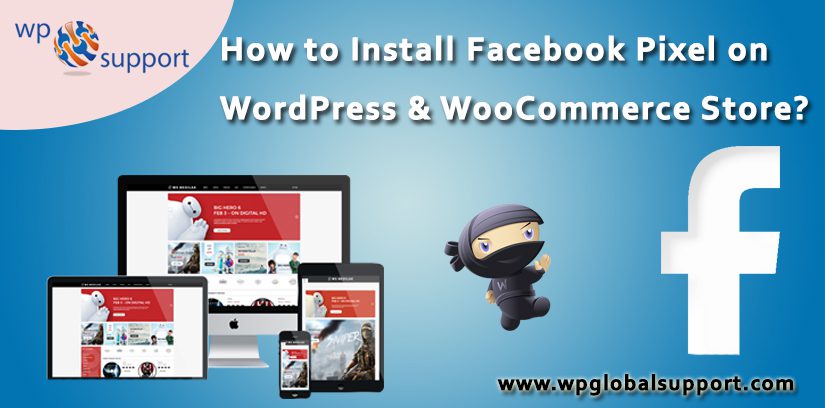 Facebook provides excellent advertising capabilities including powerful re-targeting and re-marketing campaigns.
On the other hand, WordPress is the most effective and easiest way to create and start an online business.
However, to use Facebook's advertising capabilities to boost your e-commerce business, you need to install Facebook's pixel code on your WordPress site like the Google Analytics tracking code!
As the Google Analytics helps you to configure, process, collect, website report and mobile app data that resulting in actionable insight.
Here, in this post, we will illustrate different process to install Facebook Pixel on WordPress or WooCommerce site. And also give you a brief description about Facebook for WordPress.
Where, WooCommerce lets you create an e-commerce business (store), manage inventory, accept payments, and much more. It comes with almost all the functionalities that you require to open an online store. Also It helps you sell products or services online from your WordPress site at a very affordable and accessible manner.
Read Also: How to Use Facebook for WooCommerce Integration?
Before getting started, you should know about Facebook Pixel.
What Is Facebook Pixel?
The Facebook Pixel is a very powerful tool for those people who doing Facebook ads. You can unleash your real potential with the PixelYourSite plugin.
Thus, PixelYourSite will help you to install Facebook Pixel code with just one click on each page of your site and set up Custom or Standard events.
Mostly, advertising tools are the same for each platform. Facebook certainly provides many basic features, but they are complex and difficult to understand. Facebook Pixel is one of them.
By using pixels, you can track the behavior of your customers. This is a great way to measure how your ads doing.
Similarly, Facebook Pixel gives you the option to track the behavior of those people who have come to your site while they are logged into Facebook.
How Does Facebook Pixel Work?
The Integration of Facebook Pixel on your website is simple and its Working also. What actually done when you install Facebook pixel to your site. A JavaScript code is added to the HTML code on your site. And due to this An invisible 1×1 pixel image is embedded in your website.
After that whenever a person visits your site or takes an action, their browser forwards a request to download the image. Using this action Facebook tracks the number of image downloads, by whom it's downloaded and when it's downloaded.so, you can see the trick is simple but benefits are unexpected. You must be creative to use any features.
How Can You Use Pixel Data?
With Facebook Pixel data, you can mainly do two important things:-
Re-target people using ads running on Facebook based on the specific

action

shown on your site. For example, you can target, and show specific ads to those people who have visited one of your pages or added a product to their cart.

However, you can track conversions ads running on Facebook. This data is useful when you are optimizing your advertising spend.
Now, the time arrives to know:
Install Facebook Pixel on WordPress & WooCommerce Store with Official Integration
This process is very easy. Here, we will try to make it easy for non-technical peoples. So that they can complete the steps without coding.
Step 1: Generate the Facebook Pixel
Firstly, you will need a Facebook ad account, from where you can create ads and create pixel code.
Then, go to the Facebook Business Manager and sign in to your account.
Now, go to the Ads Manager → Assets menu and click on Pixel option.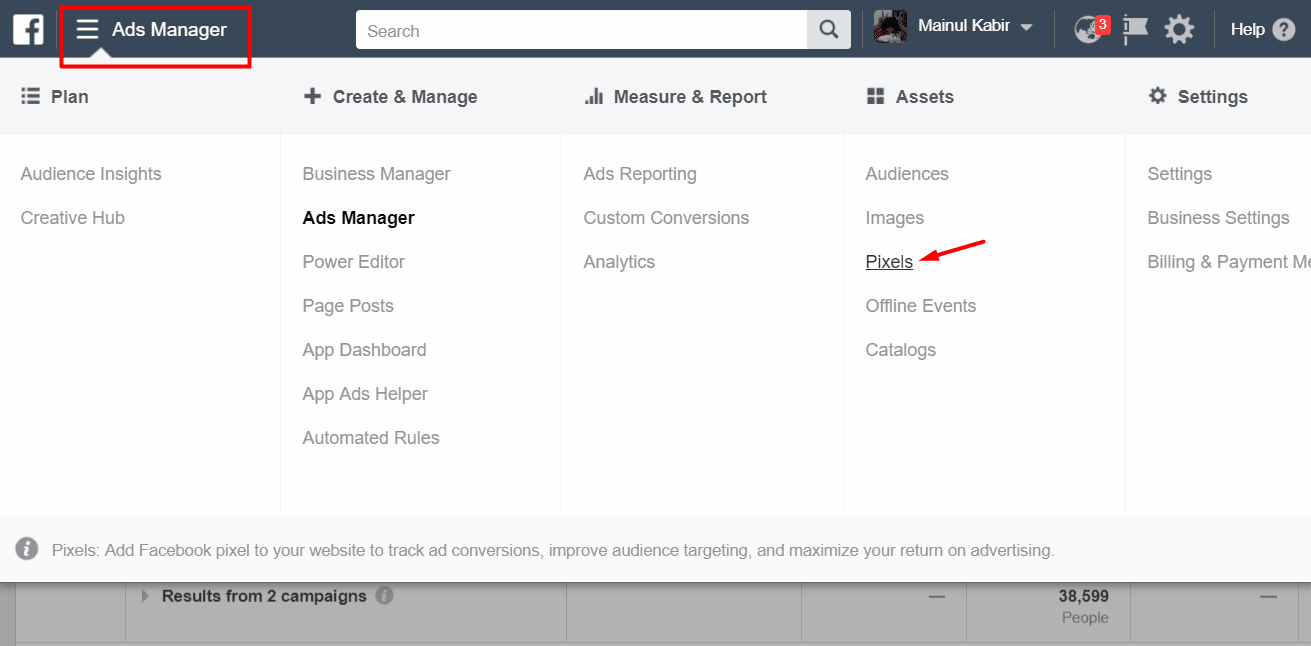 Here, you will see the Facebook Pixel create a page. Click the Create a Pixel button.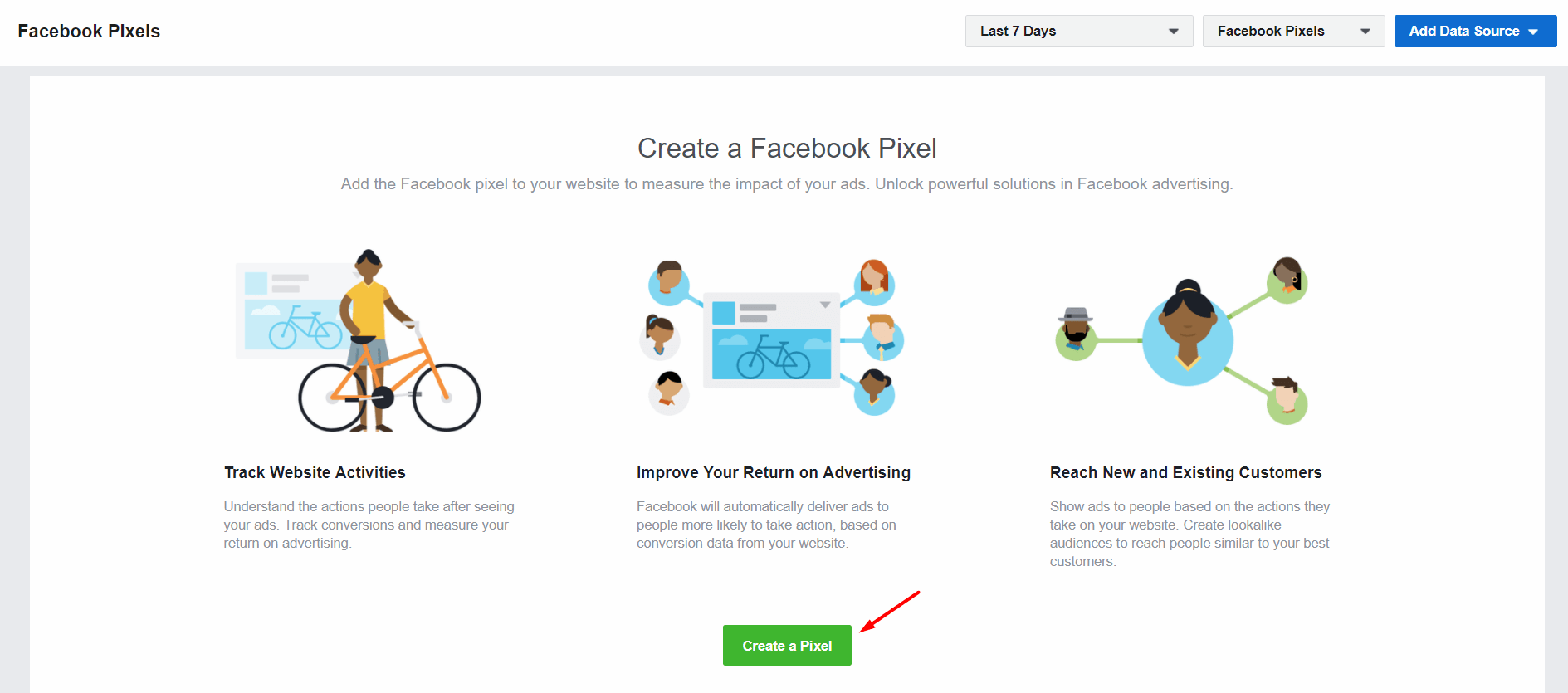 Now, enter your pixel name and click the Create button. When you click on the button, you also agree to the Facebook pixel terms.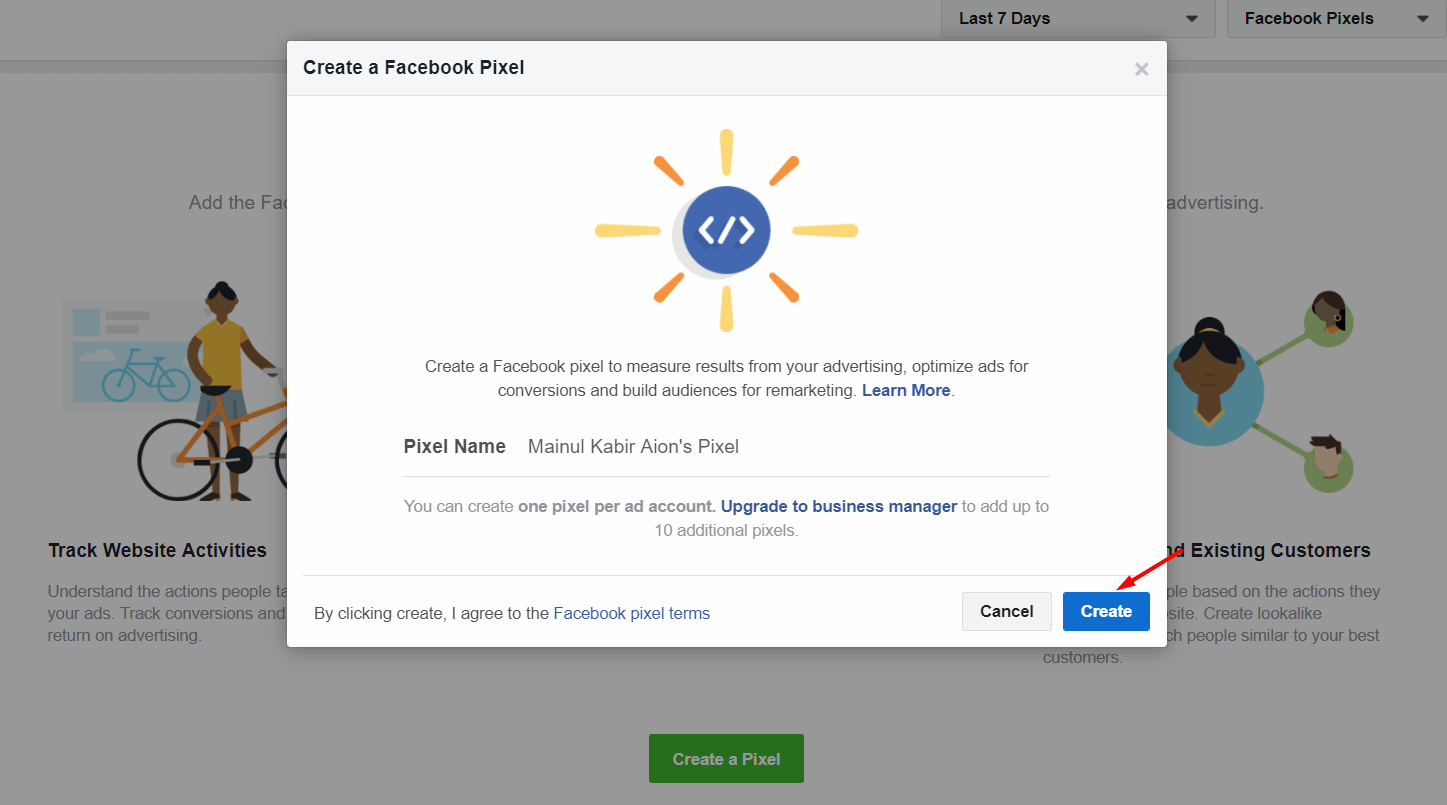 When you make the pixels properly, you will see a successful message.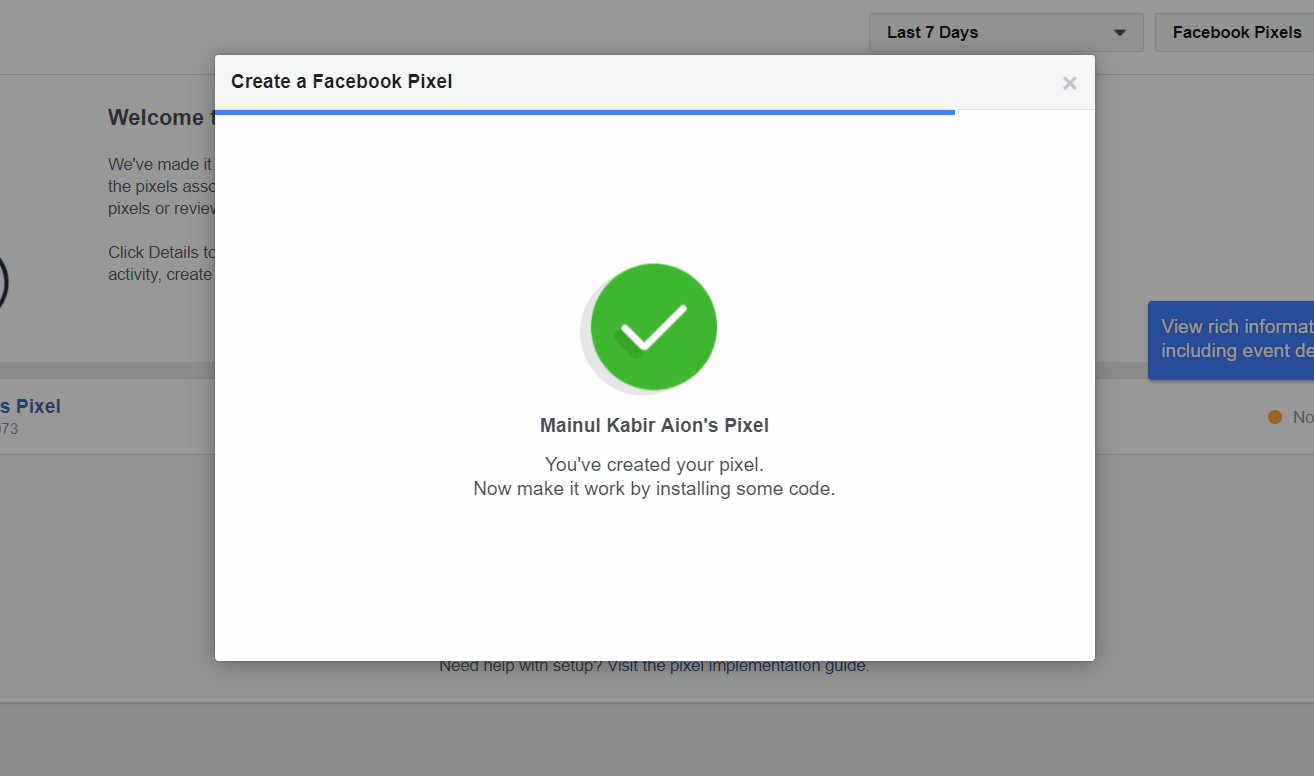 Install Facebook Pixels – Create a Facebook Pixel
Step 2: Installing Facebook Pixel Code
Now, you'll see a bunch of options that will allow you to install Facebook pixels on your site. Here, we will show you how to install your pixel on WordPress website. And also we will add WooCommerce integration for Facebook Pixel.
As a first step, For installing Facebook Pixels on your site, click on the Use an integration or Tag manager.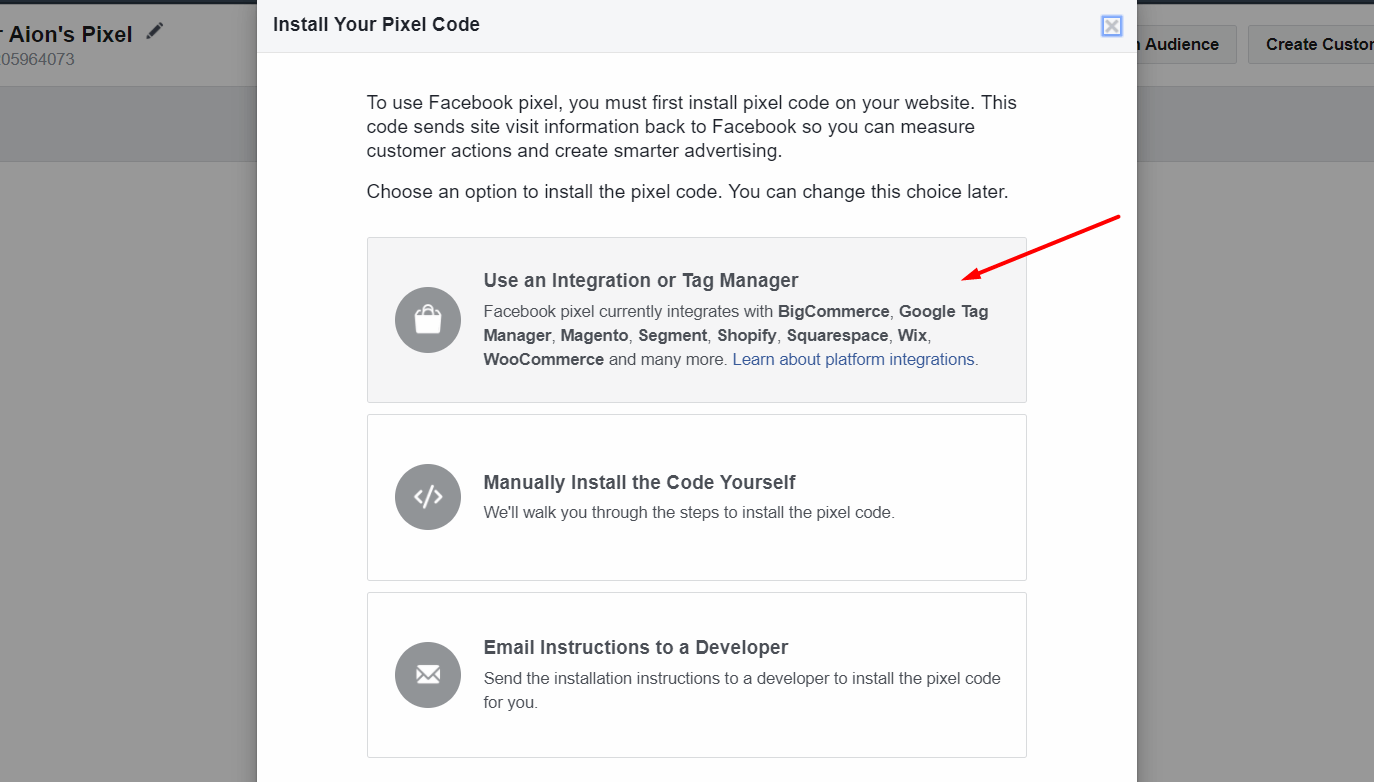 Step 3: Installing Facebook Pixel – Integration Method
Select the WordPress from the Choose Your Solution screen.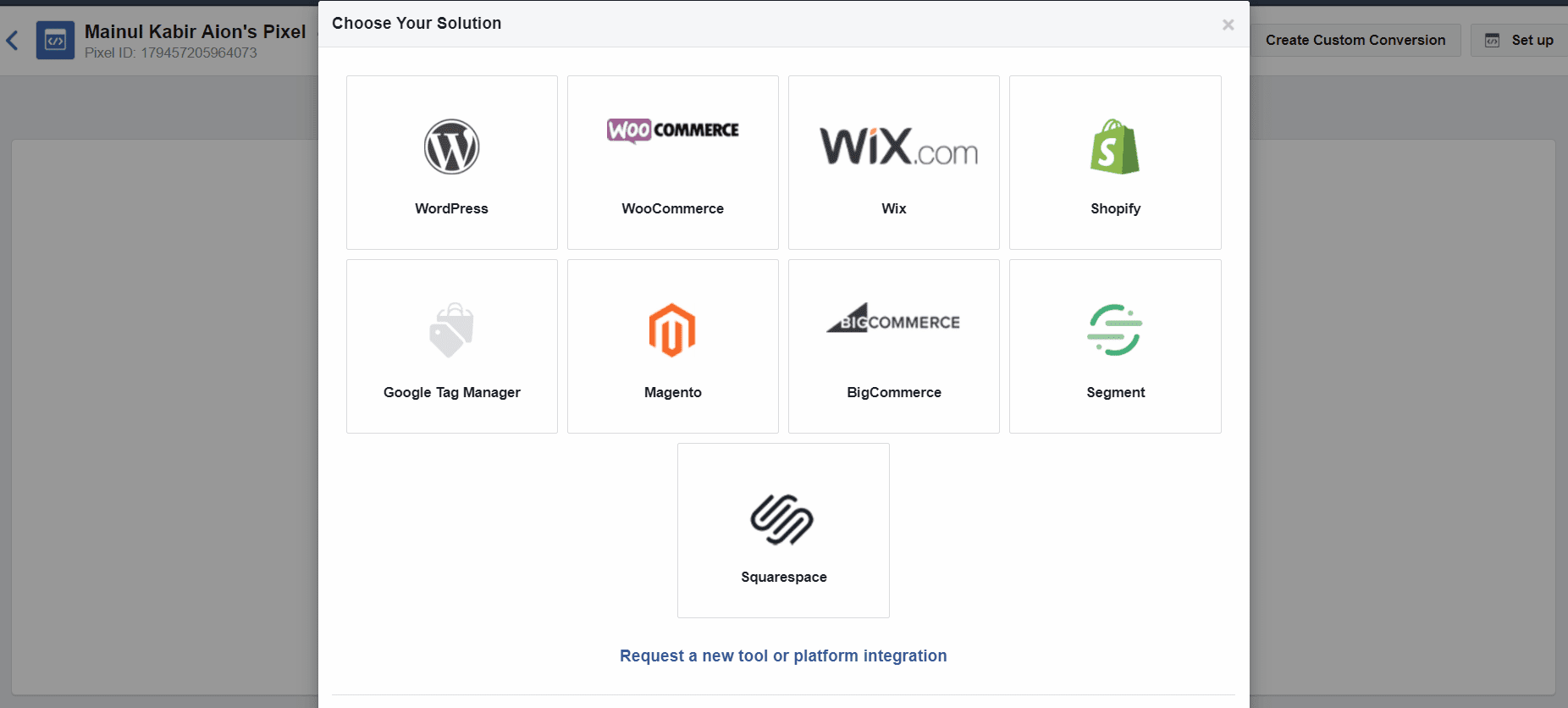 Now, you will see an instruction screen that you will let you download Facebook Pixel's own WordPress plugin and show you how to install it.
After that, click the Download button to get the plugin.
Also, you can press the next button to get detailed instruction on this plugin.
Where a plugin is defined as a type of software that contains a group of functions that can be added to a WordPress website. They are used to provide additional functionality to your application.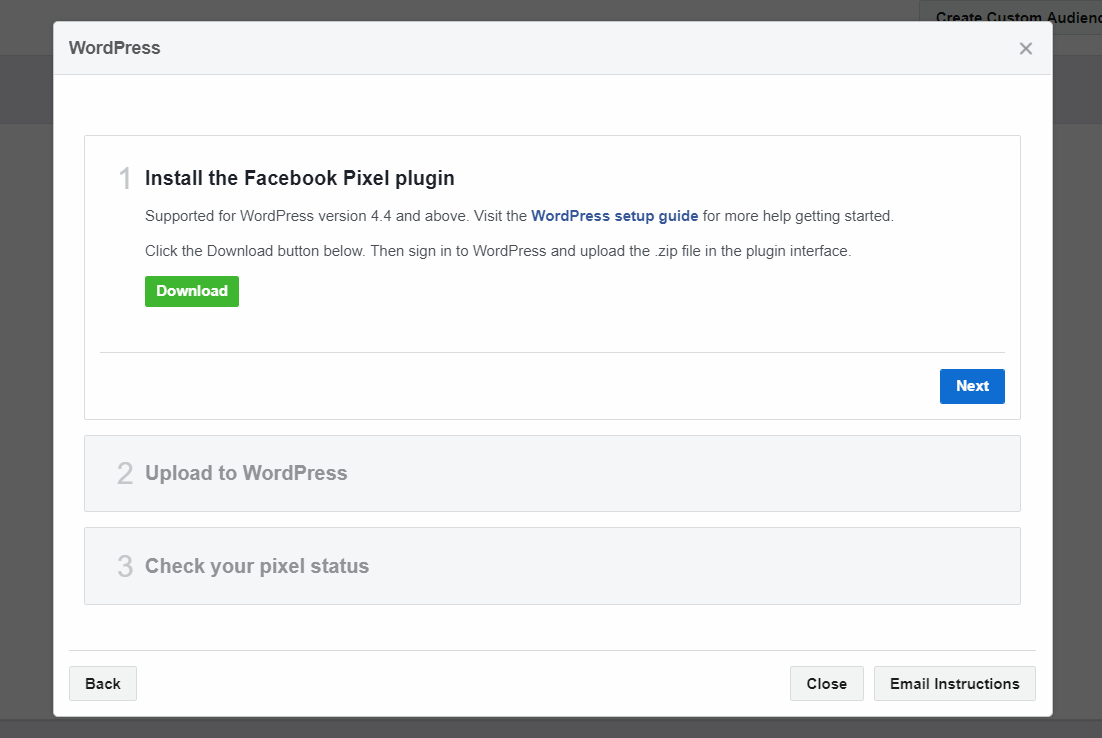 Here, log into your WordPress website and go to add plugin option.
After that, click the Upload plugin option, and choose the file that you downloaded and press the Install now button.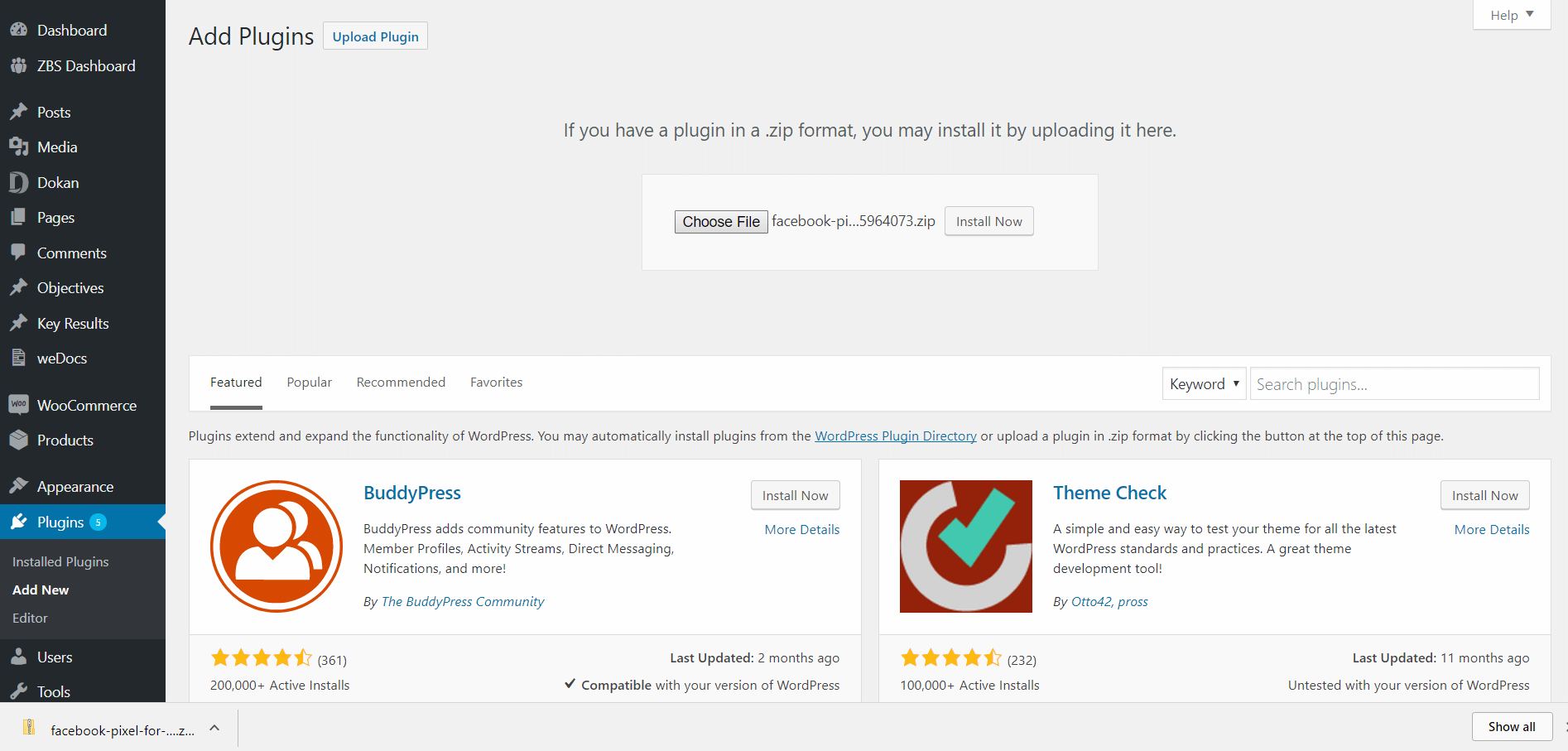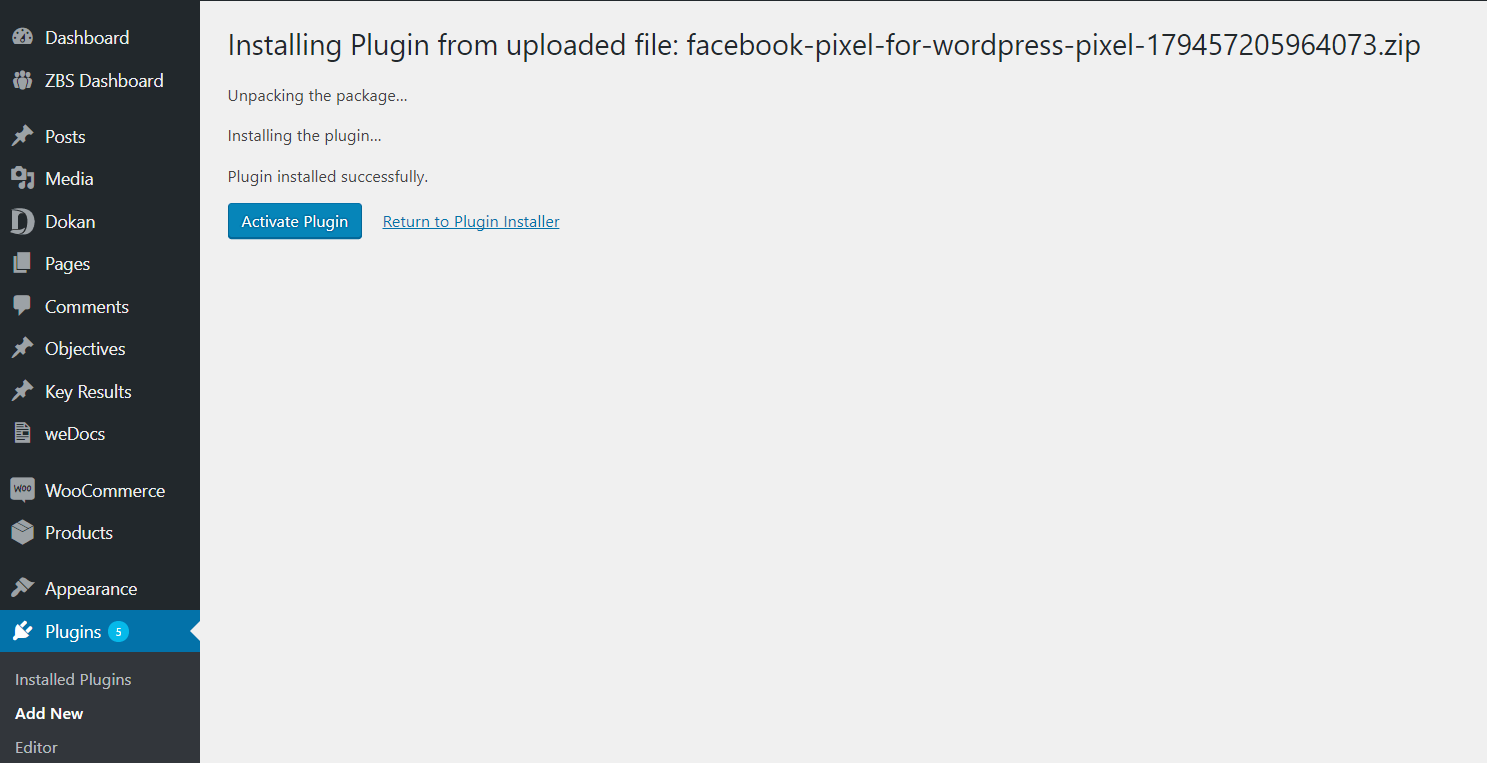 Now, go to the WordPress Admin Dashboard → Settings → Facebook Pixel.
In this Facebook Pixel Settings page, enter your pixel ID. You can get this ID from the Facebook Ad Manager Pixel page under the pixel name.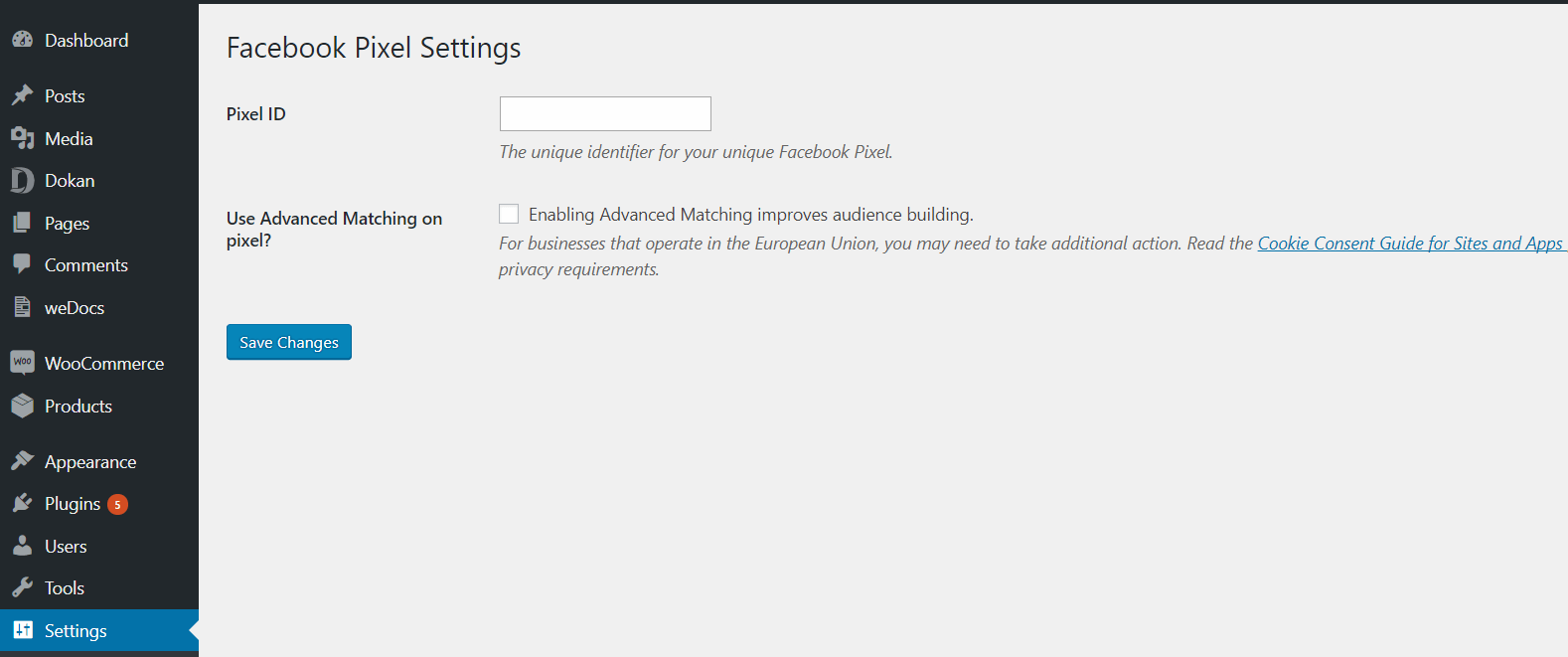 After adding the details, click the Save Changes button and you are done.
Step 4: Installing Facebook Pixel to your WooCommerce Online Store
If you are an online store owner and use WooCommerce, you can easily integrate Facebook pixels with your website.
For this, select WooCommerce from chooses your solution screen. From there, you'll get the plugin provided by Facebook Pixels like the previous method.
Install and activate the plugin on your website. After installing, you will receive a message to complete setup.
Click on the link and you will be redirected to Facebook Pixel for WooCommerce settings. And then click on the Start button.
A new window will pop up and you will see a welcome screen. Click on the next button and it will authenticate your Facebook Ad Manager account. From that screen, choose the page that you want to integrate with your store.
Choose your pixel and the products. Finally, click the finish button and now your process is complete.
Manually Install Facebook Pixel in WordPress
This method will show you how to install it manually. However, the plugins given by Facebook pixels are not from WordPress.org. Therefore, you can feel insecure while installing them.
Now, when installing your pixel code screen, click on manually install the code itself.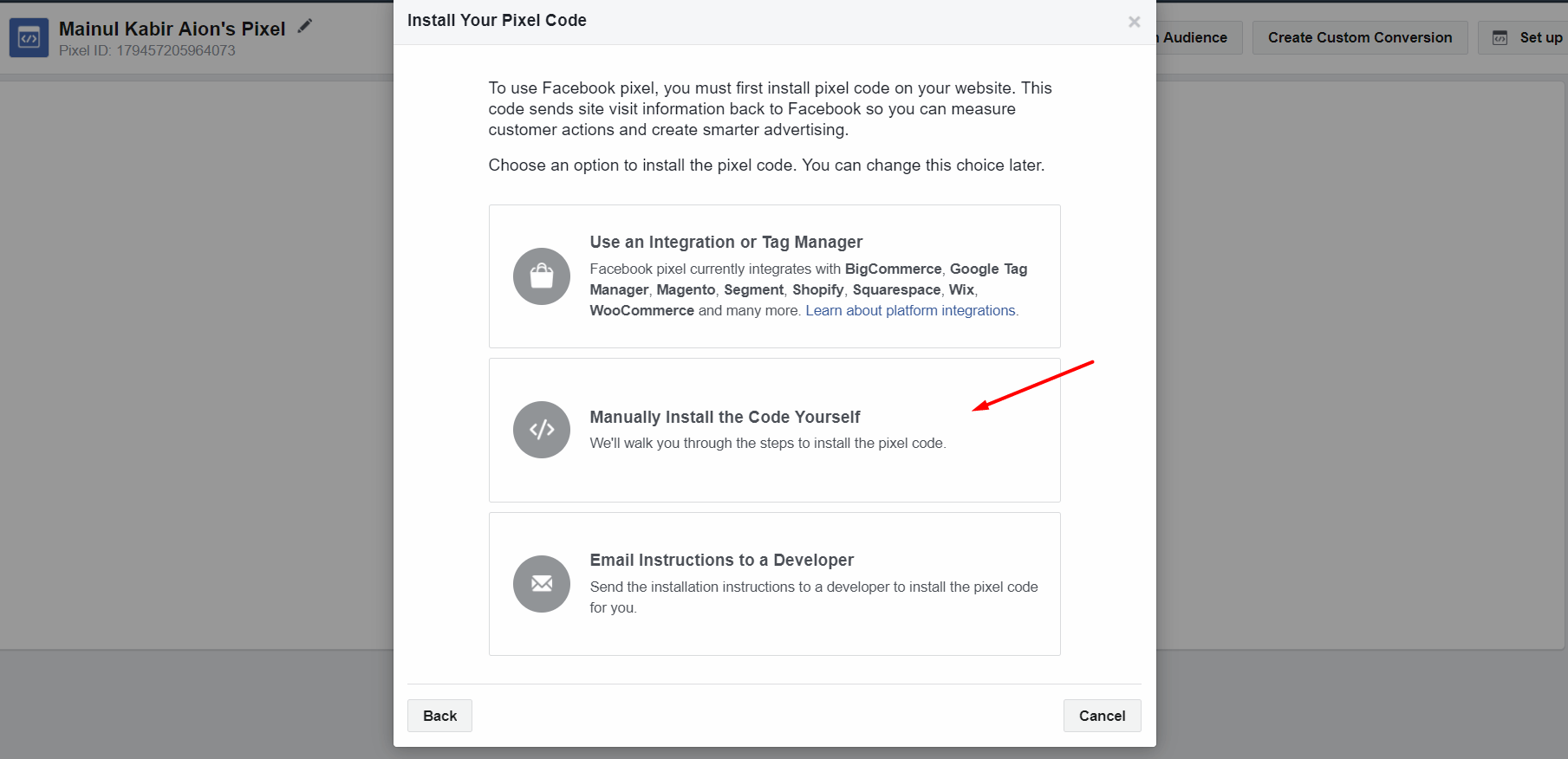 Now, it will show you where you should put the code. You have to put it in the header section of your website.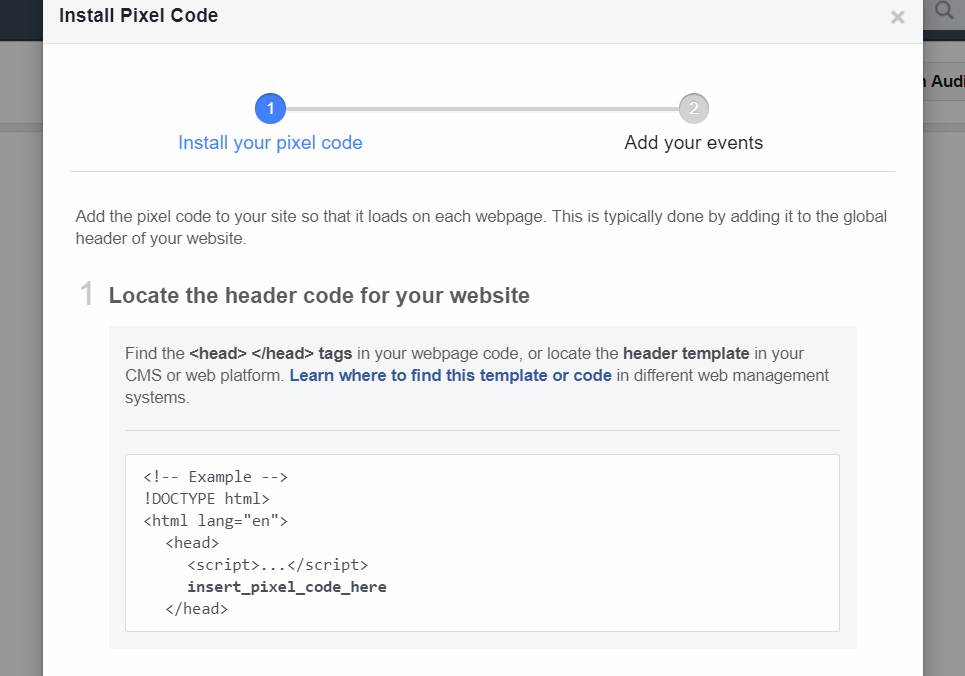 Now, copy your Facebook Pixel code from there. Just click on the code and it will be copied to your clipboard.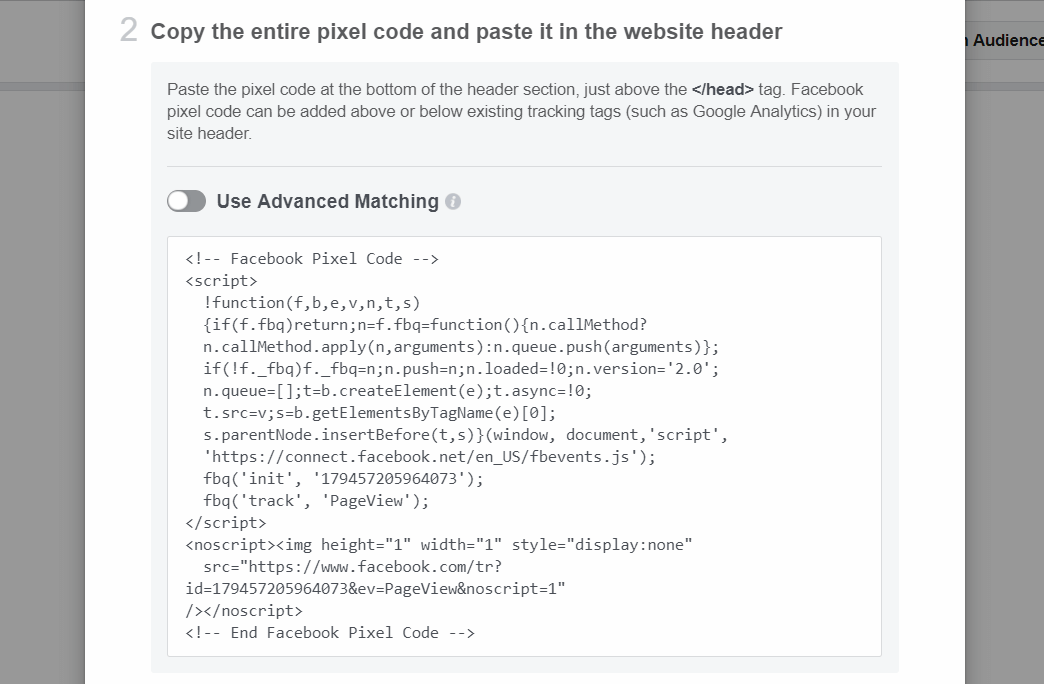 Also, you can test traffic on your pixels but you first you have to install the code.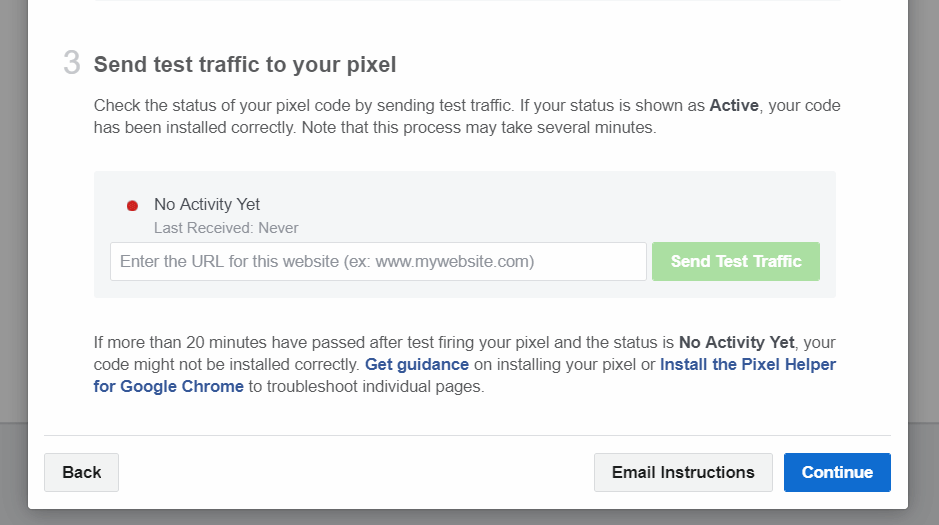 After installing the code, you can add events that you want to track from pixels.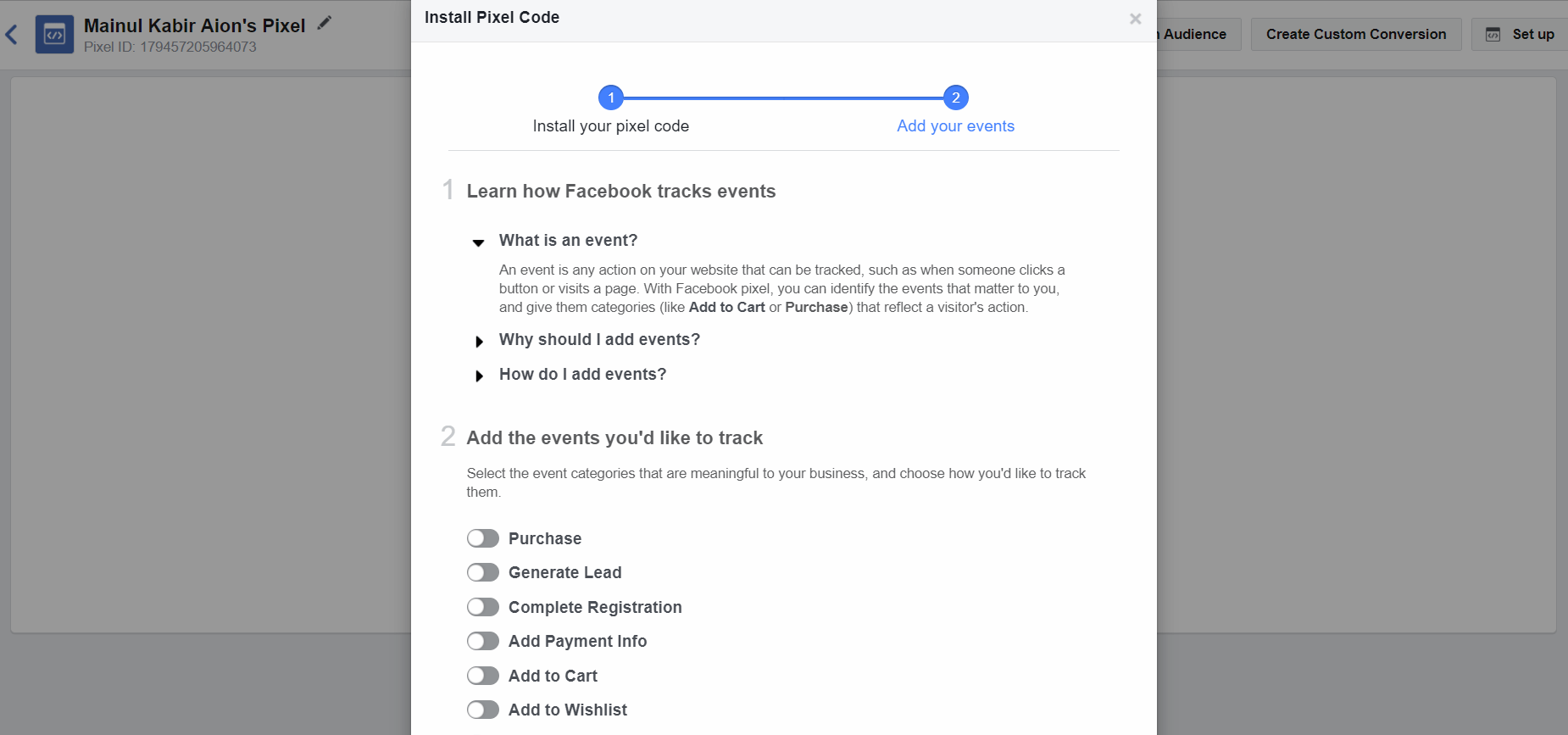 To install the pixels, firstly login to your WordPress site and navigate to Add Plugin Menu. There are several plugins that can put custom code in the header section of your site.
As website header has a feature where with the help of Widgets, where WordPress Widgets allows you to add content and features to your sidebar without writing any code.
However, some themes have built-in options to add custom tracking code to the head section. Where, theme is a group of stylesheets and templates that are used to describe the appearance and display of a WordPress site. A WordPress theme changes the layout & design of your site.
If you do not have such themes, search for the header and footer editing plugin. Here, we will use the Head, Footer and Post Injection Plugin. Now, click the Install Now button and activate.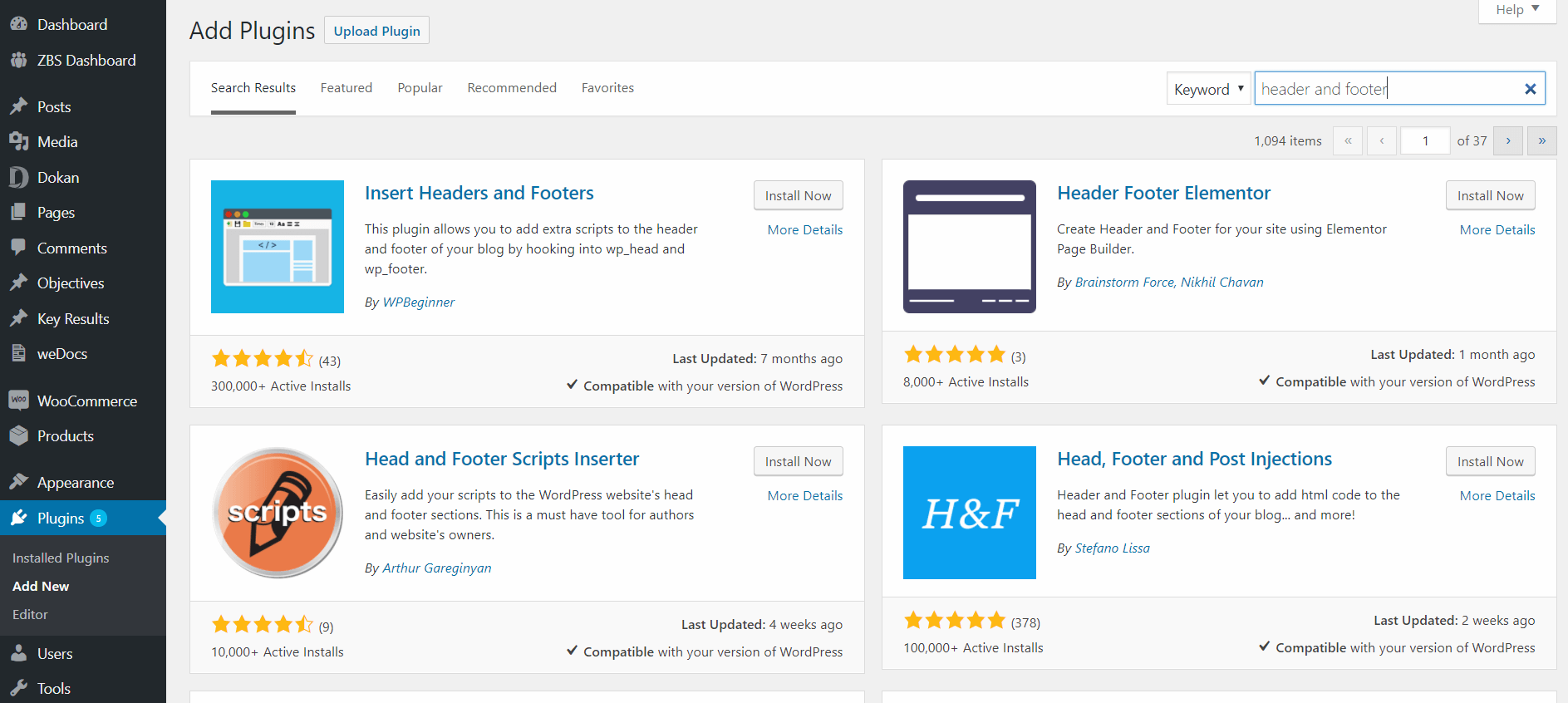 Here, navigate to WP Admin Dashboard → Settings → Header & Footer.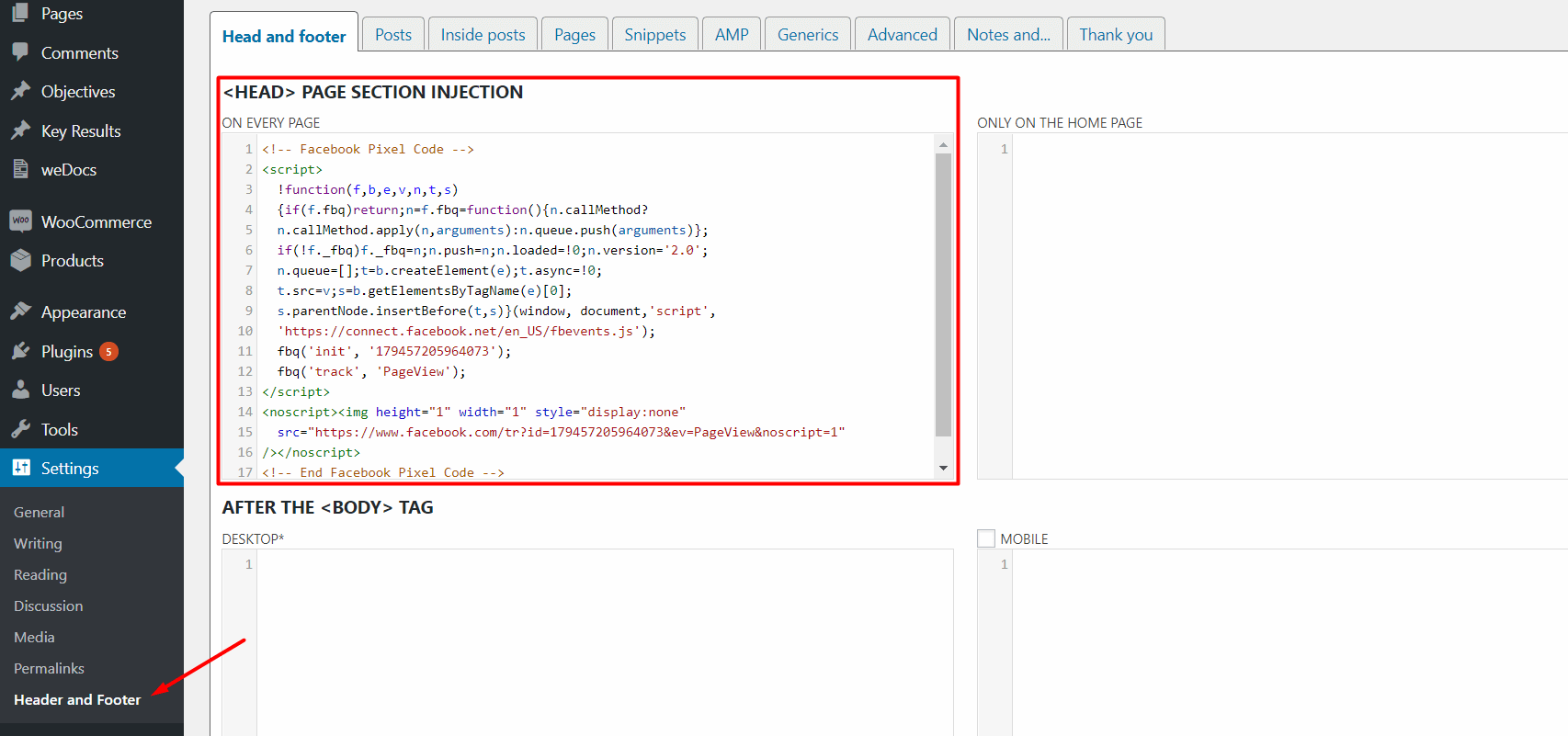 After that, paste your code in the <Head> page section in the injection area. Press the Save button.
Now, you have successfully installed Facebook Pixel on your WordPress site.
Install Facebook Pixel In WordPress Website Using Plugin
1. Pixel Caffeine

Install Facebook Pixel – Pixel Caffeine
Pixel Caffeine is a free plugin designed by AdEspresso to manage Facebook pixel and Facebook product catalog.
You can quickly set up the plugin and see Facebook pixel live on your WordPress website. Afterward, it automatically tracks conversions. Now, you begin creating your own custom audience data.
The audience data can be filtered with different parameters like web page visits, product view, and custom & dynamic events.
Features
Quick installation of the plugin.

Allow creating a custom audience list from other sources also. Like Twitter and Google.

Manages all Product catalog for your online store and update it on Facebook.

Auto tracking of Facebook ads

Dynamic re-targeting.
2. PixelYourSite

PixelYourSite plugin enables you to install Facebook Pixel code on any web page with a single click. The plugin allows automatic WooCommerce integration that configures all the standard events in a single click. It also supports Facebook dynamic ads and easy digital downloads.
Features
Once the plugin is perfectly installed it optimize your site for Facebook Custom Audience.

The adds GeneralEvent on every page. This will send essential parameters to Facebook. This feature helps you to create a creamy layer of Custom Audience for re-targeting.

It's on your hands to turn on the pixel according to users role.

Because of domain name parameter, you can easily create a Custom Audience from your multiple sites.
Wrapping Up
Installing Facebook Pixel on WordPress is really easy. We have discussed above the process of installation, Introduction, and how can we use?
All you have to do, prepare the code and put it in the heads section of your website.
Facebook provide own plugin to integrate its pixels with your site. In addition, you can use their other plugin which helps in integrating WooCommerce.
Other than this you can also go for Google tag manager. Its also work same as the Facebook pixel. Have a look on Google Tag Manager.
We hope this blog will help you to track your Facebook ads and to an effective re-targeting.
If you are looking for the instant support for WooCommerce Setup talk to our Experts and get the awesome service. Dial our Toll-Free number +1-855-945-3219.