Easy Way to Install and Setup Google Tag Manager in WordPress
Last Updated:

Jun 29th, 2018

Posted by:

Editor

Category:

Tutorial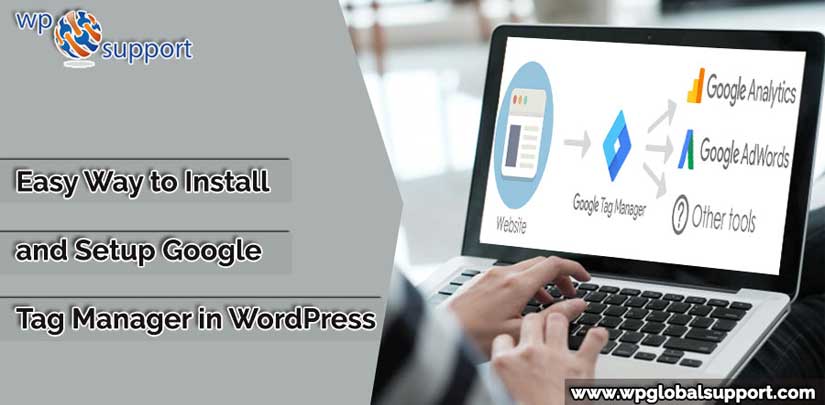 Do you want to know How to install and setup Google Tag Manager in WordPress? Google Tag Manager is a tag management system which let you update tags and code snippets quickly and easily on your mobile app or website?
Once the Tag Manager snippet is added to your website or mobile app, you can configure the tags via a web-based user interface without changing or deploying additional code. This reduces errors and when you need to make changes, you are released from the inclusion of the developer.
Tag Manager for Web works through its own code snippet that you add to your website or mobile app. This code connects your site or app to the Tag Manager server. Then you use the Web-based user interface to set up the tracking tag.
Setting up Google Tag Manager
Kindly note, this article is only for self-hosted WordPress.org sites. If you haven't created WP site, then please visit our 4 simple steps to Install WordPress to create one.
First of all, you will have to create a Google Analytics account for your website if you have not created it yet.
How to make Google Analytics account?
Go to google.com/analytics.




Note: If you have a Google Account, and you are not signed in, click Sign in. If you do not have a Google Account, then click Create Account button.

Once you're signed in to your Google Account, click Access Google Analytics

Click on Sign up.

Fill out your account name, choose the name of the website, the website URL, and an industry category and reporting time zone.

Below the option of data sharing, tick the box by clicking on it, next to the options you want.

Click Get Tracking ID.

From the Google Analytics Terms and Services Agreement that opens, click I Accept.
It's done now. You have successfully created your Google Analytics Account.
Note: Stop here when you find your Tracking Code, instead of adding tracking code directly in WordPress. Because here, we are using tag manager to do that.
Setting Up Google Tag Manager
Now that we're ready to add Google Analytics, the next step is to set up Google Tag Manager.
Go to Google Tag Manager site, now sign up using the same Google account that you used with Google Analytics.
After login, you will add a new account page. Just provide a name for your account and click the continue button.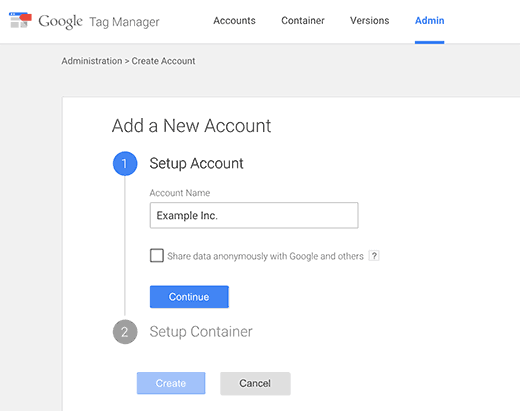 Now you need to add a container to your account. A container can be a website or app on iOS or Android platforms. In this case, we will use the web.
You can use your site's domain for the container name. You can add several containers for each account. Once completed, click the create button to continue.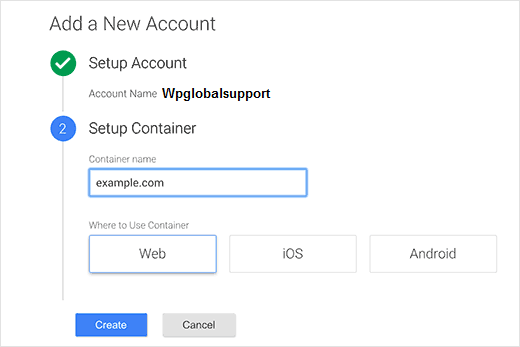 Now the Google Tag Manager will create your account with the container, and you will see your container dashboard. It will look something like this: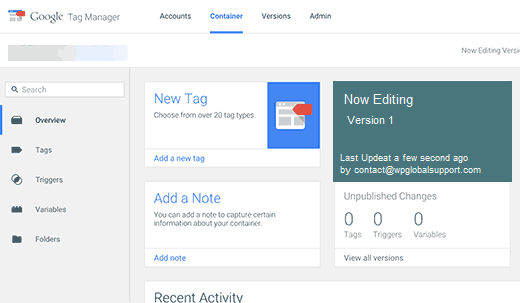 Your Google Tag Manager account is now ready. The next step is to add a new tag. You can do it by clicking on creating a new tag.
First, you have to choose a tag product. At present, more then 20+ integration templates are available to use.
We'll choose Google Analytics for now, but you can always add more tags and select different products according to your needs. To add another custom code snippet, you can also click on custom HTML.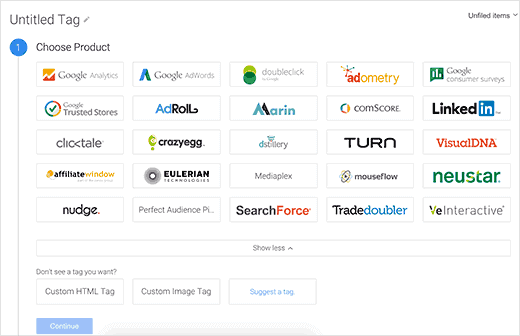 Once you select Google Analytics, you will be asked to choose between Universal Analytics or Classic Analytics. Select Universal Analysis, and it will ask you to provide your Analytics Tracking ID.
However. this tracking ID is a special code that allows Google to recognize your website. You can get this ID by logging in to your Google Analytics account and going to the Admin tab.
Select the account and property for your site, and then click on the tracking information to expend it. You will see the tracking code link.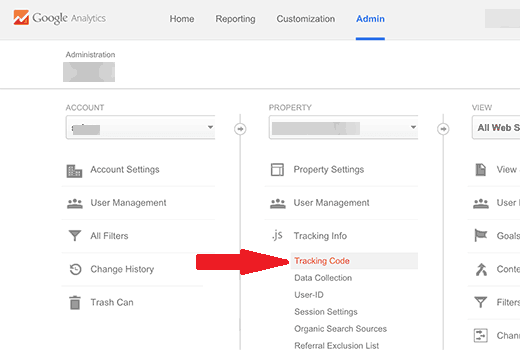 Clicking on the tracking code will bring you to the tracking code page and it will also reveal your UA tracking ID.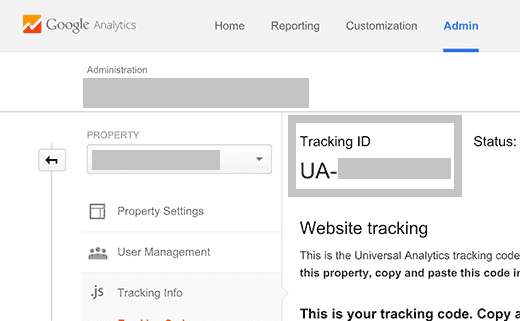 Copy your UA tracking ID and paste it into your Google Tag Manager. Under Track Type, select the page view and then click the Continue button.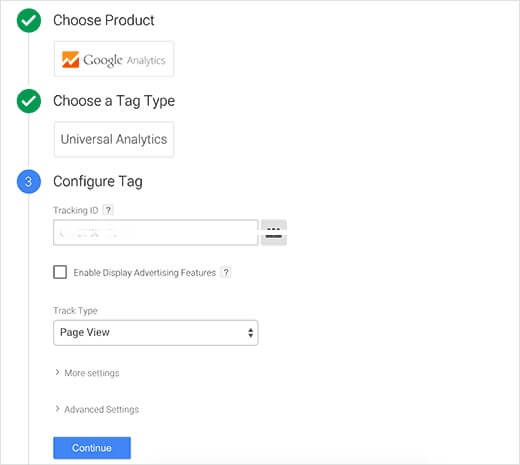 The tag configuration wizard will now ask you when to launch this tag. Select all pages and then click on the Create button.
Google Tag Manager will now show you a tracking code that you have to add to your WordPress site. You have to copy this code.
Adding Tag Manager Code in WordPress
First, you will have to do is to install and activate insert header and footer plugins. On activation, you have to go to Settings >> enter header and footers.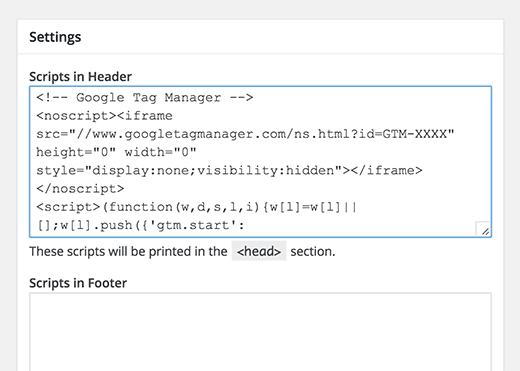 Paste your tag manager code into the header section and click the Save button to store your settings.
If you do not want to install a plugin, then you can also add the Google Tag Manager code in your WordPress theme or child theme. Simply edit and paste the code right after the <body> tag.
Publishing Your Container
However, the tags which are in Google Tag Manager will not go live until you publish the container. For this you have to go to Google Tag Manager dashboard and then click on the publish button.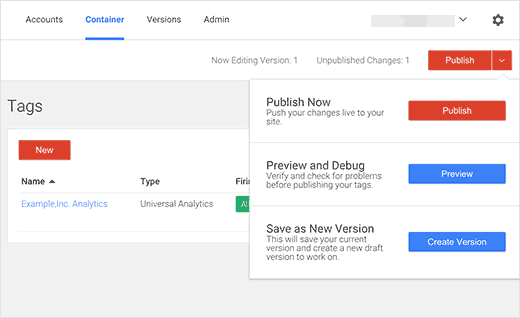 You can preview your website and Google Tag Manager will show you the tags launched on each pageview.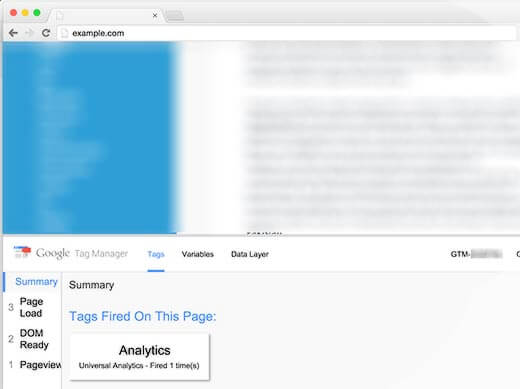 That's it, you have installed and setup Google Tag Manager for your WordPress website successfully.
Conclusion
In this article, we have shared with you what is Google Tag Manager?
The following topics have been discussed in this article as written below:
Getting started with google tag manager.
How to make google analytics account.
Setting up Google tag manager.
Adding tag manager code in WordPress
Publishing your container.
Hope, this article helped you a lot and also, you really loved this article, so please use the comment section provided below and tell us your experience about the topic and share your feedback. Also, share this article with your peer.
If you still need help contact  our WordPress Technical Support Team. Please Dial + 1 844 897 0441 (Toll-Free). We  have a team of good professional who can resolve all your issues related to WordPress.
Read More Blogs: