11 essential tips to ensure your WordPress Security
Last Updated:

Sep 17th, 2018

Posted by:

admin

Category:

WordPress Knowledge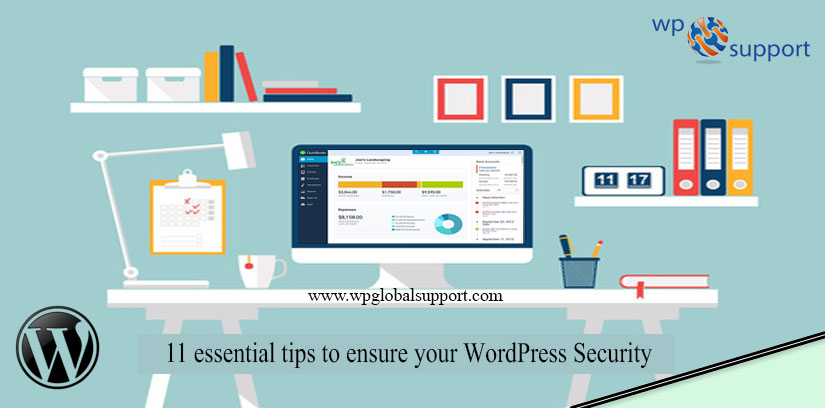 11 Quick Tips: Securing Your WordPress Site
Do you want to secure your WordPress Website? Here in this article you will find some of the essential tips that will help in assuring your WordPress Security.
Nowadays new web based attacks are coming out everyday, this is causing organizations, groups and people to consider security imperative now more than they ever have previously. "Security" sounds like something extremely difficult. But actually WordPress security is not that hard to implement.
The following tips won't ensure your WordPress website will be secure for 100%. But these tips will make it much harder for hackers to hack your site.
1. Pick a strong password
Sometimes you pick an easy password so that you can remember it easily the next time you login to your account. This makes it much easier for hackers to hack your site. So, do not pick an easy password, choose a password that no one will easily guess or hack. Also, pick a password containing:
numbers

letters

special characters (@,#,* etc)

spaces

Atleast one lowercase letter and one capital letter
Make sure your password is long enough. It should be of minimum eight to ten characters long.
As Longer passwords are more secure.
For any technical support : Dial WordPress support help number: Toll-Free: +1 888 614 0555
2. Pick the right administrator user name
During wordpress intallation. you have to pick a username for the administrator account of your blog or site.
Make sure you don't choose an easy to guess user name, like "admin" or "administrator". Because this is something hackers attempt first.
The other solutions for this problem are installing limit login attempts or using captcha on login page.
3. Update the content by creating a second user
It's a mistake a lot of bloggers make, they blog with their administrator user. Don't do this. Use an "editor" user for this.
In the case a hacker retrieves the password of the user you're using to blog, they can log in as an editor and can change / delete the content, but they can't change / delete your blog or site.
4. Update WordPress and all its plugins to latest versions
This is a vital tip for ensuring WordPress Security. when you update the new version of WordPress it doesn't only add new features, but it also helps in resolving bugs and patches security issues. That's why it's very prominent to always have the latest version of WordPress.
The same goes for plugins.
5. Change the table prefix
During installation, WordPress gives you the choice to change the prefix of your database tables.
The default prefix of the database tables is "WP_".
This makes it much easier for hackers to guess your table names.
So in order to protect your site from these hackers and to assure security always change the table prefix. For example, changing the default "WP_" to "myWPdbname_"
6. Backup your site regularly
In order to secure your WordPress website always backup and restore your site regularly. You can always restore wordpress site to a working state any time you need if you have a regular backup. There are some plugins that can help you in this regard.
VaultPress provides backup service for wordpress sites and is made by Automattic, the people behind WordPress. It is a membership-based security.
It is reasonable and it is the best backup service for WordPress.
7. Adding user accounts with care
If you run a WordPress blog, or rather a multi-author blog, then you need to deal with multiple people accessing your admin panel. This could make your website more powerless against security dangers.
You can use a plugin like Force Strong Passwords for your users if you want to make sure that whatever passwords they use are safe and secure. This is just a precautionary measure.
8. Manage Users
If another admin has a weak password then your own strong password is useless. You have to deal with your users. Not everybody needs admin access. If there are more people accessing admin, then there are more chances of your site getting hacked.
Ensure you're only giving admin access to the people who genuinely require it.
9. Use 2-Factor Authentication
Two-factor authentication is one of the strongest ways to guard your login. Two-factor authentication makes brute force attacks much more difficult to pull off.
It requires both password and a phone number. After entering your password, you'll get a verification code sent to your phone, and only after that you enter it will you get into your account.
10. Use Security Plugins
Security plugins helps in assuring your website's security and also reduces the chances of being hacked.
11. Install Good WordPress Plugins and themes
It is not that difficult to Install WordPress theme and plugins but you should be extremely cautious while doing itl, as many of these are insecure, hacked, bloated or out-of-date.