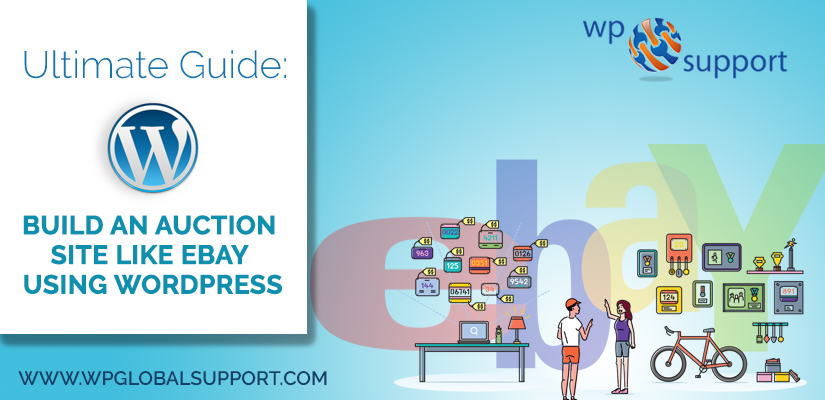 An auction site lets users bid on products for purchasing them. This authorizes you to maximize profits while selling unique products. In this blog, we are going to tell you how to build an auction Website like eBay using WordPress without any technical skills.
Steps required to build an Auction Website using WordPress?
You will require the below-given things for making your own auction site like eBay using WordPress.
A domain name this will be your website's name that people will type to find your Website e.g. wpglobalsupport.com)

A web hosting account

SSL Certificate. You need this to receive online payments

An e-commerce addon and this will turn your website into an e-commerce platform

An auctions addon.

You can start your own auction site in 40 minutes and we'll tell you the entire process step by step.
Step 1. The Right Setup
Firstly make sure that you are using the right website platform.
There are two types of WordPress software. The first one is WordPress.com which is a hosting platform and then you have WordPress.org also known as self-hosted WordPress. We suggest using self-hosted WordPress.org as it gives you access to all WordPress features out of the box.
You will require a domain name and a web hosting account. But you cannot sign up with just any web hosting company. You will need a hosting provider that specializes in WooCommerce hosting as this is the software you'll be using as your e-commerce platform.
You would now have a WordPress website with WooCommerce installed on it. WooCommerce doesn't authorize you to add products for auction on your website By default.
Let's change this by installing an auctions addon for WooCommerce.
Step 2. Turning your eCommerce Store into an Auctions Site
First of all, install and activate the YITH WooCommerce Auctions plugin. See our step by step guide on how to install a plugin in WordPress.
YITH WooCommerce Auctions is a paid plugin and a single Website license will cost you 81 Euros. This gives you access to the plugin documentation, downloads and one year of support and updates.
After activation just visit YITH Plugins » License Activation page to enter your license key. You can see this information under your account on the plugin's website.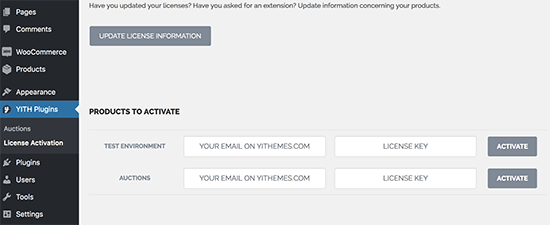 Next, go to the YITH Plugins » Auctions page for configuring plugin settings.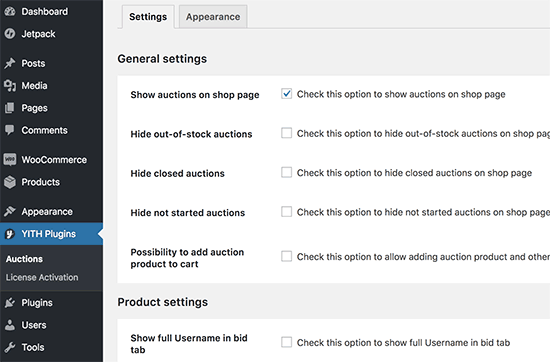 Step 3. Adding an Auction Item
YITH WooCommerce Auctions makes it easier for you to add an item for auction using the built-in WooCommerce products.
Just add your auction item as a new WooCommerce product by visiting Products » Add New page.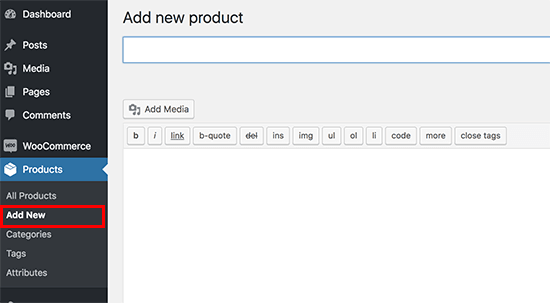 You need to enter your auction item details like you would add a product. After that fill out the title, add details and upload pictures. Just below the editor, you need to select Auction next to the Product Data option and you will see settings for the auction item.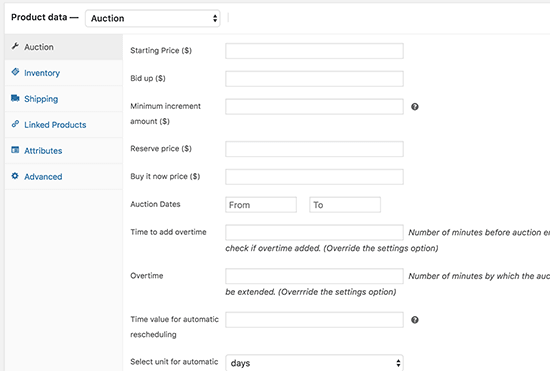 From here you can set an auction starting price, minimum increment amount, bid up, the reserve price and buy now price.
After that, you need to choose the auction dates and times. You can easily add overtime for the auction for offering a grace period after the auction ends. After you are satisfied with settings click on the publish button to save your changes.
Now your action will appear on your WooCommerce shop page. Auction items on the shop page will be highlighted with an icon.
You can also create a separate page for only listing the products available for auction. Create a new WordPress page and add the below shortcode.
[yith_auction_products]
At last, publish the page to make it live on your site.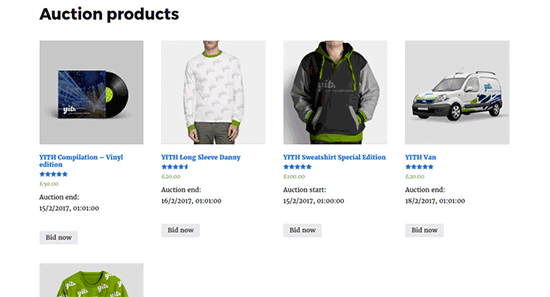 Step 4. Manage your Auctions
You can add auction items at any time and they will start showing on your website right away. But the auction will not begin until the auction start time.
This lets you publish items way before the auction begins and use this time to promote items. After the auction begins any registered users can bid on an item.
The plugin will display you an auction timer next to the item. Users can see the current highest bid and add their own bids.
Previous bids will be shown below with usernames partially encrypted. You have the option of removing a bid at any time. Just edit the auction product and you will see all the bids at the bottom of product page.
The auction will end relying on each item's individual auction settings.
If the auction time ends then the highest bidder's price will be accepted. If a user decides to provide the buy now price then the auction will end and they will be able to add the product to their cart.
The complete users who have participated in the auction will receive an email notification. The last email will be sent to the auction winner to inform them that they can now make their payment.
Step 5. Allowing Other Users for adding Auction Items
If you want to let other users for adding their own products for auction then you can do that as well. But YITH WooCommerce Auctions plugin doesn't allow users to add their own auction items.
By default, WooCommerce assumes that you are the only seller on your website and only you can add new products. For changing this make your WooCommerce platform a multi-vendor marketplace.
For the complete guide see our steps on how to create an online marketplace using WordPress.
After you set up your website as an online marketplace other users will be able to apply and become a seller on your site. After approving their application they will be able to add new products for auction. You can then approve their auctions and it will become live on your Website.
You will get your commission out of the winning bid once the auction is over and the winning bidder has made their payment.
Step 6. Mastering WordPress for promoting your Auction Site
WordPress is the best website builder in the world as it is simple to learn and you can customize any feature you want.
Here are some helpful resources that will assist you to take your auctions site to the next level.
Bottomline
Well, you will probably want to create an auction site with WordPress after reading this quite useful blog that describes how to do it in an ultimate way. The site like eBay is very demanding in today's ever-expanding product marketing world.
At last, we provide you with an overview of creating an auction site which is as follows;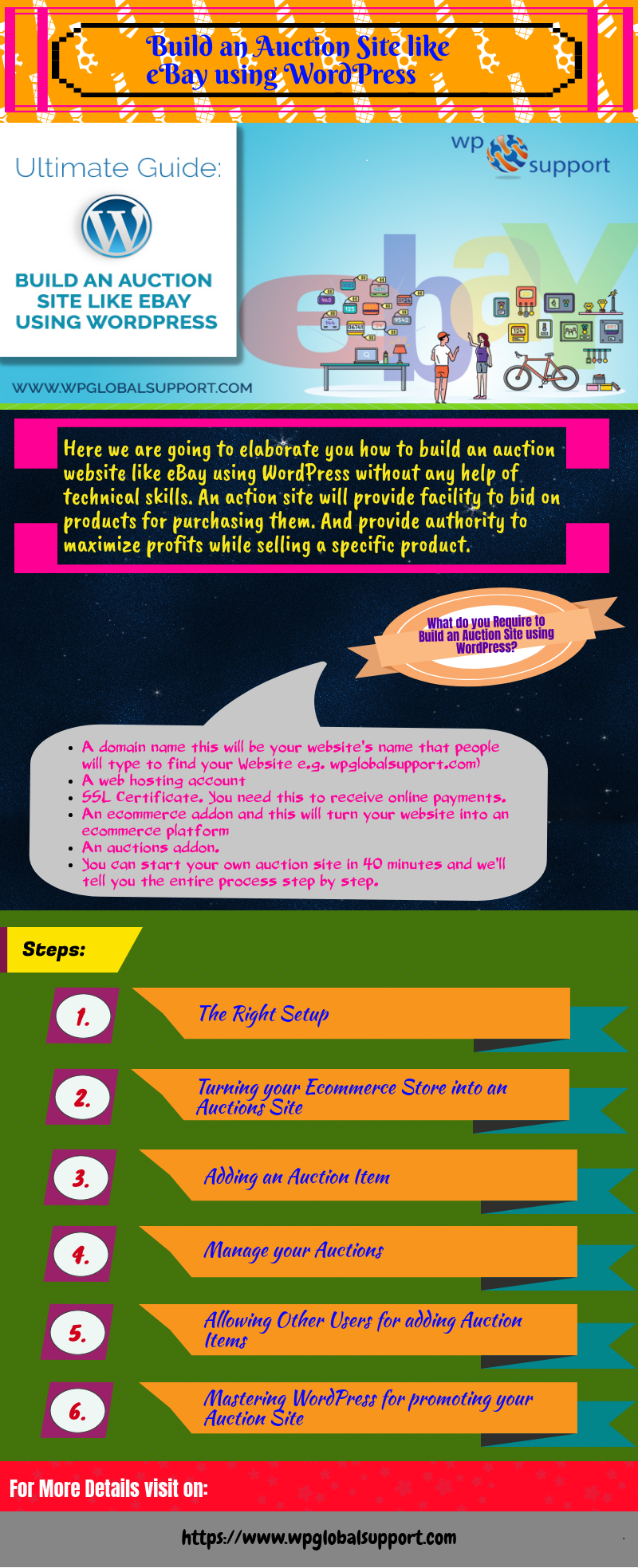 If you're looking for someone who can help you with WordPress Backup and Restore then you can dial WordPress customer service number +1-855-945-3219(Toll-Free). One of our Professional Expert will guide you instantly.

That's all, thanks!
Read Some Other Blogs: