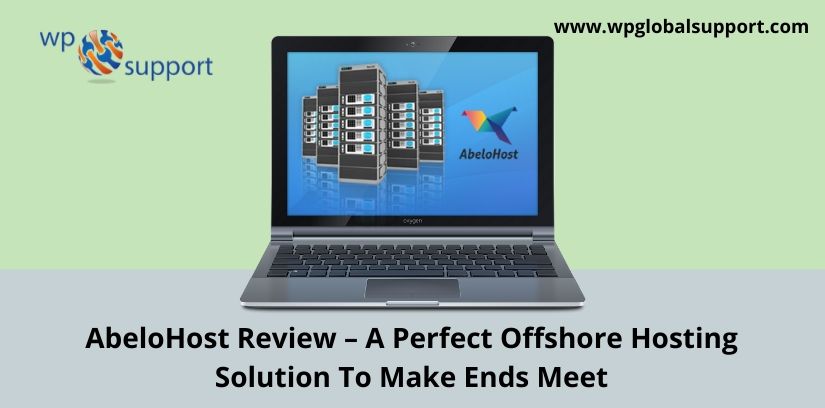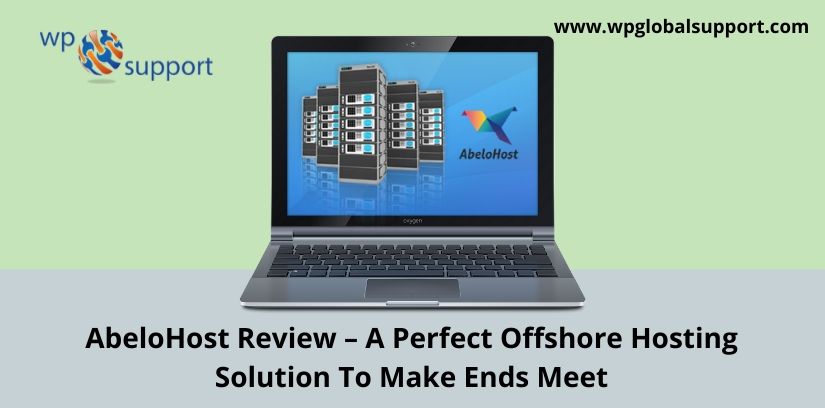 AbeloHost is one of the most popular offshore hosting providers in the business of offshore hosting services. The idea behind this hosting is to create a strong bond between service and the servers. It is aimed to make the most out of its customer's websites that can have a standing and remarkable performance.
AbeloHost is a highly ranked web hosting provider that established in 2012 in the Netherlands. This hosting provider offers its clients with the perfect hosting solutions, dedicated servers with the unquestioned security. The company just aims to provide a reliable and affordable hosting solution to all its offshore clients.
Presently, the company has significantly reached a landmark of hosting 10,000 clients and 5,000 registered domains and the numbers are still counting. AbeloHost is just committed to giving an experience of total privacy and data security to its customers.
AbeloHost data-centers are just centered around the borders of the Netherlands and are protected under the Dutch laws making users free of having tensed with any such copyright law that can temper and harm their fruitful site business. AbeloHost offers complete offshore hosting solutions that range from Shared servers to Dedicated servers.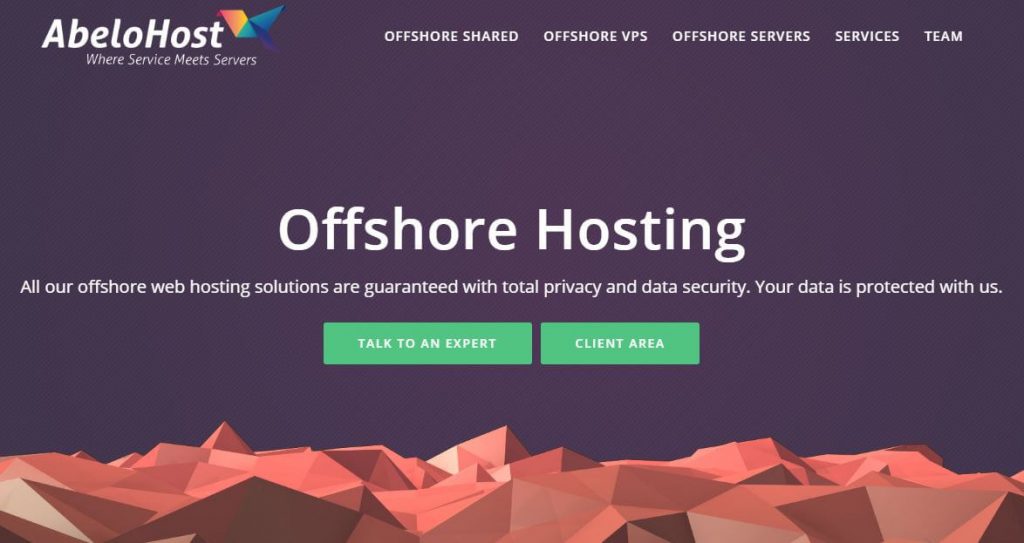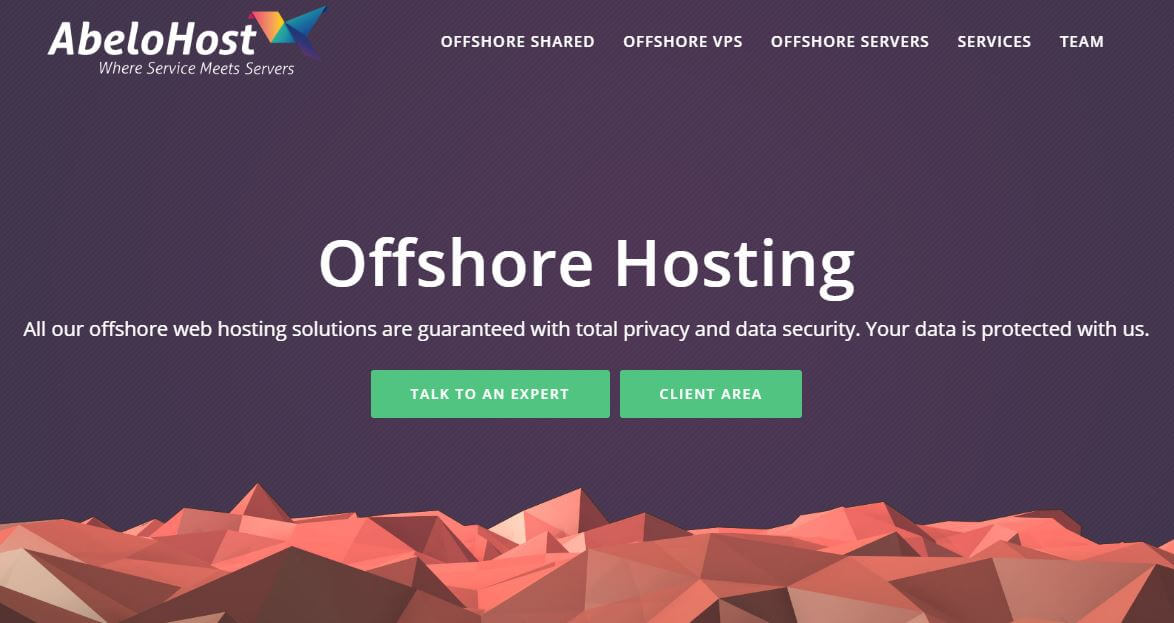 Why opt for AbeloHost?
There are a number of reasons to choose for AbeloHost that provides a completely different Offshore hosting experience:-
Total Privacy and Protection
Since all the servers of AbeloHost are located in the Netherlands, the hosting provider just guarantees total Data privacy, Data security, and accept a wide range of content.
The hosting's all hardware is privately owned that can only be accessed by the AbeloHost's team and datacenter employees. Not only hardware but all the data stored are protected under the privacy law of the dutch.
Latest technology used
AbeloHost just provides some of the quality offshore hostings solutions for your site that uses the most advanced and latest technology to ensure the prevention of any discrepancies. This hosting also very handy to provides you maximum power and speed to boost your server performance with the latest installed Intel processors, RAM, and storage drives regularly.
With a Tier II data-center that is ISO 27001 & 9001 certified, this hosting provider is just fanatically giving a reliable and stable hosting environment that can last and maintains the durability of its infrastructure.
Friendly customer support
AbeloHost's friendly staff is ready to assist with any issue that is related to hosting. It is devoted to providing free and quality advice about online marketing, website design, and business development that has some standard.
In addition to this, the hosting service also offers quick and free technical support that can have 100% satisfying results. You can also submit a support ticket to get the answers to what you want.
Affordable Hosting
AbeloHost's hosting comes with the least price policy that can give you a high-quality hosting solution that can really match any budgetary needs. It has a special tag that gives an impression of the most affordable offshore hosting provider on the Internet.
A tag in WordPress is one of the default tools one can use to categorize their WordPress posts. Each post can have multiple tags and visitors can click on any tag to find similar posts that have that same thing. As the articles posted by the admin of a WordPress site are called posts.
A perfect balance between quality and cost is maintained in the AbeloHost's hosting and is aimed to continue in the future.
Multiple Payment Options
You just needn't worry about any specific payment mode as AbeloHost provides you a variety of options to pay for the service you opt for. It accepts all the most used payment options such as Paypal, WebMoney, Wire Bank Transfer, Bitcoin, Altcoins, Bank Transfer, Alipay, and many more.
Money-back guarantee
If you are not satisfied with the hosting service offered from the AbeloHost, you can claim the refund within 30 days by the time of the subscription.
Some strikethrough features
AbeloHost provides you the high standard offshore hosting solutions that are just accomplished with the below-listed features:-
DDoS safe
AbeloHost gives you a perfect offshore hosting option that can protect your website from DDoS (Distributed Denial of Service) attacks. DDoS attack stands for Distributed Denial of Service. It is a common type of attack against your server bandwidth.
It is very useful as it protects our resources from any threat that is unknown to us because it uses technology that is able to recognize patterns on the type and quantity of traffic that the site receives. The traffic that is unmatched of this pattern is restricted to access the resources.
AbeloHost offers two types of Anti-DDoS Protection that are Standard and Premium. The description of these are provided below:-
Standard Anti-DDoS Protection
The standard plan was introduced to protect clients who are not able to pay for DDoS Protection. The Standard Plan is just meant for all those who desperately need this protection despite being unable to get it. This plan protects up to 2Gbps/1Mpps and is active only for a limited time period.
Premium Anti-DDoS Protection
The premium plan is just suitable for those clients that encounter the DDoS attack frequently or timely basis. The premium plan comes with a price of €50/month for each protected domain and protects up to 100Gbps for an unlimited time period.
Premium DDoS Protection Features
Provides complete DDoS protection for one domain at the price of €50/month per website.

Prevention from an unlimited number of attacks per month

Provides unlimited duration of attacks support per month

Supports all types of attacks to prevent them such as TCP flood, UDP flood, SYN floods, Bandwidth saturation, etc;

Detection and auto-mitigation

Compatible with v6
DMCA Ignored
AbeloHost provides a perfect Offshore hosting that has nothing or least to do with any DMCA copyright laws that are applicable as per the U.S hosting regulation act.
Its data-centers are just aimed to provide the complete and anonymous offshore hosting that guarantees your content being saved and remain protected that is not going to be on the radar of DMCA regulation laws.
Latest SSD Technology
AbeloHost utilizes an advanced SSD technology feature such as SSD Web Pro, which is just built to speed up your website with the lightning speed which is rather faster than any general web hosting solution. Additionally, you can get a dedicated IP with your web hosting to have full control of the IP.
Softaculous compatible
With a functionality called Softaculous, you can install more than 200 applications on your cPanel account with a single click. It makes your hosting experience as simple as you like. Softaculous supports a number of platforms such as WordPress, Joomla, Drupal, PrestaShop, AbanteCart, phpBB, SMF, WHMCS, Magento, and MyBB.
Cpanel support
AbeloHost makes efficient use of hosting applications through its dedicated Cpanel. This hosting control panel can let you customize and manages everything on your server host and makes your hosting experience remarkable.
Daily backup
AbeloHost offers a Daily backup plan that can help you to recover your data at the time of requirement. This makes sure that your data is being kept safe and intact with no much worry about its potential loss. This backup plan can cost you as minimum as €5.00 and works as an extra layer of protection to your VPS storage resources.
CMS support
AbeloHost provides a perfect content management system (CMS) for platforms like WordPress and Joomla to manage the creation and modification of digital content on your website blogs.
Sevices offered
Custom Website Development
AbeloHost is just aimed to take your website functionality to the next level so that you can have a strong presence in the Digital Marketing arena. It can provide you the chance of building professional websites for an affordable price. It provides a completely different platform to design, develop your work of interest in a quite effective manner.
Features
Your personal website designer
A premium WordPress template
Modern WordPress tools.
Two revisions
Mobile and tablet responsive
Full control and access to your website after 1-year support.
Pricing
Logo design ($40)
Customized pages ($35 per page)
Menu design (free)
Footer design (free)
Google analytics installation ($10)
Live-chat installation ($10)
E-commerce incorporation ($100)
Website migration
AbeloHost just provides an effortless site migration very quickly. Its servers just let you migrate your first site absolutely free without any hurdle. But you note that this is only be provided for the annual hosting plans you subscribe to AbeloHost. It provides a full migration service for shared hosting, virtual servers, and dedicated servers.
Features included
Full file migration
Optional Domain migration
Installation of the control panel of your choice
Protected nameservers with Cloudflare
Advantages
You will experience little or no downtime

Migrate to privately owned servers
Pricing
The first website migration is free for the annual hosting plans, thereafter you have to pay €40 per website, depending on the file size of the site.
Server Management Service
AbeloHost provides an exceptional server management service. It is very useful for your online business to run smoothly which is powered by efficient and reliable servers. AbeloHost's system administrators just provide for both a free and paid management service for their servers.
They basically provide two levels of Server Management which is listed below:-
Semi-Management
Here you will get server management support through AbeloHost's ticket system verbally. You will be informed of any issues from system administrators related to your servers as well as get a solution to the problem. It is freely available.
Full-Management
With this package, you can have your personal system administrator. Here the administrator will monitor and secure your server 24/7. You will get the prompt solution of any problem as soon as they arise. Additionally, you can also make any technical requests to the system administrator.
Pricing
For Virtual Servers, you have to pay an estimate of €59.80 per month.

For Dedicated Servers, the estimated price will be around €99.80 per month.
Server Colocation
AbeloHost offers an effective Server Colocation service from one of the opted datacenters. In this service, you will get free technical support as well as free Remote hands from their Tier III data-centers.
Affiliate programming
AbeloHost offers you a great chance to monetize your website by participating in its affiliate hosting program. You can earn a 10% commission every month. All you need is to register and activate your affiliate account.
After that, you will get a referral link that you can use to monetize your site after the potential visitor order anything through that link. You can also monitor the recent activities on your referral link.
Offshore hosting plans
SSD Web Pro v1
This plan comes for €5.99 per month that includes a dedicated IP as well as SSL certificates with various specifications that are listed below:-
10 Email accounts
10 Subdomains
A total of 10 domains (Parked)
Single-click application installer
512MB RAM & 0.7 Core
Where SSL is Secure Socket Layer, It provides the security for the transaction data like Card details, passwords, etc. Here SSL avoids the chances of data-snatching while it's transferring to one system to another system.
SSD Web Pro v2
This plan has a monthly price of €9.99 that also includes a dedicated IP and SSL certificates with the below specifications:-
120 GB Bandwidth
20 GB SSD Webspace
10 Addon domains
20 MySQL Databases
20 FTP accounts
20 Email accounts
20 Subdomains
20 Parked domains
One-click application installation
0.9 Core / 1GB RAM
SSD Web Pro v3
You have to pay €16.99 per month for this offshore hosting plan that contains a dedicated IP and SSL certificates with various specifications that are as follows:-
350 GB Bandwidth
40 GB SSD Webspace
20 Addon domains
40 MySQL Databases
40 FTP accounts
40 Email accounts
40 Subdomains
20 Parked domains
One-click application installation
1.2 Core / 2GB RAM
SSD Web Pro v4
This plan has a special pricing cost of €28.99/month that also includes a dedicated IP and SSL certificates in addition with following specifications:-
1000 GB Bandwidth
80 GB SSD Webspace
35 Addon domains
80 MySQL Databases
80 FTP accounts
80 Email accounts
70 Subdomains
35 Parked domains
One-click application installation
2 Core / 4GB RAM
---
Final Words
AbeloHost is just an ideal offshore hosting provider for your business to gain a lot of traffic without any hurdles in the expression of interest. The hosting provider drastically evolves itself to be the flag bearer in the field of offshore hosting that continues achieving the momentum with so many customers.
Just try out the AbeloHost to experience their motto of "Where service meets servers" with so much dedication that brings you quality service with the best deals on your hands.
AbeloHost also works even better for your WordPress website to bring your site on the radar of potential customers. If you want your WordPress site to be well maintained or have some queries, just don't hesitate to call our customer support team. Dial +1-855-945-3219 (24/7). Your solution is just a call away from our team of professional experts.

That's all, thanks!