8 Signs Indicating Your WordPress site Hacked
Last Updated:

Sep 15th, 2018

Posted by:

admin

Category:

WordPress Knowledge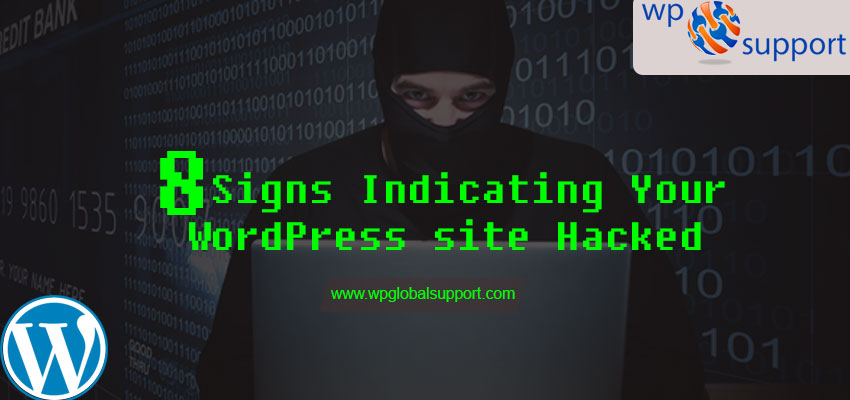 WordPress site hacked or not? How to know
Do you think, your WordPress site has been hacked? Well, here in this article, you will get to learn 8 Sign indicating whether your website has been hacked or not?
In this modern fast-paced era, hacking has become a growing threat for every business whether it is small or large. Regardless of whether it's taking private information, taking control of your PC, or closing down your site, hackers can genuinely affect any business, whenever.
WordPress is a free and an open source system. Nowadays, It has become the prominent choice of hackers when they are trying to hack random sites.
Need Technical Support? Dial WordPress customer service number: Toll-Free: +1 888 614 0555
Here are some possible signs that would help you to know if your WordPress site has been hacked.
1: ADDITION OF BAD CONTENT TO YOUR SITE
Hackers usually access the admin area of your WordPress site, they would alter your plugin and theme files. This would empower them to add anomalous content to your website.
If you start observing such content on your WordPress site, this is a possible indication that your website is hacked.
When a hacker gains access to the admin area, a hacker can modify anything on the website that he wants to. At times, a hacker would completely alter your website and even show a message that your site is hacked.
2: DROPPING OF WEBSITE TRAFFIC
If you encounter a sudden drop in website traffic in your google analytics report then this might be a possible indication that your website has been hacked.
Hackers hijack your website traffic and divert you to spammy sites.
There are many other explanations behind a drop in website traffic. Google itself is one of them.  Users are unable to access websites because Google blacklists sites if they recognize that particular site is hacked.
3: WHEN YOU ARE UNABLE TO LOGIN TO YOUR WORDPRESS SITE
If you are having any trouble in logging to your WordPress site then this is a possible indication that your site has been hacked. Hackers may delete your admin account from your site.
This way you won't be able to retrieve your password because your user account doesn't even exist.
4: FINDING NEW USER ACCOUNTS
If you find new user accounts being added to your site, chances are that your site has been hacked.
In a few occasions, the suspicious user account has administrator rights and you won't have the capacity to erase it.
5: ADDITION OF SPAMMY LINKS TO YOUR WEBSITE
Hackers sometimes gain access to your WordPress documents and database and modify it by creating a backdoor on your WordPress website.
These hacks help in adding links to spammy sites. Typically these links are added to the footer of your site. Erasing the links won't ensure that they won't return.
6: CHANGES IN WEBSITE'S HOMEPAGE
If the design or layout of your website all of a sudden changes, at that point it's conceivable that your site has been hacked.
If you perceive a ton of your pictures all of a sudden vanishing, or you notice any weird pictures on your site, at that point it might be an indication that you've been hacked.
Sometimes hackers might substitute the entire homepage with a message to let you know that your site is hacked.
7: WHEN YOUR WEBSITE IS OFTEN SLOW AND UNRESPONSIVE
Your website often becomes unresponsive due to denial of service attack. In this type of attack, the hacker overloads the server with multiple requests due to which you are unable to access your own site.
Any such action will make your site slow and inaccessible. You should check your server logs to see which IPs are making an excessive number of requests and block them.
8: WEBSITE CRASHING
If you are willing to crash a particular website, you can do so by sending a large volume of data to the server that it is hosted on.
When you see the message 'server not found' the first you should check If your network connection is working fine or not. If it's working then your site may have been hacked.
Some of the time,  a hacker would just need to crash your site and not perform any spiteful activities.
This makes it imperative to have your site at a well hosting organization that will keep your WordPress security in priority.
If you discover, your website has been hacked; then check out his infographics by Startbloggingonline to know what to do after your WP site get hacked.

Conclusion
WordPress Website Maintainance is not a hard work to implement, what important is developing a habit of checking certain things regularly in order to detect any issues early and fix them before anything serious occurs.