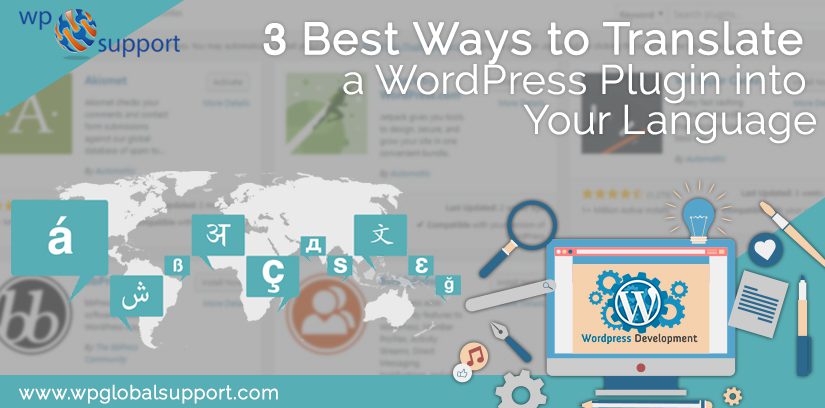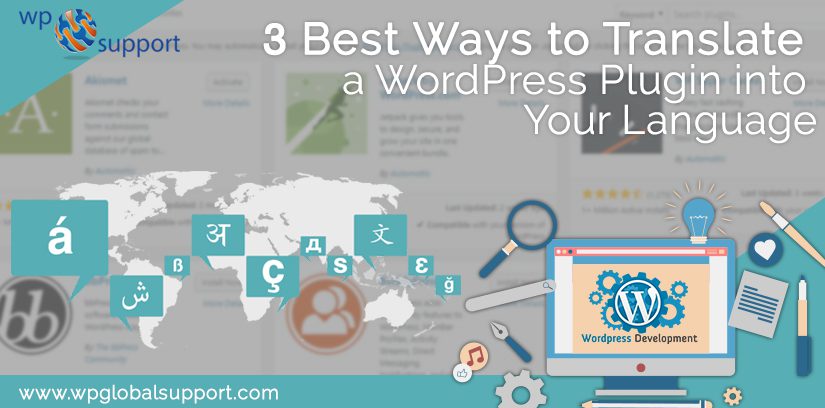 Are you facing issue while translating a WordPress Plugin into your language? Today lots of Users want to translate a WordPress Plugin into their Language. WordPress plugin is complete translation ready and can be simply translated by anyone in the world.
In this post, we will discuss you how to easily translate a WordPress into your language (without using any code).
What is Translator in WordPress?
A Translator is a free translation button given by ConveyThis it allows your visitor to translate your blogs into hundred of different languages suddenly! This button is added automatically to the top of every post. Where, the articles posted by the admin of a WordPress site are called posts.
When and Why You Should Translate WordPress Plugins
WordPress is available in many languages. It can be translated into other languages as well as. You can use WordPress in your own language, and you can also create multilingual websites with the help of plugins.
Here, plugin is defined as a type of software that contains a group of functions that can be added to a WordPress website. They are used to provide additional functionality to your application.
Top WordPress plugins are also translation ready. If you help the plugin authors by contributing translations in other languages. It's helped thousands of other WordPress users as well.
Thus, This is what we are elaborating here! Keep reading we will discuss three methods of doing so:
Method 1: Translate a WordPress Plugin into Your Language
This method is simple and highly advance because in this, you can easily use the plugins and it also helps other users automatically to use the plugins in their language.
WordPress.org recently hosts a web-based translation tool which allows anyone to contribute translations for WordPress plugins hosted on WordPress.org. If you visit a plugin page, you will see a notification asking for your help in translating the plugin into your language. You can also search the Translating WordPress website for the plugin.
Then, select your language, and then you can start contributing. On the screen, you will see an interface with source text and a text area to provide translation for specific words.
Method 2: Translate a WordPress Plugin For Your Own Website
This method permits you to translate a WordPress plugin for your own use. And you can also translate the plugin into your WordPress admin area. This translation will immediately take effect on your website.
As admin area is also known as the administration area in WordPress website where only an authenticated user can make changes. It allows you to create and manage posts, pages, menus, media, change styling in the form of themes, add functionality in the form of plugins, and much more.
Also, theme is a group of stylesheets and templates that are used to describe the appearance and display of a WordPress site. A WordPress theme changes the layout & design of your site. Templates are those files which control how your WordPress site will be displayed on the Web. These files draw information from your WordPress MySQL database and generate the HTML code which is then sent to the web browser.
On other hand MySQL in WordPress is a central component in the LAMP stack of open source web application software which is used to create websites where LAMP stands for Linux, Apache, MySQL, and PHP. And Apache is a popular open-source, cross-platform web server that is, right now the most popular web server in existence. It is actively maintained by the Apache Software Foundation.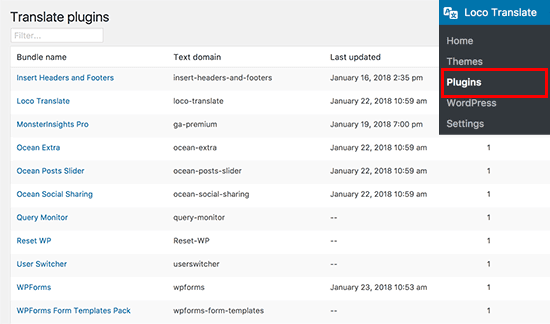 Now, you will see the list of plugins.

Then, click on the plugin that you want to translate.

Then, you will see a list of languages available for the plugin along with the translation progress status for each language.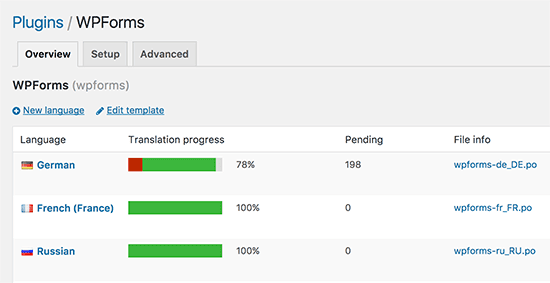 The language you want to translate it is listed there then click on it.

Or, you can click on the 'New language' button at the top.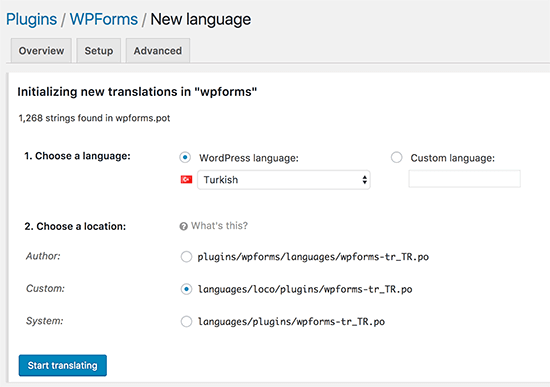 In new language page, choose your language. Two options are available for you.
First one is WordPress language. It automatically starts using this language file if a user sets the WordPress admin area to be in this language.

The second one is to use a custom language.
Choose where you want to store the translation files. Loco Translate will suggest saving the translation files in its own folder and you can also change that to save translation files in WordPress languages or plugin's own languages folder. If you have configured your settings, click on the start translating button to continue.
Translating a plugin is really easy. On the screen, you will see the source text and below it, you will see the translation field. Then, Enter your translation for the source string.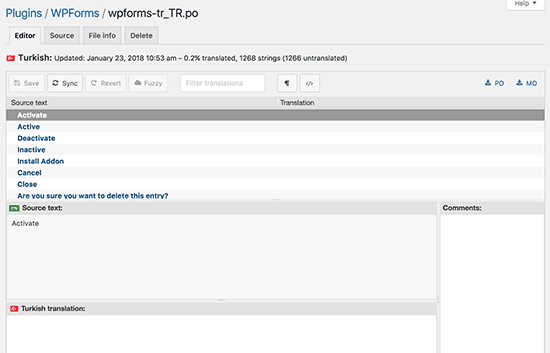 Select the next string to translate.

Then, click on the save button to store your progress.
Then, Enter your translation for the source string. Select the next string to translate.
Then, click on the save button to store your progress.
Method 3. Translate a Plugin on Your Computer
This method allows you to translate a WordPress plugin on your computer using gettext translation apps. It is convenient, also submit your translations to plugin authors, so they can include it in their plugins.
First of all, you need to download the plugin you want to translate on your computer. Double click the plugin zip file to extract it.

If you extracted the file, then open the plugin's folder and locate the languages folder. Inside this, you will find a .pot file.

It is the translation template file that you will need to translate the plugin.

Translation is not ready if the plugin doesn't have a .pot file or a languages folder.

In this case, you will contact the plugin author and request if they have any plans to make their plugins translation ready.

Ever you have the .pot file, then translate the plugin into any other language which you want.

Firstly, you can download and install the

Poedit

app on your computer. It is a free translation app for Mac and Windows.

After this you have the app installed, take permission and open the app.

Then, you see a wizard asking you to select an option.

Using the pro version of the app, then select translate a WordPress plugin or theme. Either, you can select 'Create new translation' option.

Select the plugin's POT file. If you select the file, Poedit will ask you to select the language of the translation.

Type the language name or select from the drop-down menu.

Click on the OK button.

It will now show the translation interface. Then click on a string to select it and provide a translation.

If you completed the translation then save it.

Go to File » Save and name your file after the language name and country code, for example, fr_FR for French and France, en_GB for English and Great Britain.

Poedit will save your translation in .po and .mo files.

Place these files in your plugin's languages folder to start using them right away.
We hope this article helped you. For any help regarding WordPress Migration dial our Toll-Free number +1-855-945-3219.