7 Best WordPress Dashboard Plugins For Additional Features: 2019
Last Updated:

Feb 26th, 2019

Posted by:

admin

Category:

Wordpress Plugin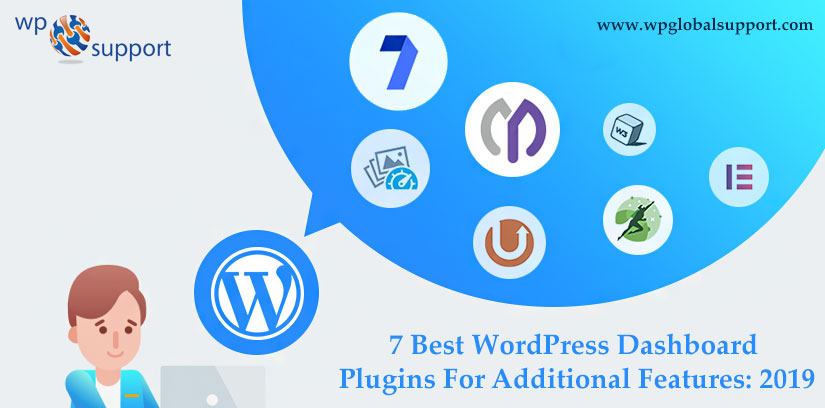 WordPress dashboard is the area where a blogger spends most of the time. The admin area of a WordPress site keeps all information, plugins, and tools so that the administrator can handle the site easily. Often, you have seen that the default WordPress dashboard is bland with only a few widgets that aren't very useful. That's why to make your site more attractive and increase the user experience, you have to use WordPress dashboard plugins. They not only improve your front-end functionality but also enhance the dashboard for better usability and control.
There are a lot of WordPress dashboard plugins available in the market, each & every has its own distinct features: Let's get started:
Best WordPress dashboard plugins – 2019
1. Dashboard Widgets Suite

Dashboard Widgets Suite is the best plugin if you want to go with tons of new dashboard widgets. It's free and works for all versions of WordPress with infrequent updates too.
This thing is a beast and it shows a ton of related information about your website, database info, Server info, custom notes, social buttons and a debug log for your server.
Additionally, you have full control over all of these widgets. Decide which ones are visible and where you want them placed on the screen. This is the best for WordPress users who aren't much into the technical stuff but still want access to the dashboard when required.
However, dashboard widgets comes with a complete set of widgets which you can to your WordPress admin area, elaborated are as follows:
List Box
Feed Box
Social Box
User Notes
Debug Log
Widget Box
System Info
Control Panel
PHP Error Log
This plugin also offers various useful dashboard widgets with some features:
It contains 9 awesome dashboard widgets.
Easy to install and customize option.
Updated on a regular basis
It created with WordPress API.
Secure, clean, and error-free code.
Lightweight, fast and flexible.
Many Multiple options to customize the widget display.
2. Admin Color Schemes
Admin Color Schemes WordPress plugin is a simple and easy to install plugin. With the help of this plugin, you can use colors across different parts according to your liking. Also, you can use it to enhances the admin area and add additional features.
The admin area of WordPress can be a boring place for webmasters. However, it is simple, therefore, it becomes boring quickly. But this plugin makes your site dashboard an amazing place.
Key features
It offers a backend color scheme for all WordPress sites.
It adds a color picker extension to your site.
3. Dashboard Directory Size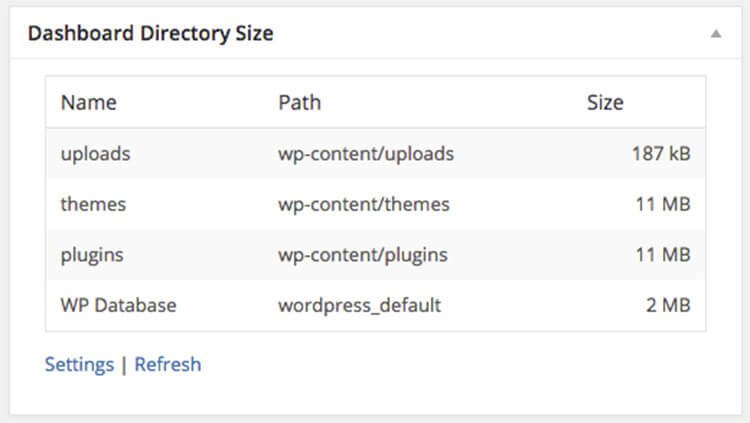 You all are aware that dashboard widgets shows the common WordPress directories and their sizes list. But this Dashboard Directory Size keeps your entire WordPress install completely maintained. With this plugin, you can also configure all custom directories.
As off, it's not difficult to log into your server and check the used disk space. But by using this plugin you can get all the information directly right from your dashboard? Dashboard Directory Size makes this simple with a new widget that shows info on your server stats.
It catalogs all the main WordPress folders where you'd add content by default:
Uploads

Plugins

Themes

Database size
You can see the full URL path such as wp-content/uploads. It's very easy to change this location along with your themes/plugins folders too.
We recommend this plugin for web designers who take on WordPress clients. Guaranteed, you can manage their website at a glance to see if they're uploading large image files that could be reduced.
4. Google Analytics Dashboard Widget

Google Analytics dashboard plugin is one of the most complex widgets that you can add to your dashboard. It bounds to make a big difference in your workflow. This plugin allows you to track your WordPress website and view Google analytics stats in your WordPress install.
This free plugin shows common features from your Google Analytics account all in one handy widget. You can see referring sites, social media, user stats, and top pages among other data.
It is a free and easy to set up plugin. There is a pro version but isn't a full dashboard feature instead it's a new item on the menu. It also offers real-time statistics feature which helps you to know how your site performs. There are a lot of features comes with this plugin that will help you to manage your site. It also contains, basic tracking, analytics reports, custom dimensions, event tracking, etc.
Key Features
Google analytics real-time stats.

Google analytics reports.
Google analytics tracking.
Google tag manager tracking.
Accelerated mobile pages.
support for user tracking opt-out
IP address anonymization.
5. Client Dash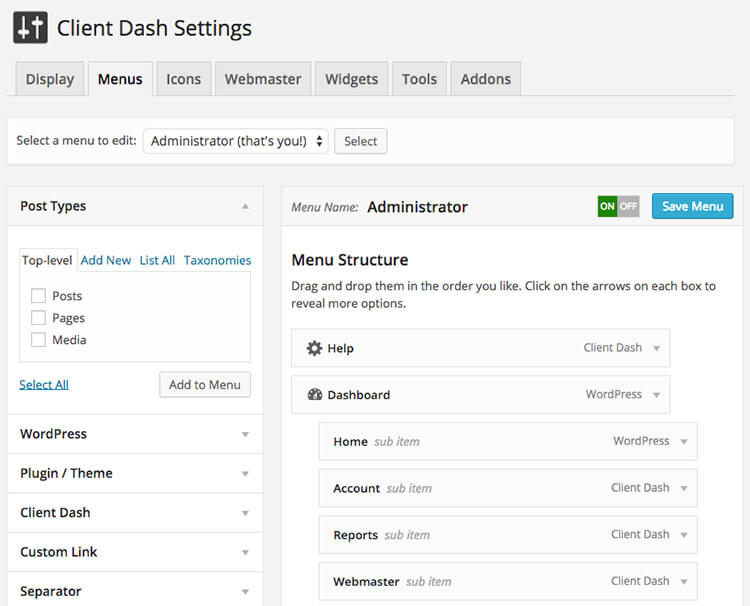 The Client Dash plugin is a powerful addition to the project if you set up a client on WordPress. It adds a unique settings menu for customizing what the dashboard screen looks like and what sort of information is shown. Clients can select from button text, custom icons, and even custom menu items.
Everything can be rearranged with just a few clicks. It offers more than a dashboard widget and it's more than a dashboard control system.
Client Dash is a fully-featured custom UI with options for everything in the WP admin panel dashboard. You might even try this on your own Website if you require more control over the dash design. However, it comes with a lot of features, the best is you can customize the menu list of your client. Means to say, you can add, remove, and edit menu list as per your client's requirements.
Key Features
Extremely extensible.
Client dash customizes admin tool.
It controls the WordPress admin.
It customizes the admin menu.
Customizable admin page.
6. White Label CMS

White Label CMS is one of the best WordPress plugins for the dashboard. It allows you to customize the dashboard according to the client's requirements. By using this plugin you can customize the admin panel menu easily by choosing one of the three available presets (blog, website, and custom) and you can customize it as per your requirements.
Additionally, with the help of this White label CMS plugin, you can change or edit a logo and text located in the footer of the WordPress theme. However, this plugin is best for developers who want to create more personalized and less confusing CMS for their clients.
Key Features
It customizes your login page.
Customize the site dashboard.
It adds your branding to the header and footer.
Controls which menu appear.
Using white label wizard you can set up a customized dashboard within seconds.
7. Admin Menu Editor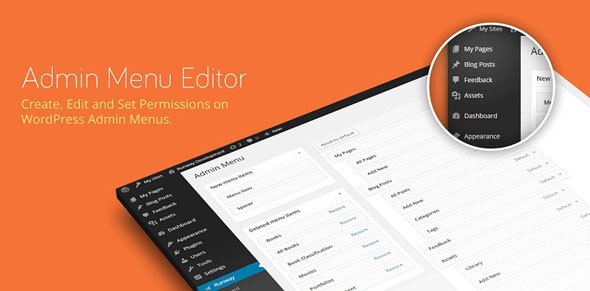 Admin Menu Editor is also a WordPress plugin that every webmaster should have. It allows you to customize the default WordPress menu as per your need. By using this you can create or re-arrange a new custom menu. Note that re-arranging menu not only makes the option visible but also improves the site performance.
Apart from that, with this plugin, you can also select edit menu titles, add menu icons, reorder the menus, set access rights, show/hide specific items, change permissions, and much more. You can also do within a single click restore button. Means to say, you can manage completely your site dashboard with simple drag and drop button.
This plugin has a pro version that comes with advanced features such as you can set per-role menu permission, export your admin menu, hide the menu from everyone exclude a user, create menus open in a new window, drag item among menu level, and much more.
Key Features
Using drag & drop organize menu item.
Migrate a menu item to a different submenu.
You can hide/show any menu or menu item.
Change menu permissions by setting the needed role or capability.
You can change URLs, icons, menu titles, CSS classes and so on.
You can create custom menus that point an external URL or any part of the dashboard.
Wrapping Up
The first step is deciding what kind of features & widgets you need. From there it's much simple selecting plugins that most interest you. Then you can take your customizations a step further with expanded admin features just like custom login pages.
That's all on our behalf and we hope that you liked this blog.
Thanks for Giving your valuable time to Read this article. You are always welcome to visit here anytime soon if you have any other queries. In case if you need any further help, regarding WooCommerce Setup contact our WordPress Support number at toll-free +1 888 614 0555.