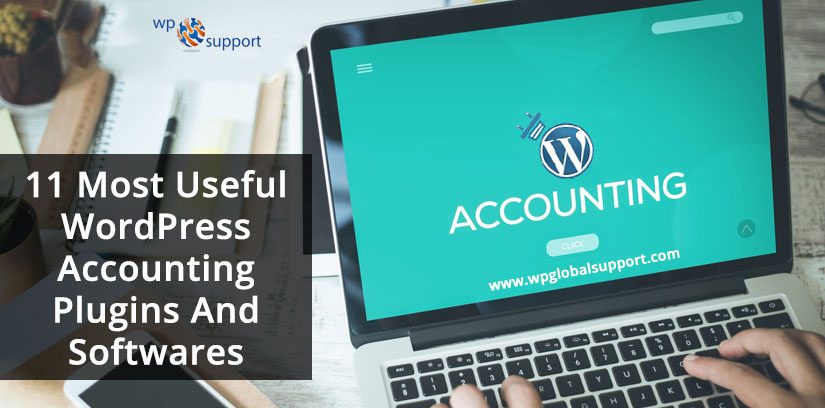 Balancing your business account is quite a lengthy task, but the WordPress accounting plugin makes balancing business accounts look easy for beginners and experienced users. It allows you to easily manage balance sheets, debit, credit, cash flows, income statements, and many more. But the confusion occurs in choosing the best one because there are a lot of WordPress accounting & WooCommerce Accounting plugins available in the market.
Therefore, we remove this confusion through this guide by exploring each & every plugin and its features in detail. After then you choose the one that suits your needs.
Before jumping to the topic, let us first discuss the benefits of WordPress accounting plugins, have a look;
Benefits of using WordPress accounting plugins
With the help of these accounting plugins, a user can perform various tasks some of them listed below:-
Users can easily record and process transactions.
Keep track of the growth of one's business and so on.
Track purchase as well as the sales order.
Billing as well as Book-keeping, and many more.
Therefore, it's necessary to use the best plugin for your business growth and make your accounting tasks easy.
Best WordPress Accounting Plugins – 2019
There are too many accounting plugins are available in the market but here we are going to share a list of some best WordPress accounting plugin who will help you to perform accounting tasks.
#1. Zoho Books

Zoho Books is smart accounting software that is specially developed to maintain small-sized business cash flows and finances. This software is famous for its easy to use interface, helping users make smart business decisions.
The Zoho Books software does not only helps to perform hassle-free accounting but also gives excellent support, uptime, and security as well. With the use of this software, you can easily send customers professional invoices and even accept payments online.
Features
You can create GST invoices in just a few seconds.
Track your inventory levels from time to time.
User can easily organize their inventory with vital details such as SKU, cost, and stock on hand.
You can track your spent time on a particular project and easily invoice your clients for your work.
It provides all your contact in one place which makes communication easy.
Pricing: Starting from $9 per month
#2. CBX Accounting: WordPress Bookkeeping and Accounting Plugin

CBX Accounting is a free WordPress plugin which allows you to maintain your balance sheet. It is an instant, easy and best solution for both accounting as well as bookkeeping services for small businesses in WordPress to maintain the track on expenses and income. The plugin combines into an existing WordPress website, adding functionality and expense control options to the WordPress admin panel. The CBX Accounting plugin gives a paid Pro version for added professional benefit.
Features
Allow selecting the different categories for income and expense as well as using the category manager.
With the help of this plugin, you can see the stats such as expenses in the current year and overview graph of the income.
There are two types of languages available for this plugin: English and Norwegian (Bokmål).
You can join the income or expenses in just a single tap.
The user can also overview the total income and expense in years as well as in month-by-month basis through the automated charting.
Pricing: Free and pro version. The pro version includes advanced features like Log manager, Statement add-on
#2. WP ERP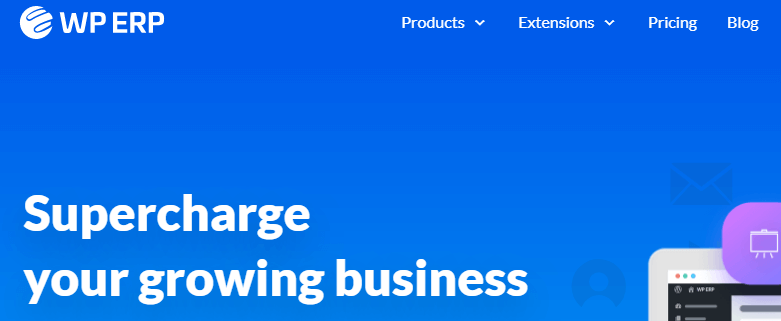 WP ERP by weDevs is another the best free plugin in accounting WordPress plugins. Aside from being an accounting plugin, it has two more modules also as well:
WP CRM System (Customer Relationship Management).
WP HRM System (Human Resource Management).
The user can easily handle the day to day activities of businesses with the use of WP ERP.
Its automatic system makes it very easy and user-friendly for all the business owners to understand it in a simple way and perform the tasks that the accounting department needs to do.
Features
User can easily transfer the money at any time with just a single tap.
This accounting plugin helps its user to review the reports of all estimates in real-time.
With the use of WP ERP, you can also edit and print the invoices with just a single tap.
You can easily maintain all the crucial details of your company from a single place.
You can easily perceive an overview of all your unpaid invoices, expenditure, total cash revenue, pending payments and more available from its dashboard.
Users can maintain the bank account, examine the economic graph and create as well as receive the payments.
Pricing: Free
#3.WooCommerce Debitoor Connect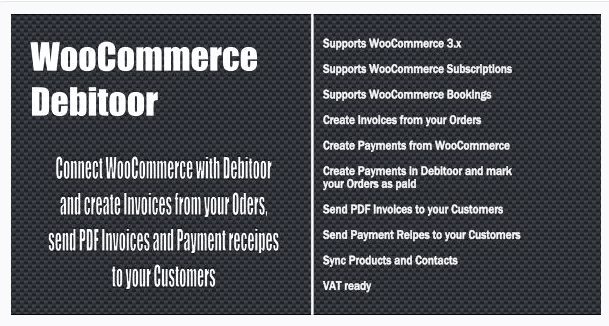 WooCommerce Debitoor Connect is a paid WordPress accounting plugin which is used to combine your WooCommerce Webshop account with Debitoor.
WooCommerce Debitor Connect is an accounting as well as invoicing software. Which provides dual functionality with minimum cost and maximum stability. So, if you want to use this accounting WordPress plugin then you have to create an account on it. This plugin runs with WooCommerce Bookings, WooCommerce Subscriptions as well as WooCommerce 3.x very efficiently.
Features
The user easily can check your payments on the accounting software via tracking the payments on WooCommerce.
This plugin creates the programmed invoice on Debitoor while a particular order is placed at Webshop.
The user can easily synchronize the clients as well as products from WooCommerce to the accounting system.
You can easily transfer the PDF files as of invoices to any clients from the accounting tool.
WooCommerce is compatible to provide full VAT support.
Pricing
Regular: Only at $39 for one user with no charge on end-users.
Extended: The charged with the extended plan is $720 on which the end-users can be charged.
#4. Acumulus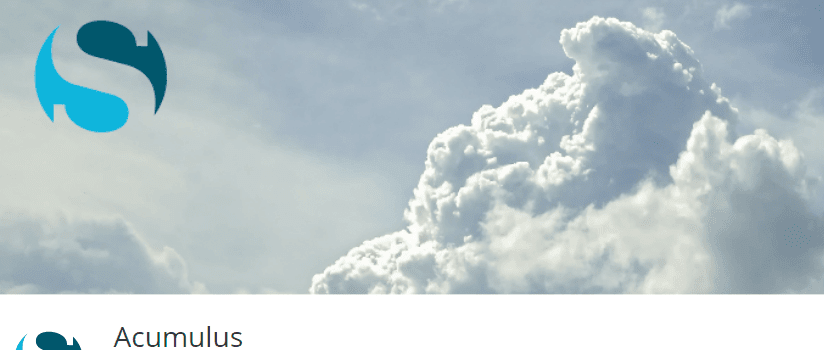 Acumulus is also a free accounting plugin for WordPress which helps to join the WooCommerce setup to the Dutch SIEL Acumulus application.
It can also add the invoices by automatically or via a batch send in the form to the administration, and saving lots of physical and error-prone work as well.
This WordPress plugin is created especially for freelancers as well as for the sole proprietorship.
Some important things in to use Acumulus plugin
You must have installed WooCommerce.
You must have an account with SIEL Acumulus.
Features
Acumulus plugin does not conflict among the front-end UI in any way.
This accounting WordPress plugin responds to order status differences by various activities.
This plugin has three admin screens: settings, advanced settings as well as batch send screen.
It provides a meta-box with an overview
Pricing: Free
#5. WooCommerce Book Keeper Expert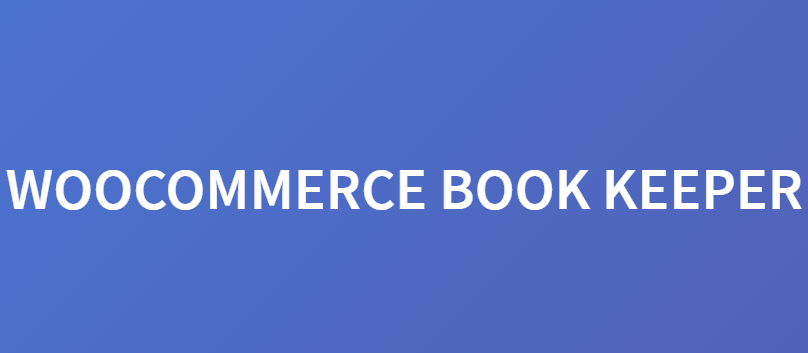 WooCommerce Book Keeper Expert is one of the best WordPress accounting plugins. It is the very first WooCommerce CSV export WordPress plugin in the market.
WooCommerce Book Keeper Expert plugin is used for both bookkeeping as well as accounting software. With the help of this, your all accounting tasks becomes very easy and simple. It can activate and configure the implication of the payment gateways in the description.
Features
With the use of this plugin, you can easily acquire an accurate interpretation of the accounting status.
The complete data of sales are consigned to the accounting software with just a single tap.
In this plugin, the security of the sales data is higher, due to its limited data exchanges,
It is export file setup is cooperative with most of the bookkeeping as well as accounting software also.
One of the time and money-saving WordPress accounting plugin.
It provides a detailed coupon code for every product.
One of the best features of this plugin, it is a Multilingual translatable.
Pricing
Regular: It charges only $29 for a single user. Aside from this, end users are not charged.
Extended: In this plan, the charges are of $120 for a single user. While the users in this plan can be charged.
#6. QuickBooks

QuickBooks is one of the best accounting software. With the help of this software, you can easily perform your day-to-day accounting tasks such as creating invoices, printing checks, inventory management, and many more.
One of the best things about this software is that it is easy to operate and it's not compulsory to have the technical knowledge to use this. QuickBooks is a complete package of advanced accounting features. If you will face any difficulty to operate this software, you can get help from the QuickBooks support team. They will surely solve your queries within a minutes.
Features
QuickBooks help to users or organizers to keep up to date.
In fact, you can also easily create and print checks from anywhere.
QuickBooks software provides a real-time view of cash flow.
With the use of QB software, users can instantly pay multiple bills at the same time.
With the help of QuickBooks, you can easily manage their books with multiple systems from anywhere or at any time.
Pricing: Small Business plans start at $10 per month, Self Employed plans start from $5 per month.
#7. Godaddy Bookkeeping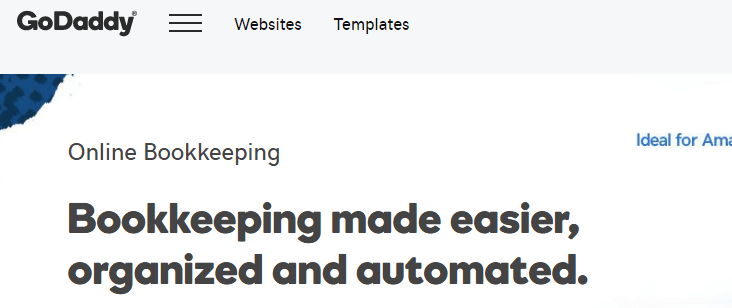 As we all know that Godaddy is famous due to its domain name registration business. In fact, Godaddy is of the biggest domain name registration company in the world. But they also provide other services such as cloud-based bookkeeping software for small size businesses.
They offer users to sync your bank, Amazon, credit card, Etsy, PayPal or eBay seller accounts to their bookkeeping service.
Features
They can automatically track all your transactions and show them along with your total loss and profit report and this report always appears at the top.
It also adds easy invoice management with recurring invoices and combined payment through Stripe or PayPal payment gateways.
Godaddy bookkeeping is the best software for freelancers and small size business owners who wants an easy bookkeeping solution.
It helps users to organize all their finances details in a single place.
Complete work on Data Security.
Pricing: Starting from $3.99 per month
#8. FreshBooks

FreshBooks is the best software for freelancers. With the help of this software, users can easily track and send invoices for self-employed and freelancers.
It helps you to address recurring invoices and gives subscription easily. FreshBooks supports online payment collection by Google Checkout, credit cards, and PayPal. This software joins seamlessly with known business purposes, providing for smooth methods.
It has a smartphone application which provides you the freedom to see and maintain things on the go.
Features
With the use of Freshbooks, you can quickly set a due date for your invoices.
You can easily add a discount.
Freshbooks supports multi-currency billing.
You can see the preview of the invoice before sending.
Pricing: Starting from $15 / month.
#9. Xero
Xero is also the most popular cloud-based accounting software for small size businesses. It is accounting software generally famous for having reform accounting. This software designed to give the best user experience possible, the solution is simple to use, giving tough accounting tasks such as double bookkeeping simple also for new users.
With the help of this accounting software, you can easily perform most of the accounting tasks such as view bank transactions, send invoices, accept payments, manage contacts, and many more. In fact, user can also create multi-currency accounts, manage payroll if you have employees, and also maintain your projects within its mobile application.
Features
Helps to quickly categorize your bank transactions
You can see the money coming in and going out on a regular basis
Xero allows sending online invoices with online payment options.
You can easily operate unlimited payroll approx 50 states and automate filings.
Pricing: Starter plan costs $9 per month, but it has limited features. You will have the standard plan which costs is $30 per month, in this standard plan you will get every feature that will make your performing more efficient.
#10. Wave

Wave is another an accounting software and its free for download. It really the best software for small size businesses. It helps users to maintain all your finances through connecting your bank and credit card accounts to the application then wave can track all bank transactions.
But, there are transaction fees for credit card payments is 2.9 % + 30 % on per transaction, and for ACH transfers 1% on per transaction. If you have employees, then the user should have information that their payroll software is paid and it is not available in the free plan.
Features
Allows personal finance tracking
You can run multiple businesses in only one account
It provides unlimited receipt scanning with our free iOS and Android applications
Users can capture receipts even when they are offline
In this software, receipts are automatically recorded as accounting transactions
Pricing: Free
Final Words
We have discussed the most useful WordPress accounting plugin. Hope that you have carefully read the above-mentioned accounting WordPress plugins and you should try one of them for your business. As you can see some plugins are free and some paid.
With the help of these accounting plugins, you can easily maintain all of their accounting and bookkeeping tasks without any disturbance.
We hope that you like this article, don't forget to share it with your peers or if you have any suggestions you can tell us in the comment section below. Please contact us for any queries.