WordPress User Roles and Permissions: A Beginner's Guide
Last Updated:

Apr 6th, 2019

Posted by:

Editorial team

Category:

WordPress Support
WordPress (blogging platform) has a very flexible and one of the best content management system(CMS). It has very flexible and scalable tools and functionalities which helps in making your website quickly with additional features. It's important to understand the different WordPress user roles and capability before assigning them randomly.
What Are WordPress User Roles?
As  a CMS, it comes with a role management system that is able to define what specific users can or can not do on their website. You need to be aware of these roles so you can more easily manage the reach of your website.
If you are the only person running your website, then you probably should not think about the user roles of WordPress. However, if you ever need to give other people access to their WordPress site, then the roles of the WordPress user are necessary to control what actions are taken for different users of your site.
WordPress offers 5 default user roles:
Administrator
Editor
Author
Contributor
Subscriber
Let's have a look at them in a detail:
WordPress user roles and capabilities
1) Administrator
Administrator is one of the most powerful roles in WordPress. When someone installs WordPress, by default it creates a user role with new passwords and user names and defines the role as WordPress Admin.
Administrators can do all the work on the site and have the ability to do anything. Like a user with the role of an administrator (usually referred to as an administrator) has the ability to change the structure of the website, including its themes, plugins and other user settings. It is the only user who can create new users, modify and delete any existing, including any other administrator.
2) Editor
The editor is at the top position to handle the content of your website. The user with the role of an editor can do anything with the content of your website, which includes your pages, posts, media, and comments. They have access to add, edit, publish and delete any post on your WordPress website. This includes all posts, even written by others such as authors, contributors, and administrators.
In addition, their list of privileges includes access to personal posts and pages. However, due to the role of this user, there are certain restrictions. The user with the role of an editor cannot access WordPress settings, themes, plugins and/or widgets.
3) Author
The author can publish, edit or delete their own posts, but they can not access anything created by other users. They can not even create, edit, or delete those pages. An author can upload files to the Media Library and delete whatever they have previously uploaded. Apart from this, the authors can moderate the comments on their own posts.
There are few drawbacks in assigning an author as even after publishing posts, they can remove any of their posts. Although this is not a major issue, it can cause a problem in some cases.
The authors can remove the posts after publishing them, even if they are paid for this work, or they can remove their posts after resigning from the company. The consequences of such a situation can be dangerous to your website. It's always better to have a WordPress backup for your website.
4) Contributor
A contributor can only perform three tasks i.e reading all the posts, deleting and editing their own posts. Since this role doesn't allow users to publish posts or upload media files, it is limited. Thus it only god for one-time or new content creators.
They do not have access to admin functions such as shuffling website designs, uploading plugins or creating new categories. It can choose from existing categories and add related tags to their posts.
This user role can be an ideal option for the owners of a WordPress site, which other people want to come to their site and just write, nothing more. To be more precise, this role can be assigned to guest writers who easily present their content.
5) Subscriber
A subscriber has minimal access and limited capabilities among all the WordPress user roles. As long as the default capabilities are not changed, the subscriber's role is delimited to create and maintain its profile on the WordPress website. In addition, they can also change their passwords which they want. But, they do not even have the permission to write articles and publish them.
This role is only suitable if you want your users to log in to your website to view the post or leave a comment. Being a customer, if you provide one on your website, then they can enroll in news subscriptions like email and promotion. They gain access to their own profiles and can edit some of their own information.
Super Admin
It is the modified form of the regular administrator. For instance, admins on WordPress Multisite networks cannot install, upload or delete themes and plugin, nor can they modify user information. These things can only be done by a super admin.
The super admin is responsible for the entire network and can make high-level changes such as adding and deleting the site. They can manage network users, themes, plugins and more. As such, their dashboard looks like a regular administrator.
Additional Information of this blog:
How to add a new User in WordPress?
Log in into your WordPress dashboard, click on add new from the select user option.
Fill in the required details in the form given.
Then click on show password and create a new password. You can change it whenever you require and a new user can also change it as well.
From the drop-down menu choose any one of the required user roles.
Then click on add new user. And here you go.
Plugins to modify WordPress user roles
WordPress offers a wide range of outstanding WordPress plugins. However, we recommend the User Role Editor Plugin to manage and control user roles. This plugin allows you to add, modify and delete user roles and capabilities very efficiently and effectively.
Here's how you can customize user role using the plugin:
Firstly activate the User Role Editor plugin and navigate to user role editor under user.
After that, select the user's role from the top of the page.
With this plugin, you can either create a new role or edit an existing one. Apart from this, it allows you to fill a selected role with the capabilities you need. In addition, you can assign newly created roles or capabilities directly to the user.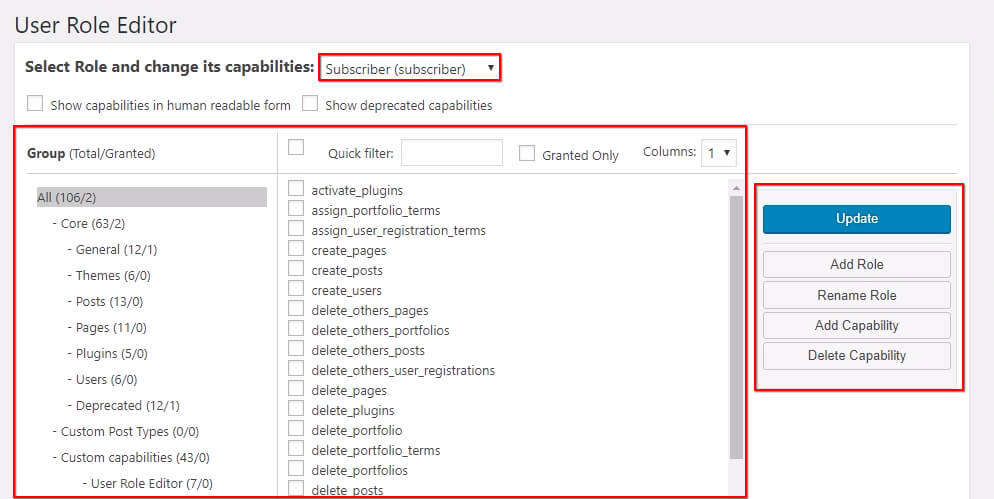 To add a new role and define its capabilities or if you wish to delete any, you can easily perform this from the main user role editor page. Moreover, you can even make a copy of the capabilities of the existing role for the newly created one. Thus, one can say that this page saves you from enabling the capabilities again.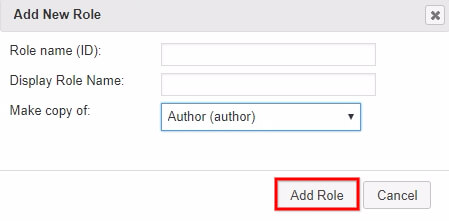 Capabilities can also be defined as a user level. In the user list page, you can see a capabilities option which will redirect you to the capabilities page in the WordPress user list page.
Conclusion
Having knowledge of different user roles and using them as per their need basically improves the security as well as the efficiency of your WordPress site. It also organizes the registered users and their role.
Follow some simple techniques to take advantage of this feature. For example, consider placing your pool of top-level users short, specify only what permissions are required, and use plugins to customize their roles. Still, if you have any problem dial our phone number +1-844-275-0975 (toll-free) to contact our WordPress Support developers.