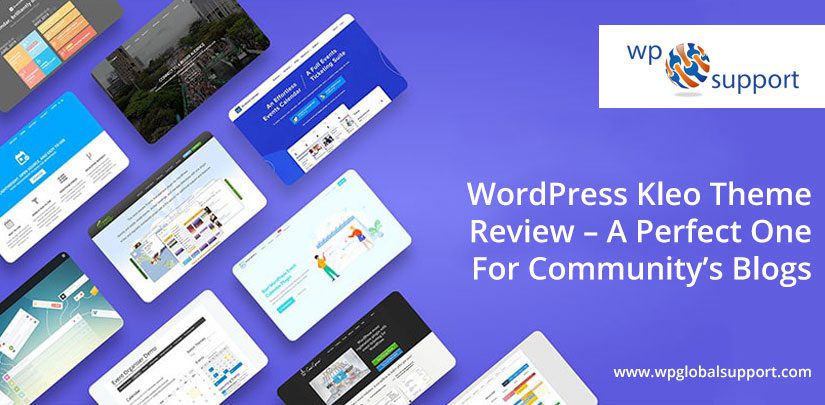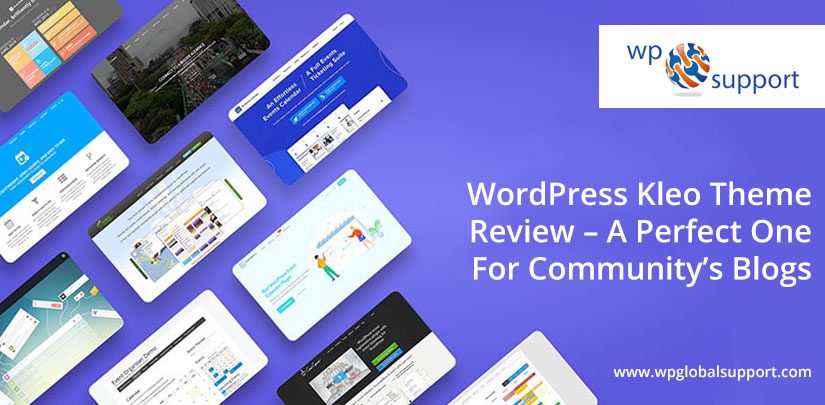 When it comes to building a community or social networking site, the WordPress Kleo theme is the best option to consider. It can also be used to create all types of websites, but it is designed specifically to create a community or social networking site.
What is a Theme?
As a WordPress theme is a group of stylesheets and templates that are used to describe the appearance and display of a WordPress site. A WordPress theme changes the layout & design of your site. A theme is an identifying condition or a phenomenon that sets its apart from the rest.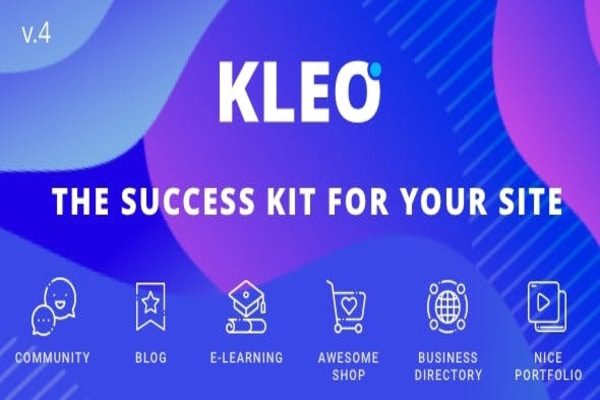 ---
Overview
Kleo theme is a premium theme that comes with the latest version of BuddyPress and bbPress plugins, also known as social networking plugins. In addition, the Kleo theme comes with a clean and simple design with great potential. The theme used for many purposes like creative portfolios, blogging, business websites, membership websites, online shops, etc.
Also, it has a number of demos that can be imported to your pre-built WordPress installation within a single click. Apart from that, it comes with a lot of advanced features that boost the functionality of your website. Finally, this is one of the best options that fulfill your business requirements.
In this guide, we have mentioned the complete details of the kleo theme; its features, functionality, and how easy it is to use. By the end of this guide, you will definitely have decided whether it is the right choice for your online business. So keep reading the guide.
However, If you want to create a forum website, then you are getting the right thing. Because Kleo theme integrates the bbPress plugin, which is the most popular forum plugin for WordPress. Also, you can quickly set up this and have a forum website of your choice in no time.
bbPress is a WordPress plugin that adds "forum" functionality in WordPress site. Mainly, bbPress is an open source and free forum software designed by the founder of WordPress, Matt Mullenweg. It is easier to add a forum in your WordPress site. Not only this but, it is spam support, and has customizable templates.
Where WordPress Templates are those files which control how your WordPress site will be displayed on the Web. These files draw information from your WordPress MySQL database and generate the HTML code which is then sent to the web browser.
Although there is another area where Kleo theme can be used, that is creating a membership website. Also, you can define membership levels that can be purchased by users. You can have one-time payments or recurring payments. And you can restrict content based on those membership levels. For this functionality, Kleo integrates paid memberships Pro plugin. This plugin is free of cost and fully integrated into the theme.
Reasons To Choose Kleo BuddyPress Theme
Although Kleo has strong integration with the BuddyPress plugin. Therefore if you like to have a beautiful looking community that you can manage on your website. Then you are looking for the best among others. Because Kleo theme will give all the best options to do so.
When you purchase the Kleo theme so you get a quality product. In addition, you receive reliable services. Also, you do not need to spend so much time on coding and other programming basics. Because it is sometimes hard to grasp for other people. Among other useful things Kleo also provides you the access to strong eCommerce functionality.
Therefore, if you want to create a big online store, or you want to sell a few items from your e-commerce website, then Kleo can be a great option for you. Also, Installing this theme is very easy and quick. Therefore you do not have to worry about doing it by yourself. Besides that, you will get all the required and best features in one theme.
Although this theme is full of color, functions, and various useful options. However, you will not get tired of personalizing your own designs and using your creativity because this theme has so many options to offer you. This theme has the standard in blog templates which is not as many typical blog template.
However, if you look at the entire interface, then you will get the truth that technology and creativity have merged in it to provide the best theme for you. Although many WordPress themes are generally easy to install. But some of them are not that interesting enough. However, this theme is not free, thus it fulfills all the requirements of bloggers.
Besides that, this theme is also recommended for those people, who just want to create content. And also its for those who do not have the time to go through detailed web design concepts. Therefore the one-click installation system is very easy to follow.
Although it would make a very good starting point for all the technical challenges that you face while creating your own website. Certainly, the Kleo theme is nearly perfect for anyone, who wants to write and modify their own blogs and articles, without getting confused with the technical aspects of blogging and web site designing.
There are some more reasons to choose Kleo theme, these are as follows:
Number of demos
Being a multipurpose theme, Kleo theme provides a lot of demos to create multi-type businesses that include news, restaurant, eCommerce, agency, portfolio, directory, e-learning, online community site, etc;
BuddyPress and bbPress integration
Kleo theme is fully integrated with BuddyPress and bbPress plugins. Further on, BuddyPress is a free WordPress plugin helps you to convert your site into a social network. While bbPress adds forums to your WordPress site.
However, the kleo WordPress community theme has some features and settings especially for this plugin under the Theme Options>>BuddyPress menu so that you can easily customize the appearance and layout of your BuddyPress pages.
WooCommerce integration
You know WooCommerce is one of the best options for startup e-commerce business. The theme is fully integrated with WooCommerce setup. It has builtin styles and features especially for WooCommerce under the Theme Options>>WooCommerce menu so that you can easily customize layouts and display options for your WooCommerce shop and product pages.
Visual composer and drag & drop page builder
Kleo theme also comes with the visual composer plugin that helps you to create grid layouts with tabs, sliders, columns, and many more elements using drag & drop interface.
Additionally, a plugin named K element is specifically created for this theme that adds more elements to Visual Composer builder that includes;
Text block: add text with animation effect.
Buttons & separators: add horizontal lines or colorful buttons.
Icon: 700+ fontello icons to choose from
Let it snow: a 90s-style snowfall effect over a specific page of one section.
Gap: An empty space
Display your portfolio and testimonials
Kleo portfolio theme allows you to add and display your portfolio and testimonials items. Portfolio pages are auto-created pages, but you can customize them by going to Theme Option>>Portfolio menu. Also, for portfolio plugin look at our guide WordPress portfolio plugins.
Additionally, you can also show your testimonials as an element just by adding them with Visual Composer.
Customization options of WordPress site
With this theme, you can customize your entire website. It has a WordPress customizer tool that helps you to modify your website. You can customize almost all parts of your website through the kleo theme option's control panel.
Documentation & Support
The theme provides documentation on the SeventhQueen site so that you can't face any problem during the installation and configuration of the theme. There are also some tutorials, video tutorials, and a knowledge base that will help you to troubleshoot the problem.
Further, if you are not able to solve the problem through documentation, you can go for a support ticket. Experts will respond to your query within 12 hours.
The Kleo theme comes with 6-months support, but you can also extend for 12 months by paying some additional charges.
Plugins included in Kleo theme
Revolutioner slider: plugin for slider
K elements plugin: offer theme-specific shortcodes that you can use with Visual composer as elements.
Visual Composer: drag & drop page builder.
Go responsive plugin: to create price comparison table.
BuddyPress: to convert your website into a social platform.
bbPress: to add forums to your site.
WooCommerce: to create a successful e-commerce store.
rtMedia: to add media gallery in BuddyPress.
Paid membership pro: to add membership features.
iTheme security
gravity forms
Installation & configuration of the theme
To install the theme, very first you need to download its files from Themeforest account;
Go to the Download tab on Themeforest and search Kleo theme. Thereafter, press the download button and choose all files and documentation options.
Once you have downloaded the theme from Themeforest, you can install it.
Note: The theme also has a child theme so that in future you can easily upgrade this.
You Can Install The Theme Via Two Methods:
WordPress admin interface
FTP
1. Installation through the WordPress admin interface
To install it through the WordPress dashboard, unzip the file you have downloaded from Themeforest.
Now, go to "Appearance>>Themes>>Add New".
Thereafter, press the "choose file" button and upload the "kleo.zip" file that you have downloaded from ThemeForest.
That's it! You have successfully installed the theme.
Follow the same process to install the child theme (Kleo.child.zip). Once you installed, then activate it.
2. Installation through FTP
First of all, you need to login to your hosting server through FTP software.
FTP stands for File Transfer Protocol. FTP is used to transfer files from one local computer to a remote website, such as a WordPress blog. It is also used to download files from your WordPress website to your computer or to change files and directories permissions on a remote website.
Thereafter, unzip the kleo.zip file. Here you have to use only the extracted Kleo theme folder.
Now, upload this extracted folder into the "wp-content>>themes folder".
Finally, navigate to "Appearance>>Themes" and activate it.
Note: if you upload the full package you will face a "no stylesheet found" error.
Configuration
Once you have successfully installed the theme, you will be redirected to a welcome page of the theme.
On this page, you will see the evaluation of your server status and some useful hints to set up any required settings. Note that some settings are advanced to which you may have to contact your web hosting company for help. AS Web hosting is one of the key components of every successful website.
You can see the mentioned below screenshot;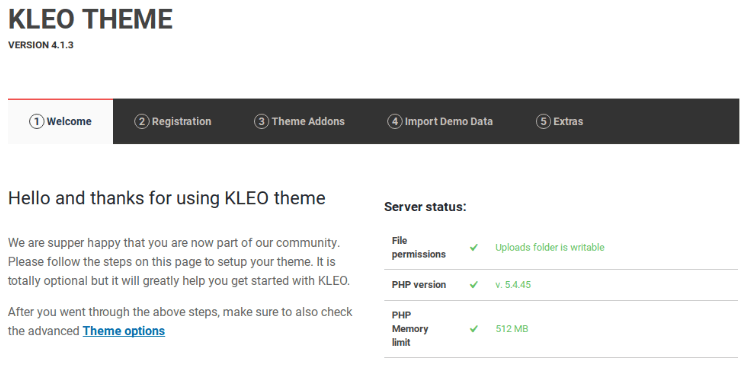 Next is the register tab where you can register your theme for automatic updates.
After that, the next tab is Theme Addons. In this tab, you can select and install various plugins and a built-in child theme for safe customization. The theme has some of the plugin to work properly like; Revolutioner slider, Visual Composer, BuddyPress, and many more.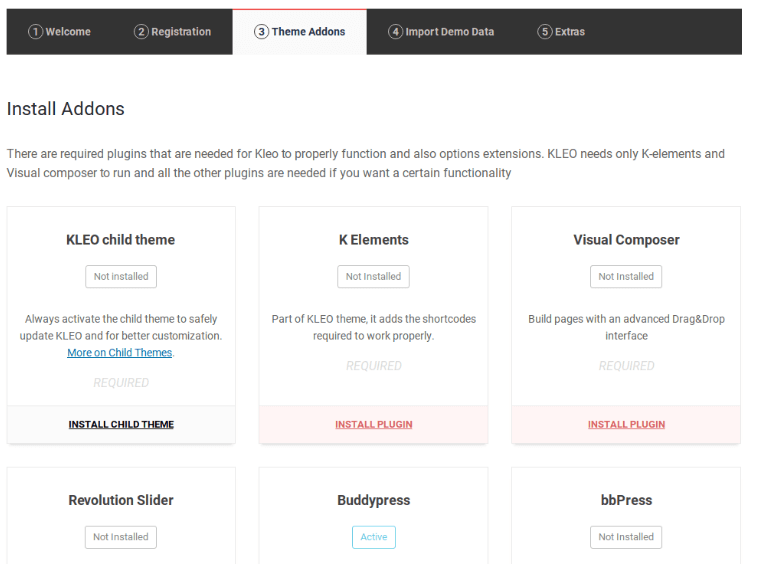 Once you install the plugin, go to the next tab "Import Demo Data" to import your required data.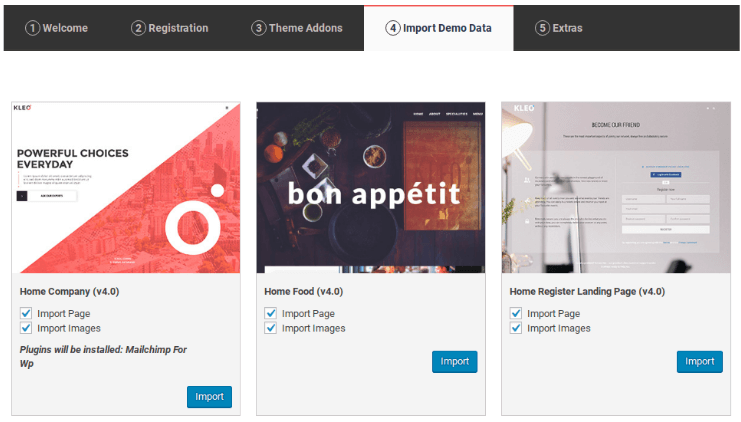 Further on, in this tab, you will see a number of one-click importer demos to choose from. Select one of them to install settings and content. The demo includes;
Magazine styles
Registration landing page
Mobile app
Company
Resume
e-commerce shop
Portfolio
And many more…
Design & layout customization
Here you can customize your site's layout & design by going to the Theme Options in your WordPress dashboard.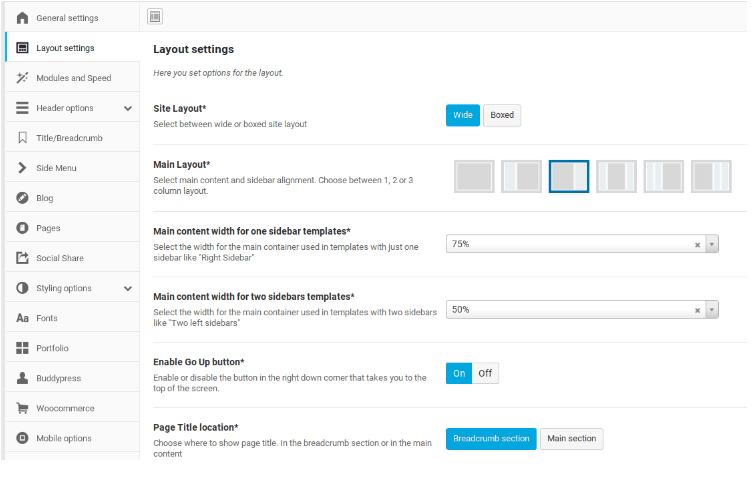 All the options under Theme Options are very flexible that allows you to make your site look amazing.
Additionally, you can customize your site color by going to "Appearance>>Customize>>Styling Options". Also, you can see your site preview.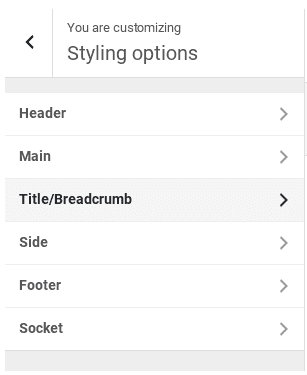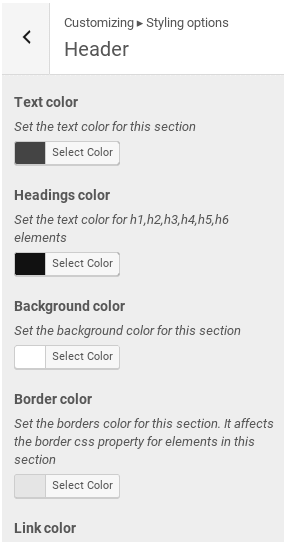 By default, WordPress comes with one main sidebar area, but this theme allows you to create your own widget areas.
Go to "Appearance>>Sidebars" and click the "Add New Sidebar" button to create your own.

After that, go to "Appearance>>Widgets" menu and place widgets here, then choose it in the Sidebar section when you edit your page.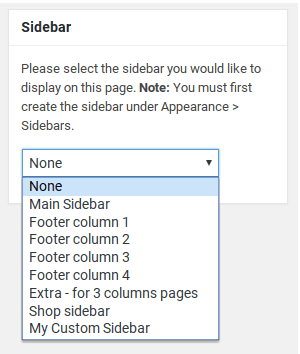 Updating kleo theme
The theme can also be updated in two ways; Automatically and manually;
For automatic updates, you have to install a plugin. We suggest you use Envato Market plugin.
Manually theme update by FTP
To update the kleo theme manually, first of all, download the latest version of the theme from Themeforest.
Thereafter, copy the "kleo" folder by going to wp-content/themes and save it to your computer because you should have a backup of your old files.
After that, unzip the "kleo.zip" file you have downloaded from Themeforest.
Delete all files from "wp-content/themes/kleo" and place all new files inside the "kleo" folder to your server in wp-content.themes/kleo.
Lastly, navigate to "WordPress dashboard>>Theme" options and save the options because some dynamic elements can be added. That's it! you have successfully updated the theme.
Key Features of Kleo Theme
Kleo WordPress theme has a variety of useful customization options and it's loaded with large number of features to customize your website. Also, Kleo is a very flexible and multi-purpose theme.
Header Builder Plugin
With Kleo, you have the option to use the very amazing Stax header builder plugin. Although this plugin is built by the theme author. So that it gives you the total control over your header layout and elements too. Also, it takes a little bit to get used it by yourself with the builder interface but it totally worths it.
One of the biggest things that Stax brings is the ability to have mobile, tablet, and desktop separate content and settings. Stax brings 100 percent Front-end Visual Editing Mode and you can see live how your header looks right when you are building it. This means you can have another logo on mobile or just a completely different looking header.
Page Builder Plugin
This theme provides you At the moment you can build your pages using WPBakery Page builder. Therefore with the help of a page builder, it is easier to use with its front-end drag and drop interface. Also, in the updated version 5.0, you will be able to include the option to choose your page builder from WPBakery Builder and Elementor.
However, the Kleo has a very intuitive UI that lets the user add or change fonts, use unlimited sidebars, colors, and layout settings.
Having the option to choose your preferred builder for pages is a big advantage. More so one can change from masonry to the usual standard view and vice-versa.
Website Monetizer
Kleo WordPress theme comes with the best strategic ad locations to place your ad code. Because every user would like to have his site monetized and the This theme is favorable for WordPress users who use AdSense or other such contextual ads to monetize their site.
The integrated ad spaces are fully responsive. This means your ads can be displayed on all types of devices and as a result, you end up earning a lot of profit from your content. It specifies exactly where the ad will appear and where it will not appear.
It totally depends on the location you choose which helps you to get a better CTR and CPC from your visitors. There is no need to worry if you do not want the banner ads to be shown on BuddyPress pages as it has a restriction on that. The Kleo monetizer can be easily found from your theme option settings.
Setup Wizard
Kleo theme's content importing process is simple to use with a single click of the extreme attention to detail, versatility, and performance. Therefore once you install the theme and register your purchase code, you can start importing the content right away.
Besides that, if you going to the Demo data tab, then you have the option to choose from the available demos. The import process takes care of activating any plugins that are needed, adding pages, images, and other settings.
Website Speed Optimization
Kleo comes with a speed and performance enhancement mechanism, which enables you to have faster loading time for your WordPress site. In addition, concatenation that is the merging of the files created into one file is done.
The option to combine these CSS and JS files is also found in this section. This can be enabled under the theme's options page under modules and speed. Although it uses different modules within the theme, which the user should either activate or deactivate depending on the ones you are using.
By activating them, the performance of the site is improved by generating CSS files of the modules. Another way to improve speed on the Kleo theme is by removing the query strings from theme CSS and JS files. It definitely improves the load time of your site and helps when it comes to filing caching. Hence, it leaves an overall great user experience.
Easy to Use Shortcodes
Kleo theme lets you use a number of shortcodes. Also, you can add these shortcodes to your pages to implement various features within the theme. Although you can do so without the need of knowing anything about the underlying code. This makes it quite easy for you to customize your website very easily.
Easy Customization
Kleo provides you a large variety of options to choose from such as layout settings that allow you to have up to two sidebars on the page, full site color customization, and full font configuration for the whole website.
Also, you will have lots of blog layout settings, social share and Facebook login integration, and modules and Speed options too. Besides that, the plugin integration specific settings such as BuddyPress, WooCommerce, and GeoDirectory.
Social Networking Features
Although the Kleo theme has many great features and one of them is social networking. Basically this theme can help you create an online community. Although these features are provided by the BuddyPress plugin which is free to use. Also, Kleo has been created to completely integrate with the free core plugin and many add-ons of them.
Although Kleo theme and its social networking features can help you If you wish to create an online space for your offline communities. Also, if you want to help your clients. audience members and other customers form connections and network with each other then also it will fulfill your goals.
Additionally, there are a number of pre-built community demos and templates to choose from. This gives you the option of using Kleo to create a fully-featured online community or social networking site or simply add some of these features to your more traditional website.
Community Forums Option
This theme provides you the best option for community forums. However, these are the same as discussion boards, where anyone can choose any topic and discuss it with many people such as fellow colleagues, guests, etc. Although you can add unlimited forums, sub-forums, and related topics to your website very easily with Kleo and bbPress.
This will help you to get a more interactive feel. Because if you have a forum solution for your website. Then it can help you promote your web presence, increase your online brand, and build relationships with other people within your industry or community. Besides that, you can get the bbPress settings under the theme options page very easily.
Multiple Demo Websites
Basically, there are more than 23 demo websites for you to choose from. This will help you build your specific website when you are setting it up with the Kleo WordPress theme. Although Kleo demos almost cover every type of web project you wish to build for our company.
These include business, eCommerce, food, restaurant, news, agency, e-learning, portfolio, online community websites, and directory. If you desire to create a website for your restaurant or other culinary-based business. Then the Kleo theme food demo is a great choice for you.
However, the business demo provides you a great opportunity to highlight your best features. Also, you can demonstrate how you can help your target audience. Although its portfolio website demo has a large number of layouts. This will help you to display your best work in the right way.
No matter what type of content you want to showcase, from videos to images, the portfolio demo offers you a large variety of options. Besides that, The Kleo agency demo features a portfolio section, a stylish blog layout, a large homepage slider, and a services area. These all wrapped up in fully responsive design.
However, you can create a fully-featured online listings website by using the directory demo of the Kleo WordPress theme. Also, it provides you the Google Maps integration. Therefore your visitors can find the attractions which they are looking for very easily. Kleo helps you to create a helpful resource for your industry or local area.
The Kleo GeoDirectory WordPress plugin and its library add-ons give you directory features. Besides that, the Kleo theme includes two eCommerce demos. These will help you to build the right online shop for your business. These eCommerce demos are powered by WooCommerce.
WooCommerce is the leading online store builder plugin for WordPress. However, Kleo makes it very easy to import the demo content. Unlike some other WordPress themes, the whole process is very simple and straightforward therefore it only take a few clicks.
Also, there are some more key features of the Kleo theme which are given below:
Multiple header layouts
AJAX-powered live notifications
AJAX-powered live search shortcode
Google fonts integration
Single-click demo importer
Facebook login & registration
BuddyPress specific shortcodes
Membership site ready
Multiple custom sidebar supported
Number of page templates
Child theme
40+ inner page templates
Fully mobile responsive
Outstanding support
And much more
Our Score Review Regarding kleo Theme
You already know that the theme is a well-designed multipurpose theme that comes with a lot of features and plugins. As we have mentioned above, if you have any idea to build a community or social networking site in your mind, this is one of the best options.
Like everything, the theme has not only pros but also cons. Depending on these pros and cons we have given a score review to this theme;
Pros
It has a large collection of demos.
Easy to use and low cost
Best customer service
Various useful features list
Reasonable price compared to others
WooCommerce Compatibility feature
A large set of customization options and settings
It has the capability to create community and social networking sites.
You can also create an online shop with this theme.
It provides documentation support so that you don't face any problem during installation & configuration.
Lastly, one of the best multipurpose themes to create any type of site.
Large selection of demos for different website
Better e-commerce support for creating online shops
Powerful community and social networking capabilities
Slideshow creator and Drag and drop page builder tool
Multipurpose WordPress theme for building any type of website
Cons
It may be a bit difficult to switch another theme without experts.
The feature of RTL supported has been below to the average.
Customer support only provides interaction on email.
The WordPress Customizer provides less support than others
A lot of settings and required plugins for a small business.
Depending on these merits and demerits we give it 4.5 out of 5 stars Overall with all 5-star rating from the performance.
Pricing & revenue of kleo theme
Pricing
Kleo theme costs $59/year with a regular license and 6 months of support from SeventhQueen. But you can also extend your support by paying an extra $17.63.
Revenue
Each sale of this theme costs $59 on ThemeForest. Till 15/01/2019 ThemeForest has done 19534 sales. So the total revenue earned by this theme is ($59 X 19534) = $1152506
In the End
We hope this informative guide on Kleo WordPress theme helps you to create an effective Community Website that can ultimately allow you to show your ideas over the internet. That's all for now!
If you face any problems related to WordPress theme customization, you can contact to our WordPress help experts. Dial our WordPress support phone number +1-855-945-3219( Toll-Free)
Read more:-