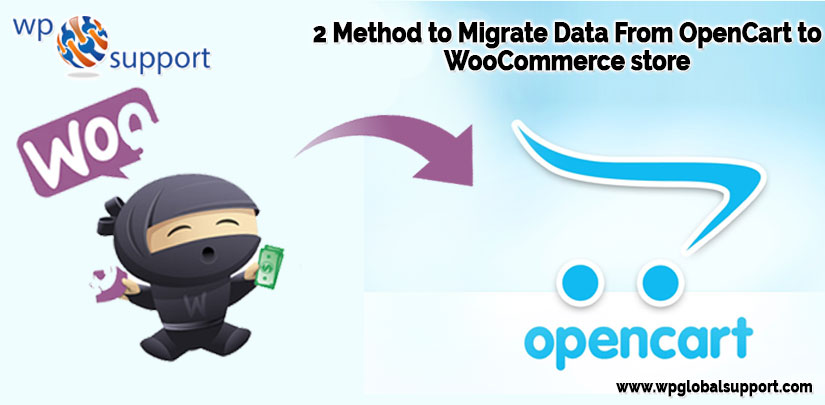 These days – online stores are getting widely bigger and popular. One of the issues is that your current shopping cart simply can't handle everything. Hence, it's a prime time to expand your boundaries and migrate from OpenCart to WooCommerce store – one of the biggest online stores.
The best way to migrate from OpenCart to WooCommerce is by using the plugins covered in this blog. There is no programming experience needed to be a techno freak. The entire migration process does not require any additional downloads or hiring a developer.
The process is simple and does not require technical knowledge. Still, if you face any problem you can contact our WordPress help team.
Here go through the table of contents covered in this blog for a better understanding of the topic of your relevance:
Why WooCommerce over OpenCart?
Better customization options
Since the structure of the templates is hard to access, thus modifying the theme on OpenCart turns quite tricky. Whereas WooCommerce, on the other hand, makes the layout manipulations easy using the comprehensive tools.
WooCommerce is simply riding the famous disposable of WordPress, and is fine. Those who own WP sites, they will already get an air of the vehicle administration, while new users will master it immediately because there is no learning curve. OpenCart, in terms of management, is hard.
SEO tools provided by OpenCart is a bit less advance as compared to the WooCommere. WooCommerce can give better optimization and high google ranking without spending much time.
While switching from OpenCart to WooCommerce, you need to migrate the entire data. Likely to be containing – products, categories, attributes, customers, passwords, orders, and much more.
Needless to utter – let's start with the list of data that are needed to be exported from OpenCart to WooCommerce.
Data list to export
Products: The first and important detail which must transfer is Products, Which includes product SKU(stock keeping unit), Product name, description, qty, stock status, product images, additional images, price.
Categories: Transfer of all broad categories of products and their base images.
Customers: All details of customers like name, last name, emails, DOB, Address and more.
Orders: order number, order product, order date, discount price, etc..
All URLs: SEO URLs of migrating products, categories 301 URLs of all categories and products.
Reviews: All customer reviews, rating, status should be transfer from OpenCart to WordPress.
Taxes: Transfer all rules and tax price of the product.
Moving onward to migrate data from OpenCart to WooCommerce store. Cart2Cart is one of the best ways to move your current OpenCart store to the WooCommerce store without using so much programming and coding. It also provides a free demo migration.
Before you start, take a look at things you must take care of before you migrate OpenCart to WooCommerce.
For Source Store(OpenCart)
Ensure you have the right permission to upload files to your Source Store.

And then, it must not block access from Target Store to the connector.
Hence, the source store can work normally during migration because this process requires very limited resources.
For Target Store(WooCommerce)
The target store should be kept in a stable hosting or localhost.

PHP Curl must be enabled.

PHP Fopen (allow_url_fopen) must be on.

Also, it must not block connection to Source Store.

The Web server must have full permission to write on /wp-content/uploads/ folder.
However, it is strongly recommended to backup your site before you start the migration process. Now download the OpenСart to WooCommerce Migration plugin your WooCommerce site.
Ways to Migrate Data From OpenCart to WooCommerce store
To migrate data from OpenCart to WooCommerce, follow the steps given below;
OpenCart to WooCommerce Migration Plugins
1. Migrate OpenCart to WooCommerce via Cart2Cart
This automated shopping cart service transfers all your OpenCart data to WooCommerce store safely and easily in just a few simple steps. It enables data exchange between your OpenCart and wooCommerce stores and launch a full-scale migration of products, orders, customers, categories and all other entities.
Cart2Cart will keep your current OpenCart cart unaffected and available to customers, while with all unit associations to quickly save data. In addition, you can always count on a dedicated 24/7 support staff who provide you with any answers to OpenCart for questions related to WooCommerce migration.
Installation
Before starting the migration process install the plugin in your WordPress site.
Very first, login to your WordPress Admin panel and click on plugins button.

Now click on Add New>> Upload plugin>> Choose File>> Install Now.
Thereafter, install and activate the

OpenСart to WooCommerce Migration plugin

.
Get registered with Cart2Cart to proceed with the migration process.
Steps required to be followed: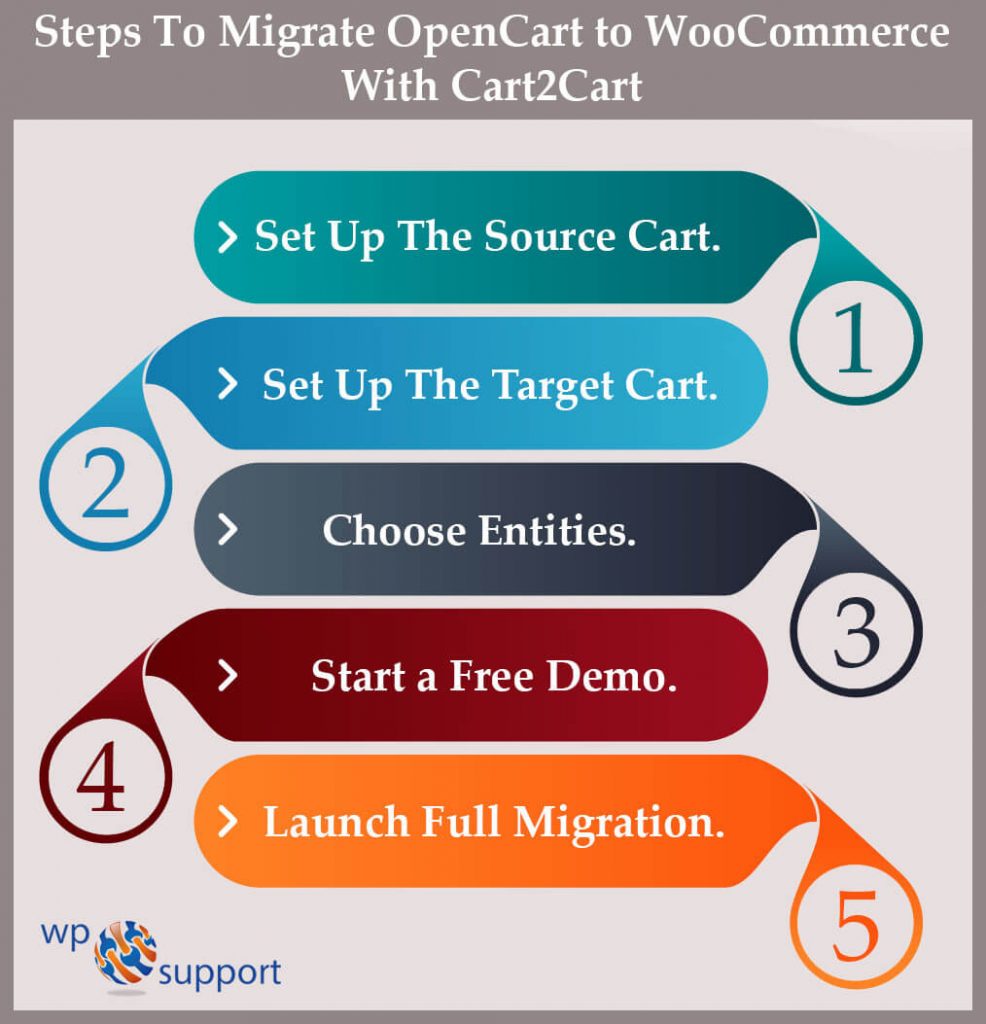 Set up the Source Cart. Pick up the current OpenCart as your Source Cart and provide your current store URL.
Set up the Target Cart.
Choose entities.
Start a Free Demo.
Launch Full migration.
Follow the detailed instructions provided below for migration:
1. Set up Source Cart
Your current OpenCart is your source cart and provide this store a URL. Download the connection bridge after that. Unzip it and then upload it to your openCart root folder.
2. Set up Target cart
Set your target Cart as WooCommerce and provide your store's URL. Then download the Connection Bridge for the WooCommerce. Follow the same procedure, just unzip and upload it to your WordPress root folder this time.
3. Choose Entities
Now select the entities you want to migrate from OpenCart to WooCommerce. If you want to move all your store data, check the "Select All" box. Apart from this, there are some additional options that increase your migration prospects.
4. Start Free Demo
From now onwards, you can start a free demo data transfer from OpenCart to WooCommerce, which will take you around 30min. A limited number of units will switch to your new WooCommerce store.
5. Launch full Migration
Once you get the demo results, you may continue launching a full migration from OpenCart to Woocommerce and then just in a few minutes you can enjoy your new live store.
With Cart2Cart you have the advantage to track order statuses and customer group set in your source cart to once that will be displayed in your target cart. Here, you all set to migrate the data from OpenCart to WooCommerce. Once it's done you can check the data in your targeted cart.
For full data migration, select all entities general and additional and click on full migration button. You can track the full data migration while transferring and on completion, you will receive an email notification.
That's All!
Another tool which used to migrate OpenCart to WooCommerce store is LitExtension. As done in Cart2Cart you have to create a connection between the source store and target store. First, go with the Source cart setup in LitExtension.
2. Migrate OpenCart to WooCommerce via LitExtension
LitExtention is also a tool used to easily migrate OpenCart to WooCommerce supporting nearly 50 most popular carts. To migrate the data follow the steps given below-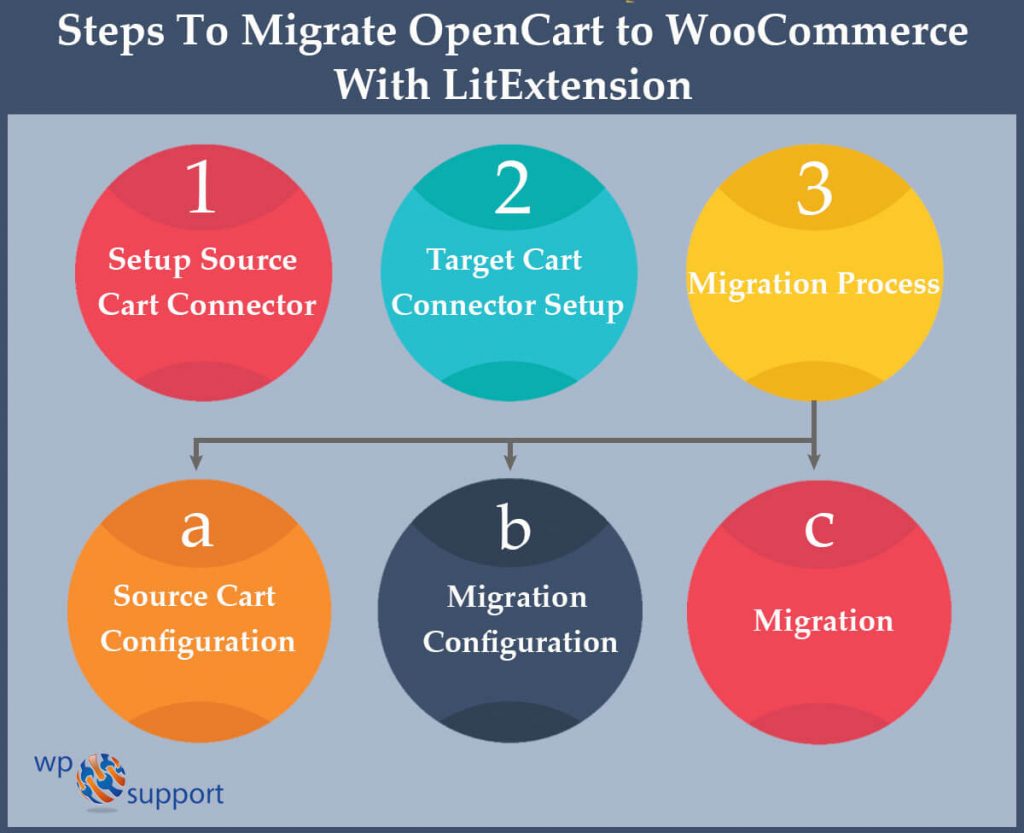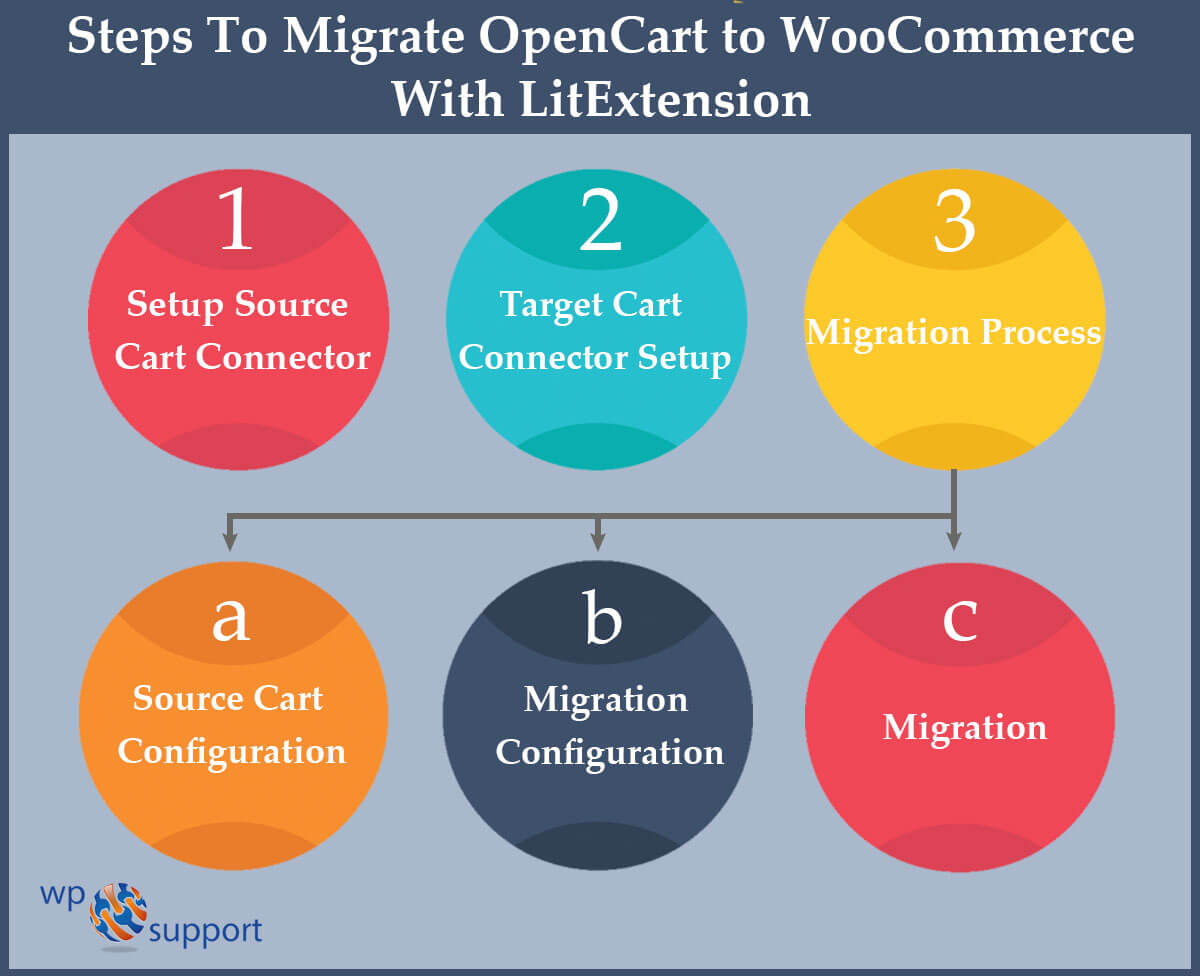 #1 Setup Source Cart Connector
To Create a Connection between source cart and LitExtension first you need to install connector field to your source store. To get a preview of sets and setting click on Live Demo button and download the Source Cart Connector.
Extract "woocommerce_connector" into Source Cart root folder. When finished, make sure that the connector can be reached here:
http(s)://yourstore.com/woocommerce_connector/connector.php
And then you will get a message "Connector Installed" it is installed properly once.
If you have any problems accessing the link, Make sure that you have access configured correctly and that the file is allowed to execute.
For security, open connector.php, after that find this very first line:
define('LECM_TOKEN', '123456');
And then change "123456" to another string, this will be used to enter to the Migration Form (Cart Token) and acts like "password" to prevent unauthorized data access to your source store.

#2 Target Cart Connector Setup
Moving on to Target cart Connector, login to the LitExtension store by the account you purchase the LitExtension product, go to My Account >> My Downloadable >> Hosted Tool for automated installation.
License Key is an encoded string that comes with your download package. Although, this key needs to activate your migration tool.
After that, log into our store and then enter the "My downloadable product" section.

Here, you will find the download link and license key for the download package.

After that, log in to your WooCommerce Target Store backend, choose

Cart Migration>>Settings

, and copy it and paste your license key here:
License Key is an encoded string that comes with your download package. Although, this key needs to activate your migration tool.

#3 Migration Process
First, please log in to your WooCommerce target store backend, and then choose Cart Migration>Migration.
However, migration will go through 3 simple steps. When you finish one step in advance, then press "Next".
Migration Step 1: Source Cart Configuration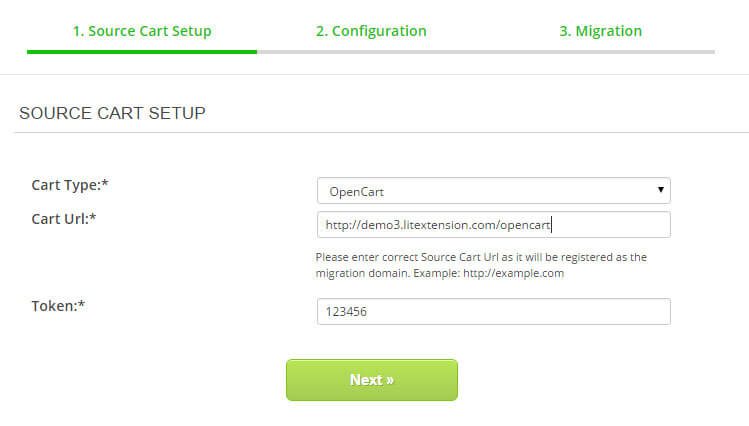 Cart Type: Select the corresponding source cart type (OpenCart).
URL: Please enter the correct and registered URL in your license.
Token Cart: Also, the token string will be configured in connector.php.
Migration Step 2: Migration Configuration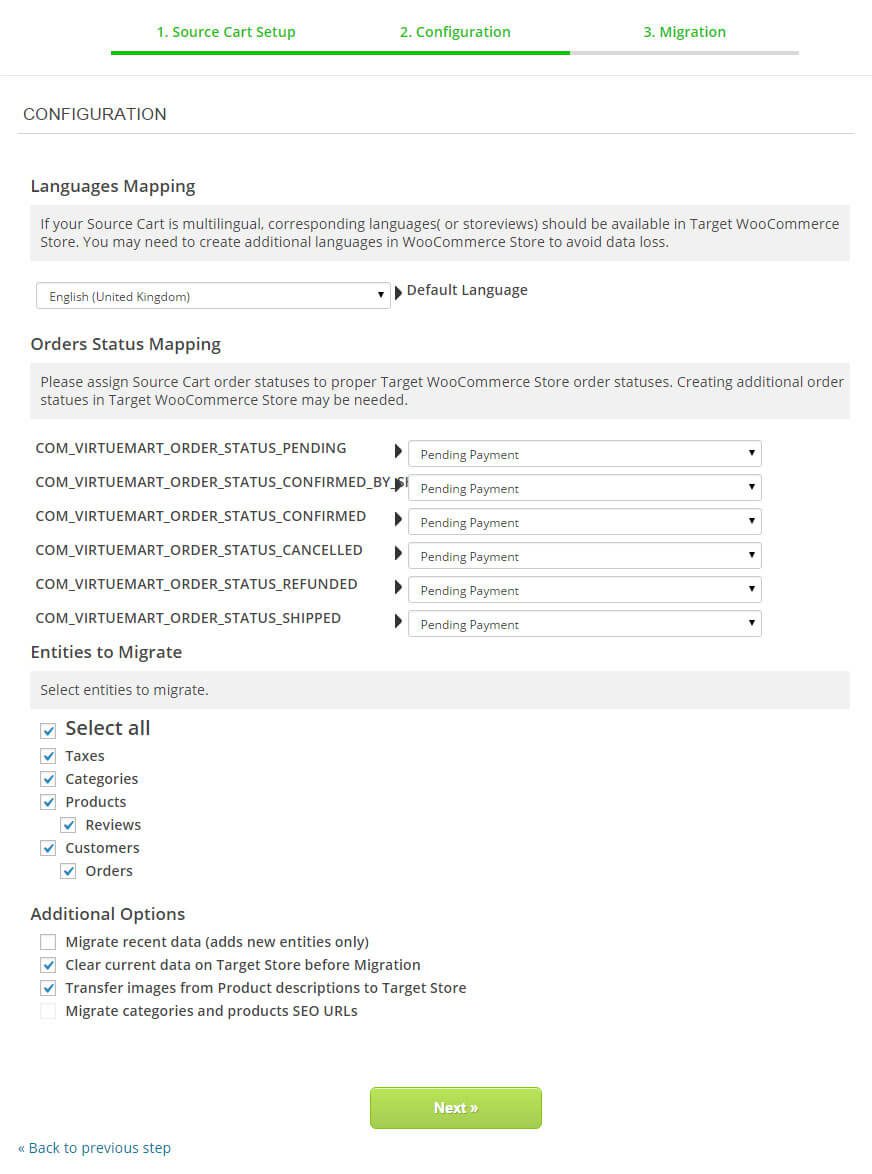 Languages Mapping: If your source cart is multilingual, related languages should be available in the WooCommerce Store. Then, you may need to create additional languages in the WooCommerce store to avoid data loss.
Currencies Mapping: Assign source tag currencies to the appropriate target WooCommerce Store currencies. Also, making currencies in the target WooCommerce store may be necessary.
Orders Status Mapping: Assign source cart order statuses to appropriate target WooCommerce store order situations. Creating additional order statuses in the targeted WooCommerce store may be necessary.
Entities to Migrate: Choose all entities to migrate or just a part of them.
Migration Step 3: Migration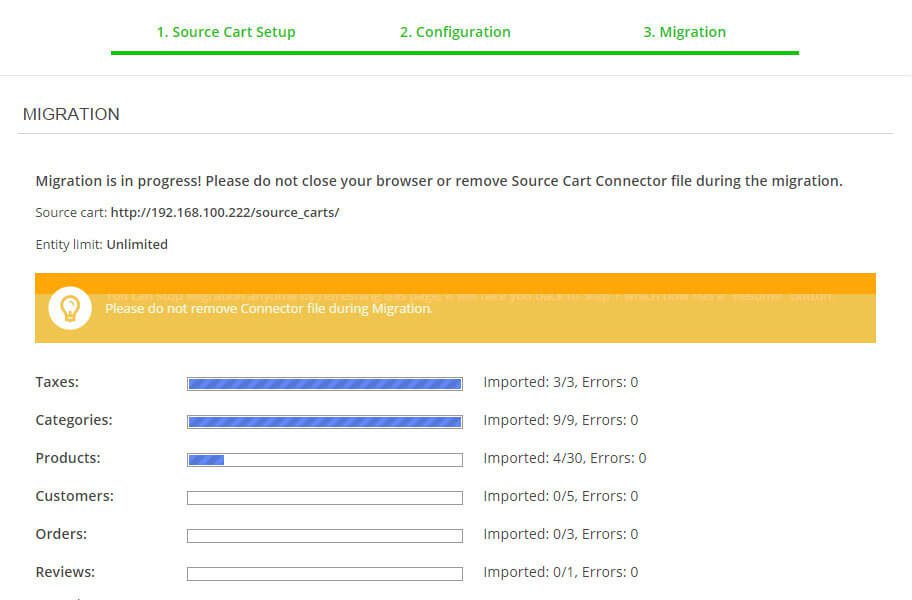 In this final step, the migration will automatically take place. For this to progress, you should not stop removing your cart source connector.
Information shows in these steps:
Source cart: Source cart base URL should be registered with your license.
Entity limit: To change this value associated with your license, you will have to upgrade/purchase the second license code.
Tips slider: Also, handy tips you should know.
Migration progress: Show current progress.
Console: Show all debug information.
After that, the migration is complete, click on "Clear Transient" to finish.
Migration Resuming
When there is a problem with the migration process, the Migration Tool offers the ability to resume the process in two ways:
a) Automatically resume on the spot: However, the tool will start automatically after the failure when all the data is imported into it.
b) Manually start over again: You can refresh the page to go back to step 1 and click on "Resume" when you want to temporarily stop the migration and resume it whenever you want to do.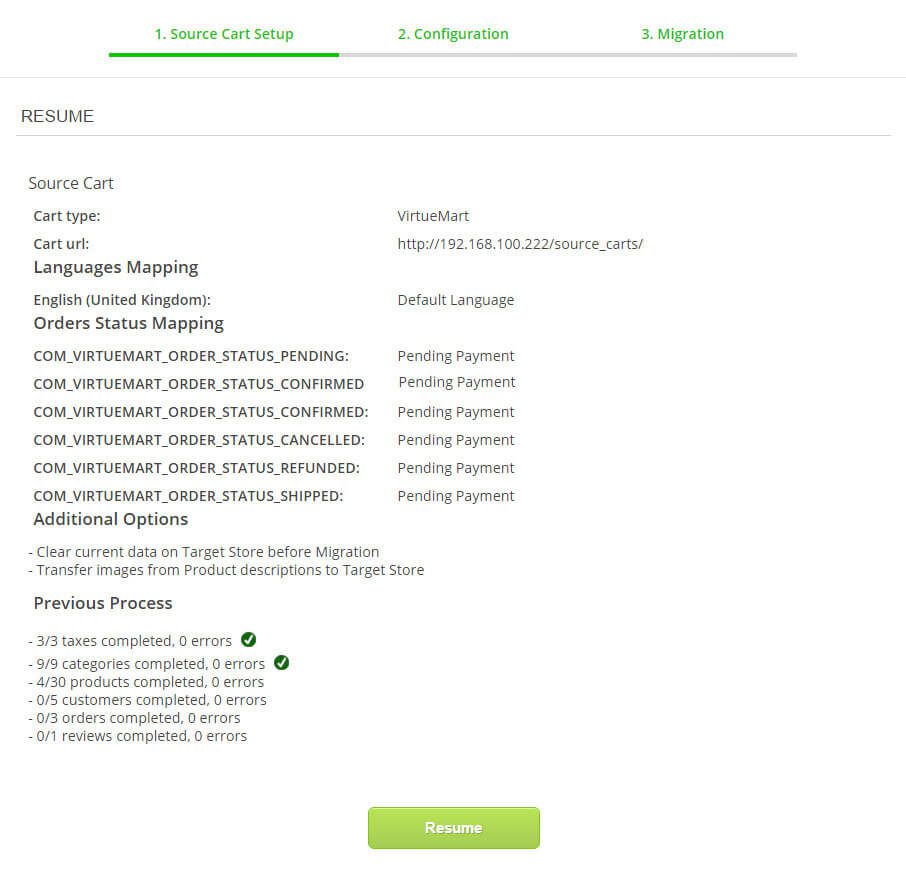 Advanced Configuration
Access advanced configurations by going to Cart Migration>>Settings. All default values are configured to work with most cases, so you can change these value when it is necessary.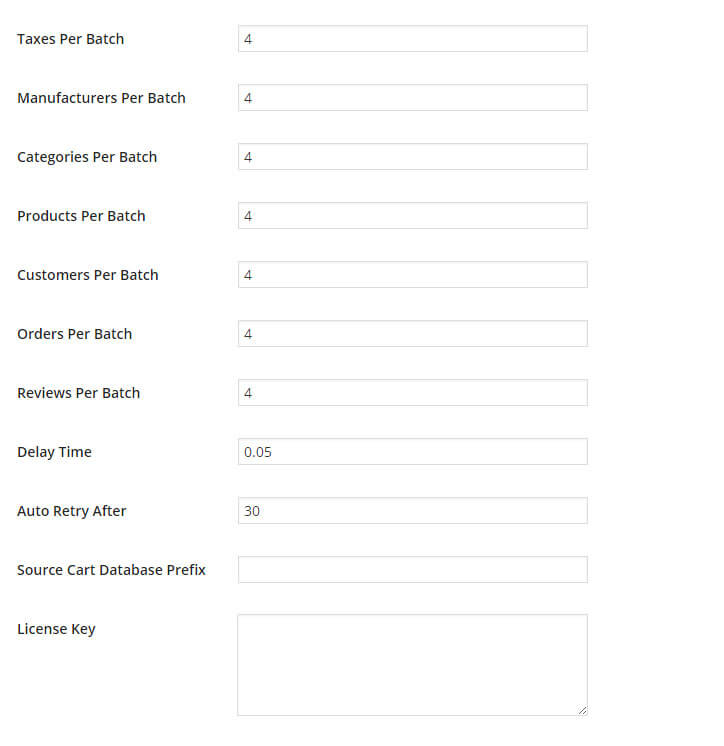 XXX Per Batch: Cart migration divides each unit data into small batches (or blocks) and imports them in return. This option defines the batch size for processing in each turn.
Hence, depending on your OpenCart hosting resource, you can change prices accordingly. The price is low, the less time and resources OpenCart spends for a batch process, even a long time to import the whole data.
Delay Time: Sleeping Time Between Each Batch – this option defines "break time" for both the source store and the target store.
Consequently, if the source store is set to limit the number of requests over a period of time. Also, timeout is useful to prevent the problem.
Auto Retry-After: If for some reason, the process of batch fails, then the device will retry automatically after the duration defined by this option.
Source Cart Database Prefix: Fill this only in this case when your source cart does not support table prefix by default (e.g. OpenCart), but customize to have custom Table Prefix.
License Key: License key associated with your product.
Conclusion
Cart2Cart and LitExtension both are popular tools for data transfer. It takes time to migrate OpenCart to WooCommerce. The blog will help you to save your time. By using these methods, you can migrate your data from any source store to WooCommerce.
That's all about the data migration from OpenCart to WooCommerce. We hope this blog is helpful to you. Do not forget to use the comment section provided below.
Get prompt support from our WordPress Website Maintenance team, Dial +1-855-945-3219 (Toll-Free). One of our professional Expert will guide you and resolve all kind of WordPress issues.
Read More: