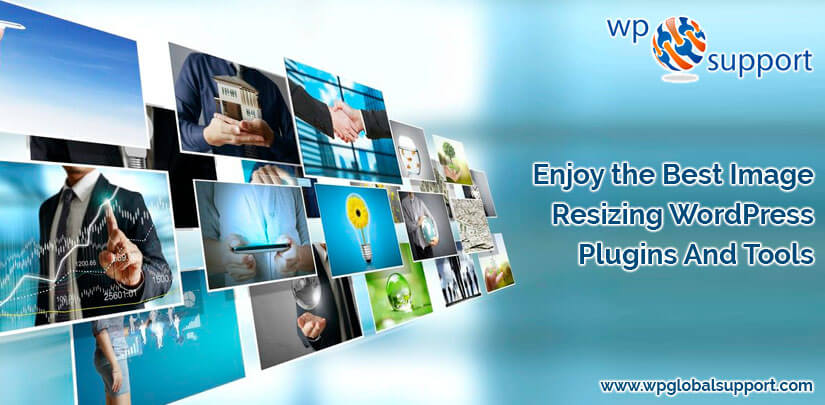 A perfect saying "The first impression is the last impression", is directly applied in the digital world. In this world of infographics, a good quality image impacts for a longer duration whereas a bad one acts vice-versa to your website. Thus it is recommended to use great quality images on our websites or on our social media profiles. But often we require to resize the images according to the need of the websites which results in poor image quality. But no worries, there are already some WordPress image compression plugins and tools both paid and free available which will do the task for you without compromising the quality.
In this article, we will discuss the top WordPress image optimizer plugins and tools which helps you to perfectly resize an image without losing its picture quality. Before we go deep in the tools let us first understand why image loses its quality and how we can resolve it.
Refer the topics of the content covered in this blog given below for your feasibility:
When do you need a WordPress Image compression plugin?
Images are usually larger in size than the plain text which means they take a longer time to load and can slow down your website.
However, you might have probably heard the saying: "a picture is worth a thousand words". Images make your content more engaging and interactive.
Thus to improve your WordPress website speed, optimization of images for the web is a necessity. The best way you can do this is by using Photoshop or another image editing software while before you upload the image to WordPress. This gives a lot more control over the quality of images on your website.
However, not all users are comfortable while working with image editing software or programs. For some even optimizing a single image, they upload sounds like a lot of work.
For solving this there are several WordPress image compression plugins that can help you with that. These plugins optimize your images by automatically compressing the pixels of those pictures and using the smaller sized version on your website.
That's why it requires to take a look at the best WordPress image compression plugins, and how they stack up in terms of image optimization, performance, and quality.
Benefits of image optimization
Are you still not clear with all the image compressing thing? Let's have a look at all the benefits that you can get if you only fix that small and trivial problem:
Your site will get faster than before.

Google Page Speed score will get better.

Google will prefer your site more and your search engine ranking will also improve.

Your bounce rate will be smaller and more visitors will visit your page.

You will require less storage on your servers and you will spend fewer resources on servers, which will save your money.

Save money which you use for mobile data for yourself and your visitors.
When it comes to WordPress, plugins play an important role. The WordPress plugins add-ons the image optimizing feature on your WordPress website. Let's have a look on top WordPress image compression plugins.
Best WordPress image resizer plugins
SEO Friendly Images
SEO Friendly Images plugin is for optimizing your images as per search engines prospects. It helps you to get more organic traffic from the search engines. It automatically adds alt and title attribute to the images. The alt attribute is the primary thing that is seen by search engines to find images for any keyword. You can also use this button plugin with WP Smush.it or Lazy Load plugin for a complete solution.
Sync: You can sync existing »alt« to »title« and vice versa to optimize all.
Override: You can override existing »alt« and »title« attributes with a custom scheme
Scheme: Set up a scheme for your »alt« and »title« to flexibly define and optimize your content
For all images: The plugin works great with images in posts and posts thumbnails as well
WooCommerce support: User WooCommerce product title as image alt/title (pro feature)
SEO Proved: Default settings of the plugins are proved by an SEO consultant
ShortPixel image optimizer

[Image source file: https://www.machothemes.com/blog]
ShortPixel is an easy and flexible plugin compatible with most of the WordPress theme. It is light weighted and easy to install. By the minimal use of the resources, it works well with any shared, cloud, VPS or dedicated web hosting. Optimization of an image is possible, even those which are not listed in media library like NextGEN, Modula or added directly via FTP and you have on your website.
ShortPixel provides both lossy as well as lossless image compression for common image types like JPG, PNG, GIF, and WbPas well as the PDf files. It also offers glossy JPEG compression which is a very high-quality lossy optimization algorithm specially designed for photographers.
After activation the plugin automatically resizes all your old images as well as PDF documents also. New images are automatically optimized after getting added in media.
Let's see the key features of the plugin:-
Auto conversion from PNG to JPG file.

It allows the bulk optimization of images.

ShortPixel also optimizes thumbnails images.

Even, optimize the images in NextGEN Gallery.

You can compress any file size using this plugin.

This plugin allows adding generated WebP images within the front-end pages by using the picture tag.

The plugin compresses most of the image types like JPG, PNG, GIF (still or animated) images and optimizes PDF as well.
Optimize image resizing
Optimize Images Resizing plugin resizes the image only when it is actually required. It means the image size optimizes only on request, there is no automatic optimization for all images.
Here the resizing of the image is done only once. Then, later on, the images are served normally in WordPress. So if we try to resize the images again & again, it won't get possible with this plugin. It removes all the previously generated image sizes and for that visit, the "tools"-> Remove image sizes' and clean it up.
More features of the plugin, elaborated are as follows:
No supportive plugin is required for optimization.

The plugin helps you to free up your website space.

The plugin has a certain method for removing previously generated image sizes. To do so visit tools>>then, Remove image sizes and click the button and proceed for cleanup.
Imsanity

Imsanity plugin has more than 2 lakh of active installation and holds a ranking of 5 stars. It is compatible with all the WordPress versions and also automatically resizes a huge number of image uploads. Imsanity is a perfect plugin for a normal WordPress website.
The size of the image is configured at the time of activation of the plugin and when an image is uploaded which doesn't fit in the configured size then it automatically resizes that image in configured size. The plugin is perfect for blog websites. It provides a bulk-resize feature to selectively resize previously uploaded images in order to free up the disk space.
This plugin should be more often for the blogs that do not require hi-resolution original images that are to be stored and the contributors don't want to scale the image before uploading.
Key features of the plugin are:
It converts BMP files to JPG.

Utilizes a WordPress image scaling feature.

Allow configuration

setting

for all the images.

After installation, Image resizing is not a requirement.

Allows bulk resizing for all the previously uploaded images and increases the free space in a website memory disk.
Resize Image After Upload

With more than fifty thousand active installations Resize Image After Upload has a ranking of five stars. It is a free plugin and works as ShortPixel. It automatically resizes images when you upload it within a given maximum width or height to reduce server space usage which helps up speeding your website to boost your site's SEO.
In addition, the plugin can also force re-compression of uploaded JPEG images and convert PNGs to JPEG (if they don't have a transparency layer), regardless of whether they are resized or not.
Features of Resize Image After Upload plugin are:
Allows configuring image dimensions.

Re-compresses the uploaded JPEG images.

Automatically resizes the JPEG, GIF and PNG images.

Reduce server space and contributes to speeding up of the WordPress website.
reSmush.it Image Optimizer

reSmush.it Images Optimizer plugin has a rating of 4.5 stars and have more than forty thousand active installations website on different CMS (WordPress, Drupal, Joomla, Magento, Prestashop, etc.) The plugin is free and famous image compression API that doesn't depend on the online server, that means you won't be able to visit the site and just compress a couple of images. It allows you to optimize pictures up to 5MB and that too for free.
It even allows size compression of maximum file size 5MB and accepts API for PNG, GIF, and JPG. Moreover, It also allows Bulk image optimization in just 2 clicks. To fit your need you can change your image optimization level. This plugin also offers to exclude some pictures of the optimizer.
EWWW Image Optimizer

EWWW Image Optimizer plugin has a rating of 4.5 stars with more than seven lakh active installations. This plugin is created by Shane Bishop and. Ewww I.O is easy to set up and it maintains the media library storage by Auto image optimization. Indirectly, if we say it speeds up your WordPress website and improves your search engine ranking. Moreover, It also saves storage as well as the bandwidth.
It has got many advantages which proves that it is one of the best –
No Speed Limits and unlimited file size. It uses automatic Background Optimization and optional Parallel Optimization to get rid of the upload delays.
Smooth Handling with pixel-perfect optimization level by making use of industry-leading tools and advance progressive rendering.
High Torque which brings out the best compression or the quality ratio available with our lossy options for JPG, PNG, and PDF files.
Adaptive Steering with advanced conversion options to get the right image format for the job (JPG, PNG, or GIF).
Free Parking provides the free core plugin. Additionally, if you choose the API, you will never have to pay for an image that you can't compress, you are never billed for a month you do not use the API, and pre-paid credits never expire. Moreover, you can get WebP image generation at no extra cost:convert any JPG or PNG to Google's next-generation image format.
Comprehensive Coverage: no image is left behind, it optimize everything on your site, not only just the WordPress Media Library.
Safety First: Top SSL encryption secures all the communications.
Roadside Assistance: top-notch support is in our DNA. Since the API customers get the top priority, the tech support team answers every single support question with care.
Pack a Spare: free image backups store your original images for 30 days.
WP Retina 2x

WP Retina 2X is Created by Jordy Meow. This plugin has a rating of 5 stars and has more than one lakh active installations. WP Retina 2X is a well maintained and recently updated plugin. This plugin creates the image files that are required by the High-DPI devices and displays them to your visitors accordingly. This makes your website look beautiful and crisp on every device. The retina images will get generated for you automatically (though you can also do it manually) and get served to the retina devices. The concept of retina images for full-size images is also one such unique feature which is only provided by this plugin (which is why it became unique).
The plugin works on a two-way style. It creates the image file which requires the High DPI devices and displays them to the visitors accordingly.
Some Key important features of the plugin are:
Optimize images fastly.

Automatic optimization of image

Creates Responsive image formats.

The Retina method supports other different methods which help to serve a quality image to your viewers.
Compress JPEG & PNG images by TinyPNG

Compress JPEG & PNG images by TinyPNG plugin helps to reduce the loading time of an image without losing its picture quality. This plugin has a rating of 4.5 stars and more than one lakh active installations. It comes up with some advanced background optimization to speed up your workflow. It can easily do a bulk optimization of your existing media library.
Other features of the plugin are:
Compresses animated JPG file.

An advantage of bulk optimization.

Compatible with WooCommerce platform too.

When you upload an image, the plugin automatically optimizes the image.

It allows background optimization to speed up image optimization task.
Moreover, people usually prefer compressing image before they upload them in the WordPress media library. Keeping this in mind we have collected some of the most popular and widely used photo resizing software and tools, which contains this as well.
WP Smush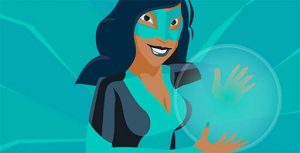 WP Smush is one of the other popular WordPress image compression plugins. It automatically compresses the images on upload and compress and optimizes your older image files as well. You can even set maximum image resolution, and your images will scale down to more reasonable sizes as per requirement while being compressed.
The free version of the plugin doesn't ask you to create an account to use their API key. The bulk optimization feature allows you to optimize up to 50 images at a time, and you can even re-run the bulk optimizer to compress more images.
Image Pro
Image Pro plugin offers you the power to upload, resize, add, and change images instantly. It provides you with certain options to manage your media content easily. You can easily manage the media collection using this plugin as it offers a way to search image, filter by file type facilities.
Image Pro sets automatic default featured images, by enabling you to define presets for automatic default featured images for future posts as many as you need. It also allows you to set accurate rules based on post properties.
It provides you additional sortable image columns by setting, replacing and removing featured images in a sortable image column in the list of posts, pages, and custom post types if they support thumbnails. Which allows you to change the images per post quickly without leaving the posts list page.
It upgrades automatically each time providing new functions and fixed bugs to keep your plugin fresh and safe. You can drag and drop any image to post and resize it wherever needed by itself.
Hammy
Hammy is another such WordPress plugin which takes hold of the images on your website and reproduces them to make images that are much smaller in size.
In actual the size of the image depends upon the width of your content as the plugin is dynamic and changes the images by it.
This plugin proves out to be very useful and works effectively both in smartphones as well as in desktop computers. Hammy takes the images and produces a certain large number of smaller sized images. When a user visits the website, it provides the smallest image possible for the view on its own.
That's one of the reason that it works well on mobile phones. Hammy makes sure to not make any changes to the database of the user and takes on alternates or images for the original ones.
Hammy WordPress plugin supports retina and uses 3.5 code of the image. To get an efficient use for this particular shortcode plugin, give few minutes to configure it correctly before you actually start to use it.
Another advantageous feature of this plugin is that it filters out the output every time it processes the image, but it generates the image only once.
CW Image Optimizer
As the images are uploaded on the website CW Image Optimizer WordPress plugin starts optimizing your images automatically. The plugin concentrates on optimization without causing any loss and damage to the quality of the website as well as considering the reload time.
CW Image Optimizer plugin uses the image optimization programs which Linux offers to reduce the size of the images, hence enhancing the performance of the website. And those images that have been already uploaded on the web page can also be resized by the use of this efficient WordPress plugin.
As the CW Image Optimizer uses the lossless techniques to optimize your images the quality of those images before and after the process of optimization remains the same. The only thing that change is the size of the image file.
CW Optimizer is available on the web for free uses the Linux optimizer tool. The privacy policies of the plugin are not something to worry about as the images remain on the server forever.
Apart from the benefits of faster loading time and less loss, the CW Image Optimizer utilizes less bandwidth. The size of the images gets smaller, and consequently, lesser space is occupied by the images on the server. The speed of the website enhances, which manifolds with the use of this effective image optimizer plugin of WordPress.
Prizm Image
It is an advanced feature of WordPress Plugin, which has proven to be an effective image optimizer. This plugin works simply by resizing all the images and bringing them down to a smaller size along with the maintenance of visual quality of the image as well as its resolution.
Prizm Image Optimizer plugin uses different API. With the help of this plugin, some actions like the optimization and compression of JPG image and stripping of metadata from the JPG image files can be performed.
Other than these functions Prizm Image is responsible for the optimization of PNG and GIF file formats of files also.
There is one thing that you should consider before its use that is the plugin requires the users to register on an online Prizm Image account.
The Prizm Image free account lets the user acquire a free license for the key. It is advisable to use such kind of optimization plugin at a time.
PB Responsive Images

PB Responsive Images is one such plugin that automatically reformats all the images into a format which is similar to the picture tag, proposed by the Responsive Images Community Group on w3.org.
Each image is reformatted based on the standard CSS media queries and SLIR query pairs, giving more flexibility in the variety of query combinations. Also, the plugin provides shortcodes so you can customize the queries used per image as per your need, and helper functions that can be used to customize the queries used per post or per layout.
Best photo resizing software
There are many photo resizing tools. We will be discussing the top 5 image editing tools and software.
Photoshop
Photoshop is an editing software which is the most popular and widely used. This application is not free and if you are a beginner you can start with Adobe Photoshop element which costs less than 100$, without any subscription requirement.
How to use Adobe Photoshop element image editing tool?
The first step is to open an image with Adobe Photoshop element. Click on 'image' shown in the top menu then click 'resize image'.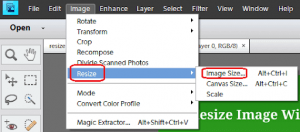 Here you will get the option to change the dimension using different parameters. For an instance, if you want to change the resolution select percent option and change width and height as required.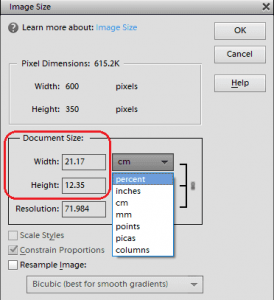 To reduce the size of an image, increase the pixel size in resolution and to enlarge the size of the image, reduce the pixel size.

'Resample' image option to compress the image.
GIMP
GIMP is one of the best and free photo editor as well as image resizing tool which you can use in everything regarding the image. We can call it a perfect substitute for Photoshop when it comes to free tools.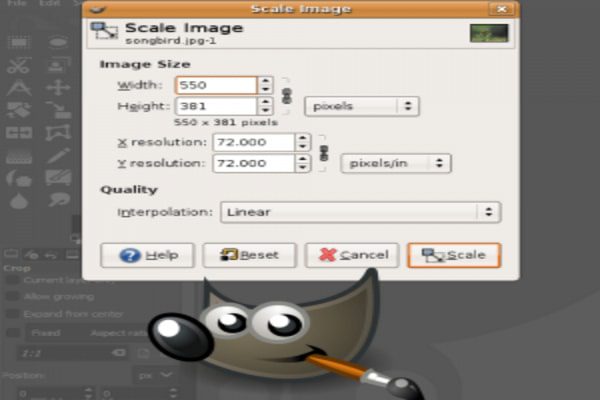 How to use GIMP to resize an image
Firstly drag an image, which you want to re-size in the main working window of GIMP.

Click on the image shown in the main menu and then click on 'scale image'

To change the resolution, first – select the preferred output resolution and then change the parameter as per your requirement.

For the quality of image select – "Quality", which is under interpolation. Thereafter, select Sinc (Lanczos3).

To resize image click on the scale.

Select the preferred output resolution.

Under the Quality > Interpolation, select Sinc (Lanczos3).

Click on Scale to resize the image.
IrfanView
IrfanView is only available for Windows-based operating systems. It's a compact photo editing program as well as it provides a smarter way to resize the image.
How to use Irfanview
Firstly, open image with IrfanView

Click on the image in the main menu which you want to resize and select resize/resample option. Here you can change the dimension and resolution of the image.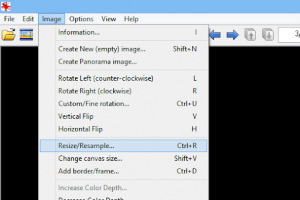 Click to check on Apply sharpen after Resample.

Below the Size method, select Resample image then, select Lanczos (slower).

Click 'Ok' and then save the resized photo.
MS Paint
This is also commonly known as Microsoft paint tool because of its simplicity, it is one of the most widely and frequently used application.
How to use MS paint
Open an image in MS Paint.

Click on the Resize which is on the top of the window.

A Resize and Skew Window will get open. Click on pixels.

Change the pixel size horizontally and it will automatically change in the vertical box.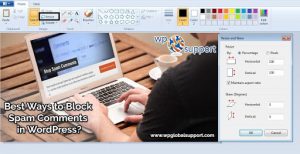 Check the box to maintain the aspect ratio. Click OK and save the image.
Pic resize: a free online tool
One of the easiest free photo resizing tool available online is Pic resize. Its user interface and easy to access navigation allow you to perform perfect picture resizing and cropping.
Below are the steps for photo resizing in PicResize
Open www.picresize.com.

Select or upload the image you want to resize from your computer or you can directly paste the URL of the image from the web.

Once, after uploading you can crop, rotate, and flip the image according to your need.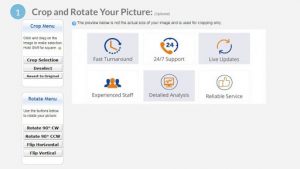 Further, use a custom resize option and enter height and width accordingly.

Now, choose the image format and quality, and there you go.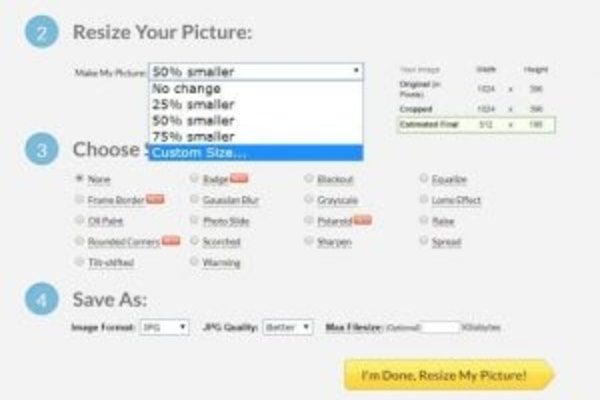 How to Undo WordPress Image Compression
Create the Plugin
To remove WordPress Image Compression, if you are confident enough just write the code shown in the image to a new file at wp-content/plugins/envira-remove-WordPress-image-compression.php.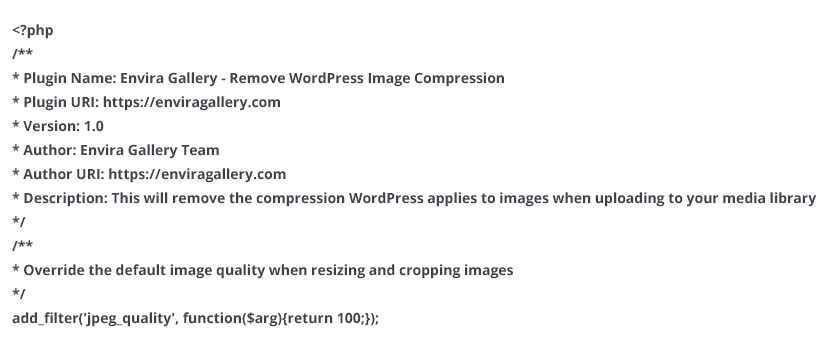 And if you're unsure how to create a plugin file, then follow these steps below:
Open a text file, that it is a plain text document. You can also use a plain text editor like Notepad or a code editor of your choice.

Now, copy and paste the code shown above into that text file and save the file as envira-remove-wordpress-image-compression.php.

Once you've saved the file you can easily upload this to your /plugins directory on your server using FTP or you can right-click on the text document and zip (or compress).

Now to upload the file, log in to your WordPress dashboard and go to

Plugins » Add New » Upload Plugin

and upload the .zip file that you just created in the previous step.
Activate the Plugin
In your next step activate the plugin that you just uploaded. Now, navigate to the Plugins from your WordPress dashboard and activate the Envira Gallery – Remove WordPress Image Compression plugin.
After activation, any new image uploaded will no longer be subjected to WordPress' image compression!
Conclusion
For an impressive first impression of your website picture contributes a lot and losing the quality of the picture while resizing it, is a huddle, thus this is how the tools mentioned above helps you overcome this problem.
We hope this article turns out to be helpful to you for resizing images without losing its quality. For further queries related to the tools, share with us here in the comment box.
You can contact our WordPress help team in case you need any help related to WordPress. Dial +1-855-945-3219 (Toll-Free).
Read More: