Enjoy the Best Image Resizing WordPress Plugins And Tools
Last Updated:

Oct 27th, 2018

Posted by:

Editor

Category:

Tutorial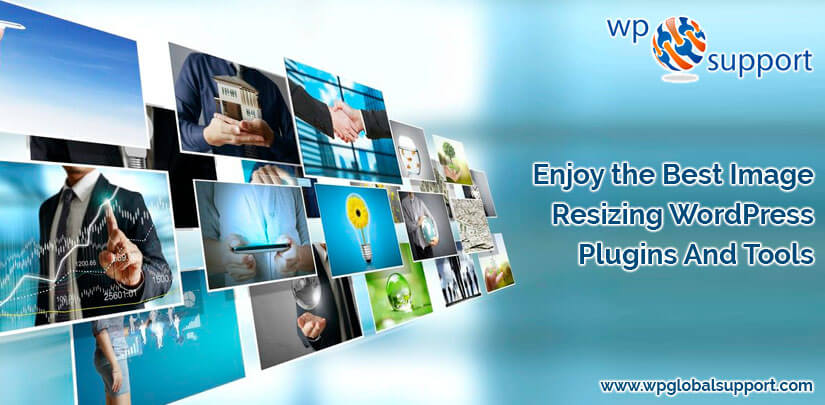 "The first impression is the last impression", a perfect saying which directly applies in the digital world. In this world of infographics, an image with good quality impacts for a long time whereas a bad one results in a bad impact of your website.
Therefore we should always use great quality images on our websites or in our social media profiles. But sometimes we have to resize the images according to the need of the websites which results in poor image quality.
But you don't need to worry. There is some image resizing tools both paid and free available which will do the task for you without compromising the quality.
In this article, we will discuss the top image resizing WordPress plugins and tools five tools. It's a difficult task to perfectly resize an image without losing its picture quality but with the tools, it becomes easy and interesting.
Before we go deep in the tools first understand why image losses it quality and how we can resolve it.
Why image loses its quality on changing its size?
An image is mapped as a grid of pixels commonly known as bitmap format. Each pixel is assigned a tonal value. When you change the size of the image you are actually changing the megapixel count( total number of pixels in the image) due to which your image lose its quality.
When you resize an image you either make each pixel smaller or larger, once each pixel gets too large then it is visible to naked eyes and the picture looks pix-elated and blurry.
Solution
To overcome the image quality issue we must need to compensate for each enlarged pixel. This method is known as Fractal interpolation or resampling. This technique gives a quality result when an image is enlarged.
When it comes to WordPress, plugins plays the role. The plugin add-ons the image optimizing feature in your WordPress website. Let's have a look on top WordPress image optimizing plugin.
1. ShortPixel Image Optimizer

ShortPixel is is easy and flexible plugin compatible with most of the WordPress theme. It's lightweight and easy to install. ShortPixel holds a rating 4.5 stars.
After activation, the plugin automatically resizes all your old images and PDF documents also. And new images are automatically optimized after adding in media.
Let's see other feature of the plugin:-
Auto conversion from PNG to JPG.

Allows bulk optimization of images.

ShortPixel Optimizes thumbnails images.

Also, optimize the images in NextGEN Gallery.

You can compress any file size through this plugin.

The plugin allows adding generated WebP images within the front-end pages by using the picture tag.

The plugin compresses most of the image types like JPG, PNG, GIF (still or animated) images and optimizes PDF too.
2. Optimize Images Resizing
Optimize Images Resizing plugin resize the image only when they are really required. It means the image size is optimized only on a request no automatic optimization for all images.  
Another important fact about the plugin is that the resizing of the image is done once only. And later on, the images are served normally in WordPress. So if we are trying to resize the images again & again is not possible with this plugin.
More features of the plugin are as follows
No supportive plugin is required.

The plugin helps you to free your website space.

The plugin has a certain method to remove previously generated image sizes. To do so follow the steps visit tools>> Remove image sizes and click the button and proceed cleanup.
3. Imsanity

Imsanity plugin has more than 2 lakh active installation and holds a ranking of 5 stars. Compatible with all WordPress version and automatically resizes a huge number of image uploads. Imsanity is a perfect plugin for a normal WordPress website.
The size of the image is configured at the time of activation of the plugin. and when an image is uploaded which not fit in the configured size then it automatically resizes that image in configured size. The plugin is perfect for the blog websites.
Other features of the plugin are:
Also, converts BMP files to JPG.

Utilize, WordPress image scaling feature.

Allow configuration setting for all images.

After installation, no support is required for image resizing.

Allow bulk resizing for all previously uploaded images and increase the free space in a website memory disk.
4. Resize Image After Upload

The plugin has more than fifty thousand active installations and has a ranking of five stars. Resize Image After Upload is a free plugin. The plugin is created by ShortPixel.
Features of Resize Image After Upload plugin are:
Allow configuring image dimensions.

Re-compresses the uploaded JPEG images.

Automatically resizes JPEG, GIF and PNG images.

Reduce server space and contributes to speed up of WordPress website.
5. reSmush.it Image Optimizer

reSmush.it Image Optimizer plugin have a rating of 4.5 stars and more than forty thousand active installations. The plugin is free and famous too.
It also allows size compression of maximum file size 5MB. It accepts API for PNG, GIF, and JPG. Moreover, It allows Bulk image optimization in just in 2 clicks.
6. EWWW Image Optimizer

EWWW Image Optimizer has a rating of 4.5 stars with more than seven Lakh active installation. The plugin is created by Shane Bishop.
Ewww I.O is easy to set up and maintains the media library storage by Auto image optimization. Indirectly speed ups your WordPress website and improves your search engine ranking. Moreover, It also saves storage and bandwidth.
Other features of the plugin are as follows-
Free image backups.

Automatically converts images in the best file format.

Allow selecting pixel perfect compression or high compression options.

You can optimize any file size via automatic Background Optimization and parallel optimization.
7. WP Retina 2x:

WP Retina 2X is Created by Jordy Meow. The plugin has a rating of 5 stars and has more than one lakh active installation. WP Retina 2X is updated recently and well maintained.
The plugin has 2 way of working. It creates the image file requires  High DPI devices and display them to the visitors accordingly.
Other important features of the plugin are:
Fast optimization of images.

Automatic image optimization.

Creates Responsive image formats

The Retina method supports different methods to serve a quality image to your viewers.
8.
Compress JPEG & PNG images by TinyPNG

Compress JPEG & PNG images by TinyPNG helps to reduce the loading time of an image without losing its picture quality. The plugin has a rating of 4.5 stars and more than one lakh active installation.
Other features of the plugin are:
Compresses animated JPG file.

An advantage of bulk optimization.

Compatible with WooCommerce platform too.

On an image upload, the plugin automatically optimizes the image.

Allow background optimization to speed up image optimization task.
That's all about the WordPress image resizing plugin.
Moreover, People do like compressing image before they upload them in WordPress media library. Keeping this in mind we collected the most popular and widely used photo resizing software and tools.
Best photo resizing software
There are many photo resizing tools. But here we will discussed top 5 most frequently used image editing tools and software.  Let's start!
1. Photoshop
Photoshop is one of the popular and mostly used image editing software. This application is not free and if you are a beginner you can start with Adobe Photoshop element it cost less than 100$ and you don't need any subscription.
How to use Adobe Photoshop element image editing tool?
The first step is to open an image with Adobe Photoshop element. Click on 'image' showing in top menu then click 'resize image'.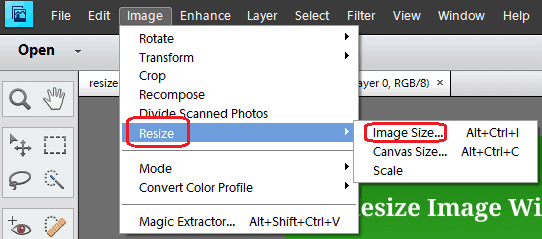 Here you get the option to change dimension with different parameters. Like, if you want to change resolution select percent option and change width and height as required.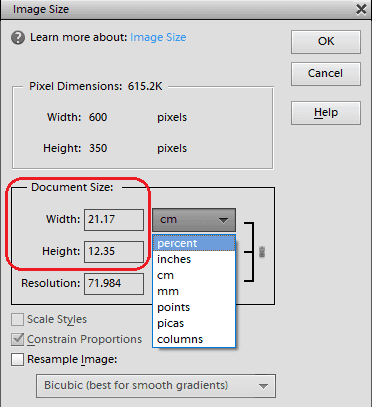 If you want to reduce the size of an image then increase the pixel size in resolution and to enlarged the size of the image reduce the pixel size.
'Resample' image option is to compress the image.
That's all, Your resized image will look much better than the previous one.
2. GIMP
GIMP is one of the best and free photo editor and image resizing tool you can use in everything regarding the image. A perfect substitute for Photoshop when it comes to free tools.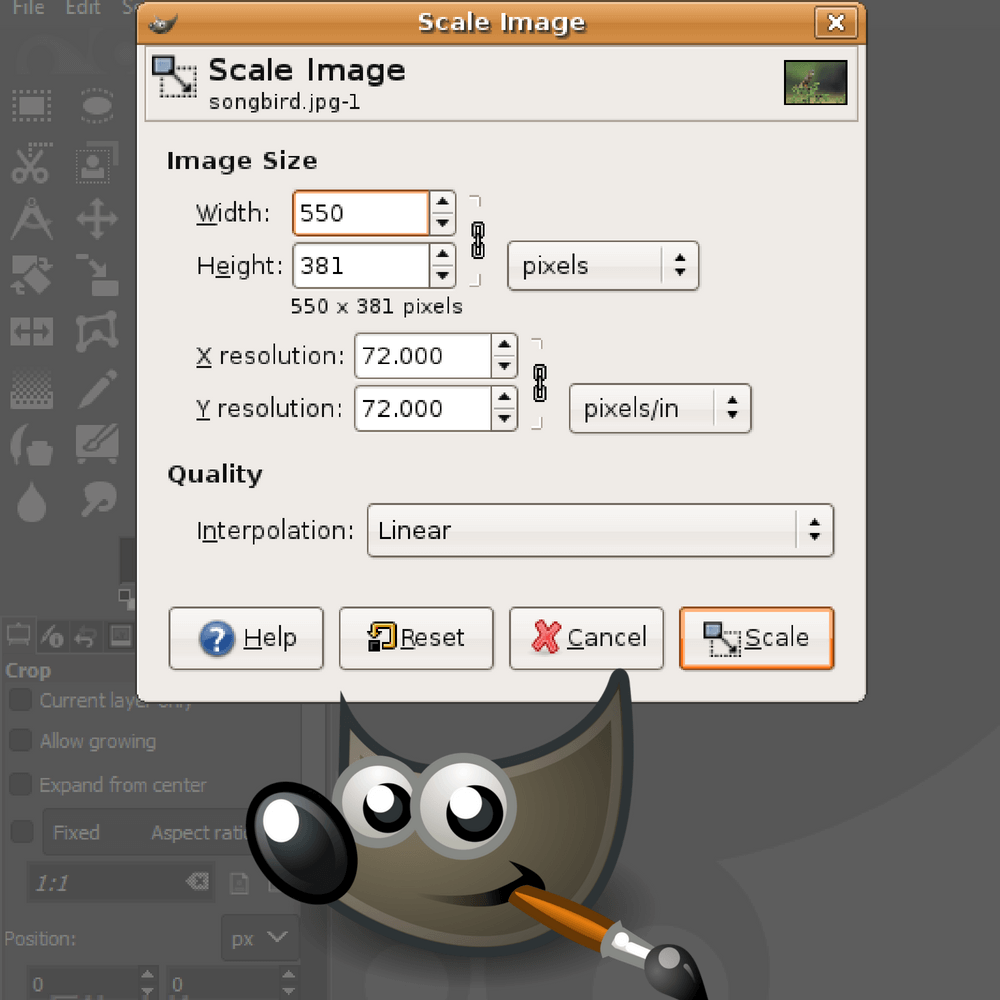 Here is How to use GIMP to resize an image:
Drag an image in the main working window of GIMP.
Click on the image showing in the main menu and then click on 'scale image'
To change resolution select preferred output resolution and change the parameter as your requirement.
For the quality of image select  Quality > Interpolation and then select Sinc (Lanczos3).
To resize image click on the scale.
Select the preferred output resolution.
Under the Quality > Interpolation, select Sinc (Lanczos3).
Click on Scale to resize the image.
That's all to get a quality resized image in GIMP, work more often to get hands used to it for better editing.
3. IrfanView
IrfanView is only available for Window based operating systems. It's a compact photo editing program and provides a smarter way to resize the image.
Here is how to use Irfanview:
Open image with IrfanView
Click on the image in the main menu and select resize/resample option. Here you can change the dimension and resolution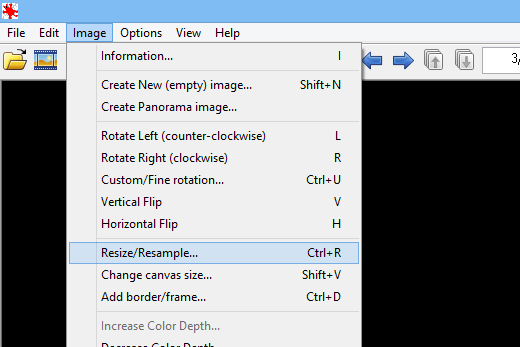 Click to check on Apply sharpen after Re-sample.
Below the  Size method, select Res ample and, select Lanczos (slower).
Click 'Ok' and then save the resized photo.
That's all in IrfanView to reach a quality resized image.
4. MS Paint
This commonly known as Microsoft paint tool because of its simplicity it is one of the most used application.
Here is how to use MS paint?
Open an image in MS Paint.
Select on Resize which is at top of the window.
A Resize and Skew Window will be opened. Click on pixels.
Change the pixel size in horizontal and it will automatically change in the vertical box.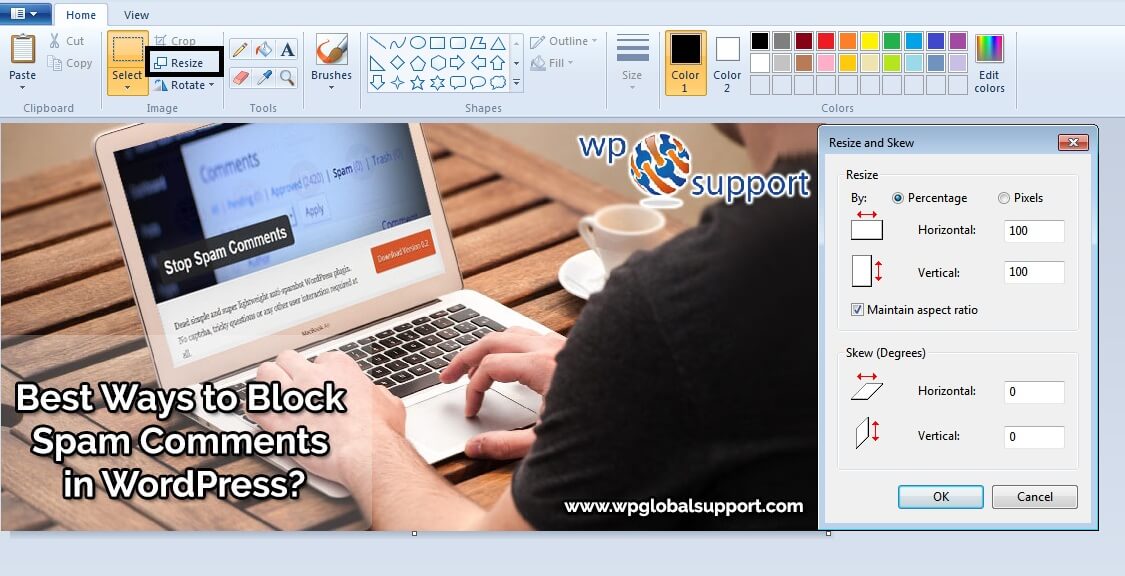 Check the box for maintain aspect ratio. Click OK and save the image.
That's all in MS Paint. You will explore more in MS paint when you work on it.
5. Pic resize: a free online tool
One of the easiest free photo resizing tool available online. Its user interface and easy to access navigation allow you to perform perfect picture resizing and cropping accordingly.
Below are the steps for photo resizing in PicResize
Open www.picresize.com
Select or upload the image you want to resize from your computer or you can directly paste the URL of the image from the web.
After uploading you can directly crop, rotate, and flip the image.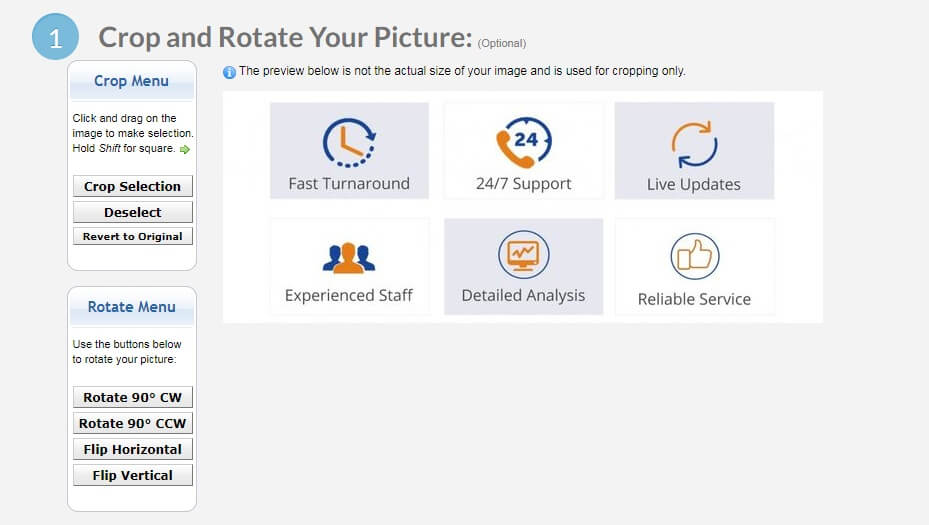 Use custom resize option and enter height and width accordingly.
Choose image format and quality and BOOMMM.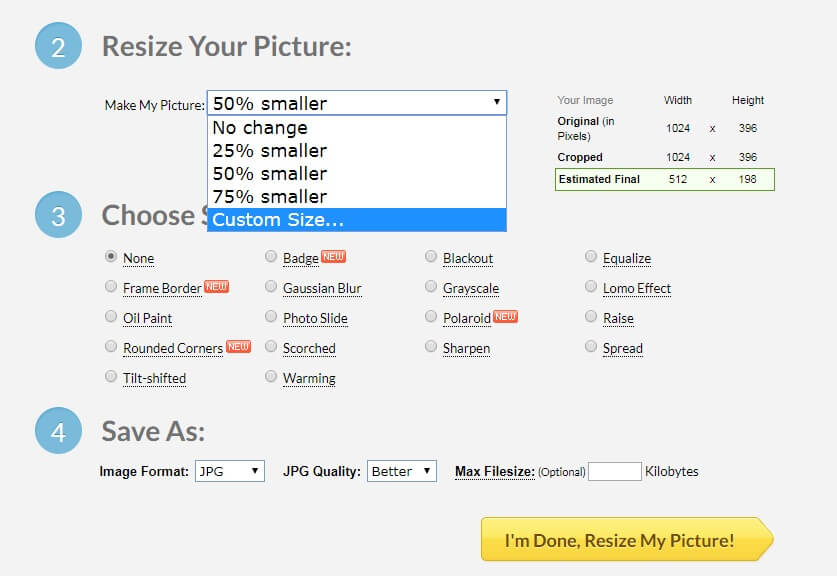 These were the top five image resizing tool from our side. Use them frequently, so that you can get a whole lot of new ideas about these tools.
Conclusion
For an impressive first impression of your website picture contributes a lot and losing the quality of the picture while resizing is a huddle and using the tools mentioned in the above article will help you overcome this problem.
We hope this article helped you in resizing images without losing its quality. For any kind of query regarding the tools, you can share with us in the comment box.
You can contact to our WordPress help team if you need any help related to WordPress. Dial + 1 888 614 0555(Toll-Free).
Read More: