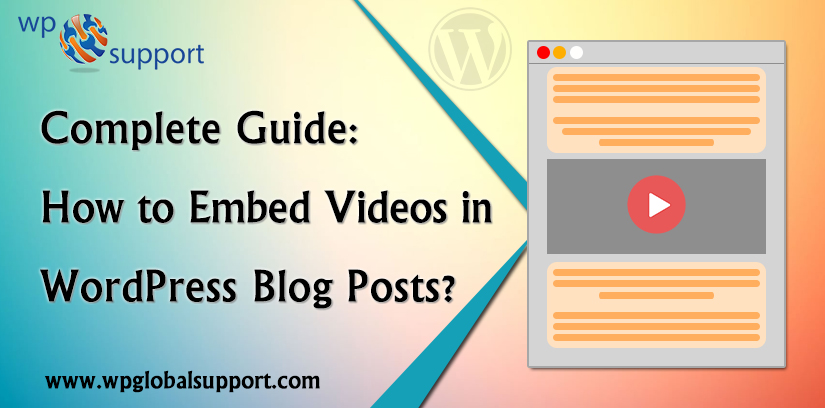 Are you facing problem to Embed Videos in WordPress Blog Posts? If yes, then come along with us, here we are going to tell you.
Videos bring life to your WordPress site and are a great way to increase user engagement on your website.
Here, in this tutorial, we are going to show you a way to embed videos in WordPress blog posts.
Read Also: Ultimate Guide: Embed a Facebook Video in WordPress Website
Simple Way to Embed Videos in WordPress Blog Posts
WordPress comes with a great feature called auto-embed. Also, it allows WordPress to get the embed code for videos from popular video hosting sites like Vimeo, YouTube etc.
Firstly, all you have to do is paste the video URL into the post editor. Ensure that the URL is in its own line and is not clickable (hyperlinked).
In case you are using Visual Editor, WordPress will immediately fetch the embed code. And display the video inside post editor.
Now you can save your post and click the preview button to view the video embed in your WordPress blog post.
Was not it easy?
However, WordPress can do only auto-embeds for some white-listed service providers. For other sites, you still need to get an embed code and then you have to paste it into your blog post.
Now, we are going to show you a list of whitelisted service provider for auto-embeds in WordPress:
CollegeHumor
DailyMotion
Facebook
Mixcloud
Spotify
Imgur
Instagram
Reddit
Flickr
FunnyOrDie.com
Hulu
Imgur
Instagram
Issuu
Kickstarter
Meetup.com
Photobucket
PollDaddy
ReverbNation
Scribd
SlideShare
SmugMug
Speaker Deck
Spotify
TED
Tumblr
Twitter
VideoPress
Vimeo
Vine
WordPress plugin directory
WordPress.tv
YouTube
Why cannot we upload videos in our WordPress?
Well, you can do! But we do not recommend you to do this. However, mostly the small blogs are on shared-hosting accounts and videos take a lot of server resource.
If your video receives lots of traffic, then your website is more likely to crash. Second thing, you have lost the traffic from YouTube users. Therefore, we suggest that you choose a third party website like YouTube, Vimeo etc. to upload your videos.
CONCLUSION
Here, We have discussed a way to embed videos in WordPress blog posts?
Often, we concluded step by step, read the steps carefully and embed videos.
We hope this post helped you to embed videos in your WordPress blog posts. If you have any problem related to this, let me know in the comment section below.
If you liked this post, please share it with your peers.
Get instant WordPress Support from one of our WordPress Technical Expert dial + 1 844 275 0975 (Toll-Free). Our WordPress team will help you instantly to resolve all your issues.
Read More Blogs: