In this digital world, anyone can't wait or follow a queue at the hotel, airport, or any Ticket purchasing long Lines. Now, most people use online Booking methods to book their tickets online to avoid standing a lot of time in a queue.
Are you a business owner looking to offer online bookings for your services or appointments? Look no further than WordPress booking plugins. These powerful tools allow you to easily manage bookings, reservations, and appointments through your WordPress website, saving you time and streamlining your booking process. In this article, we'll explore the best WordPress booking plugins available and highlight their key features.
So here we will discuss the best booking plugins of WordPress.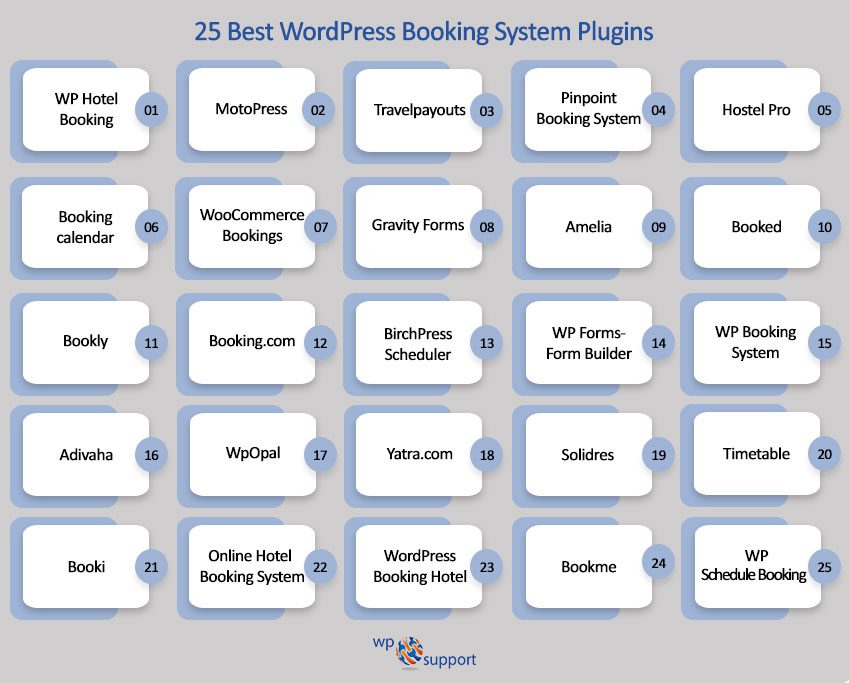 List of the Best WordPress booking plugins
Here I am discussing with you the Best WordPress Booking Plugins on a listing Form.
WP Hotel Booking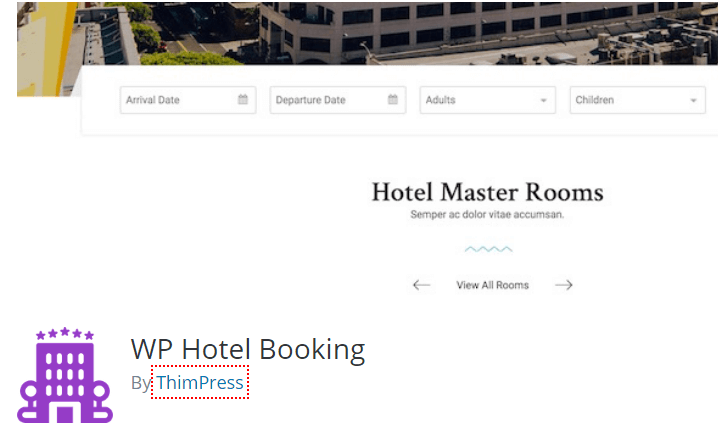 WP hotel booking is a WordPress hotel booking plugin launched by Thimpress. The best thing is that it is compatible with all themes but developers also have their own designed WordPress hotel themes to integrate with the plugin.
Further on, it includes eight additional free add-ons and tons of features. Among them, the best feature of this Plugin is room management and you can mention a number of qualities and Facilities to your customers. you have also shown booking types from complete blocks to single rooms. Similarly, you have also set a price table according to needs by which you can explain your custom pricing plan and special deals via coupons. It supports multiple payment gateways such as Stripe, Authrize.net, etc, and WPML to make a native nature site.
Apart from that, it comes with a lot of major features, elaborated below:
Key features
Bookings management
Room management
Customer management
Coupons management
Pricing plans management
Additional packages management
A complete hotel booking system
Block special date management
Multiple currencies supported
Reports and multilingual ready
Multiple payment gateways supported
Pricing
It is a completely free plugin.
MotoPress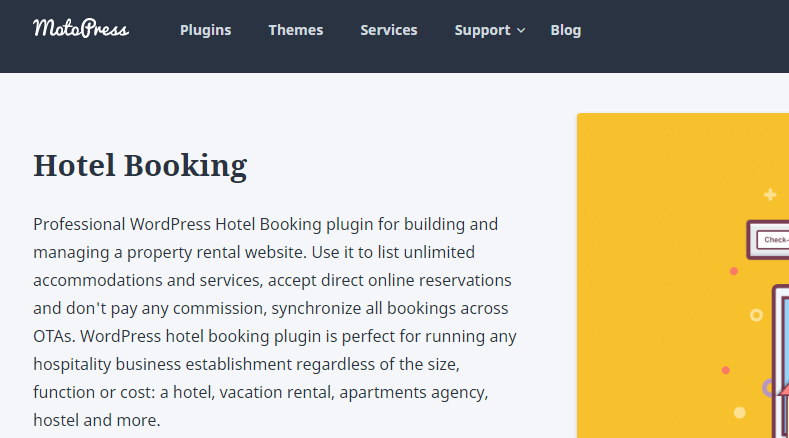 MotoPress is the best WordPress room booking plugin that helps to create and manage a property rental website. It's a perfect solution for the hospitality business like hotels, guest houses, apartment agencies, vacation rentals, and many more. Furthermore, the WordPress accommodation plugin also lets the site admin manage online reservations, receive & returning online payments, create a real-time availability calendar for every accommodation, and synchronize the booking calendar automatically with the best OTAs, etc.
However, it offers multiple ways to confirm users booking the admin can either confirm the booking manually or instructs the users to confirm their booking via email or payment. Multiple payment gateways are supported like 2Checkout, PayPal, Braintree, Stripe, Beanstream, and Pay on Arrival.
You can display your accommodation type on your site by filling in its description facility, capacity, etc. Also, you can set the price table in which you can mention seasonal prices, refundable/non-refundable, weekly, monthly, and variable pricing (however the price depends on the number of guests and length of stay).
Also, users can make their booking easily only within 3 steps via its search availability + reservation form;
Input check-in and check-out dates.
OPT for your desired options from the search results list.
Enter your personal information to complete your booking.
Along with the booking engine, it is also a tool in itself that allows you to create a complete website using any WordPress theme. Additionally, it includes tons of major features, elaborated as follows;
Key features
Modern and responsive design
Unlimited accommodations reservation
Categorize backend tools in well-manner
Calendar and user-friendly reservation form
Display accommodation prices
Add extra services for additional purchase
Guest and admin notifications
Different booking statuses
Multiple payment methods supported
WooCommerce integration
Put any shortcodes
Various roles to approve a booking; via admin, after payment, automatic.
Add, approve, reject, cancel, or delete booking requests.
Multiple currencies supported to set
Discount Coupons
Complete taxes and fees info
Synchronization automatically with OTAs like Airbnb
WPML ready
WooCommerce integration
Pros
Custom booking rules: You may specify your customers while your property rentals are unavailable for booking.
It includes detailed documentation for WordPress beginners and many hooks and actions for developers.
Automatically theme-adjusted plugin and looks like a native content module.
It updates automatically if there are many rooms that are the same type.
Show a photo gallery of each accommodation.
WordPress plugin and themes integrated.
Cons
Use this plugin for one hotel, not be used for hotel chains.
Pricing
You have to pay $69 for a single site and $199 for unlimited sites.
Travelpayouts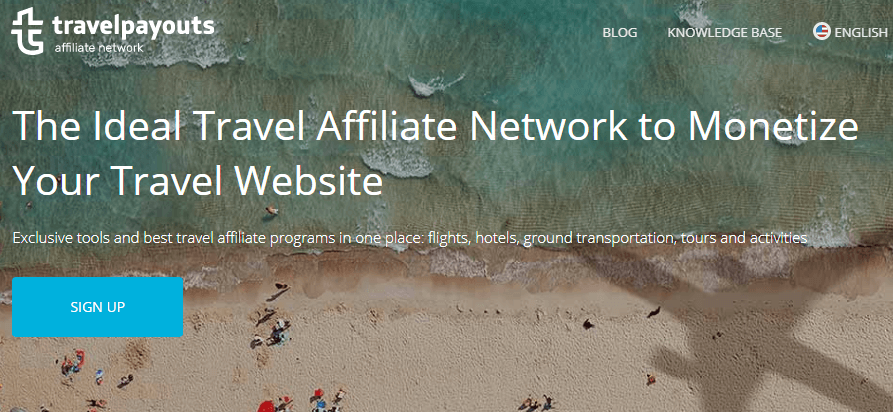 Travelpayouts is a hotel booking system WordPress plugin that allows visitors to find and book the cheapest deals on hotels. With this plugin, you can install widgets, forms, tables, etc. within a single click which makes your users happy and boosts your sales.
In short, the plugin is the best solution for travel agencies, travel bloggers, and travel-related sites.
Apart from this, it offers many other services like flights, car rentals, insurance, transfers, and much more. Further, it has 11 different tables and widgets that help customers to find the best as per their needs. Also, this plugin lets you create your own flight search white label.
Finally, we can say that this plugin means you have a source of income.
Key features
Search forms
Hotel widgets
Low prices calendar
Low-cost flights and hotels map
Most popular flight destination widgets
Multi currencies supported
Advantages of this plugin
It offers multilingual tools so that worldwide customers can use this plugin.
The plugin uses the CPA model for higher-quality traffic and profit.
30 days of cookie life if any user returns to your site.
Well-designed tools, Cutted Edges, and very useful tools for high Conversion.
Create API and mobile SDK.
All browser add-ons and mobile applications that you have installed are permanently associated with your account.
Pricing
The plugin is available for free as well as the paid version.
Pinpoint Booking System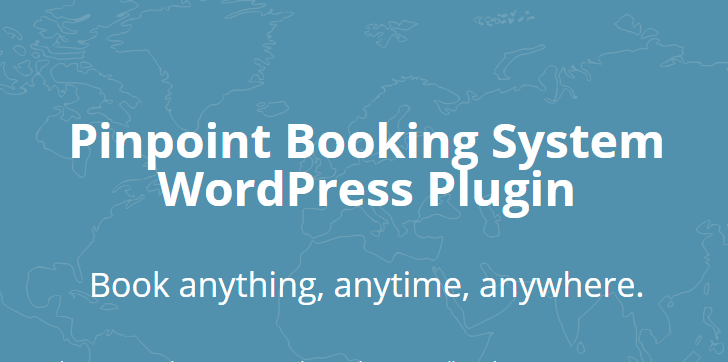 Pinpoint booking system is an easy-to-use WordPress room reservation plugin, that lets visitors reserve accommodations & events, schedule services, and receive online reservations and appointments. This plugin directly checks availability and books your online plan with a unique AJAX booking calendar. Its admin area is very flexible, powerful, and easy to use which makes this plugin excellent for both small as well as large businesses. Also, a lot of add-ons enhanced its features and functions.
Simultaneously, it supports WooCommerce which makes creating WooCommerce booking easy. Also, you can take all benefits related WooCommerce like shopping cart, payment method, etc, and all plugins designed for the WordPress e-commerce toolkit. The Best part of, it has a feature to which you will be known by the world and attract more visitors using this plugin to share your business location on PINPOINT.WORLD, doing so, your popularity, as well as customers, will increase.
This WordPress apartment booking plugin allows you to book anything like hotels, apartments, villas, rooms, etc. at any location and make appointments with lawyers, salons, spas, dentists, etc. It comes with both a free as well as a paid version, however, you will get almost features in its free version, but for advanced features, you will need its premium version.
Key features
Responsive design
Minimalist calendar view
Create unlimited calendar
The no-brainer booking process for users
Add, approve, cancel, or delete a booking request
Various confirmation modes
Admin user notification
WooCommerce compatibility
Add additional services with or without price during checkout.
Mention the booking calendar in the sidebar
Various currencies and payment methods (online and offline) are supported.
Pros
Its extended license offers lifetime support and updates.
American or European date format supported.
Offers a unique button to submit your site to Pinpoint. World.
Supports multi-site and multi-language on the backend and front end.
Cons
Does not allow you to set room rates.
The Pro version is a bit expensive.
Except for PayPal, if you need any other payment gateway (Icepay, 2Checkout, etc.), so you will need to buy an extra add-on.
Pricing
It is available in both free as well as paid versions. The premium versions come with various licenses to fulfill your requirements starting from $50.
Hostel Pro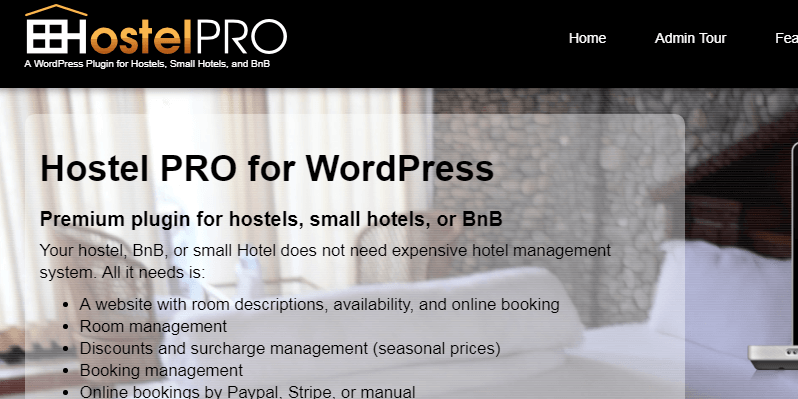 WP Hostel Pro is a WordPress accommodation booking plugin designed by Kiboko Labs. that allows you to create hostels, small hotels, and BnB sites. We can say, it is an online booking tool with easy back-end management. Further, it includes tons of features and functions that help you to set up all available hostel rooms and enable booking options. You can also show available rooms with descriptions, booking options, and an availability calendar.
What's more, the plugin comes with easy-to-use shortcodes that allow you to display booking forms, room calendars, and room lists with date selectors so that visitors can check prices, and availability, and book at the same time. But sometimes you wish to create custom-designed pages for every room with information and pictures, so using shortcodes you can place an availability calendar on such pages. The benefit of such a feature is that it will show the visitor's room availability and they can start booking from there.
Apart from that it comes with a lot of features, elaborated as follows;
Key features
Responsive design
Rooms management, beds, and prices
Searchable list of bookings
Customizable booking forms
Discount and surcharges
Set unavailable dates
Manage add-on services
Mobile responsive
Shortcodes
Rooms calendar
Reports and charts
Synchronize with other services
Supports multiple payment methods
Add additional services
Email reminders for admin and users
Add custom fields for the booking form
Option to set discounts
Outstanding support
Pros
WPML ready
60-day refund policy
Backend and frontend demo
With iCal/ICS room calendars, synchronize your online booking services
To check when and how each room performs better it generates reports and charts for the admin
Cons
The front-end design is a bit awkward.
Pricing
The plugin is free as well as a premium version. The premium version costs $47 for hostel pro and $67 for hostel pro ensuite.
Booking Calendar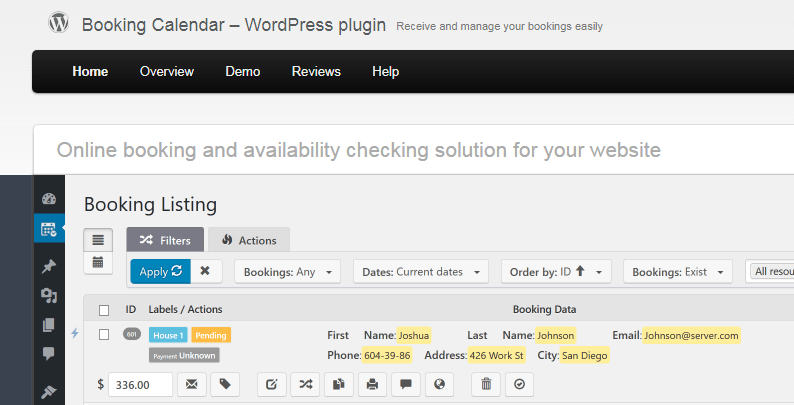 As the name says, the booking calendar plugin is a wp hotel booking plugin that allows visitors to book your hotels within minutes. Before booking accommodation users can check availability and reserve a specific day or time slot. This means to say, customers can search for available properties & services for a particular day and book by paying its charge. It has an email notifications feature by which users, as well as admins, can get a notification when they create a new booking. Also, the admin can manage their own reservations from their dashboard.
The plugin works only out of the box, but you can also configure various settings according to business requirements, along with this, you can customize the calendar and form to design your site amazingly.
What's more, the plugin's various versions offer tons of features to complete almost booking functionality for your business like;
Choose days in the calendar feature – that are possible to customize for fitting.
Fill book form fields – you can configure the things like changing field labels, setup, or activating/deactivating as per needs.
Submit a booking
Finally, it is a meeting room booking plugin that is simple and comes with easy to use interface that makes managing and receiving bookings quite easier.
Apart from that, it has a lot of features that make you unique in the market, let's see;
Key features
Responsive front-end design
Intuitive and powerful admin panel
Customizable form and calendar
Independent form and calendar
Easy-to-use booking admin panel
Meeting scheduling
Event scheduling
Email templates
Online payment
Multiple bookings
Specific time bookings
Availability
Advanced costs and rated
Edit existing bookings
Search availability
Multi-language support
Prevent double booking
Easy integration into posts & pages
Multi-user functionality
Pagination and email notification
Add new bookings from the admin panel
Responsive front-end and backend design
Booking calendar blocks for Gutenberg editor
Advantages of this plugin
Very easy-to-use process
It provides flexible functionality
The plugin stores all bookings and settings in its database
Sleek design calendar that fits your site designs
The booking admin panel is extremely easy to use and shows bookings in the listing table and calendar overview
The plugin site integration is extremely easy
Pricing
It is available in free as well as premium versions. But it has various premium versions starting from $59.25 for personal, $111.75 for small businesses, $186.75 for medium businesses, $261.75 for large businesses, and $486.75 for multi-users.
WooCommerce bookings & appointments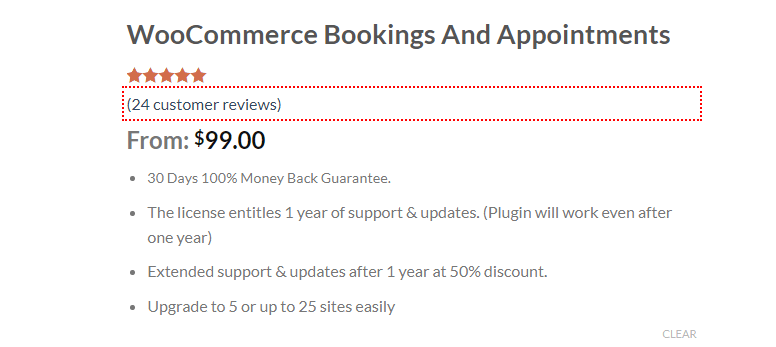 Specifically, this WooCommerce booking & appointments plugin is created for WooCommerce that allows you to build an online store without any stuck. The plugin also lets you convert products, time, and services into bookable resources.
Further on, with this plugin, you can easily integrate all types of business & service providers and empower their WooCommerce store with a booking solution.
Continuously, it provides one-day as well as multiple days booking, which means, visitors can choose single-day tour & hall booking as well as multiple days (fixed number of days) by selecting a start date. Apart from that, the plugin is suitable for event ticket booking, online courses, etc.
Based on the customer preferences what they choose, the plugin automatically calculates total booking costs, like;
No. of guests
Additional services
No. of selected slots
Service providers
Discount and special prices
Continuously, you can also set special discounts and prices by creating a number of factor-based rules to combine pricing like;
No. of people
No. of days
Seasons
Weekend or weekdays
Specific dates
At a particular time of the day
Key features
Email notifications & reminders
Confirmation & cancelation
Partial payment & deposits
2 way Google calendar sync
Staff management
Buffer time between bookings
Complete control over booking
Set variable duration
Add custom fields
Set variable durations
Additional resources services
Individual or group booking
Create & sync global assets
Create bookings manually
Booking search widgets
Multilingual support
Calendar design customization
30 days money-back guarantee
One year support & update license
Extended support & updates by paying 50% of its costs
Pricing
The plugin costs start from $99.
Gravity Forms
Gravity forms is a WordPress plugin that lets you integrate easily with multiple third-party services. The plugin has many optional add-ons due to which it provides deep integration with WordPress. Furthermore, it has an advanced drag & drop interface using. It can easily create a fully customized booking form. Also, the plugin includes creating a notification feature so that you can easily send a confirmation message when visitors book accommodation. This plugin supports a lot of payment options such as Stripe, PayPal, etc. so that you can quickly set up your paid bookings.
Gravity forms have numerous time-saving features and tools that allow you to create and publish your WordPress forms within minutes. You don't need to do hard work, you just have to choose fields, configure options, and add fields to your site using its tools. Besides, with this plugin, you can also create quickly and easily powerful contact forms, complex, quizzes, and surveys without having coding knowledge.
Key features
Responsive design
Easy to use powerful forms
30+ ready-to-use form fields
Conditional logic
File uploads
Email notifications
Calculation
Save & continue
WordPress post creation
Limit & schedule forms
Fight spam
Integrations
Pricing
You have to pay $59/per year for its basic license, $159/per year for a pro license, and $259/per year for the elite license.
Amelia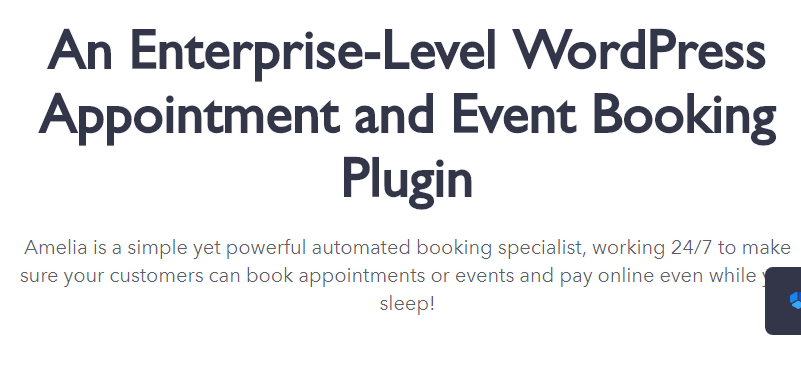 Amelia is a free, responsive appointment booking WordPress plugin. It allows you to set up a fully functional appointment booking system on your WordPress website. This plugin is the right choice for different types of WordPress business sites like health, spa, salon, beauty, law consultants, gym, sports, and many more. Furthermore, the plugin includes advanced technology so all the customer and admin interfaces are mobile-responsive in nature. It offers a full calendar overview from both the front end and back end.
You can also manage your services and payments with ease with the help of Amelia. With this WordPress plugin, it is very simple to manage your appointment and calendar events. This Plugin is integrated with WooCommerce Support for better online payment facilities. It may support you to grow your business at multiple locations and creates new demands for your business. Amelia is now optimized with Gutenberg which allows you to add bookings to your Gutenberg-generated pages. It is a simple yet very powerful plugin.
Key features
Supports email notification which helps to notify all the customers and providers whenever the appointment status changes.
Supports multiple services and categories.
Featured a 2-way calendar view for both user and admin.
Booking appointments with the help of this multi-purpose WordPress Plugin is very easy.
Helps to configure provider's details and working schedules.
Offers 24/7 customer support to help with the queries of the customers.
Integrated with WooCommerce support.
Pros
Easy to use and customize.
Integrated with highly advanced, powerful plugin support.
All the back-end and front-end queries are sorted out to provide a better user interface.
Easily to manage the calendar events
Manages your payments and services with ease.
24/7 customer support is available.
Simple but powerful WordPress Plugin.
Cons
Paypal and stripe features are not supported.
The export option is not provided.
GPS service or adding location service is not available.
Doesn't provide customization options.
Only basic plugins are supported.
Coupons and filters on the pages option are not available.
You can't synchronize your google calendar with this WordPress plugin.
Booked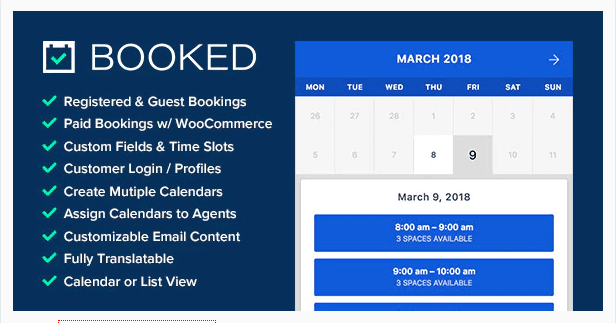 Booked is a simple and beautiful Appointment booking WordPress Plugin. It helps to add appointment booking capabilities to your website. This is very easy to set up and customize. With the help of this plugin book appointments very easily for us by using booked WordPress theme. It's integrated with boxy-studio support.
Booked WordPress Plugin provides services with advanced features. This Feature of shortcode helps to create login forms anywhere you want to add. Customers can manage their own avatars and login credentials with their own profile page. Calendar management is easily available in this WordPress plugin. With the help of a built-in color picker, you can choose the desired color for your calendar. With the help of different custom time slots, you can add vacation days, normal days, special days, or days different from the others. It allows guests to book an appointment without registration and you can add the calendar according to your choice.
Key features
Easy to use and implement.
Simple and powerful WordPress plugin
Add the calendar according to your choice.
Allows guests to book appointments.
You can add customized colors to your calendar.
Features custom time slots to add the day type according to your choice.
You can create your own custom appointment field.
Mobile responsive WordPress plugin.
Easy to manage calendar events.
By using a shortcode you can display a login form to your website.
Offered a powerful backend interface to manage appointments.
Features customers to manage their account information and appointments.
Pricing: $49
Bookly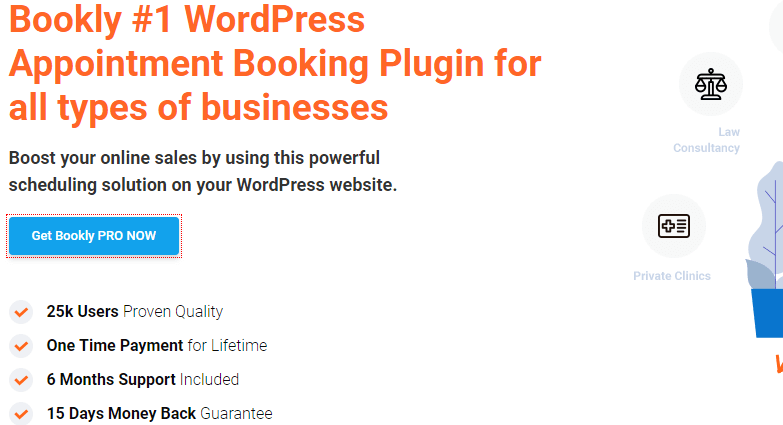 Bookly is considered one of the best appointment-booking plugins for all types of businesses. It is very easy to install and set up bookly in your system. It offered customization of booking forms that are suitable for every device. Different customizable options are available to increase the efficiency of your website. You can use the Bookly add-on for automating your online booking systems. Furthermore, This WordPress booking plugin is integrated with WooCommerce.
It has easy and helpful documentation available for your support. Bookly is created in line with the MVC paradigm. The booking function is also very easy in this WordPress plugin and also very easy to manage the back-end process. You don't require any coding language to book appointments. Even a new user can book appointments very easily.
The Plugin of WordPress is a perfect choice for all business website that offers an appointment booking feature. It is the best fit for any type of business like law consultancy, private clinics, spas & massages, sports & fitness, etc.
Key features
Intuitive WordPress admin panel approach.
Sleek and simple design.
It is fully customizable and perfect for your style and business.
Change the layout of the booking form according to your choice.
Show and hide the specific field according to your choice.
Simple and easy to use
Fully mobile responsive plugin
Translation-ready WordPress plugin
Customize any type of text on the forms.
Suitable for any type of business.
Configure email notifications for sending important messages and reminders through emails.
Pros
Simple and easy to use a WordPress plugin.
Perfect for all kinds of business websites.
You can add an unlimited number of forms to your websites.
Change the color of the form to perfectly blend into your website.
You can customize any kind of text in the forms available.
24/7 full customer support is available.
An automatic updates feature is available.
The easy online payment option is supported.
Add different customization options according to your choice.
It can be considered one of the most highly advanced WordPress Plugins.
Cons
WooCommerce integration is available but the setup is very complex.
No scheduling window is supported.
It is not integrated with the WC vendor plugin.
Very limited resources are available.
It doesn't work with different grouped and bundled products.
The plugin also doesn't work with variable and subscription products.
It is not integrated with the Dokan plugin.
Pricing: $89 for one year.
Booking.com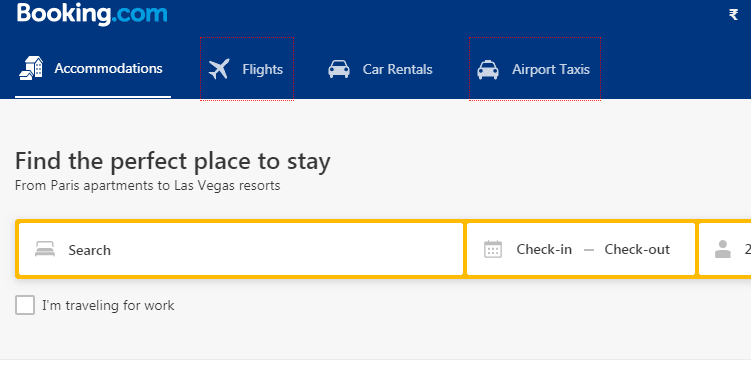 Booking.com is not a WordPress plugin but the most popular booking service providers allow you to book hotels, adjustments, flight tickets, car rentals, airport taxis, etc.
This booking solution provides various services at various prices. It displays a date calendar on its homepage screen so that visitors can plan for the check-in & check-out process and easily book to their needs.
BirchPress Scheduler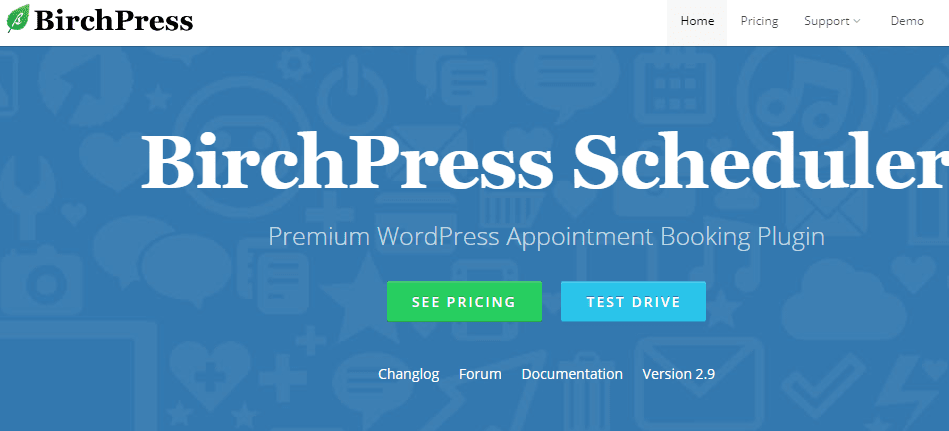 BirchPress Scheduler is one of the most popular, comprehensive, and user-friendly WordPress Appointment Booking Plugins. It offers you to create an easy online appointment form for our WordPress site. This plugin enables the visitor to check the online availability of hotel rooms, book an appointment, or make reservations online. It is also a scheduler plugin that allows users to make an appointment to the owner's site without the direct involvement of the owner.
It comes with a calendar sync feature that helps you to synchronize your other calendars like google calendar, iPhone, iCal, Outlook, etc. with your booking calendar. You can easily configure the email notification feature which helps to send notifications and reminders every time when appointments are booked, cancel or reschedule. It supports a built-up editor form which enables you to quickly build and design your own booking form.
It is integrated with PayPal and WooCommerce so that users can online payments easily. This WordPress plugin can be considered perfect for all types of businesses that accept online appointment options like health, education, beauty, salon, fitness, etc.
Key features
Best user-friendly and feature-rich WordPress appointment booking plugin.
With the help of a simple and clean user interface, you can add appointment booking forms to your WordPress pages and posts.
It is easy to set up and customize.
You can customize your appointments with the form builder option.
The notification tab allows you to configure email notifications from clients and service providers.
Integrated with PayPal and WooCommerce Support.
You can add an appointment booking form on your website.
It allows you to showcase the calendar on your website's front end so that everybody can see it publically.
Pros:
Highly advanced and beautiful WordPress Appointment booking plugin.
Allows you to create online booking forms easily.
Customers can check availability, book appointments & make online reservations.
Synchronized your appointment booking calendar with other already used calendars.
Suitable for all types of businesses that offer online appointment booking options.
You can set your time zone, date, time format, currency, and booking preferences.
You can also insert plugin support license keys from general tabs.
It lets you customize your appointments with the help of a built-in form builder.
Shortcodes that help to add bookmarking forms.
It featured a simple interface to add service locations, your services, and providers.
Cons:
Available time slots for appointment booking are loading at a very slow speed.
No search availability form
High usage of the database.
Multiple PayPal features for different websites.
Booking periods are not fixed.
Doesn't work with variable products.
No flexible pricing rules are available.
Pricing
It comes in both free and premium subscription plans. The free version has only a limited set of features.
There are 3 different premium pricing plans.
Personal: $99/year
Business: $199
Business+: $249
WPForms- Form Builder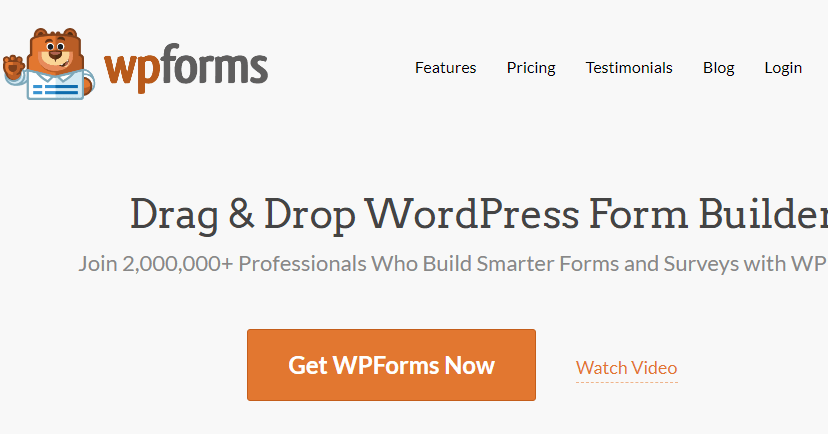 No doubt, WPForms is the best form builder plugin, but it allows you to easily create an online booking form. It also helps you to integrate your booking forms with any third-party apps via Zapier integration and with major email marketing services including AWeber, MailChimp, GetResponse, etc. Based on visitors' choice of what they have chosen you can hide or show form fields through its smart conditional logic. You can create beautiful contact forms, feedback forms, payment forms, and other types of forms with this powerful drag-and-drop WordPress form builder.
It is mainly aimed at the user's priority first. It provides the most user-friendly contact form for beginners in the market. WPForm's contact forms are highly optimized for web servers to increase efficiency and speed.
You can easily add custom form fields with the help of a built drag-and-drop custom field. It is integrated with PayPal and Stripe for easy online payment options. It offers different hooks and filters to create custom functionalities. This is the right choice for creating a registration form, contact form, donation form, payment form, and many more. All the front-end and back-end queries are well-optimized to ensure speed and efficiency. The contact forms available are responsive and mobile-friendly.
It comes with surveys and poll addons that help you to create polls on your website. Without writing a single line of code you can create a new user form in minutes.
Key features
100% mobile responsive and user-friendly plugin.
Featured pre-build templates to create contact forms very easily.
User experience is its first priority.
To improve user experience Multi-Page forms are available.
Supports GPS to display the user's location.
Configure email notifications.
It offers the best in class survey reporting.
It is easy to create and analyze user responses with its polls and survey offer.
One of the most SEO-friendly custom form plugins.
It comes with a pre-built form template which helps in saving time.
Pros
No coding knowledge is required to create a contact form.
Create beautiful contact forms, subscription forms, payment forms, and many other types of forms.
It offers one of the most beginner-friendly contact forms in the market.
Highly optimized for web and servers.
One of the fastest contact-building forms in the market.
It is the first choice of smart business owners, designers, and owners.
Cons
Don't have complex features like plugins.
Very limited features are available.
More than 150 WPForm templates are available so it is very difficult to choose the right one for our needs.
Creating polls and surveys sometimes is very time-consuming.
Very limited custom availability features are available.
No flexible pricing rules are available.
WP Booking System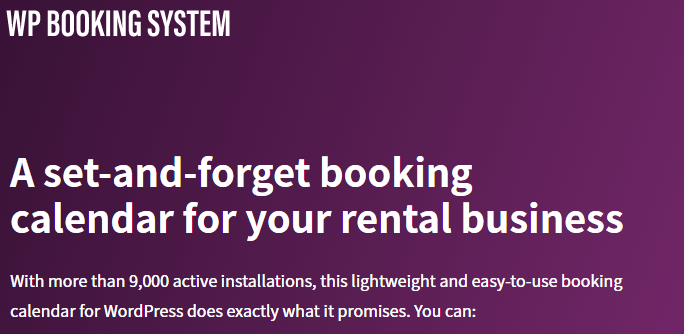 WP booking system is easy to use and lightweight multiple hotel booking WordPress plugin available free as well as premium version. It allows you to manage bookings, sync with other relevant websites, you can communicate directly with your clients, etc. This plugin means you have the option to approve all bookings automatically. It does not allow you to make double bookings. In short, you can customize your booking system as per your requirements. Furthermore, With this hotel booking calendar.
While using the WordPress plugin you can create a booking calendar that includes a reservation form where users fill in their information like name, email address, etc. You can also generate shortcodes that help you to add a booking calendar anywhere on your site.
Continuously, it comes with a powerful form builder that allows you to customize all fields in detail. It has an admin & user email notification feature so that an email can be sent when users made bookings and when users' bookings are accepted or modified. Admin and other roles can create multiple calendars and join all of them in a single clear overview. The bulk date edit option is also available where you can edit multiple dates within a single click.
Also, the owner can start receiving their booking within 3 steps; you just have to;
Display available dates calendar on your site.
Allow customers to make bookings.
Manage received bookings.
Now when it comes to pricing, its free version comes with numerous features but only for a single calendar. If you want unlimited booking calendars so you will need the premium version which comes with advanced features. Finally, we can say, installing this hotel management plugin WordPress means you will get a complete booking management system.
Key features
A booking calendar and a booking form
Receive and manage bookings
Generate shortcodes
Unlimited booking calendars
Multiple languages supported
WP booking system widget
Show multiple months
Change the first day of the week
Change the start month/year
Bulk edit available
Show the tooltip with additional information
User management
Send booking notification
Sync to other websites
Block booked days automatically
And much more…
Pricing
It is available for free as well as the paid version. The paid version's personal plan costs $49, the business plan $79, and the developer plan $159.
Adivaha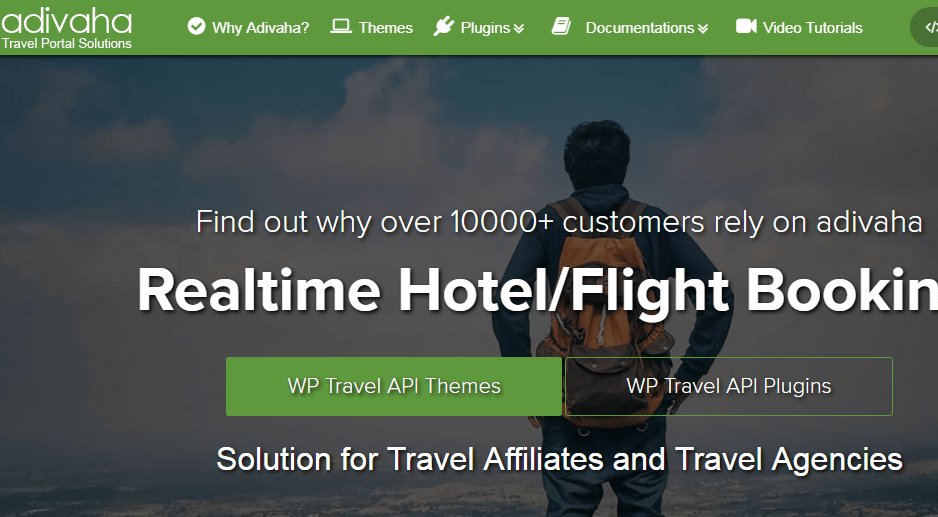 Adivaha is also the best WordPress plugin for hotel booking and flight booking. This solution offers various plugins for different bookings like the Adivaha B2B hotel booking plugin, the Adivaha B2B flight booking plugin, resort booking, BnB booking, vacation rental plugin, etc.
All plugins are 100% customizable, easy to set up, and speed-optimized plugins. Each & every plugin comes with distinct features, elaborated as follows;
Key features
Multilingual supported
Multi-currency supported
Facebook login
Add to favorite
Customized booking emails
Push notifications
Chat integration
SMS booking
Change homepage layout
Newsletter
Additional setup
Visual composer
AWS hosting
Discount Coupons
Payment gateway
Seasonal rates manager
Cashback coupons
B2B and many more…
WpOpal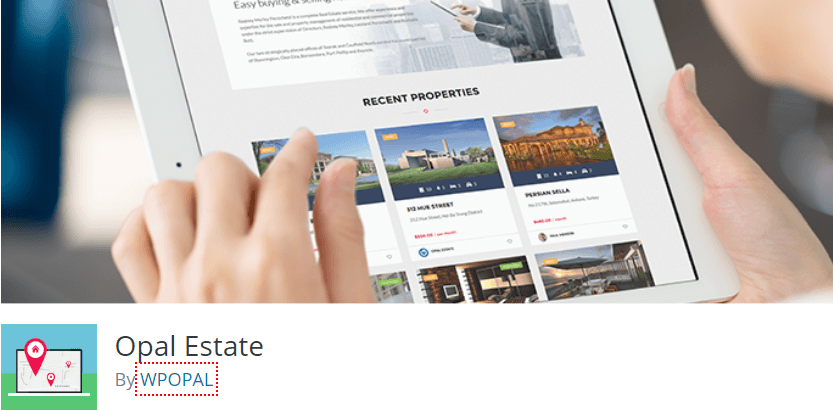 WpOPal is a hotel listing WordPress plugin that helps to book your property with your property website. It is easy to use, a reliable, and flexible plugin that comes with a lot of highly advanced functions that allow you to add new functionality to your site.
This Plugin may have many shortcodes using which you can show some important functionality to your site pages. Also, it has numerous templates that let you create a real estate site within minutes.
Apart from all these, we have discussed above, the plugin comes with more features like;
Key features
100% responsive
Mobile ready
Real estate listing to the site
One-minute setup process
Customization
Compatible with all frameworks & themes
SEO friendly URLs
Mobile-friendly design layout
Clean & clear extensible code
Powerful shortcode & widgets
API supports
Google + and Facebook login
Customizable CSS
Actions and filters
Property list, list sidebar, grid, grid sidebar
Search Google map
Revolutioner slider
WPML supports
Search engine optimized
Membership packages
Custom label for everything
Hundreds of filters
Pricing
It is available for free as well as the paid version.
Yatra.com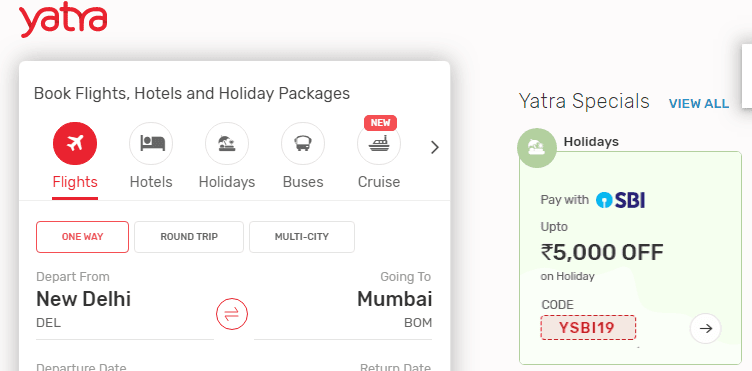 Yatra.com is also not a WordPress plugin but the most popular one-stop destination to book hotels and flights. It offers almost all information to its visitors such as availability, pricing, booking facility for domestic and international hotel bookings, domestic and international air travel booking, holiday packages, etc.
We can say that it is a robust platform for a spectrum of travelers and suppliers created to provide a high level of innovation & scalability.
Why book hotels & tickets with Yatra.com
Look for hotels and price
Secure bookings
Holiday package
The best combination to tailor your trip
A new deal every season
Yatra's burgeoning customer base
Solidres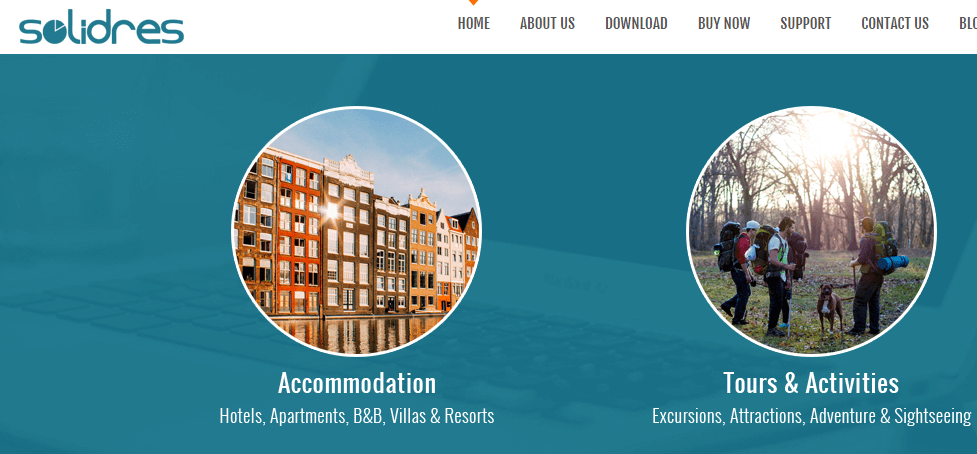 Solidres is a WordPress plugin that allows you to create a hotel booking website. This is one of the best choices to empower your hospitality business with your hotel site. Further on, it comes with various options that make you different from others in the market. Being many options included, the plugin setup is quite simple. However, media management, tariff configuration, multiple currencies, custom fields, etc. such types of features are included in some of the options.
Being mobile-responsive, the plugin allows visitors to load your site on their mobile devices and book their accommodations without computers. The soldiers' plugin is created as a native WordPress plugin, which means, no hacking problem, no bridge, and no strange installation process.
As a user, you will find the plugin has a familiar user interface & workflow. As a developer, its code is very simple to understand because the plugin uses and explores many WordPress core functions.
Apart from that, Solidres. It is not only a WordPress plugin but also an email-catching, logging, and monitoring solution for the Joomla platform.
Key features
Responsive design
Support browser support
Support multiple business types
Multilingual support
Integrated WordPress themes/ Joomla templates
Amazing support
Availability calendar
Easy media management
Tax supports
Deposit supports
Builtin simple gallery
Builtin payment gateway
Export reservation as CSV
Responsive layout
Single-use supplement
Live reservation unread count
Support Bootstrap 2 and Bootstrap 3
Pricing
The plugin is available for free as well as a premium version. You have to pay $69 for a single and $109 for the bundle version.
Timetable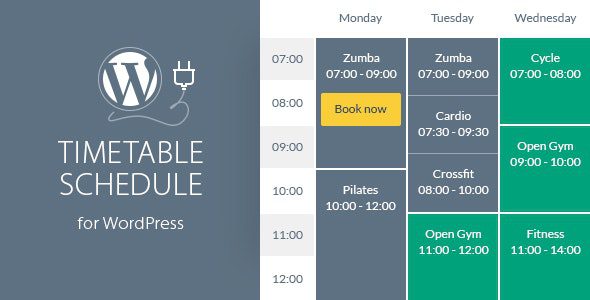 The Timetable is a WordPress schedule plugin that will help you to create a timetable, event booking, or appointment booking. Also, it is best suitable for your school or kindergarten, class schedules, gym classes, nightclubs and pubs, medical departments, meal plans, and many more. This plugin is very powerful and easy to use for schedule management. Also, you can view all of your events in minutes. Basically, this theme comes with easy-to-use booking functionality. Therefore you can take online reservations for any event within the available number of free slots.
In addition, there are some other useful features that include an event occurrences shortcode, events manager, upcoming events Widget, and timetable shortcode generator. Also, you can generate the PDFs from your timetable view. Certainly, this WordPress booking and reservation plugin are totally compatible with Visual Composer.
Although with the booking functionality of the Timetable WordPress plugin. Therefore you can take online reservations for any event within the available number of free slots. Also, the Timetable plugin comes with many useful add-ons to get better functionality and features.
Key Feature
Build a Timetable In Minutes
Booking Functionality
Ability to Book Selected Events
100% Responsive and Mobile Compatible
Export to PDF functionality
Build-In Color Picker
Valid HTML5 Code
Grouping Of Events
Occur In The Same Time Intervals
Event Tooltips and Event Filtering
Support for Visual Composer
Events In the Form Of Custom Post
Unlimited Timetables, Events
Crossbrowser Compatible
Occurrences Of Events
Documentation Included
Weekdays Menu Allows
Translate Weekday Names To Your Language
Timetable Shortcode Generator
Display Today Upcoming Events
Google Font Library With Hundreds Of Fonts
Pricing: The regular license of this WordPress plugin will cost you just $26 only. Also, you can get extended support for 12 mounts for just $7.88 only.
Booki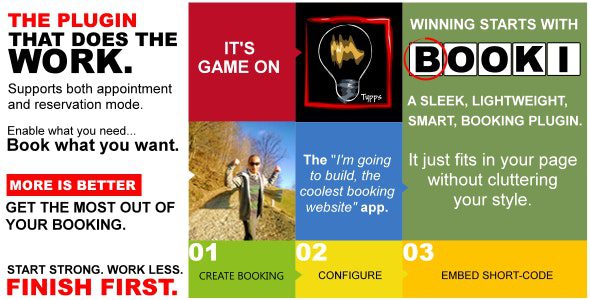 Booki is the best online booking plugin available for you. Also, if you are looking to run both types of bookings such as reservation-based and appointment-based. In addition, the customers are able to see their bookings in their time zone. This plugin is also integrated with PayPal, has a shopping cart, and can issue discount coupons. Plus it's easy to integrate with Mailchimp.
Although with this plugin you can manage or create your reservations and online appointments. WordPress booking plugin Booki allows you to schedule an appointment and book accommodation, events, meetings, massage, haircuts, fitness, parking, teacher, rental, lesson, taxis, tickets, and hundreds of other services.
Please make sure you go through the demos or ask presale questions when in doubt as this is a general booking system and use cases can vary on what you want to achieve.
Key Features
You can specify the booking period with start and end dates, as well as exclude specific days and time slots.
You can determine prices at the day, hour, or minute level.
The system can adapt to allow single or multiple bookings, depending on your project's needs.
It allows you to create an unlimited number of extra features that customers can add to their bookings.
Unlimited booking projects. The project has its own options that can make up a booking calendar so that you can add on any page or post so that your customers can book online.
Unlimited service providers. booking project can manage by a service provider in your backend. Many of the service providers are able to sync bookings in one-way into their own Service providers to get a stats page to view summary data on a project they manage.
google calendar profile.
Stats page for a quick overview of your bookings and summary information. Service providers too get a stats page to view summary data on a project they manage.
Confirm bookings: bookings can be confirmed as they are made also bookings can be confirmed manually one at a time. Your customer will be notified when a booking is confirmed.
Cancel a booking: The customer will be able to receive a notification of the cancellation automatically.
Create bookings: The create booking feature can be enabled from your site backend and send these out to your customers.
Online or offline payments: You can enable the payments online via PayPal Express with guest checkout. Also, you can enable offline payments via the book now pay later options.
Send invoices to clients with payment links to PayPal Express or include your own instructions in the email containing the invoice.
Email templates: You are able to customize all emails that are sent out by the system individually. You can use your own custom layout by editing the master email template.
Google Calendar Unlimited profiles: As soon the booking is made on your website. Then you can sync those booking with your google calendar.
Pricing: The regular license of this WordPress plugin will cost you just $29 only.
Online Hotel Booking System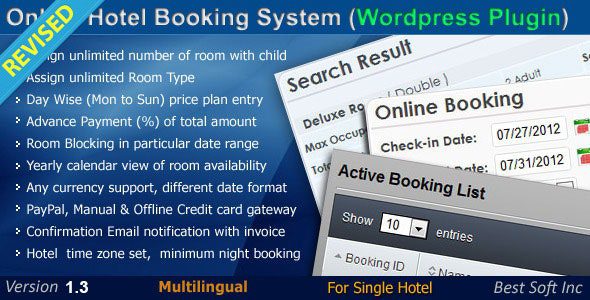 Online Hotel Booking System is a multipurpose WordPress booking plugin. This powerful tool is a well-suitable booking engine for any type of single hotel. Because with the online Hotel Booking System plugin you are able to use its robust hotel reservation system. In addition, it provides you with the real-time availability of rooms and the functionality of a room booking service.
Besides that, you are free to integrate with any of your websites or other new templates very easily. Certainly, Online Hotel Booking System allows you to manage hotel rates, rooms, capacity, room types, etc. Also, it gives you an advance payment feature for a different date range and month-wise system. This plugin provides you, the online reservation manager, at the back end with invoices.
Key features
This can assign an unlimited number of rooms
Different date formats are available
Hotel time zone setting
Room Type Image Upload
Booking list search by date range
Child feature added
Multilingual feature for front-end
16 Langauge Integrated
Minimum night booking setting
Price with tax and without tax setting
It provides a combination of Room type and capacity
Unlimited room type: It assigns the Deluxe or Standard room
Day-wise price plan: such as Monday to Sunday
Entry with the regular and different date range
Unlimited room capacity: It assigns Double, Single, and family
Month-wise advance payment: it can be set for the total amount
Date-wise room booking: booking in a particular date range from desk Active Booking list available with cancellation feature
The booking history list is also available
The phone booking feature can also be used
12 months calendar view of room availability
Multiple currency support: Any type of currency can be used
Three Payment gateway combined: Pay in Arrival, PayPal IPN, and Manual: pay via offline credit card
Email notification: After successfully booking the room hotel owner and the customer will notify with the invoice
Offline credit card payment gateway: stores valid credit card for booking confirmation, and does not charge in real-time
Automated booking engine for a single hotel
Pricing: The regular license of this WordPress plugin will cost you just $35 only. Also, you can extend the support for just $11.25 only.
WordPress Booking Hotel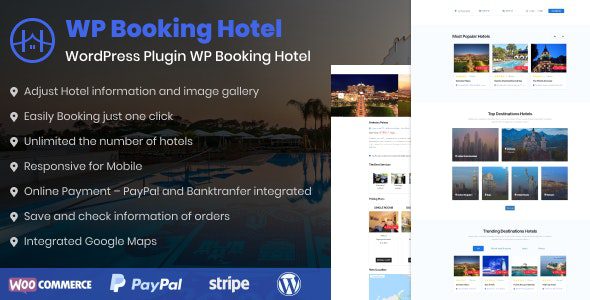 WP Booking Hotel Plugin is well-suitable for any type of hotel booking, room renting, and accommodation service business. Because this plugin is effortless, fully featured, and highly scalable for various types of booking systems such as resort, hotel, villas, cabin, hostel, and apartment rental services too. In addition, this WordPress Booking Hotel plugin provides you with various great features. Also, it comes with all the required functionality to manage reservations and run an accommodation or hospitality business website. Therefore you are able to integrate with your website or new template very easily.
However, this plugin has many useful functions such as flexible booking room type, including an online availability calendar, destination, custom rates, display on Google Maps, and many other extra services too. Also, this plugin is supporting Bank transfer, PayPal, form-builder, customizable templates, and many other features. With the help of this WordPress Booking Hotel plugin, you are able to manage hotel reservations very easily, quickly, and much more efficiently. Also, you can manage hotel rates, room types, amenities, hotels, and capacity, with different date ranges, and month-wise advance payment features.
Besides that, you will have an online reservation manager at the back end. So what are you waiting for it's time to choose WPBooking Hotel. And be ready to let your clients make online reservations on your website. In addition, must be sure that you are ready to handle the mass of customers. Because WordPress Booking Hotel Plugin will definitely help you.
Key features
Easy hotel booking in just one click
Responsive design for mobile
Add blocks with Elementor
Customizable Min/Max Stay Requirements
Listing hotels, and Integrated Google map
Bookable Extras or Free Services
Custom Fields for Advanced Search
Save and check the orders and customer information
Unlimited the number of hotels
Adjust Hotel information and Add Review, Hotel description
Multiple presentation facilities: Image Gallery, Rates, Amenities, Extra Services, tag, etc
Booking a hotel with method payment: Paypal and Bank transfer
Filter hotel by rating, check-in, check-out, room type, address keyword, max child and max adult
Pricing: The regular license of this WordPress plugin will cost you just $39 only. Also, you can extend the support for just $12.75 only.
Bookme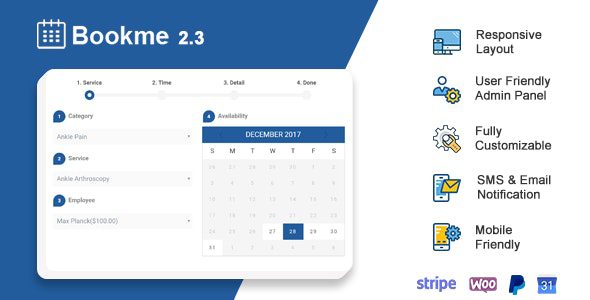 Bookme is a well-equipped and fully functional WordPress Booking Plugin. Because this plugin provides you responsive design for online booking scheduling. So you can book easily with the Bookme plugin, it is easy to manage, easy to use, and a great booking tool for those service providers who think about their customers. This WordPress calendar booking plugin has various other features such as notifications, payment with woo-commerce, translatable, Google Calendar sync, fully customizable, cart system, that helps your customers to check availability and make appointments for specific days and time slots.
Certainly, the Bookme plugin supports a large range of different services. That is provided by small businesses and those individuals who offer online reservations service through their websites. Therefore you can set up any reservation very quickly, pleasantly, and easily with Bookme.
Also, it gives you the following services:
Patient scheduling: Quickly schedule an appointment for medical help, dentists, clinic, and doctors.
Training schedule: It allows appointments for various training, such as pilates, dance, fitness, sports, and yoga.
Education scheduling: It helps to book an appointment for educational courses, tutors, and learning helpers.
Customer scheduling: You can make appointments for beauty salons, massage, wellness, beauty, spas, massage therapists, and healthcare reservations.
Event schedule: It gives the booking facility for the conference, yoga class, event planning, organization of special events, course, gym, and fitness center.
Besides that, you can do the search and book your reservations for any specific days or dates. In addition, Bookme provides you with various multipurpose Booking Types such as:
Free Boking
Well, if you don't want to set a payment option for bookings on your website. Then also you can have the Bookme plugin, just installed on your website and the developers will take care of everything. Also, if you just want to book appointments for the other reason without paying and handle it manually. So you are able to disable the booking payment option very easily. And then it will not show the payment options on the frontend booking page.
Consultant Booking
Booking and scheduling for meeting with the consultant. who provides expert advice in a particular area such as security (electronic or physical), management, education, accountancy, law, human resources, marketing (and public relations), finance, engineering, science, or any of many other specialized fields.
Group Booking
The Bookme plugin helps you to accept group bookings for the same service at the same time. Because it allows customers to specify the number of persons for whom they would like to book multiple seats within a single time slot. Also, in the admin control panel, it will be shown you as a single appointment.
Default Booking
Bookme WordPress appointment booking plugin provides you with online scheduling of your services, an automated booking. Therefore it can give you features like managing your appointments, saving your time and money, staff and the customer using only a single plugin, Staff Members or Employees, Category and Service, and Calendar with Seat Availability.
Add to Cart Booking
The Book has a Cart facility that helps your customers to book various appointments per session just by placing them in a cart. Therefore your clients are able to book more appointments in the add-to-cart step of the booking process. Besides that, a click on a button named Book More will take the user back to the first step while retaining the current booking in the cart.
Booking with WooCommerce
However, the administrator can enable the WooCommerce feature in it. So that it will allow you to use the WooCommerce shop add-to-cart and checkout functionality. Also, it can be used to create and manage all types of booking services. Besides that, Bookme allows you to sell time or date-based bookings.
Key features
Complete admin space with an intuitive interface
Simple WordPress integration
Powerful and Intuitive Admin Panel
Independent Booking Calendars
Online Payment with Paypal integrated
Customized fields and Unlimited colors
Responsive Front-End Design
Configurable schedules and days-off
Each day's calendar overview for all
Unlimited variety of companies
Customizable Form and Calendar
Unlimited variety of service suppliers
Personalized value for a service supplier
Allow discount coupons
Customize the time slot
Personalized supplier week schedule
Email Templates and WPML Support
Editable e-mail notifications
Multiple Bookings
Configurable funds report
Specific Time Bookings
Customizable look settings
Edit Existing Bookings
Configurable e-mail reminders
Export of bookings to CSV
Multi-User Functionality
Pricing: The regular license of this WordPress plugin will cost you just $29 only. Also, you can extend the support for just $9 only.
WordPress Appointment Schedule Booking System Pro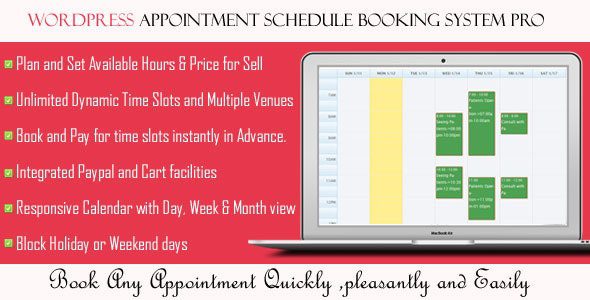 WordPress Appointment Schedule Booking System Pro is a multipurpose WordPress plugin for scheduling appointments. Basically, this plugin helps your clients to book an appointment directly from your website for various related services. The Booking plugin is built for service professionals such as consultants, lawyers, tutors, doctors, therapists, instructors, artists, photographers, singers, stylists, and many others. Which requires scheduling their date and time with clients online with the help of a website. Also, you can organize your scheduled appointment on a particular date and time.
Although this is a powerful booking and scheduling plugin. Also, it has the most required features and a flexible admin panel with a user-friendly interface. However, with the help of this plugin, your customers can take a quick view of all your services. Also, they can book a suitable appointment schedule at a specific date and time slot. The WordPress Appointment Schedule Booking System Pro plugin is well-equipped with all the required features that help you to make online booking simpler and easier for your customers. In addition, this plugin has manual payment systems and it is integrated with PayPal too.
With the help of this plugin, you will no longer need a third-party account. Because all settings and bookings are stored in your DB. Also, it has an easy-to-use Booking Admin Panel, that can display the bookings in Calendar Overview. Therefore it lets you manage your bookings. Although, necessary pages or posts will be created automatically and shortcodes will be automatically copied to the page. Also, you can make appointment schedule bookings in a friendly booking interface just select the date and fill in other form fields. This plugin prevents double booking for the already reserved scheduled time.
It supports one booking per schedule or time slot for a venue. It allows you to define the working days, for the exact time slots available. In addition, you can set the length of the time slot for each service. also, you are able to add, edit, or manage Booking from Admin Interface. Although you can insert a booking calendar into any post or page using a shortcode.
It automatically generates calendar and payment process-related pages. So it's really easy to install and configure. It provides a variety of services to choose from. This WordPress appointment schedule booking software lets you set many service options. So you can set an appointment at your office or at your client's location or anywhere.
Key features
Free Installation Service.
Very flexible functionality.
Fit to a very wide range of business.
Unlimited Service and Venue Entries.
Very easy to install and configure.
Integrated Payment Gateways.
Built-in Shopping Cart Enabled.
Full Technical Support From the expert team.
Supports both am/pm and military time.
Pretty modern administration interface.
Easy to install and integrate into your site.
Manage Booking Straight From the Calendar.
Built with jQuery, Ajax, and other technologies.
Unlimited Background Color setting for Schedule Event.
Easily add, edit, or delete an appointment in WP Admin.
Dynamic Customized date Picker for Service/Schedule wise.
Appointment Scheduling Calendar week and day view.
Pricing: The regular license of this WordPress plugin will cost you just $27 only. Also, you can extend the support for just $8.25 only.
Booknetic

Booknetic is a powerful WordPress Appointment booking plugin that suits every type of business such as medical, law, education, fitness, beauty, and much more. it's easy to use, and manage and has a quick configuration. the plugin is easy to back-end and Front-end modern features that have life savers for businesses that cannot afford high-tier software solutions.
Booknetic is a powerful and flexible booking plugin that offers businesses a range of tools to manage their bookings and reservations effectively. Its ease of use, customizable booking form, availability management, payment and deposit options, automated notifications, customizable email templates, and reporting and analytics features make it a popular choice for businesses looking to streamline their booking processes and improve customer experience.
Features:
Customizable Booking Form.
Multiple Service and Staff Management.
Range of payment gateways such as PayPal and Stripe.
Sends automatic email and SMS notifications to customers and staff members to confirm appointments.
Bookings for WooCommerce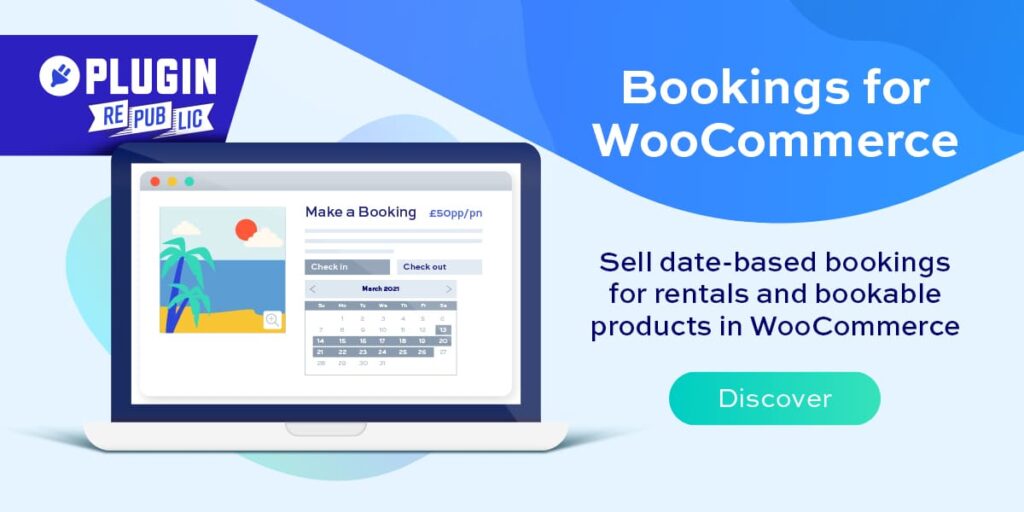 Bookings for WooCommerce is a feature-rich plugin that offers businesses a range of tools to manage their bookings and reservations efficiently. With its customizable booking form, multiple bookable products, resource management, time slots and availability, payment, and deposit options, notifications, and reminders, calendar management, and reporting and analytics features, Bookings for WooCommerce is a great choice for businesses of all sizes looking to offer online booking and reservation services to their customers
Bookings for WooCommerce WordPress plugin that allows businesses to offer online bookings and reservations through their WooCommerce store. It provides a range of features to help businesses manage their bookings efficiently, save time, and improve customer experience. Let's take a closer look at some of the key features of Bookings for WooCommerce:
Features:
Resource Management Bookings for WooCommerce
create and manage multiple bookable products
Extends WooCommerce with extra flexibility and functionality
Integrate with google calendar and Zoom sync
Webhook module to automate action notification
Conclusion
Furthermore, use the comment section provided below for any suggestions. Still, if you are facing any problems you can contact our WordPress support developer or dial our toll-free no: +1-855-945-3219.