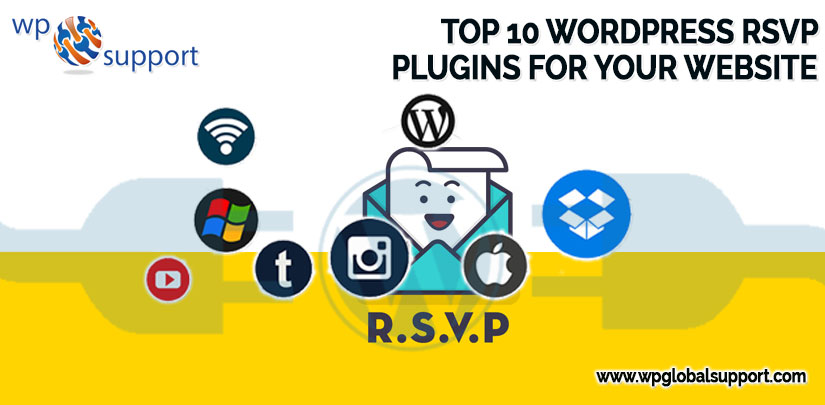 From the WordPress Event Registration Plugins. We always try new ways and process to track, response of people and popularity of an event from our audience. The task is find difficult without a digital platform. But if you are an online marketer and own a WordPress website then you can go for an Event registration plugin or RSVP plugin to collect response from your users.
RSVP is a Process of Respond. The term RSVP is a short form of French words "répondez s'il vous plaît" Which means "Please Respond".
If you own a WordPress website you can add event registration plugins. As plugin is defined as a type of software that contains a group of functions that can be added to a WordPress website. They are used to provide additional functionality to your application.
The plugin allows the users to accept responsibility for the invitations sent directly on their website. These plugins help you to create and manage your event with ease.
How you can use WordPress Event Registration Plugin?
Event management is not a simple task as there are lots of hassles. To make an event successful, most of the WordPress professionals event managers will tell you to automate tasks.
The WordPress event registration plugins allow you to automate the manual compiling of the RSVP responses.

Plugins will support, let guests confirm their attendance and compile a list of guests for you.

Some of the event registration plugins will even allow you to export entries into other formats and use the data for email marketing.
Now let's take a look at top WordPress event registration plugins for managing your events successfully:
1. Event Tickets Plugin

Event Tickets Plugin is one the most popular WordPress event registration plugin event registration plugin available in the market. It allows you to create event tickets in WordPress and add them to your posts or pages. Where the articles posted by the admin of a WordPress site are called posts and pages are like posts which can be managed in a hierarchical structure in WordPress
Have a look on features of the plugin.
It provides a simple way for the visitors to RSVP to your event. By using this plugin you can simply add tickets and RSVP option to any WordPress post or page.

The Plugin enables you to add RSVP functionality to posts or pages. Pairing this plugin with the

Events Calendar

(which is a WordPress calendar plugin) you can add that same RSVP functionality directly to your event listings. Simply select the dates for your events and let your guests fill in the form.

This plugin allows the admin to access RSVP information from the backend.

The only disadvantage is, you will not be able to add any additional fields to the form.

For selling tickets to

WordPress customers

and accepting payments, pair it up with the Events Calendar plugin with a separate WordPress e-commerce plugin. Where e-commerce platform offers product variations, different shipping rates, attractive design, payment gateways, marketing features, and SEO; as well as different add-ons and extensions to further extend and improve your online store.
2. WPForms Plugin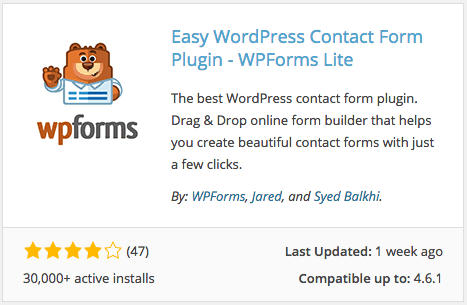 WP Forms is the best form builder WordPress plugin. Features of the plugin are as follow-
The plugin includes a simple drag and drop interface that allows you to create beautiful forms.

WP Forms stores all form entries in your

WordPress database

, and you can export them in CSV format. This format allows you to easily add an RSVP form to your website and let your guests fill in their information.

It gives the freedom to collect extra information that you need from your guests. You can accept payments using Stripe or PayPal.
Also Read: 8 Best Advertising Management Plugin for WordPress
3. RSVPMaker Plugin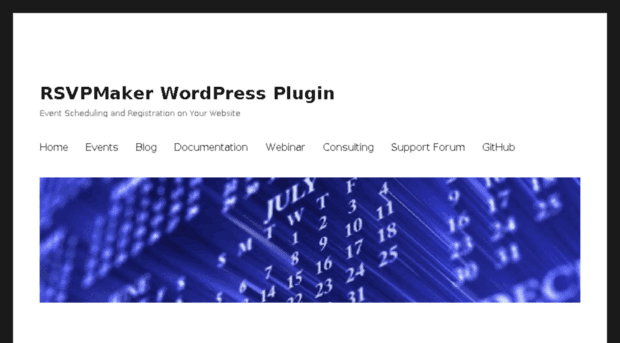 RSVPMaker is comparatively very powerful WordPress event registration plugin. However, it is an RSVP tracking and event scheduling plugin for WordPress.
Some of its features include:
Schedule and promote events of all sorts: conferences, classes, seminars, speaking events, parties, and weddings are a few common uses.

Promote your event on social media and send out email list invitations using the integration with MailChimp. MailChimp is also the most popular email marketing service providers. Also, they offer a quite easy to use interface with great tools and amazing support.

Register attendees, prompting them to enter whatever information you need, including the names of guests.

Collect money using PayPal. As PayPal is one of the most widely and easily accepted forms of payment that is used for the e-commerce store.

Create webinars and other online events leveraging free resources like the YouTube Live service.

You can add events anywhere on your WordPress site and your guests can RSVP.

You can create a custom events calendar.
4. RSVP and Event Management Plugin

RSVP and Event Management plugin is a very popular WordPress event registration plugin. That is used to create and manage your event with ease. This plugin eventually offers a powerful event management platform for WordPress websites. Moreover, it includes a complete RSVP system.
Some of its features are listed below:
Easy to customize text.

No need to know a passcode to RSVP.

Ability to set a passcode per attendee. Where a

passcode received by the user via SMS to enter into a website or application.

Easy attendee management.

Relate attendees to make it easier for groups and families to RSVP event registration plugin together.

Email notifications.

Custom questions.

Open or set attendee list registration.
Furthermore features you will get in premium version only-
Allows you to run multiple events.

Send mass emails to attendees.

More text customization.
5. Simple Calendar Plugin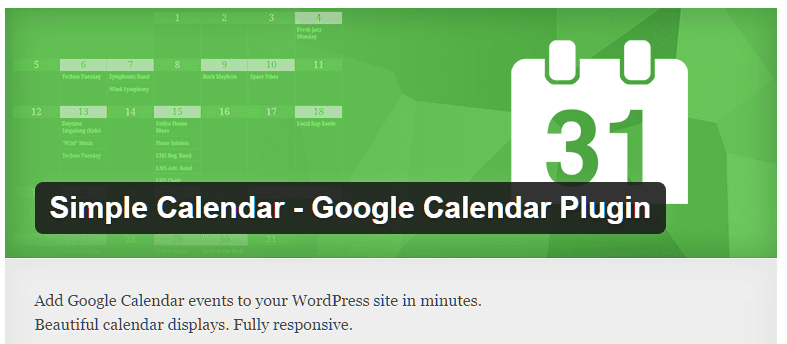 Simple Calendar plugin allows you to easily add your Google Calendar events in WordPress which makes scheduling easier as it integrates with the Google calendar However, the plugin is very easy and quick to set up. Comparatively, the plugin is beautifully designed. Eventually, you can use your website to publicize an event by adding the Google Calendar to your website.
Popular features of the plugin are as follow:
Display events from any public Google Calendar.

Keep managing events in Google Calendar. No need to create events in WordPress.

Fully responsive and mobile-friendly monthly grid and list views.

Combines multiple calendars into single displays.

Advanced settings to adjust time zones, date/time formats and the start of the week.

Customize event content display using simple tags. No coding required.

After integrated with Event Calendar Newsletter, it turns your events into a newsletter-friendly format.
However, the main disadvantage of Google Calendar is that you cannot create custom forms, ask for information, integrate email list, or accept payments.
6. Events Made Easy Plugin

Events Made Easy plugin is simple and a full-featured event and membership management solution for WordPress. Meanwhile, the plugin allows you to manage events from your WordPress site with RSVP form and attendee management features.
Furthermore, the features are:
Membership management with custom and dynamic fields.

PDF creation for membership, bookings and people information.

Calendar management, with holidays integration.

Location management, with optional Google Maps integration.

Templating for emails, event lists, single events, feeds, RSVP forms, … with specific placeholders for each.

Payment gateways: Paypal, FirstData, 2CheckOut, Mollie, Worldpay, Sagepay, Stripe, Braintree.

Send emails to registered people, automatically send reminders for payments.

Mail queueing and newsletter functionality.

Multi-site compatibility. As While running a multisite network has its own benefits sometimes a single site may outgrow the network and require its own space.
Read More: How to Disable Unwanted Or Unused Widgets in WordPress
7. Meetup Widgets Plugin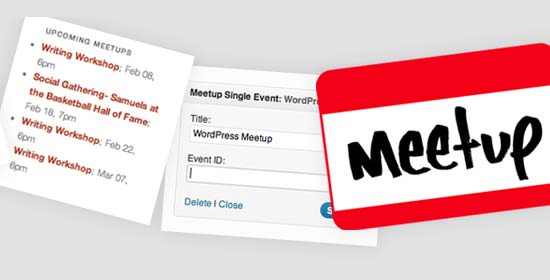 Meetup Widgets Plugin is a popular platform used by millions of online communities. Moreover, the plugin is used to organize regular meetups and events. The plugin allows you to use Meetup.com's event management tools including RSVP feature on your website.
Besides this, Meetup Widgets plugin creates two widgets:
A list of events from a meetup group (by ID or URL name, for multiple groups use IDs).

The other one shows details about the single event (by ID) and a link to RSVP.
Other than this, the main disadvantage of this plugin is that your guests will be providing all the information to meetup.com. And you will not be able to make tweaks to the information it collects.
8. Events Maker by dFactory:

Events Maker by dFctory is a fully featured event management plugin. However, the plugin is created to improve the flexibility and usability of event management.
Its main specialties are simple events management, many tickets & pricing, built in Ajax Calendar and WPML WordPress Multi Language compatibility.
Furthermore, the features of the plugin are as follow:
Events Maker enables you to quickly create and manages your events. Meanwhile,

the plugin is easy to customize.

It allows browsing events in an artistic, responsive events calendar. Other than this, it presents all the events for the selected period.

The plugin automatically creates an iCal feed/files for all your events, sections, tickets, places, organizers and personal events. However, the plugin will help you to send event information in calendar applications. For example Google Calendar, iCalendar, Outlook, ThunderBird, etc.
9. WP Easy Events

WP Easy Events is easy to set up and powerful WordPress RSVP plugins for event management. Moreover using this plugin you are able to entertain various events in different event venues under their own brand or name. Another highlighting features of the plugin are as follows-
The plugin allows you to create pages according to organizers, venue, events, and attendees. Everyone has the choice to RSVP any event page.

Once a person is registered an event ticket is issued. The attendee can print that ticket and presented to the event staff during check-ins.

The plugin is perfect for corporate events. You can design and advertise events such as workshops and conferences, trade shows, official securities and incentive programs, golf events etc.
10. RSVPify RSVP Form

RSVPify RSVP Form create beautiful, extremely-customizable RSVP card that can be inserted wherever on a page or post by an easy shortcode. Where shortcodes are those special functions/tags that allows the user to quickly and easily pull related bits of mentioned functionality into their content.
Furthermore, the features of the plugin are-
Firstly the limit respondents only to your guest list.

Get appetizer and entry preferences. Invite sub-groups of visitors for example on a rehearsal dinner or meeting.

Design combined questions to get all the details of the event and visitor you need.

Moreover, it allows easy import and export of data.

The plugin gives a dynamic dashboard and software that save your time and money during event planning
All the above-mentioned WordPress RSVP plugins are very popular and very widely used by WordPress developers for managing their events. We hope the above article will assist you to select the best WordPress RSVP plugin for your WordPress website.
Hope you liked the content. Please share the content with others also and drop your suggestion in the comment section.
If you are still confused, contact our WordPress Technical Support team for their assistance, dial + 1 844 275 0975(Toll-Free). We will be pleased to help you.
Some Other Blogs that might be useful: