What is Gravatar in WordPress? Learn to Use, Create & Delete it!
Last Updated:

Aug 30th, 2018

Posted by:

Editorial team

Category:

Tutorial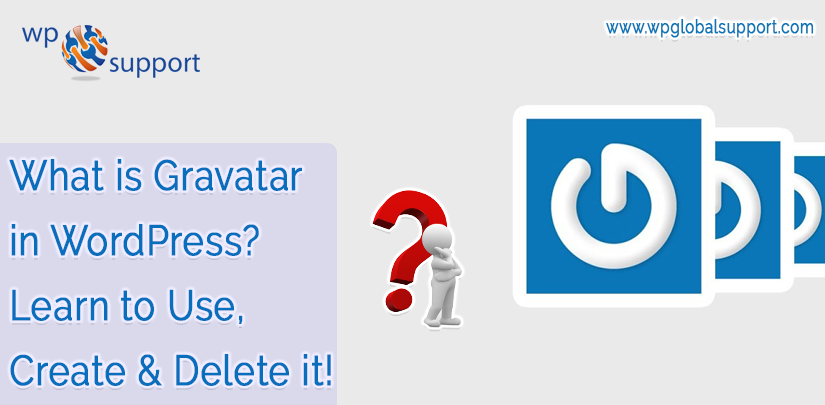 A unique identity makes you visible in the crowd. So always try to look unique and identical. The WordPress Gravatar profile will do the same with your Websites identity.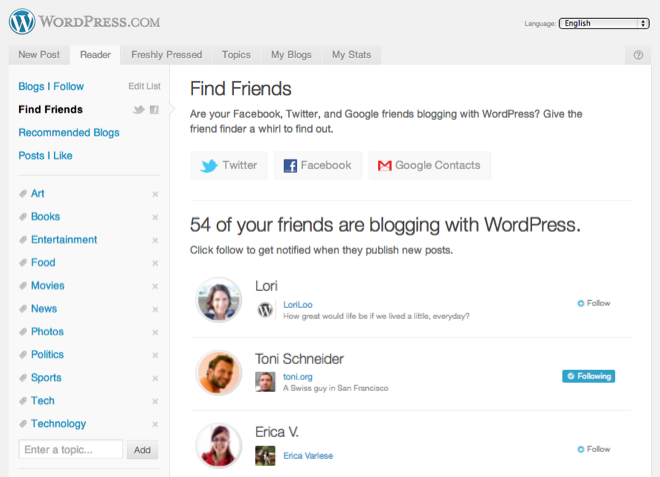 Here, you see every user has an image. Whenever they comment on any site the same image you will see. This you can say an avatar of a Website. If you need to do this for yourself, all you need to do is create an avatar in WordPress and use it as your site identity. Before we go deep in Gravatar let's understand what is an avatar.
What is Avatar?
An avatar is a graphical representation of a user. It can be anything, a person's picture, a random icon, logo or a sign. A profile picture is an easy way to identify users. It is easy to remember rather than username.
Blogging is getting popular. If you comment often on other blogs, it is remarkable to have a commentators identity. To make your own identity on any site, you need to subscribe or register yourself on that site and then you can add an "avatar" on your profile.
However, blog commenting does not need any registration. Then how we recognize a user. Here comes, the Gravatar.
What is Gravatar?
Gravatar means a Globally Recognized Avatar for websites. Millions of people all over the world are using this and that's why it's known as globally recognized. Popular software and application like WordPress provide built-in support for a globally recognized avatar. When the user leaves a comment with their Gmail, Facebook, Twitter account it puts its image and the commenter is easily identified. So, you can say that Gravatar is a website identity throughout the world wide web.
It was created by Tom Preston-Werner and after 2007, it has been owned by Automattic.
Why use Gravatar in WordPress?
If you want to make your identity on the web then you must use Gravatar. At the beginning of every project, branding is the most important part. By using your own avatar image you can brand your WordPress website. Initially, you may not get the attention but once the same person notices your gravatar in many sites then he definitely visits your website.
Before you add gravatar in your WordPress website you need to create a Gravatar account.
Create Gravatar account
If you want to create this account you must have a Gmail if don't create one. You should create your account in Gravatar with the Gmail you are frequently using for commenting on other sites.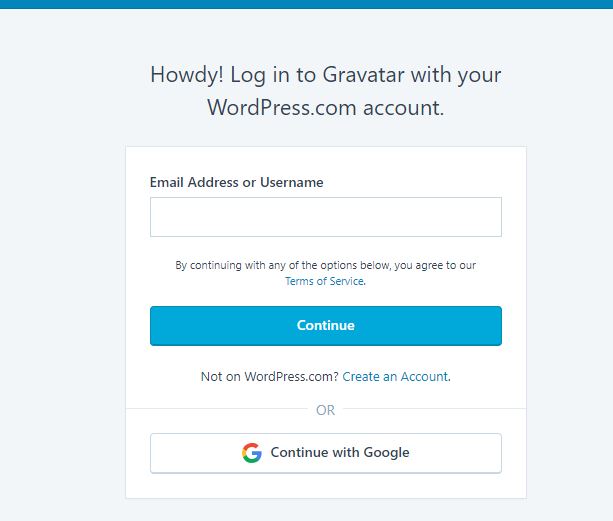 When the registration is done you will receive a confirmation email. Click on that link you received and then select Approve.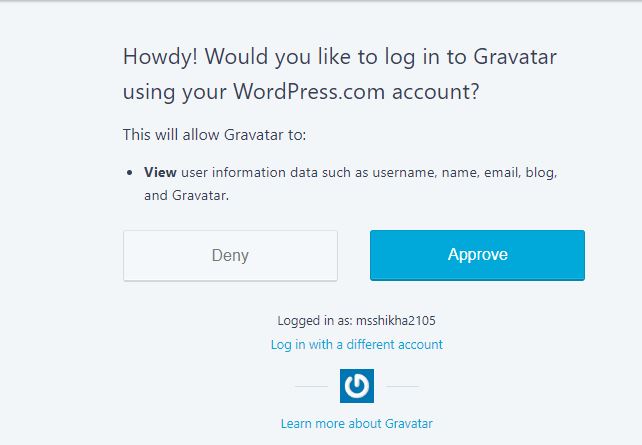 Here, you will get the option to add an image. Click on "Add one by clicking here"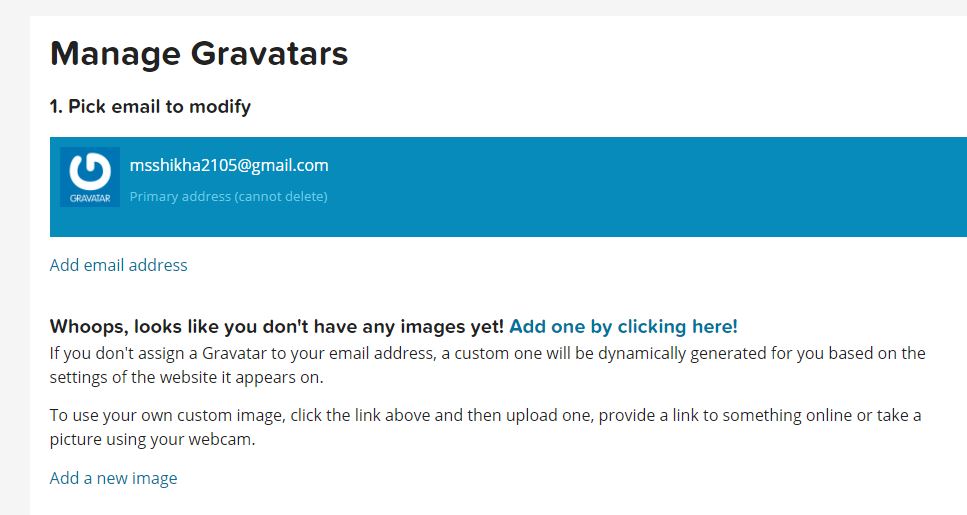 Now you will see the upload option. So, you can upload an image through your computer, webcam, or paste a URL.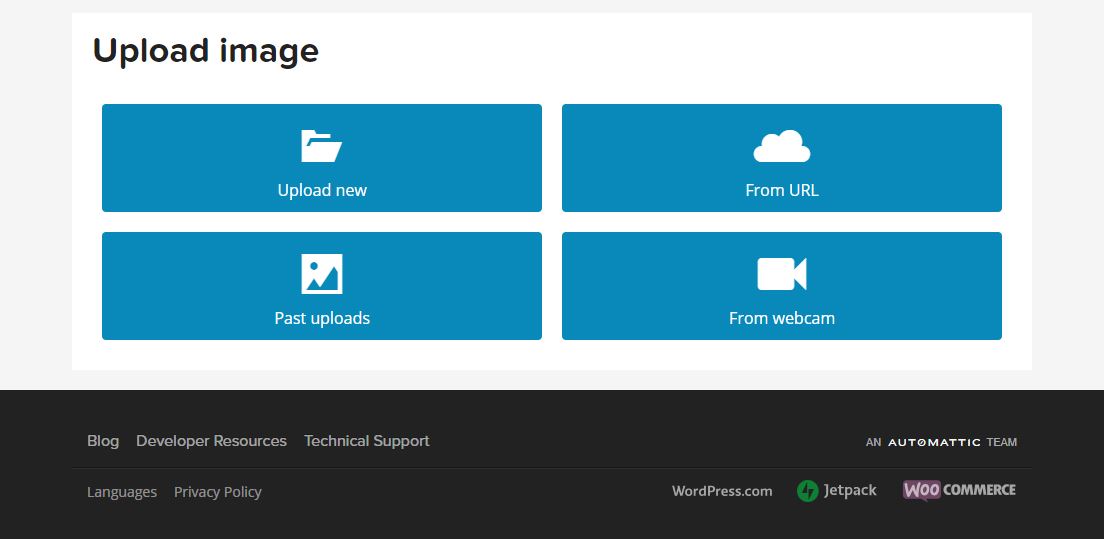 The Gravatar account is created successfully. Now, you need to integrate this account in your website.
How To Add Gravatar in WordPress?
Most of the WordPress themes come with Gravatar integration in comments. If your theme does not support, Still you can add a globally recognized avatar on your site. Let's see how?
To add Gravatar in WordPress follow the steps
Step 1: Login to the WordPress admin area and click on Setting⏩Discussion. Scroll down to the Avatar section.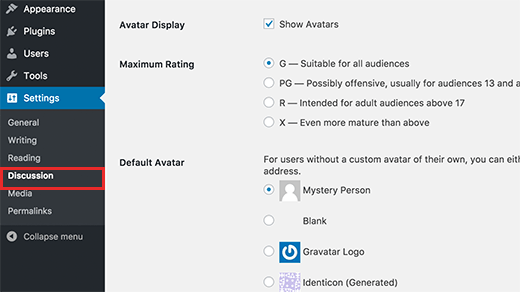 Step 2: Check the box to show avatars.
Step 3: Select a rating for your image.
Step 4: WordPress allows you to add image even if you don't have Gravatar account. When you click on generate, you will be asked for an email of the commenter and link it to an auto-generated image.
This is all about creat and adds a Gravatar in your site. Besides this, you may notice the mysterious shapes and images which is set as a default avatar. Those images look boring so we all want to remove or change it with a better one image.
How to add default Avatar image in WordPress?
WordPress always have some surprises for us. Here, the surprise is you can add your own created default globally recognized avatar in it.
To use your own default avatar image first create an image in a square shape(like 250×250 pixel). Now upload the image and click on edit link(the pencil icon you see when you select the image). Now the image is open for editing, copy the image file URL and paste it in a plain text editor like Notepad.
You need to add some codes to your WordPress root files.

This is the code you need to add in the function.php file. And replace $new_avatar_url with the copied image URL.
Now again visit Setting⏩Discussion and select the new default avatar.
Creating your own globally recognized avatar profile is good but every idea comes with some limitation. So, Let's take a look at the side effects of Gravatar.
Limitation of Gravatar:
When Gravatar added to a site the loading speed of is page increases. But, if you are using a shared hosting for your website you may face some performance issue. The Gravatar loads avatar image from their own server. This increases the number of connection.
Therefore, the chances of the dropdown in Website performance is more when there is huge no. of comments and all users are using Gravatar account. Yes, its true website performance is a very important part. You may be confused, whether create a Gravatar account or not. Don't be stress! We have a solution.
What you have to do is cache web avatar image on your server. Which will automatically reduce the no. of connection. Due to this the website performance remain unaffected.
How to Cache Gravatar Images in WordPress?
Mostly use Method to cache image in WordPress is FV gravatar Cache WordPress plugin.
Follow the step to cache avatar image in WordPress:
As it is a plugin so first, we need to install and activate it. To know the process read our blog How to install a plugin in WordPress?
Go to Settings⏩FV Gravatar cache and change the settings.
Go to Dashboard > Settings > FV Gravatar Cache.
Edit the settings of the plugin as shown in the image.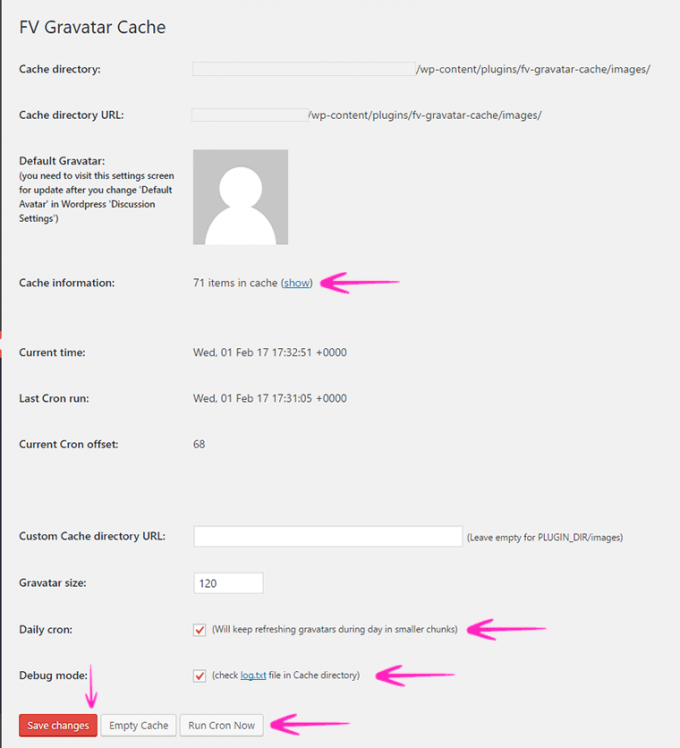 Now, the plugin will start caching all Avatar images in WordPress.
 All the images are save under Cache information. So, You can check for the avatar cache
Now, save changes and its completed.
We already discussed that Gravatar Account in WordPress comes as a default integration. And if you are using a local avatar then it might be possible that you want to delete the account.
Remove Gravatar Account from WordPress
The local avatar in your website is also working as the Gravatar. So, you can remove the gravatar account from WordPress. This can be done by using  WP User Avatar plugin. The plugin is light and compatible with all themes. Follow the step to set up the plugin.
This plugin enables you to use any picture uploaded to your media library as an avatar.
To use the plugin first install and activate the plugin, the feature of WP User Avatar plugin are:
Add default Avatar in your WP User Avatar settings.
If the user doesn't have WP User Avatar image then it shows default avatar.
Change the setting to Disable Gravatar avatars and use only local avatars.
The plugin adds an uploader to a front page or widget. This uploader is visible to logged in user.
The plugin is compatible with all themes.
Allow the users to upload their own avatars on your site.
Make a Limit of upload file size and image dimensions for Contributors and Subscribers.
Conclusion:
It takes time to make your website famous. Creating a Globally Recognized Avatar for your websites helps you with that. Because we all notice the same avatar on different sites then the different avatars on Different sites.
Hope this article will help you to create your own Gravatar profile.
Please like and share the information with your friends also and if you have any query please leave in the comment section.