How to easily convert Woocommerce Site into Mobile App?
Last Updated:

Sep 15th, 2018

Posted by:

admin

Category:

WordPress Support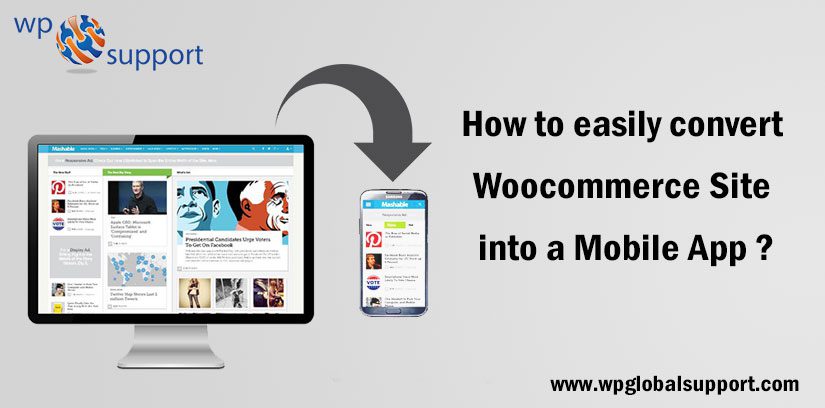 Are you looking forward to converting your WooCommerce site into a Mobile App? If you want to run your online store into a mobile app than Don't worry! that's not a big problem, it is a very simple process. Read this guide carefully and convert WooCommerce site into Mobile App (Android or ios). And then run your WooCommerce store in mobiles.
Also, you can create your own mobile app for your online store without any coding. Simply, by installing the TM store WordPress plugin.
In today's post, we will illustrate you 'How to convert WooCommerce store into Mobile App'? The procedure to set up your mobile app is simple, straightforward and easy.
Read Also: 10 best Plugins to turn a WordPress Website into a Mobile App
Steps to Convert WooCommerce Site into Mobile App
Firstly, download TM store plugin.
Then, install and activate the plugin from your WordPress admin panel. See our step by step guide on How to install a Plugin in WordPress.

Now, Enter WooCommerce API Key and the Secret Key in TM Store interface.

Next, customize your app preferably according to your WooCommerce website.

Receive your native mobile app with a unique app code.

After that, enter the app code in TM store product app.

Then, check the speed and functioning of your demo app.

Choose the package and complete the payment process.

Next step is, provide app name and banners, and receive your app.

Last, publish your app using your developer account.
Now, you are ready to provide a mobile boost to your enterprise.
If you don't have a website yet, you can easily create one using WordPress and WooCommerce plugin ( have a look at Top 10 free WooCommerce Plugin for WordPress Website ), without any need for coding.
Reasons for using TM store to convert a website into a mobile app?
TM Store Plugin offers five major solutions on WooCommerce. Such as:
Admin App
Marketplace Mobile App – Letting your Customers to Buy & Sell in a Marketplace.
Multi-Vendor Management App
Customer Native Mobile App
Catalog Mobile App
Most websites are created by using the WordPress. Mobile Apps for these sites can be easily created using the WordPress plugins developed by independent developers, like Joren, getnative, Applepie etc.
The choice of the plugin is based on what type of website you have, and what type of features you want to from it? If you want e-commerce features for your mobile app through these plugins, you might face integration issues as these platforms are mostly designed for read-only websites.
However, developing a robust mobile app demands more money and the one which does not usually have a poor design.
TM store plugin provides you with the best value for money service. At a fraction of the price provided by our competitors. We let our customers create the native mobile app for their WooCommerce store on both (Android or iOS) platforms.
It specifically caters to the e-commerce merchants who want a comprehensive mobile app for their e-commerce store. Thus, features such as analytics among others are specifically designed for e-commerce merchants who need customized mobile app platform for their business needs.
CMS (Content Management System) of every WooCommerce site has a  lot of unique functions. TM Store has standardized those functions which permit us to create a larger ecosystem in short amount of time by simply writing the code over old CMS.
So that native mobile app created for the WooCommerce site is robust and responsive.
Features available in TM Store plugin:
Best Seller, Fresh Arrivals, and Trending Products.

Native Android Application.

Native iOS Application.

COD, Bank Transfer, and Cheque Payment.

User Login and Management.

Social Login & Sharing.

Language Support.

Payment SDK Support.

Filters and Sorting.

Cross-Sell, Up-Sell, and Related Product.

The App will be released to your Developer Account on iTunes and Google Play.

App Store Submit Support.
Layout, Slider, and Banners
Dynamic Splash Screen.

Slider with 5 Banners redirection to Category, Product, Cart, and Wishlist.

Dynamic Color Themes.

4 Home, Category and Product Page Layout.

Fashion, Grocery, Video and Misc Layout based on Store type.
Sales/User Analysis
Top Selling Category.

Top Selling Product.

Category wise Sales and Views.

Product wise Sales and Views.

User-specific Product Navigation.

Wishlist and Abandoned Cart Data.

Targeted Notification based on Analysis.

Total Users and Quality User Sorting.
Multilanguage Support
24 Language Support.

WPML Support.

Changing Specific Label Text.

RTL Support for Arabic and Urdu Language.
Native Plugin Support
Coupon/Rewards.

Payment Plugins.

Support 24/7 Plugin.

Hotline Live Chat.

Mix and Match Product.
Push Notification
Product Based Notification.

Cart-Based Notification.

Mass Push Notification.

User-based Notification.

Category Based Notification.

Coupon Code Notification.
SEO/SMO Support
Search Engine Optimization Services.

Submission of Articles and Press Releases.

New Articles and Press Release.

Backlinking and Indexing of Product.

Native Language SEO and SMO.

Package based Model for SEO/SMO.
Plugins to convert WooCommerce site into Mobile app
1. MobiLoud
Works with any mobile friendly website.
Responsive themes and Mobile plugins supported.
Configured, built and published for you.
Use your WordPress theme to create your app.
Push notifications with advanced features.
2. Worona
Easily turn your WordPress into a Mobile app.
Google AMP
HTML5 Web App
Facebook Instant Articles
3. AppPresser
Push Notifications
BuddyPress
WooCommerce
Social Sharing
Geolocation
Camera
4. WPAPP.NINJA
Automate App Update
SEO Boost
Search Engine
Read More: 7 Best Plugins to Convert WordPress WooCommerce into Mobile Apps
CONCLUSION
Wrapping this all in end! We discussed on "How to convert WooCommerce website into the Mobile App" and Reasons why we use TM store plugin to convert online store into the mobile app.
And, this leads to the end of the blog. If you have any doubts at any point, feel free and use the comment section provided below. Also, share the blog with your peers. You are on your way to getting more exposure.
We provide you the best WooCommerce Support Services in case of any problem feel free to avail our Service by dialing our Toll-Free number + 1 888 614 0555.
Read More Blogs: