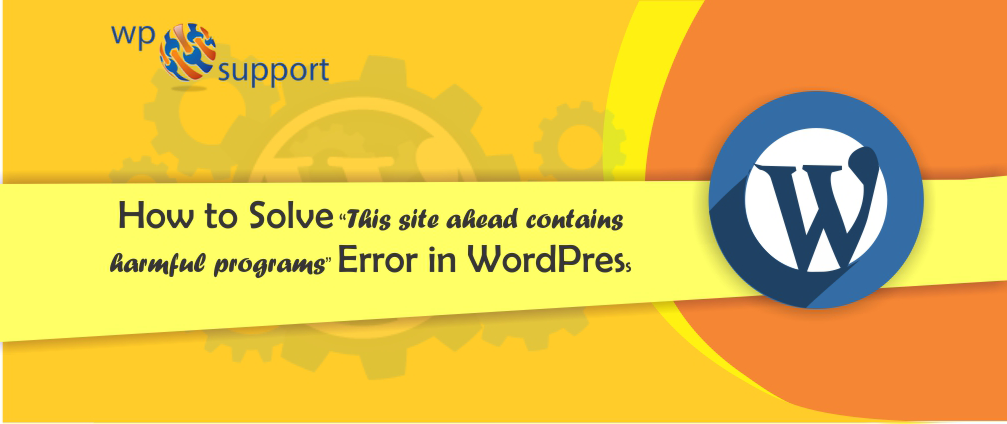 Are you seeing "This site contains harmful programs" error on your website? This generally means that your website is hacked and Google has considered it insecure. In most of the cases when you fix the hack, the error still appears. In this article, we will show you how to solve "This site ahead contains harmful programs" error in WordPress.
What is "This site ahead contains harmful programs" Error in WordPress?
''This site ahead contains harmful programs," is the error that you don't want to see on your WordPress website. It mainly means that your WordPress website is hacked, due to which, Google has marked it insecure. Fixing this error is not compulsory that the error will be remove.
In this blog, you will learn that how to fix 'this site contains harmful programs' error in WordPress websites and also the methods to remove this error.
Firstly, you need to know how this error looks like, also see the reasons how this error occurs.
Read More:  WordPress Backup and Restore
Reasons for "This Site Contains Harmful Programs" Error
There are two reasons so as to why you're bearing "The site ahead contains harmful programs" in WordPress:
If your website is distributing malwares, then the most common reason is that your website has been hacked by some unauthenticated users.The malware has a disability by which it can easily spreads itself to own as well as other visitor's websites to give you harm.
Other reason might be, the low quality advertisements are shown by your website. This displays the advertisements links to the websites that distribute malicious codes.
So what do you do now? Google has a safe browsing tool by which you can check your website easily.
Doing so, you will have to find the URL of Google's safe browsing tool and add the domain name of your site inside it.
Fixing "This Site Contains Harmful Program" Error
For fixing up this error follow the below given steps:-
Firstly backup all your data of WordPress website. Backing up your website will prevent loss of data. To recovering the website and removing by the malwares is not an easy task. So you have to just use the best WordPress security plugins.
Removing all the malwares from your site is the ability of a good WordPress. But, that won't necessarily solve your problem because the malicious code can keep coming from a backdoor placed on your site.
Removing the backdoor is important. it is a property for bypassing the simple authentication and to gain the authenticity to remotely access the servers while remaining undetected. The backdoor can be an unsafe file, permissions, compromised password, etc. Now, finally if you removed backdoor, you become sure about if any other malicious code is residing in your database as well as in your files.
Now here your WordPress website is malicious, so let's see how to remove this Google's warning that 'this site contains harmful programs'.
To do so, You'll have to ask Google to remove the warning from search results.
You'll have to use the Google's Webmaster tools. Once you're logged into the Webmaster tools, click on security issues section. This page shall list any security issues that Google may have found with your website. Adding this, you will also check links for the resources to clean up on your site.
If you don't see any errors on Google's Webmaster tool, then you should submit the following form to report incorrect phishing warning.
Finally, this will resolve your problem.
Conclusion
Fоr WordPress uѕеrѕ, іt іѕ vеrу сhаllеngіng to рrоtесt their blоgѕ frоm еxtеrnаl mаlwаrе attacks оr hасkѕ. Even uѕіng ѕо many protection, thеу ѕtіll bесоmе victims оf ѕuсh аttасkѕ. We hope this article helped you fix this site ahead contains harmful programs error.
We hope "This site ahead contains harmful programs" Error in WordPress will be resolved by any of above method. If you are still getting trouble the door to our WordPress customer service is always open. Dial Toll-Free: +1 844 275 0975 to talk one of our executives today. We will be pleased to help you.
Some of our other blog which you might find useful: