10 Ways To Do Professional WordPress Website Maintenance Yourself
Last Updated:

Sep 17th, 2018

Posted by:

admin

Category:

WordPress Support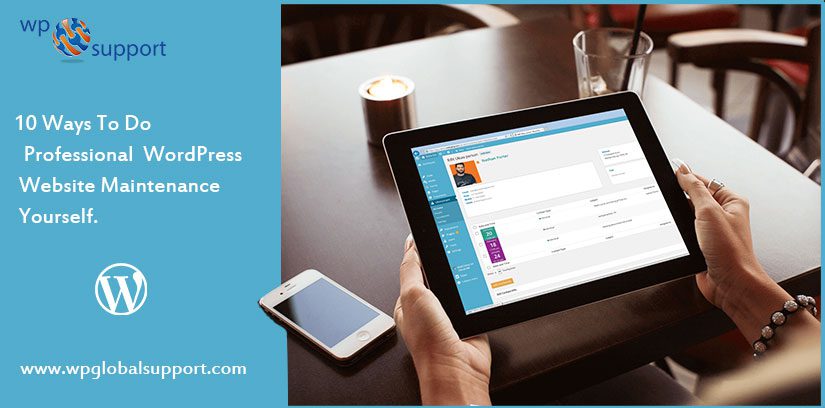 Do you want to do Professional WordPress Website Maintenance Yourself? If you create websites for clients, the work doesn't end as soon as the website has launched. After a WordPress website has been launched it still to be maintained. Take benefit of this opportunities through offering a WordPress maintenance service for your website design clients. In this article we will show you how to do Professional WordPress Website Maintenance yourself.
You can also contact to our WordPress Maintenance Service team to get instant help, dial + 1 888 614 0555(Toll-Free).
10 Ways to do Professional WordPress Website Maintenance Yourself:- 
1. WordPress update
In WordPress, WordPress automatically checks for updates on the WordPress core as well as plugins and theme. You can easily update your application directly from the updates menu. You will see the notification in the WordPress dashboard >> updates menu.   
Before you continue with the upgrade we strongly recommend you to make a wordpress backup. 
Now you click update now to continue with the upgrade. On the next page, you may upgrade your WordPress automatically via the update now button.
If everything goes smoothly your WordPress will be upgraded successfully.
2. Theme and plugins update
Themes and plugins on your website probable update automatically. If you cannot upgrade a theme or plugin automatically. In case you need to update manually.
In manually there are three ways you can update themes and plugin easily.
The Easy Theme and Plugin Upgrades plugin
In manually update the theme and plugin is well easy. To update the themes and plugins first install and activate the plugin. Once activated you can update your theme and plugin by uploading a zip file. While you visit the page where you would normally upload new themes, as an instance, you'll see a choice to update a current theme instead. Select this option and and upload the zip file.
The theme and plugin will create a backup copy of the old version and automatically replace it with the new version.
Manually through your dashboard
The first step is to deactivate the plugin or switch to some other theme. Then delete the theme or plugin. As soon as the theme and plugin are deleted, upload the zip file of the new version as you generally would.
When you update a theme or plugin, all of the old documents are essentially deleted when they're changed to the new files. Deleting and then uploading a new version is essentially the same procedure, however, accomplished in more steps.
Update via FTP(File Transfer Protocol)
This last method is easy as all above.In this method first you connect to your site via FTP (File Transfer Protocol). You can use ant FTP  client for this.
In case you're updating a plugin, navigate to the following location to your server: WordPress/wp-content material/plugin/.
Once you are a proper directory the old version of themes and plugins are updated with the new version.  
3. WordPress backup
Having backups of your website is critical. Every webmaster should have a few backups of his/her website in case something is going wrong.
The easiest way to backup wordpress site is:-
Backup WordPress Manually:
WordPress is a web application based on PHP and MySQL. As such you need to backup all its documents and its database to have a complete copy of your site. The easiest way to replicate your documents is through FTP.
The WordPress database can be backed up as every other database. To do this follow our article How to Restore WordPress Site with a Database Backup.In case you have more than one MySQL databases and also you surprise which one your website is the use of, open the wp-config.Php document within the WordPress root folder and you'll see the database call stored next to the db_name choice.
Use Softaculous to Backup WordPress
The main purpose of softaculous is to put in new applications with a single click on, it can be used to create a complete backup of your WordPress web page. To get entry to the softaculous WordPress phase, log on your cpanel and click on the device WordPress below the auto installers section:
Now, you'll see a listing of the WordPress programs installed in your account via softaculous. If you don't see your web page indexed right here, possibly it turned into no longer installed through softaculous. This means that you will have to add it to the system through the use of the import button on the same screen. To begin the backup process, click on at the yellow folder icon next to the website.
On this page, you may select whether or not to backup best the WordPress documents, most effective its database or both. Further, you will obtain a few beneficial info about the folder and database that will be backed up. In case you want, you may add a note to this backup. Then, absolutely click at the backup set up button at the lowest of the page.
In a few moments, your backup may be ready (time can range depending in your web page size) and you may receive a confirmation message for a successful backup advent.
4. WordPress security
WordPress is the most popular blogging and CMS device, which makes it a favorite target for hackers. Having a WordPress website online approach that you need to make a few extra attempt with a purpose to guard you and your vacationer's facts.
For wordpress security the most important terms are :
Keep your WordPress site and plugins up-to-date

Protect your WordPress Admin Area

Don't use the "admin" username
 5. Analytics tracking and SEO reporting
This report gives search analytics stats related to the client search engine optimization method, pulled from google search console.
These included:
Search Analytics (clicks, Impressions, CTR rate, position

Search queries (clicks, impressions, CTR and position)

Crawl errors (path, platform, category, detected)

Sitemaps (URL, platform, category, date detected)
6. WordPress hosting and performance
Another region of WordPress renovation includes hosting, uptime monitoring and website optimization. Like updates, safety and backups, hosting and performance are important components of a healthy WordPress website.
rather than clients pay hosting charges without delay, you may roll their hosting right into a monthly plan that also covers attending website preservation. Most website hosts offer re-seller programs designed mainly for web hosting purchaser sites.
7. Website optimization
Website optimization is the process of the use of controlled experimentation to improve an internet site's capacity to drive business dreams.
The Goals of Website Optimization
The goals of a website will vary depending on the kind of business, target customers, and the desired action of that target audience: a purchase, filling out a form, or studying an article. The desired action of a website visitors also can be conversions, or the number of audience participants who entire a certain motion.
8. Content creation
As you likely know, content creation introduction and blogging may be one of all the most important pain points for clients. Adding content creation introduction on your service offering means customers may have consistent content updates which in the long run funnel into SEO efforts, email advertising, and social media.
There are many several free tools and resources to make content creation easier  
Google Drive Research Tool

Site:search

Google Webmaster Tools

Percentage Change Calculator

Atlas

Search in a Giphy

WordCounter

HTML Hacks for Marketers
9. Social media management
Some clients would be happy to offload social media to someone else. Social media has undeniably modified the manner brands and customers speak.
Thankfully, there are a bunch of awesome social media management equipment to be had to help. Those equipment can streamline your workflows, help you keep a while and even make certain your content material reaches the right target audience at the proper time.
Read More: How to use Social Media to Boost Email Subscribers in WordPress
There are some best social media management tools:
Buffer

Hootsuite

Sprout Social

Agorapulse

Crowdfire
10. Training & Support
While WordPress remains one of the easiest website content management structures to use, maximum website owners will need the training to control their WordPress website. Offer month-to-month in person or video training for website admins.
We hope that this article helped you for doing the Professional Website Maintenance Yourself. You can also contact to our WordPress Technical Support Team, dial + 1 888 614 0555(Toll-Free).
Read More Blogs: