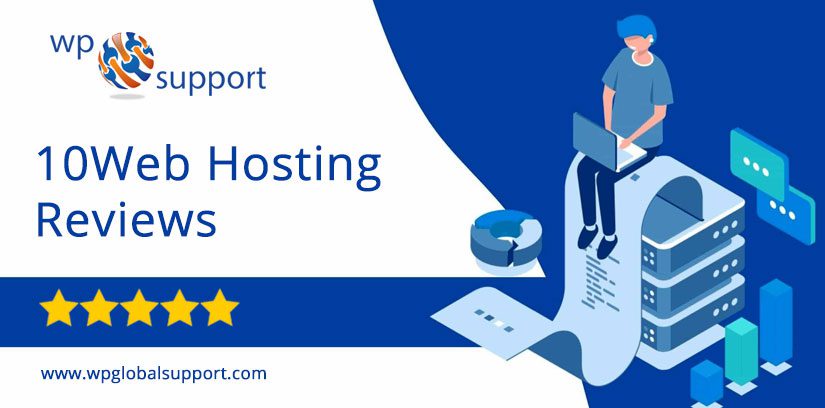 The 10Web hosting reviews are the finest way to know this platform is well suitable for your website. Also, 10Web hosting plans are very affordable. It will provide you all the necessary features and support. Also, 10Web focuses on WordPress performance too. Certainly, slow loading websites can affect your business.
Thus 10Web has just recently introduced a new tool that should make your site as fast as it can ever before that scoring over 95 in Google PageSpeed Insights. Besides that, you do not have to worry about your website hosting. Because choosing the templates, themes, or choosing compatible third-party applications will be easy for you with an all-in-one service.
10Web is a new service that will provide you the WordPress platform for your website building. Although, 10Web WordPress Website Builder services pricing starts at $12.00 per month for every user. In addition, there is a free version of the 10Web WordPress Website Builder that offers you 14 days free trial.
In 10Web hosting reviews, you will be able to find out many useful features of it. Also, know this new all in one platform what brings to your site and business.
What Is 10Web Hosting?
10Web hosting is one of the most trusting web host service provider company. It is a leading WordPress services company with over 10 Million downloads of its products and 700k active users worldwide.
WordPress 10Web provides you all the required best features or services that let you create your own fully functional website. Also, 10Web offers you a complete solution to manage and optimize the entire website creation process for both individuals and businesses.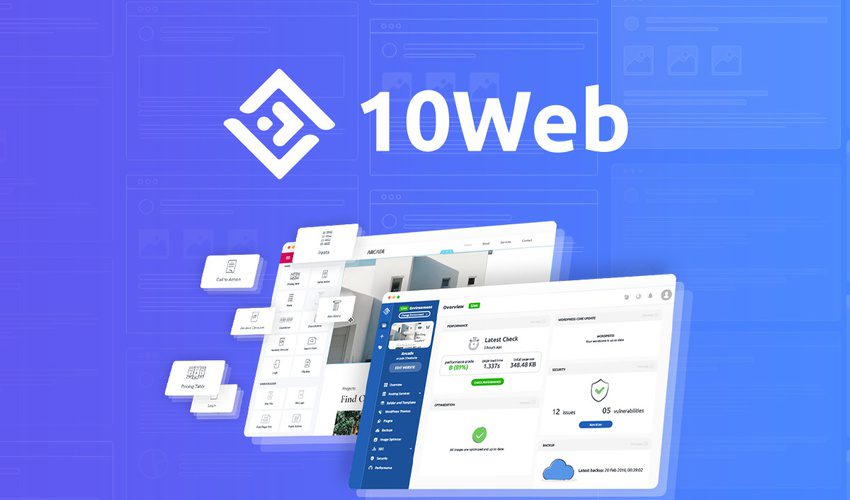 However, 10Web is a managed WordPress hosting provider company. That focused on providing the best features and a set of premium tools. Also, it gives such useful resources to make running your WordPress site a breeze.
These days, when it comes to site building, all-in-one platforms are all the rage because they give users all the tools needed to build a site from the ground up without having to worry about coding a single line.
Although WordPress is one of the smart and easiest content management systems around the world. Also, it still requires some time and skills to manage.
Why Should Choose 10Web?
All-in-one WordPress website builder. A platform for building and hosting beautiful WordPress websites in minutes. Certainly, 10Web provides all the 10 essential components that need to build a fully functional website.
It includes backup service, managed hosting, beautiful templates, drag & drop builder, premium plugins, SEO, security service, speed optimization, analytics, and tech support.
The 10Web Dashboard is a one-stop location for all of your plugins and extensions, as well as hosting needs, a cutting-edge site builder, downloading and restoring site backups, image optimization, etc.
10Web Hosting Reviews of User Interface
Well, now let us directly get into 10Web hostings custom site management software and start with the dashboard. Certainly, you will be impressed by the 10Web intuitive layout or interface. Also, this is powered by Google Cloud and it is designed to provide you the quick access to all 10 most important components of your website.
These components are discussed below:
Overview: It can show you the website's most important information in one place including statistics, page speed, updates, and many more.
Hosting services: This section will show you the usage statistics of the website. Also, the settings for domain names and other tools.
Themes: 10Web theme and sites will let you choose from the premium selected themes that 10Web offers you. Besides, the Themes option allows you to upload your theme or choose one from the WordPress repository.
Plugins: The plugin tab allows you to install and manage the WordPress plugins effectively.
Backups: The advanced backup and restore tool of 10Web will allow you to schedule and manage the backups.
Image Optimization: This option shows you info about your images and gives you the possible optimization options.
SEO: Search Engin Optimization option allows you to manage SEO settings and it shows search analytics to you.
Security: This is a live site monitor and scanning wizard for any issues and vulnerabilities that occur.
Performance: This is an important option that will show you your page speed score live.
Certainly, this 10Web hosting interface will let you find all the settings and tools and options. Thus you do not need to leave the WordPress management panel.
You can manage your Google Cloud hosting, adjust your security features, tweak your performance, and install and test themes, plugins, and extensions on your site.
Also, You can install and update your products with only a few clicks. Because 10Web knows the importance of all-in-one services being comprehensive, the Dashboard tool is tailor-made to save you time and hassle.
10Web Hosting Reviews of Performance & Optimization
The most attractive features of 10Web hosting are testing and analyzing website performance. Also, You don't need to subscribe/move to any other external service to analyze the website performance. Because fast performing website is most desired for good user experience or higher search rankings.
When it comes to speed, 10Web not just only fast. 10Web is also stable in all over the world. Well, tests show that no web server has a slower response time than 500ms.
Although you can measure or test website performance regularly and can work on its weak points. 10Web service will give your website a grade that depending on the site performance. Along with this, you can compare your website performance and optimize websites based on optimization suggestions.
Such server stability over the planet shows that if your WordPress website has visitors from multiple countries. Then also 10Web will take care of your site very well.
Images are a big factor in speed optimization. The majority of people are struggling with optimizing images without sacrificing the quality of the image. 10Web offers you the best service that lets you optimize the images without losing their quality.
10Web Optimization
10Web aims to make your website fast and available at all times. Recently, the 10Web hosting platform launched an upgrade that claims to optimize all websites automatically to perform at 95+ PageSpeed Insights score rank.
There are the following benefits of 10Web optimization given below:
Gives a better ranking in Google's search results.
Less resource spent on expensive tools or hiring developers for site optimization.
Decreased bounce rates of your website.
So does 10Web achieve that? well yes, it works. Your website will be loading in less than a second, thus it can scoring a 95+ page speed score.
Therefore in terms of optimizing the WordPress sites for performance. 10Web performs a very nice job. The best part is, you don't have to make any effort at all to get this result.
10Web Hosting Reviews of Major Features
Although 10Web powered by Google Cloud. So there is no doubt about the performance of the 10Web hosting service. Along with this, there are many features of the 10Web hosting plans about which you must know.
Well, let us now have a look at these features to know how useful they are:
10 Days Backup: The 10Web server creates backups of your website automatically. Also, it keeps them for 10 days long. So, you can easily access the backup of the website in case of any data loss within the previous 10 days.
Staging Environment: 10Web creates a clone website for you. So as a user you can review all the changes before publishing or making them live. This practice can help you to ensure that your published live site is perfect for the users.
In-Built Caching Service: 10Web Hosting plan comes with Nginx Fast CGI caching technology. That makes the website run faster and rank higher on Google.
Multiple Data Centers: 10Web is using data centers in 4 different continents which ensures faster data transfer between the user and the server.
SSD Powered: 10Web servers use latest-generation SSD devices. Thus it speeds up the data transfer rate along with the speed of websites that hosted on 10Web servers.
Free SSL Certificate: Upgrade all your website to a higher security level with an SSL certificate. Because Google recommends you using SSL. Also, it gives a sense of trust in the users of your website.
Search Engine Optimization Feature
SEO is a must for all the business which are looking to make their presence on Google and other search engines. Web10 offers you a variety of SEO tools and options to work with. Also, these tools can improve your SEO efficiency with much more concentration and ease.
You can get accuracy on search queries, technical errors, and clicks of your website with 10Web SEO tools. Also, you will get a dedicated dashboard from that, you can have an overview of SEO performance. Well, you will get these given below unique tools within your 10Web subscription:
XML Sitemap: No need to install any other plugin, you can directly manually or automatically generate sitemaps. Also, you are getting options for taxonomies and post types to include or exclude in the sitemap.
Search Analytics: You can get complete information on your search data along with queries, impressions, clicks, CTR, and SERP Position. Also, you can group the data by country to get a better view of the audience.
Custom Meta Box: SEO optimization features in 10Web help you in adding separate meta descriptions, titles, keywords for each page, and post. Also, adjusting the social media and open graph configuration will be easy for you.
Technical Analysis: You can get SEO Optimization suggestions performed by Web10 tools based on website review. These suggestions will be based on website pages and posts.
Search Console Page: Get a full list of SEO errors on your website. Fix them and improve your search rankings.
Canonicalization and Redirects: You may face duplicate content issues many times. Thus you can take care of it by adding canonical URLs to your posts and pages. Also, it helps you in getting rid of 404 not found pages.
SEO Service: You can track as many as keywords you want to track. This will keep you updated about the position of your keywords on SERP. This is basically a feature for which people pay $$s every month to the service providers. This is an upcoming feature and will be added soon to the subscription plan.
Open Graph Settings: With this feature, you can look at the preview of posts and pages, and can check how they will look on search engines? Also, you can configure social media open graph configurations using the meta tag.
User Roles: You can give the rights and allow contributors or editors to edit the meta properties on publishing posts. This helps in handing over the work to the responsible person and saving your own time and effort.
10Web Hosting Reviews of Price
WordPress 10Web hosting has 3 basic plans starting at $12/mo for creating 1 website. Also, if you want more storage and 3 sites, thus you can choose the Premium plan for $30/mo. In addition, you want to host up to 10 websites then you should go for an Agency plan that costs $80/mo. Besides that, there is also a Custom plan for $88/mo. That gives you a lot of storage space with 11 sites.
Well, you find it expensive, but it's not so. Because all servers are based on cloud storage, unlike a typical shared architecture. Certainly, cloud hosting has big reliability and speed benefits.
Let us now have a quick look at each of the plans include:
Managed WordPress Hosting
1 Hosted Sites
25k Monthly Visitors
5GB SSD Storage
3 Connected Sites
Real-time Backup
20GB Backup Storage
Website Builder based on Elementor
Premium Technical Support
14 days free trial
Managed WordPress Hosting
3 Hosted Sites
100k Monthly Visitors
15GB SSD Storage
12 Connected Sites
Real-time Backup
75GB Backup Storage
Website Builder based on Elementor
Premium Technical Support
14 days free trial
Managed WordPress Hosting
10 Hosted Sites
400k Monthly Visitors
50GB SSD Storage
40 Connected Sites
Real-time Backup
250GB Backup Storage
Additional Hosted Sites
Tools for Agencies
Website Builder based on Elementor
Premium Technical Support
14 days free trial
Managed WordPress Hosting
11 Hosted Sites
440k Monthly Visitors
55GB SSD Storage
70 Connected Sites
Real-time Backup
250GB Backup Storage
Tools for Agencies
Website Builder based on Elementor
Premium Technical Support
Although in comparison with shared hosting plans, 10web may quite expensive. But, when comparing with the established managed WordPress cloud hosting providers, 10Web is actually quite cheap.
Conclusion
At the end of 10Web Hosting Reviews, we can say the WordPress 10Web hosting solution provider is a surly great choice for all your hosting needs. Also, we certainly know that after choosing 10Web for your website and business, you will definitely feel proud.
Although if you are a little more choosy and want some more suitable options for you. Therefore you should check Best WordPress Hosting Solutions and get the best you want.