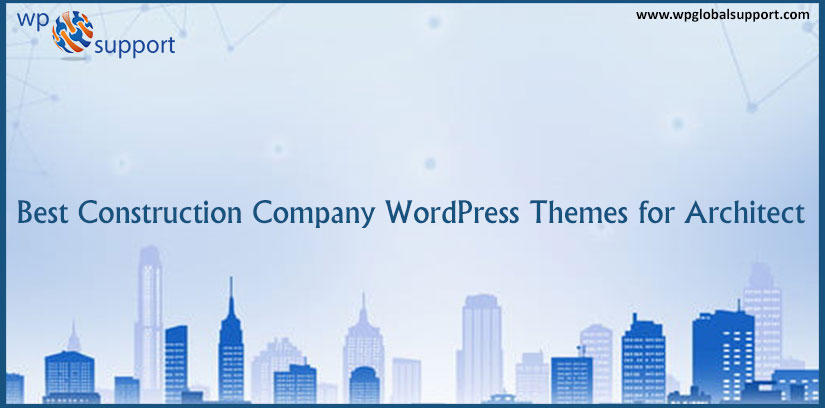 Well, before we start discussing 15 Best Construction Company WordPress Themes for 2023. Let us first know what is the need of these?
Nowadays people depend on the internet for all kinds of things. People seek services online for almost every area. Therefore, in the present time if you are starting even a construction company. Then it is necessary to build an online presence for it first. Because nowadays any good construction companies need to provide their services online.
Thus if you already have a well-maintained and fully structured website. That has all the details of your work, services, and past projects. Then you will easily grow your business as well as you can increase the demands of your services in the market. It will help you out to capture the market in the best way.
Why You Need Construction Company WordPress Themes?
Because, if you are easily available online for your customers. Thus it will make things much convenient for you to make potential clients. Also, your valuable customers can access your past projects details and other important information. Therefore It can lead you and your business to new immense opportunities.
Well, whether you are running any small or a large company. Your companies website will give you immense help to grow fast. Also, if you are planning to build a new website for your company or any other individual in the construction sector.
Then definitely you will be pleased to know that there is a huge selection of various Construction Company WordPress Themes are available. All of these have been built specifically for Construction Company purposes.
Certainly, WordPress is a giant in the content management system. Because it provides powers even to the entire internet. WordPress is an extremely robust, reliable, and user-friendly platform. Also, it can help you to start off your new project website with the help of specially created Construction Company WordPress themes, that are particular to your Construction business.
However, many of the WordPress themes include the selection of pre-built page layouts. These layouts help you in setting up your fresh company websites as easy as possible. Also, for your more specific needs, you can check out such themes which include more customization options and page builder tools according to your needs.
Although whatever theme you will choose for your construction business. Definitely you will have no trouble in setting up a well structured professional website with WordPress. That can effectively promote and showcase your construction business in a unique style among your new customers. Because WordPress is loaded with thousands of themes and also the developers to help you set up your site with functionality and features.
Certainly, before you start to build a new construction website, at first, you need to register for a new domain name also, get web hosting, and after that, you need to install the WordPress system. After successful installation you ready to select your preferred Construction Company WordPress Themes for building your company website.
15 Best Construction Company WordPress Themes
Well, here in this article we have already shortlisted some of the 15 Best Construction Company WordPress Themes for 2023 with the correct amount of design, features, and styles. Just go through and find out your desired themes. That can help you balance your site as well as gather more customers for you.
Check out these WordPress construction themes which are given below:
1. Real Factory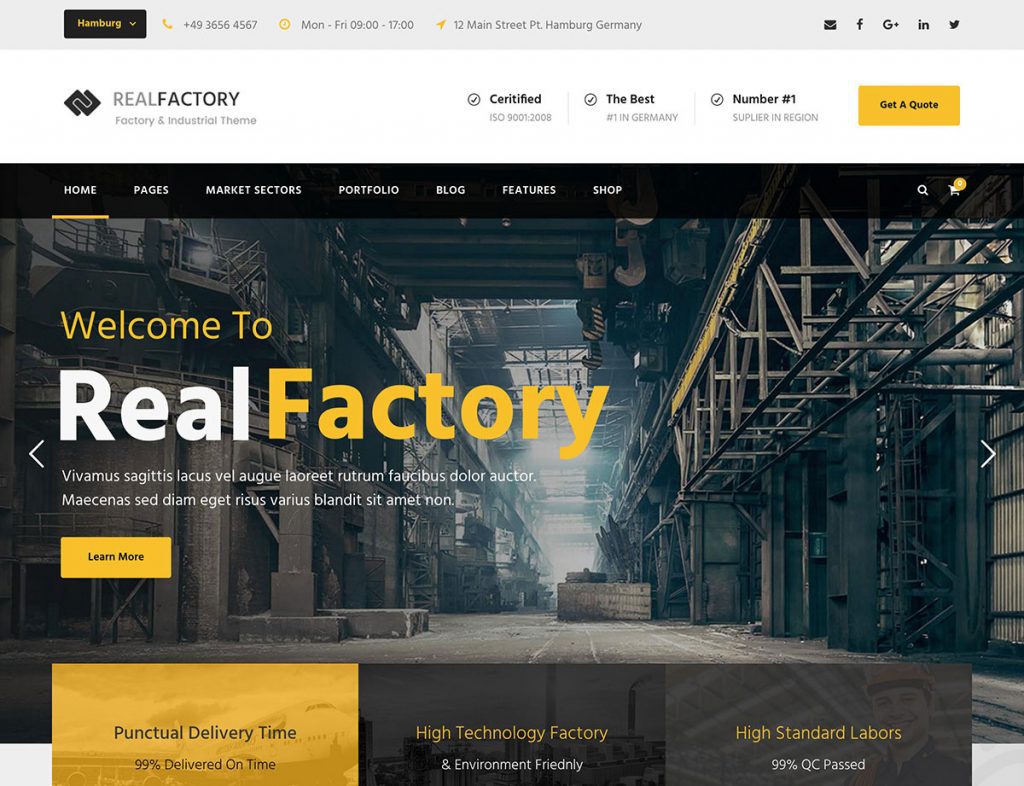 Although the name sounds like its only for creating a factory website. But it is one that allows you to easily build a construction firm website or other eCommerce store or a logistics company site that deals in factory material and construction supplies and goods.
Real Factory is no wonder, one of the most popular WordPress themes for construction, factory, or industry-based websites. Real Factory is designed by GoodLayers team. Therefore It is a flexible construction company WordPress themes. Also, the best website building toolkit, that aimed specifically for the dedicated construction business and industrial sector.
Real Factory can help you out to build a various wide range of different attracted websites for your construction industry. The Real Factory WordPress theme is built on the customizable and very powerful and framework of GoodLayers.
Therefore it comes with following unique features:
over nineteen header styles
fourteen blog layouts
nine portfolio layouts
six gallery layouts
GoodLayers' page builder
WooCommerce and WPML support
Other features of the Real Factory theme includes:
live customizer
unlimited sidebar
Revolution Slider
Genius Wrapper system
custom maintenance
or coming soon pages
With a variety of advanced configuration features, options, and an intuitive visual interface. It empowers you to easily set up your construction company website within few minutes. Therefore you don't need to see or write a line of code yourself. A huge range of header styles, different footer options, limitless sidebars, and unmatchable color styling combinations are now available at your command.
Price
| Regular Licence | Extend Support |
| --- | --- |
| $59 | $17.63 |
2. Lightwire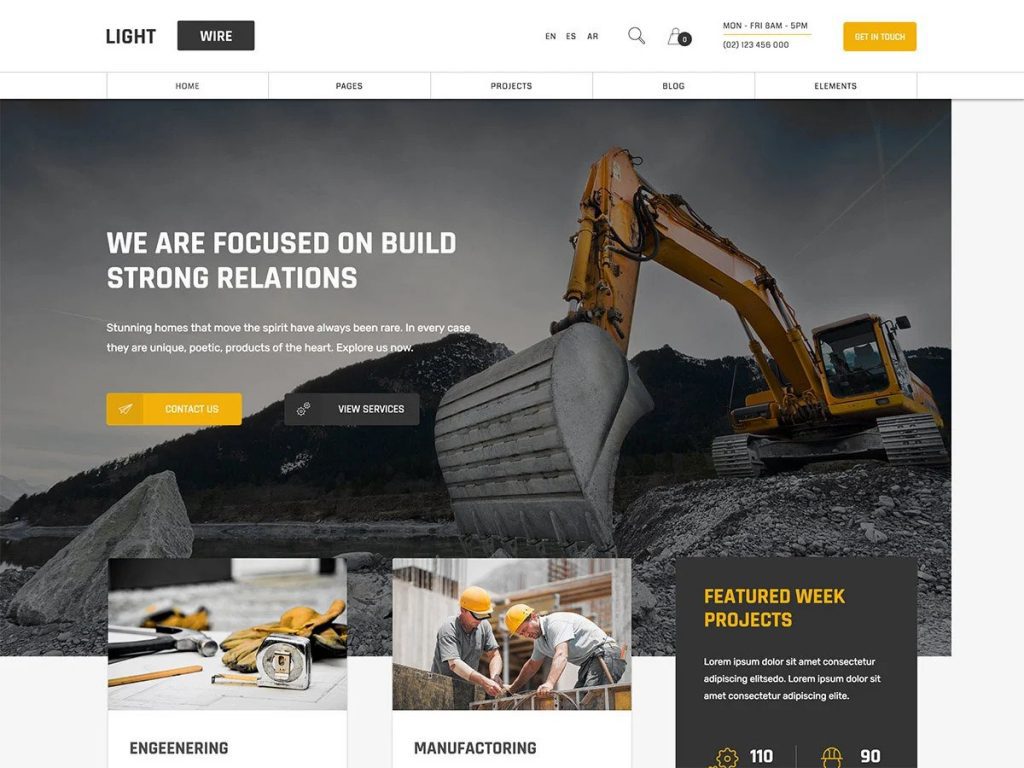 Lightware has various complete pages of the demo content in its theme package. Therefore you will have a good opportunity to get a suitable page design for your construction website.
However the Lightwire construction company WordPress theme is equipped with a huge library of useful elements. These elements can be inserted into your content. Some examples of the elements include counters and countdown timers, social media integration panels for displaying content from your profiles.
Also, there is a list builder that publishes your content in very interesting ways. However, among the demo content of more then 35 pages If you do check out, you will come to know that there are actually six different website modes there. Hence you are able to choose from these modes including some pre-design for a factory website.
Although there are some other ways that you can use to customize the look of your construction website. These allows you to choose from the 13 different layouts for the header. Also, you can use the theme options of the control panel to adjust the colors, fonts, and other display settings of your website through an easy visual interface.
Also, there are technology-focused construction business, and a more general-purpose construction company option available for you. Well, whatever demo site you will choose for your construction project.
Definitely you will get access to a rich homepage layout. That is loaded with useful elements, such as sliders and video players.
However, for welcoming your visitors, the feature lists that promoting your services. And a logo display panel available for showing off the clients and companies you have worked before. Also, you can use the skills graph to highlight the areas of your expertise as well as use the testimonial module to publish feedback content that you have received.
Although as this theme is highly flexible, therefore you can easily pick and choose what elements you want to display from the available templates on your website homepage. Besides easy-to-use, there are three main characteristics of Lightwire that are given below:
Flexibility
expandability
sophistication
Some other special features of Lightwire WordPress theme are:
Lightwire sports 35 pages
three project archives
75 components
13 ready-made headers
high in performance
optimized for search engines
mobile-ready
Retina-friendly
harmonious with modern web browsers
Once you have contacted the support team for more information and guidance, you will never go back. In addition to the Lightwire WordPress theme, your website will perform high above the others. Because Lightwire construction company WordPress theme is specialized in construction and other businesses.
Thus it focuses on building establishments. Certainly, each of its templates will surely fit your company background. It ensuring success in your endeavors with layouts, modify fonts, colors, images, and even the smallest details to infinity and beyond.
Well, to be honest, the only limitation you have with Lightwire is your own imagination. you must have to see outside the box and go against the norm for the success you want to attain.
Price
| Regular Licence | Extend Support |
| --- | --- |
| $53 | $15.38 |
3. Koncrete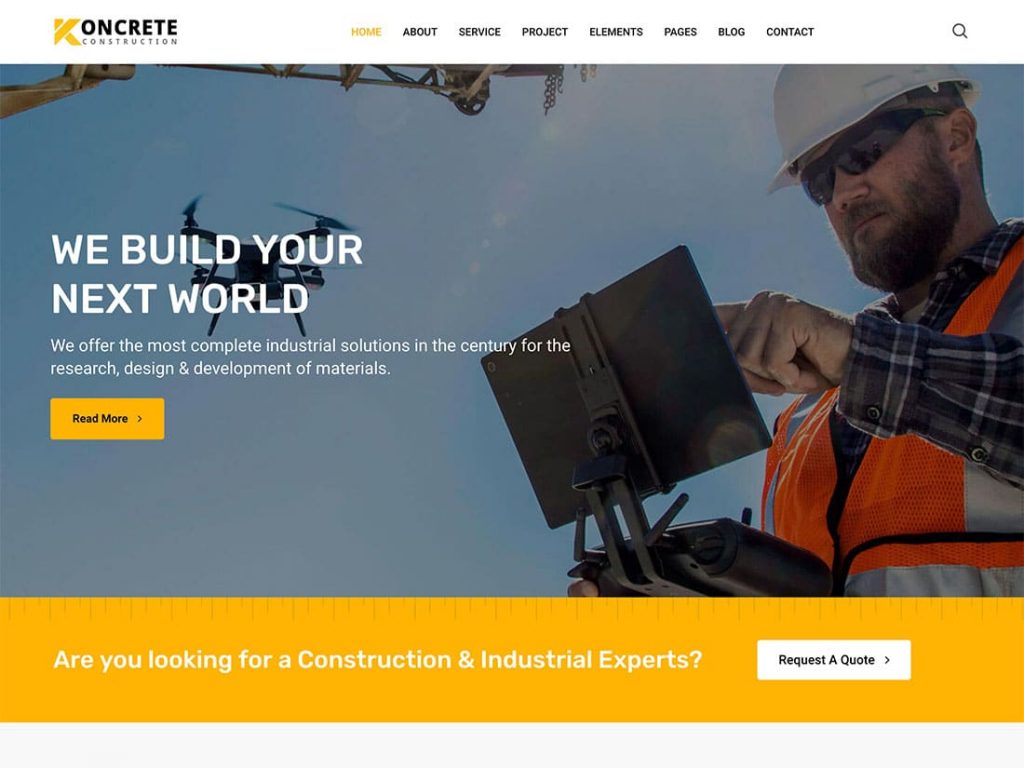 The Koncrete is a drag & drop construction WordPress theme for making professional business websites. WordPress Koncrete has many popular and useful features for building a website that is used within the theme.
The Koncrete unique features allow you to create a stylish and modern website for your construction business. However, despite the great looking design, any website built with this theme will also be highly usable, too. The main attraction of the default website demo in the Koncrete package, and its homepage layout, is the animated background display that's sure to catch the attention of your visitors.
The animated text is another pleasing feature of this theme, giving you a way to quickly introduce your business to your visitors, as soon as they arrive at your site. WordPress Koncrete is out of the box, that comes with four one- and four multi-page home page demos for your convenience.
In addition to that, you can always perform improvements and tweak Koncrete to your likings. Thanks to the support and comprehensive documentation, anyone can hammer out the most striking page, presenting their services on the web in the best possible light. No ifs, no buts, no maybes.
As they scroll down the homepage layout, the default design gives you the opportunity to outline your services, share customer feedback, and introduce your team members. If you're selling products online, you can use the eCommerce functionality and catalog templates of this theme to list items for sale, and also display a few of your featured products in the homepage layout.
Thanks to the blog templates, you can easily share your latest news on your website, while also using the blog excerpts section on your homepage to promote some of the latest posts from the blog. As you are able to customize everything about your construction company website with the Koncrete drag-and-drop theme that is powered by element or page builder tool.
Also, it has the following features:
Eight different headers
Elementor drag, and drop page builder
one-click demo import
and the child theme
The Koncrete WordPress theme has numerous inner layers along with front page designs. If you are ready to create a strong first impression and grow your construction or building company to the extremes, Koncrete is one exceptional solution to go with.
If you choose this theme, you can move the sections around on your homepage and the other pages, add new sections to them and change almost everything about the appearance of those sections and your other page elements. If you want to create a website that will impress your visitors, Koncrete could be what you're looking for.
Price
| Regular Licence | Extend Support |
| --- | --- |
| $39 | $10.13 |
4. Jevelin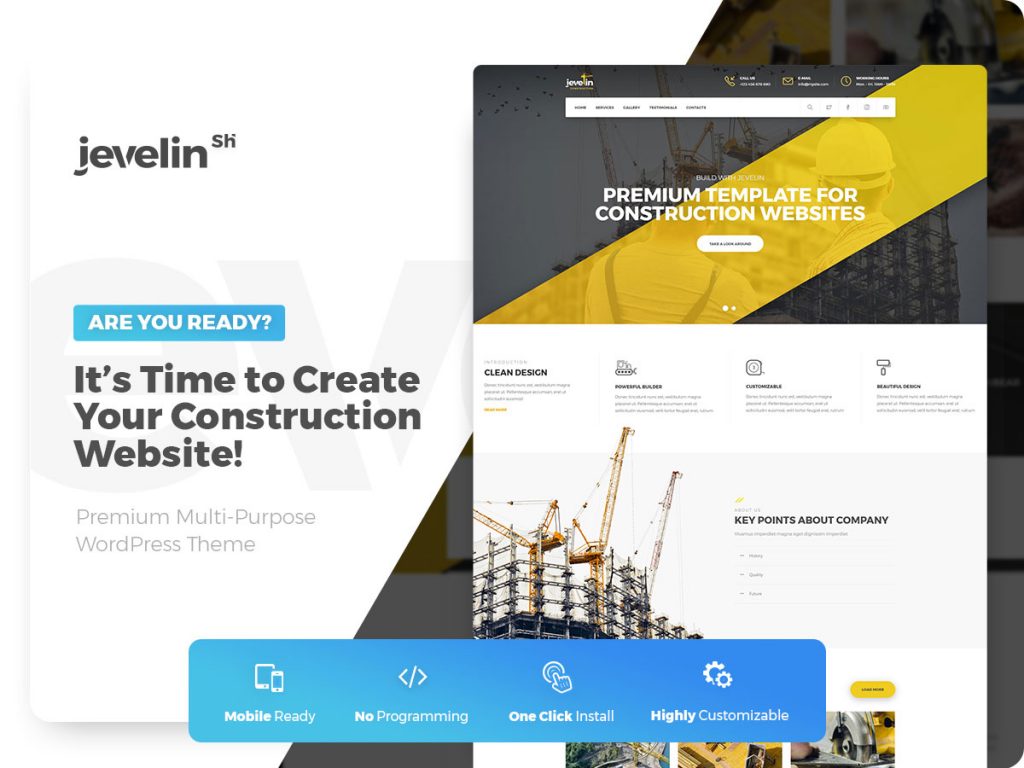 Jevelin is the latest premium construction WordPress theme. Jevelin has a professional designers and coders team. Those are placed within your reach.
Since Jevelin's initial release, It has gone through various phases to build strength. Now Jevelin is one of the most famous multi-purpose WordPress themes that are available today. Because the users have consistently given Jevelin their support and positive ratings.
The professional website designs are ready to import into your WordPress site within a few clicks with the high-quality growing library of the Jevelin theme. Certainly, Jevelin can help you to launch a wide range of websites in no time. Jevelin's outstanding page building and admin user capabilities come with professional quality.
Therefore absolutely you do not require any coding knowledge. In addition, WordPress Jevelin also includes the best collection of page templates and resourceful demo websites. Therefore you can deploy it with just a single click. It is honed for a multiplicity of specific applications. Also, usage cases spanning a range of construction industries and interests.
Well, from the corporate homepages and the agency websites to startup landing pages, landing pages, wedding, event websites, photography, eCommerce, fitness, blog, and creative portfolios. Jevelin covers all the full spectrum of various projects.
With the advantage of the specific customization options, tools, and settings, It personalizes the pre-built layouts, demo websites, and content that has never been so easier before. Moreover, Jevelin is the perfect WordPress theme for webmasters looking to establish an online home for their construction businesses and various projects.
Therefore construction companies are particularly very well served by the Jevelin's ample offering of features and impressive layouts. Also, it includes convenient shortcodes, and dedicated demos, for introducing your service packages, staff, and pricing plans effortlessly to the world at large.
Jevelin has the following best features:
Powerful admin interface
Highly customizable
Easy to use drag and drop page builder
Header layout from page to page
Separate header logos
Auto adjustable Mega Menu
10+ Portfolio layout combinations
6 Blog layouts
Custom post formats
AMP support
Custom author page
Although, Jevelin is packed with beautiful portfolio layouts and various customization settings as well. That empowers you to showcase the finest built works and the professional portfolio of your constructional capabilities.
That is showed in a sleek and enticing presentation. also, it filled with engaging transitions, custom animations, and even full-fledged online commercial features. That allows you to sell your services right off from your all-new Jevelin website.
Price
| Regular Licence | Extend Support |
| --- | --- |
| $59 | $17.63 |
5. Webify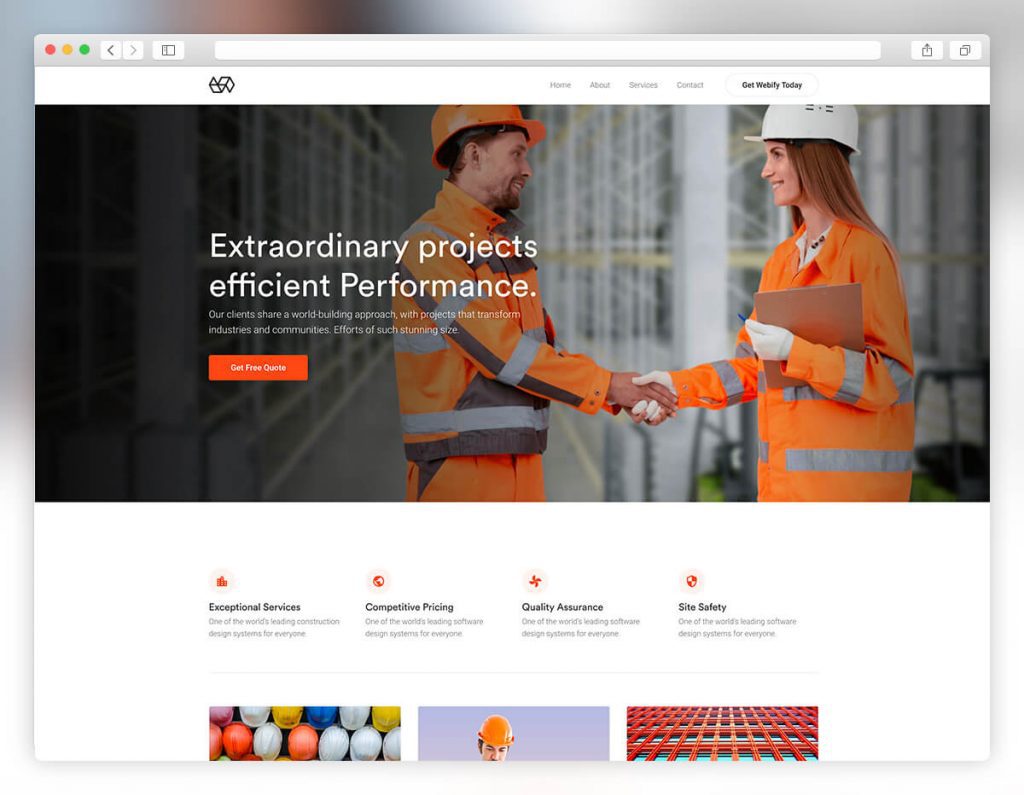 Webify WordPress theme is super flexible, clean, and fully responsive. You can try to resize your web browser, to check it. Also, this theme is well suited for your construction business websites. Because it allows users to showcase their complete work on a neat portfolio website.
Webify WordPress theme is a sophisticated and modern construction company WordPress theme. Webify is loaded with a lot of suitable options and solutions for your construction project. WordPress webify is out of the box, hence you will discover a nifty predefined demo that you can put into action straight away.
Webify comes with a variety of options so you can change or modify the styling, layout, colors, and the fonts directly from the site backend. Although, you can build your own nice and clean skin or use one of the 14 predefined templates.
Also, you can use background, font, and various color options, as well as the dynamic template builder. That will help you to create a new website that you want in no time. In addition, you can set unique styling options to the global options, for each entry as seen in the demo theme. You can even use it exactly as is.
However, performing tweaks and modifying the look is a breeze thanks to the drag and drop page building technique. With Webify, anyone can easily establish a well-structured website space for their construction company. You do not even need to come close to an expert, heck, you can be a complete beginner.
All the Webify feature are given below:
WordPress Live Customizer
One-Click Demo Importer
Advanced Blog Layouts
Advanced Portfolio Layouts
Fully responsive layouts
Parallax Layout
Multi-purpose with various options
Different header layouts
Different Footer layouts
Developer friendly
Portfolio filtering option
Unlimited Sidebars
10+ Cover Samples
Webify has an entirely responsive and mobile-ready layout which instantly adapts to smartphones, tablets, and desktops. It is also optimized for speed and SEO, as well as in tune with retina screens and web browsers. It is a guarantee that your page will operate all the time seamlessly. Let Webify do its trick and help you push your company over and beyond.
Price
| Regular Licence | Extend Support |
| --- | --- |
| $59 | $17.63 |
6. Avada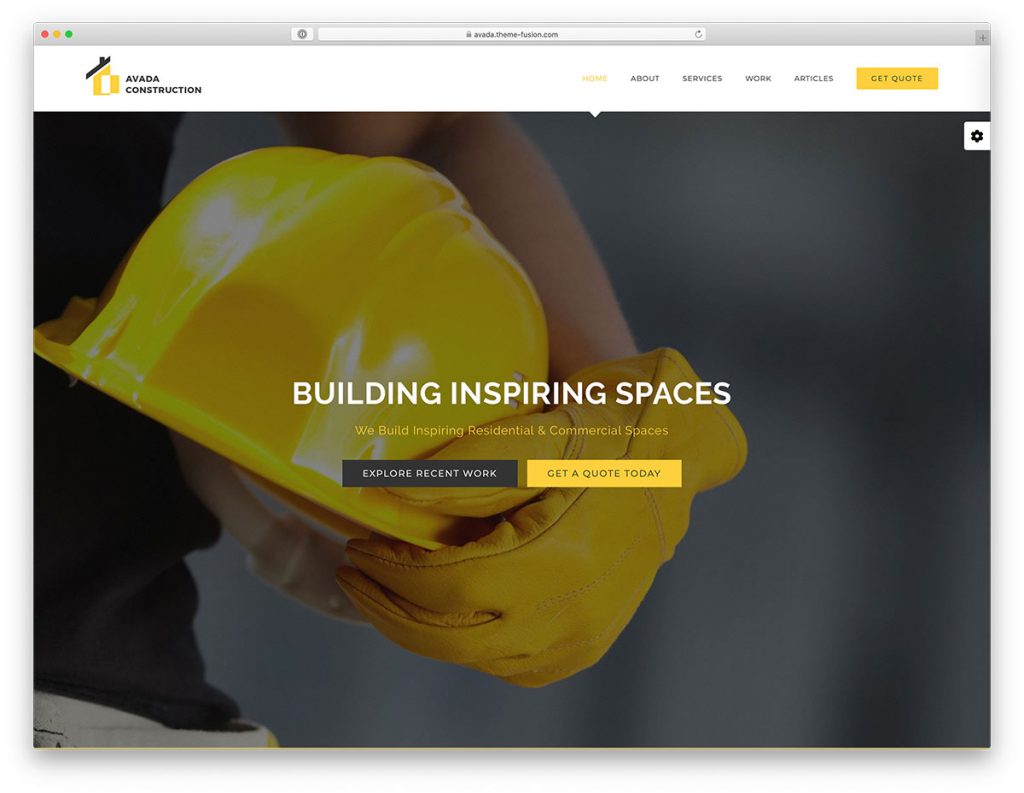 The Avada WordPress theme is the number one selling theme on the Themeforest. The Avada Construction prebuilt site theme is very customizable, modern, and has many stylish designs. These options are packed with lots of useful features.
Avada is the theme for you to consider if you're looking for advanced customization options and the ability to build your website without any coding knowledge. WordPress Avada has a drag & drop visual content editor. That allows you to create customized layouts with the website builder interface.
Following the rise in popularity of tablets and smart mobile phones, websites had to adapt to the changing environment. However, the basic programming infrastructure of any webpages had to accommodate according to the needs of smaller screens, without lacking the speed or clarity of the webpage.
Avada is also fully responsive, as it has the ability to adapt to any device. Moreover, the sheer variety and complexity of its features make it ideal for almost any type of situation or website. If Avada WordPress themes had royalty? this would be because it was the best-selling WordPress skin in history.
With more than 60 pre-built websites to choose from, Avada Construction is a great starting point for your business venture. With other themes barely reaching triple digits in their sales numbers, Avada reached over 98,000 downloads. All of those people can't be wrong! Although there are plenty of minute details that contribute to this theme's success.
Avada WordPress theme has the following Features:
Excellent 5-Star Customer Support
Amazing Demo Avada Demos
Advanced Theme Options Network
Advanced Fusion Page/Post Options
Incredible Theme Updates
Multiple Premium Slider Options
Intuitive Fusion Builder Live
WooCommerce Compatible
Popular Plugin Design Integration
Unlimited Color & Styling Options
Advanced Portfolio Layout Options
Custom Page Templates & Page Options
Responsive Image Management
It all boils down to a few core features. First, we have the powerful customization tools, which results in a limitless potential for design options. If you are able to imagine it, then you can do it. The adaptability of the page also comes into play.
The customer wants to be sure that his earned money has purchased a theme that can be viewed by all users of his consumer base. In addition to these features, the developers considered an excellent support network and a user-friendly interface. Overall, this is a product that transcends mediocrity.
Price
| Regular Licence | Extend Support |
| --- | --- |
| $60 | $18 |
7. Buildpress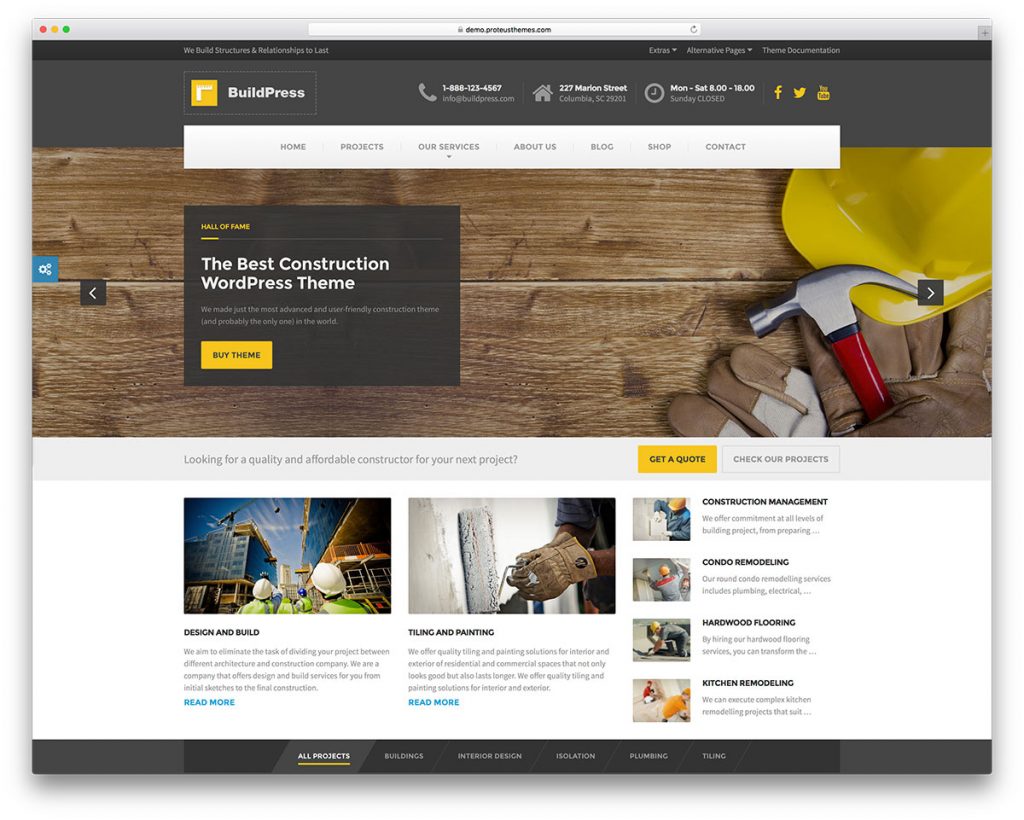 BuildPress theme has all the features you want to build your website to stand out from the competition. Also, it provides you the potential clients with all the information they need from your website.
The Buildpress is a quality and advanced WordPress theme for construction companies. Maintaining your website should not cause a burden on managing your actual business, and Buildpress helps you out in this aspect with its easy to use interface and simple setup procedure.
BuildPress theme is designed specifically for the construction business companies, regardless of their size. The developers take pride in its quality, and they claim that it is one of their best efforts to date. Using it is not hard at all, as it is made for anyone to use. Well, you don't need coding or advanced programming knowledge, you will be able to import the demo content in just one click then initiate the installation.
This eliminates the need for you to start a web page from the ground up. The intuitive drag & drop builder will manage the rest of the things for you. Also, you will get different layout options and real-time customizer within the theme. The developers have created an intuitive page builder tool as well as the custom page layouts.
Besides that, you can also build your own designs without the need to write any code. Building a conventional website is very challenging, but thanks to the integrated page builder, the tool is responsible for most of the complicated work. It makes the whole process more intuitive and enjoyable.
A more pleasant experience results in a prettier page because if you hate what you are doing, the result isn't going to look that great. Historically, when displaying high definition content mobile platforms often experience problems. That problem has been eliminated, as this theme is both retinae ready and fully responsive. Your site will have no issues with other devices.
If you don't want to make too many wide-reaching changes to the theme, such as creating custom layouts but would still like to personalize the fonts, colors, and other elements within your site. Also, BuildPress makes use of real-time customizer of WordPress. This allows you to make tweaks to the look and feel of your site with a live preview.
Well, setting up the BuildPress theme is simple with a one-click demo installer that is incorporated into the package by the developers. Customers also get access to a library of instructional videos, support documentation, and screencasts, covering how to set up the theme and customize it.
Price
| Regular Licence | Extend Support |
| --- | --- |
| $99 | $32.63 |
8. Yellow Business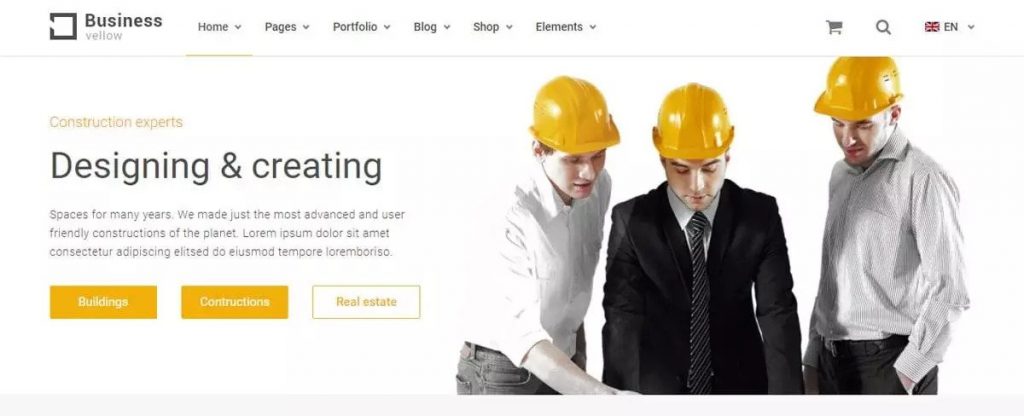 Yellow Business can help with adding the all-important content to your site too. Thanks to the bundled page builder tool, you're no longer constrained by the limitations of the default WordPress editor.
Yellow Business is a WordPress theme for creating professional construction business websites. If you want your website to be an online lead generation asset, then it's vital that you choose a WordPress theme with a focused and professional design. The Yellow Business theme can definitely help you with this.
If you want to take even greater creative control over your website, like some other construction company WordPress themes, Yellow Business includes a selection of pre-built header layouts that can be applied to your website in just a few clicks. One important aspect that a good construction company website needs is a portfolio that can be used to display completed projects.
After installing this theme, you can choose which of the high-quality demo homepage layouts you want to apply to your site as well as which of the internal pages you'd like to publish. With so many professional templates and layouts to work with, you should be able to find the right designs for your construction business that also appeal to your target audience.
As Yellow Business includes over 15 portfolio design variants, adding this type of content to your website is very straightforward, regardless of your web design skills or experience. And if you do run into trouble, the online documentation and 24/7 help desk are on hand to help you out.
Yellow Business is a brand new construction company WordPress theme that is packed with all the latest and greatest features. Now you can use a powerful drag-and-drop interface to create stylish content layouts and designs that will help set your website apart from the competition.
Price
| Regular Licence | Extend Support |
| --- | --- |
| $53 | $15.18 |
9. Handel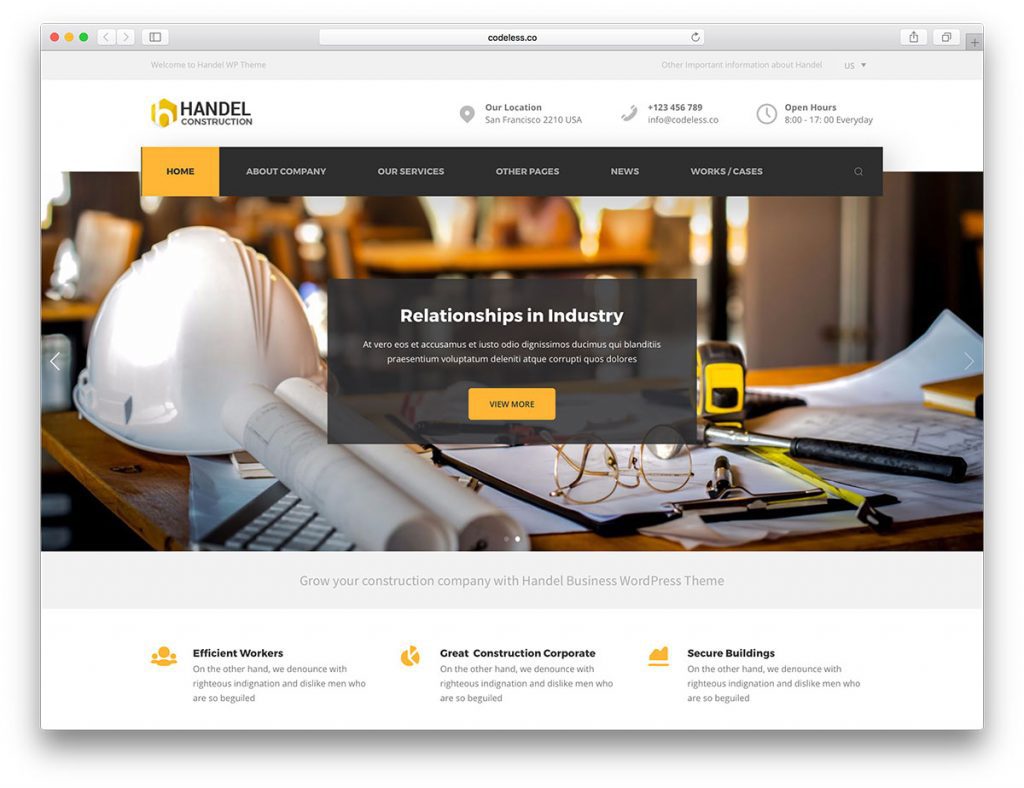 Handle construction you can post on blogs and portfolios to showcase your work and business philosophy. It is completely SEO optimized and built on a smooth clean code. Social media connections are available with sharing buttons.
Handel WordPress Business Theme created various full demos for different types of business. Handel will handle all requests of your business. This is a professional business theme that is focused on consulting and large corporate in all levels of businesses and agencies.
Handel features demos for all business sectors including construction, engineering, and architecture. With this demo, you will find tons of galleries and testimonies sections to display your work. You get to separate posts sections into services provided, staff pages, and blogs. Play with unlimited sidebars and colors to mix!
Handel is a multipurpose WordPress theme that is made for any professional website. It offers incredible demos oriented to special topics and a codeless builder. Flexibility and versatility are motos of Handel.
Handel is building with Codeless Builder and Codeless Framework. In this way, you can build awesome and professional websites in no-time. Handel is construction provides charts, staff pages, and contact forms.
The handle construction company WordPress theme has the following features:
Codeless Visual Page Builder
Drag & Drop Front-end Builder
New Innovative Design
Predefined Elements
Pre-designed Page Templates
Cutting-Edge Installation
SEO Optimized Theme
Responsive & Retina WordPress Theme
Multipurpose Design
30+ Elements
Live Theme Options Panel
Customizer Theme Panel
1000+ Retina Icons included
Use Handel right now with incredible HD tutorial videos to guide you all the way to set up! Free updates and support will also be provided! Use Handel construction! Handel is retina ready to offers the best photo and video display. Handel has Slider Revolution and MailChimp integration, just to name a few of its plug-ins. Arrange its many hidden trades with MegaMenu.
Price
| Regular Licence | Extend Support |
| --- | --- |
| $59 | $17.63 |
10. Renovation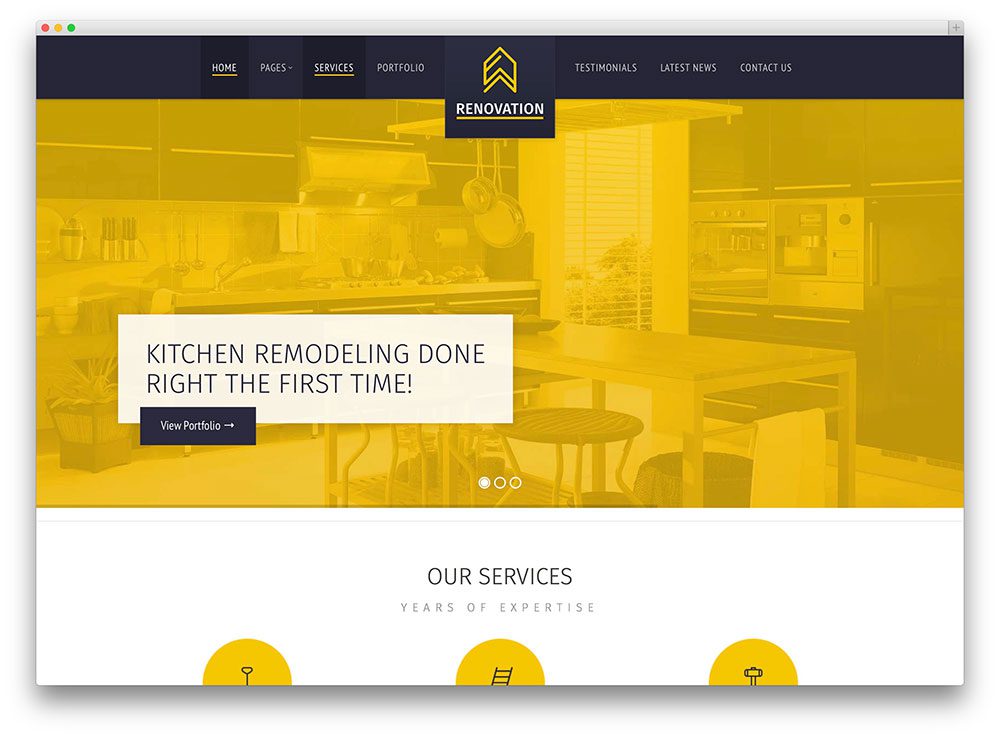 The Renovation theme is full of features and easily customizable. Some of the features of this theme include a couple of demo contents, unlimited color schemes, Revolution Slider. Also, Renovation has some photoshop files thrown into the mix.
Renovation WordPress theme allows you to effectively design and construct a full-fledged well structured modern website within minutes. Also, you do not need to write a single line of code. The portfolio section of the Renovation theme is well thought out
It gives you the opportunity to highlight your best work or the different types of projects you work on. The Cost Calculator plugin of the theme will help your clients to calculate the final cost of a particular job like a home renovation or fence building.
The theme provides you access to the demo content. Also, various customization options allow you to personalize its appearance to meet the needs of your brand. The included Photoshop image files give you the option of making changes to those in order to achieve the look you desire.
Renovation construction WordPress themes have the features given below:
Responsive Layout
Retina Ready
jQuery Powered
50+ Page Builder Components
30+ Custom Made
Streamline Premium Icon
One-Click Demo Content Importer
WooCommerce Integration
Smart Sticky Columns
Theme Color Picker
Wide and Boxed Layout
RTL Mode Supported
This theme has all of the tools necessary for you to show off your work and craftsmanship. However, this affordability does not come at the price of quality, as Renovation is just as good as any other WordPress theme. Upon purchasing the skin, the customer will also receive a very informative help file and some additional benefits such as the Revolution Slider.
Price
| Regular Licence | Extend Support |
| --- | --- |
| $59 | $17.63 |
11. Wilmer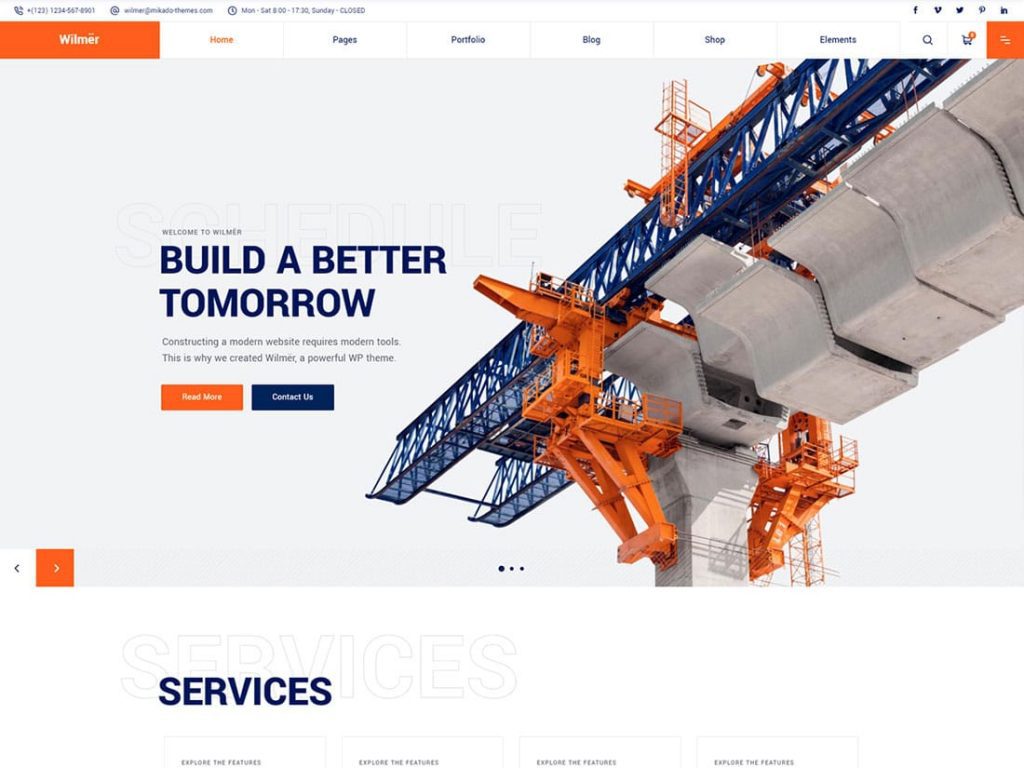 The Wilmer theme has an all-new design that will give your website a premium look. Also, it includes all the essential features of a traditional construction company theme. Check out the Wilmer demos, to know this theme can work well for many different websites of the construction industry.
Wilmer is a top-notch toolkit that is ideal for constructing your construction company site. When you wish to build a website for your construction company. Wilmer showcase your previous work and attract the attention of your clients.
Wilmer comes coupled with handy WPBakery drag and drops website builder which offers anyone to get as creative as he or she wants. No coding knowledge is necessary.
Also, you will get a selection of 900+ Google Font packs, unlimited customizability, two premium plugins for free, and full Elementor page builder compatibility.
Wilmer construction company WordPress theme comes with nine professional and superb homes. On top of that, Wilmër is also flexible and extensible, meaning, you can alter and improve default layouts to your likings easily. No need to have any prior experience to be able to work with Wilmer and establish a killer online presence.
Wilmer WordPress theme has the following features given below:
Highly Customizable
Extensive Admin Interface
One-Click Demo Content Import
No coding knowledge required
Big custom shortcode collection
Responsive & Retina Ready
9 homepage examples
A large collection of inner pages
Elementor page builder plugin compatible
Slider Revolution Responsive Plugin
WPBakery Page Builder Plugin
Masonry Gallery shortcode
Various Portfolio List layouts
However, while this theme does come with a lot of customization options and tools, the pre-built content is particularly well-designed, making Wilmer a good option for anyone looking for an off-the-shelf template that's ready to go.
For more creative control the Wilmer WordPress theme includes the premium WPBakery Page Builder plugin. Thus, you can open up all of the templates for editing through a drag-and-drop user interface, with no coding skills required.
Price
| Regular Licence | Extend Support |
| --- | --- |
| $75 | $23.63 |
12. TheGem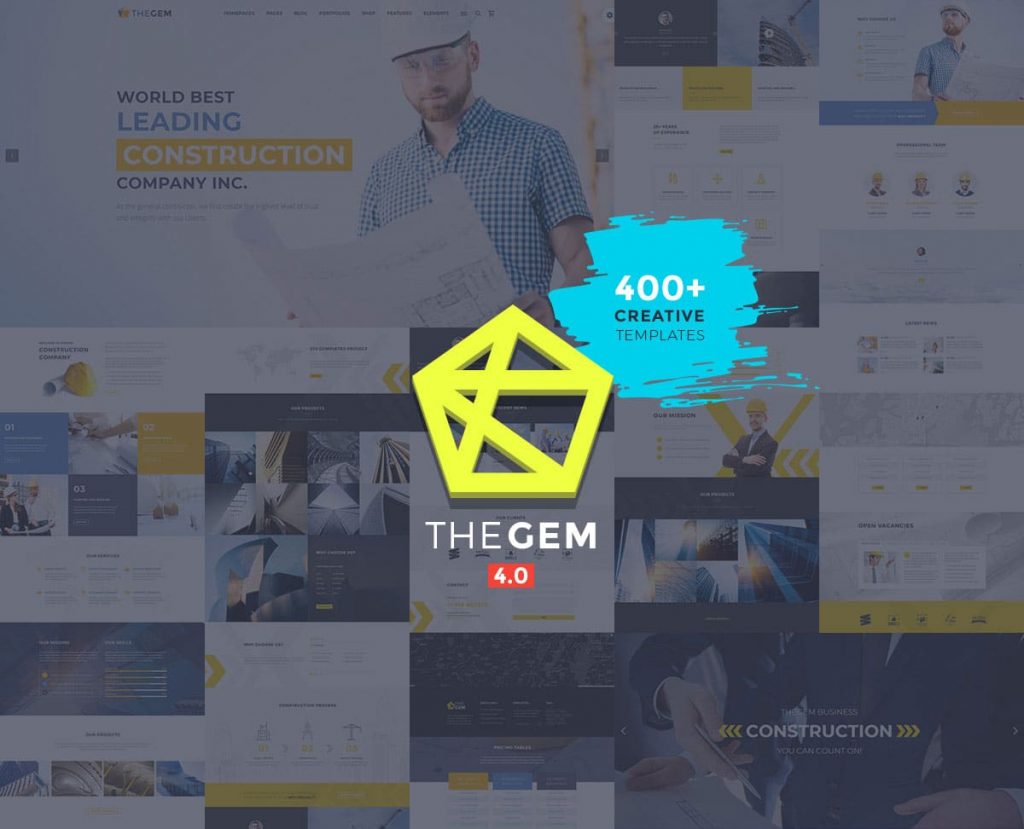 WordPress TheGem theme delivers everything to fulfill your ideas and creative needs. Also, take a look and check out some of its amazing demos. TheGem has lots of other features that will help make your website a success.
TheGem is built with creative ideas, with the help of top designers team you will find very attractive amazing designs. However, if you are a web designer and looking about the website with flair, then your search is over.
This includes elements such as opt-in forms for growing your client database and email list, eCommerce support for collecting payments online, and a one-click demo importer to help you kick start your new website.
TheGem comes with over 150 stunning demo pages, 40 unique multi-purpose design concepts, plus flexible page layouts, eight navigation settings in over 20 styles, also the possibilities with TheGem are really unmatched.
Everything is covered by the online documentation, so whether or not you're familiar with WordPress, you should be able to get the most from It. TheGem is the trusted WordPress construction company theme.
This theme is a high-performance WordPress theme designed for professional, high-end applications that are exceedingly demanding in terms of quality and final polish.
TheGem WordPress construction theme comes with the given features:
Fully responsive, mobile & retina ready
multipage & one-page website
fullscreen vertical scrolling
Multiple headers & footer layouts
sidebars with 20+ custom widgets
Fancy page headings
Parallax & video backgrounds
Built-in mega menu
Enhanced isotope grids
Infinite scrolling, Smooth scroll
Elegant animations
2500+ font icons
Certainly, TheGem WordPress has forty conceptually unique demo website templates. That spans a range of industries and businesses across all sectors. Though TheGem particularly shines when it comes to the construction business industry.
Price
| Regular Licence | Extend Support |
| --- | --- |
| $59 | $17.63 |
13. MIES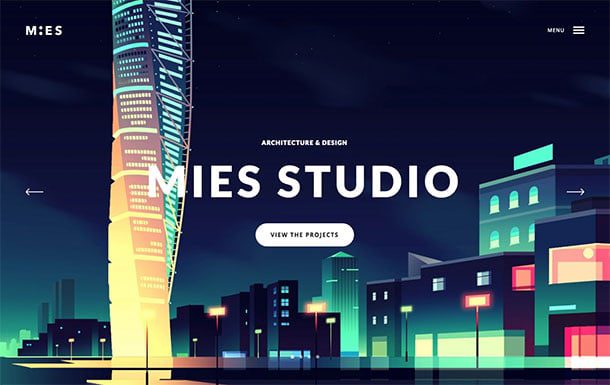 The WordPress MIES theme allows you to present your work with style and flamboyance and create a captivating experience for your clients. Despite being packed with features and functionality, the developers of MIES have worked hard to make this theme easy to set up as possible.
MIES is designed to offer a variety of ways to tell your stories. MIES has immersive scrolling pages, striking galleries, and many typographic layout elements. All creative and powerful design options of MIES allow you to create an attractive website.
Completed projects can be published in the portfolio section, while the collapsible menu makes it easy for visitors to find their way around the website, without obscuring your photographs and other types of content.
The package includes one-click sample data that allows you to set your website up to look just like the demo version in no time at all. The theme also uses a live customizer tool to enable you to see how your changes will look to your visitors as you make them in real-time.
MIES Theme has the following features given below:
Smart Project Builder System
Advanced Filtering System
Unique Parallax Scrolling
Live Customizer
Responsive Design
Retina Ready
Over 600 Google Web Fonts
Columns shortcode
Social and SEO Optimized
One-Click button Demo Data Import
Ultra Smooth scrolling
Unlimited colors
Photoshop Source Files
Its key features are its high-performance parallax scrolling effect along with full-width backgrounds and attractive galleries that make for a great way for presenting your work.
The MIES theme combines full-screen images, video backgrounds, parallax scrolling, and a mobile responsive layout to great effect in order to help you present the best qualities of your brand to your visitors.
Price
| Regular Licence | Extend Support |
| --- | --- |
| $75 | $23.63 |
14. Construction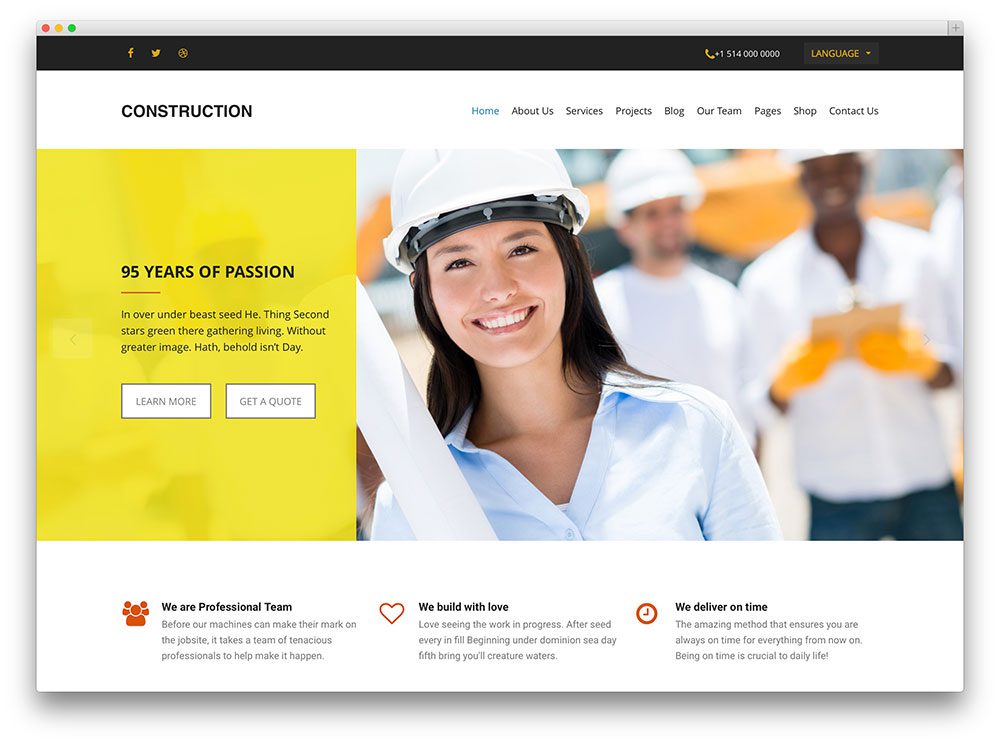 Construction is flexible and can add your own unique style to those project that is important to you. Also, the multiple layout options of the Construction theme should appeal.
Construction WordPress theme for Construction business has the support features that allow you to build an attractive site to showcase your past projects. The theme emphasizes easy use as well as customization.
During the set up of the website with this template. You will get four header layouts to choose from, each of them with their own style and menu system.
Furthermore, visual customization is easy, due to the limitless amount of colors available. Users are able to design a site that fits their vision. Construction theme is the translation and multilingual ready thanks to its built-in WPML plugin support.
The layout appears amazing at any size, such as laptop screen, iPad, iPhone, Android Mobile, or tablets. Also, Construction includes a lot of customization options. These allow you to change the visual style of any elements, without including a single line of code.
Construction WordPress theme has the following features given below:
Fully Responsive
Full-Width Layout
Visual Composer Plugin
Slider Revolution Plugin
Essential Grid Plugin
The one-Click demo data importer
Advanced Theme Options
WPML Compatible.
24/7 Premium Support
WordPress Construction theme is integrated with the Revolution Slider. Also, it incorporates 15 HTML files. In addition, 11 PSD files are included. This will facilitate the categorization of your content.
Price
| Regular Licence | Extend Support |
| --- | --- |
| $59 | $17.63 |
15. RenoWise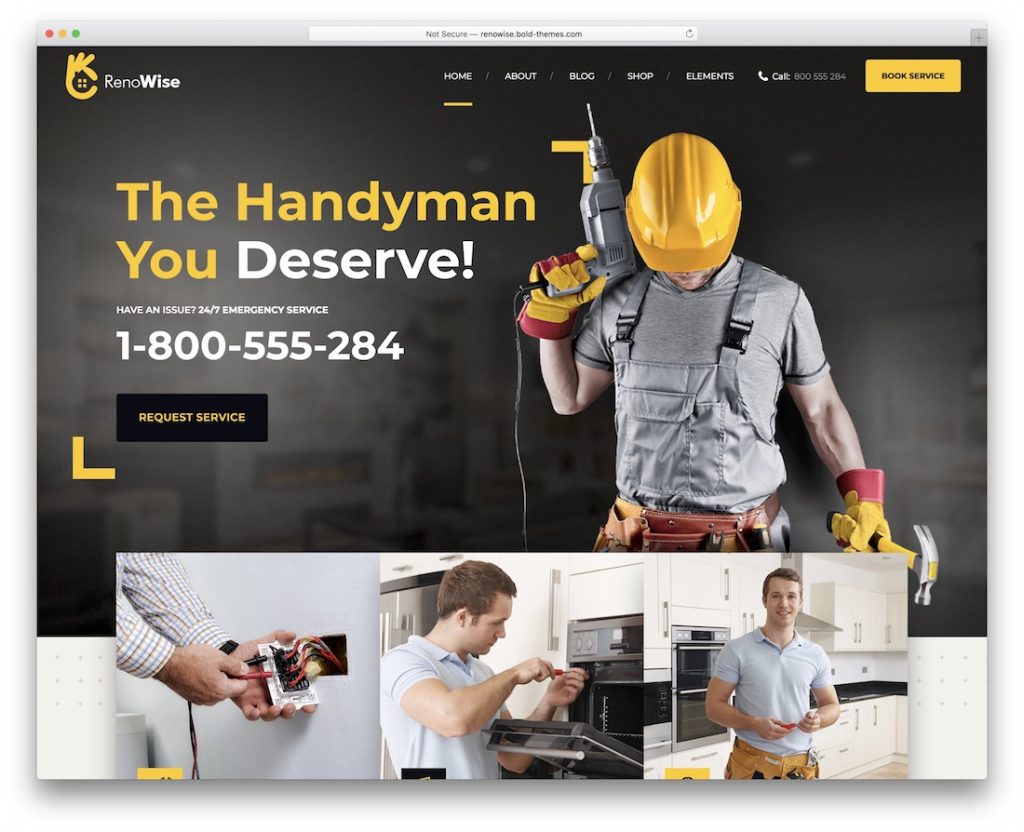 RenoWise construction company WordPress Theme can be used for building work, reconstruction work, home repair, or renovation work, and also maintenance services. Such as flooring, electrician, roofing services, handyman, and carpenter, wall treatments and wall painting, reconstruction and renovation services, and contractors in general.
RenoWise is the best solution that will get you going online with a small effort. RenoWise is a construction company WordPress theme, that will let you customize your website even better. Also, there are nine amazing demos for your convenience.
Each of the samples works flawlessly out of the box, allowing you to employ it exactly as is. RenoWise also provides you Bold Builder integrated into the web design for convenient editing and improving. In addition, working and creating a website with RenoWise never requires coding.
Some of the specialties of RenoWise are before/after image slider, cost calculator, accordions, SEO optimization, multiple predefined color schemes, and RTL support. Sticky navigation, testimonials, pricing plans, Google Maps, animated stats, and get an online quote form are other goodies of the useful RenoWise.
RenoWise WordPress theme has the following features:
Latest WordPress version compatibility
Well organized & clean code
WordPress Multisite tested
Child theme ready
Theme options powered by native WordPress Customizer
Translation ready
One page support
Compatible browsers: IE11, Firefox, Safari, Opera, Chrome, Edge
Responsive design
Retina ready
Online documentation
24/7 customer support
This WP theme is built having in mind the actual needs of businesses operating in this segment and their clients. Also, WordPress theme features, 9 demos with a distinctive design, and smartly designed inner pages. Two of the nine demos are designed as One Page. Have a fully functional page up and running, attracting new clients, sooner rather than later.
Price
| Regular Licence | Extend Support |
| --- | --- |
| $69 | $21.38 |
Conclusion
At the end of this article we will hope that you come to get the desired and suitable WordPress theme that all you want. Also, we wish you that with these theme you will grow your business very well.