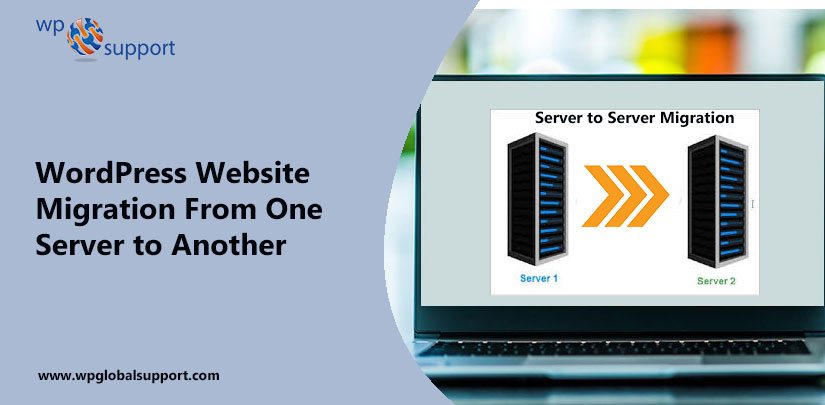 Website migration is the method of changing a website design or technology that can impact its online availability and search engine optimization(SEO). A site migration contains changes such as changing the domain name or changing the hosting provider and server locations, modifying the design of the site, site redesign, moving from HTTP to HTTPS protocol, and moving the site to a unique platform (CMS or Framework). In this article, we will discuss How to do WordPress Website migration from one server to another.
The reason for the migration is clear when it comes to uploading a site on a presentation server after its evolution in the local environment since the site requires to be created publicly available. If you are thinking of moving an already functioning site from one server to a different one, then there may be several common causes for that:
Balanced pricing plan
Better hosting resources and useful features
Great server security
Good customer support
So if you are prepared to broadcast your site or choose to swap to a new hosting provider, you will be faced with the query of how to migrate it. Here we will evaluate the specialized factors of two modes for migrating a WordPress site to a unique server: a plugin-based method using the most prevalent migration plugins and a manual process.
The main risks affected by moving a site are data loss and downtime, which can cause your site unavailable for users and search engines, which in turn can guide to search engine order loss. Still, if everything is done the downtime will be underrated or won't happen at all.
Reasons why we need to migrate WordPress Website from one server to another
There are various reasons that might affect the performance of your website, in this case, the WordPress Website migration is a better solution. Here in the below list get detailed information about the things which are responsible for WordPress website migration.
1. Too much downtime
Server downtime is the worst moment for any website & it affects the performance also. It can corrupt trust with your client base and cut off one of your major money-making investments. Timeout errors and what's called the "white screen of death" are usually related to web design (meaning it's the responsibility of the host), and if they're occurring often, it's time to think about changing. Multiple hosts ensure at least 99% uptime. So there's no reason to compromise for anything less.
2. Slow loading speed
Multiple elements affect the speed of a website, but once you've optimized your site as great as you can, it reaches down to hosting. If your host doesn't concentrate on loading speeds, it could be the term to migrate.
3. Poor customer support
Whether you're sharing a stressful outage, like to add new elements to your hosting, or just have a query about how your site should function, then access to knowledgeable consent is key. If your host makes it hard to get in touch or provides a service that doesn't give you the answers you need, consider moving your website.
4. Storage limit or traffic
Most hosting packages qualify for both storage space and website traffic. In expansion, some sites see points of site traffic— for example when casting a new creation or promoting a sale — and these aren't ever managed well by essential hosting packages. If you've hit the highest levels with your existing provider, or need to more efficiently scale during points, then it may be time to locate a new company.
5. Poor security
Have you been hacked? This is one of the most annoying things that can occur to the owner of the website. Although there is numerous protection you can handle with your own website's design, part of guardian your site rests with your hosting provider. You desire one that knows how to set up their servers for the highest security, and that also contains frequent backups of your site for fast restores in the possibility of a hack. If your host can't equip those options, regards migrating.
6. Lack of advanced features
Some hosting organizations suggest affordable packages but demand additional expenses for features like SSL certifications and backups. This can add up! If your host is nickel-and-diming you with add-ons, it may be the moment to move your website to a host that presents a more complete package.
7. Doesn't support the community
WordPress is open authority software, and that suggests it depends on the investment of creators and community partners to remain strong, safe, and available to everyone. Few hosting corporations are useful WordPress society members and make it a point to contribute to the software; you can help WordPress indirectly by bringing your hosting industry to a business that is involved in the WordPress group.
8. No special configuration for eCommerce
If you sell online, you like a hosting company that specializes in eCommerce. With a suitable protection arrangement and the capacity to control big amounts of essential data, the right host can make a difference in your sensation.
How to migrate a website from one server to another
The entire WordPress migration procedure can take several hours. But if you have located a useful and functional web host then it is worth spending the time and getting rid of the problem. If you have selected a good and well-known hosting firm in most cases you will not have to accomplish anything. I have contained cases where I purchase new hosting, opened support access, and completed the migration procedure done by somebody working in a new hosting provider.

That is the most suitable method, you are pleased, and they got a happy client. Regardless, there are cases where hosting firms need a specific amount of funds to migrate WordPress sites to their web host. You can migrate WordPress site pages in 2 methods- manually or by using a WordPress plugin. By following the below methods you can easily migrate your website.
1. Choose & buy a new hosting provider
Before you move the WordPress website to a new web server, you require to buy a new hosting version on the new web host. Whether it is shared hosting, VPS, a devoted server, or something else, the process is the same.
2. Take the backup of the whole website
You will manually download the backup of your WordPress website by accessing your web hosting invoice. It can be accomplished with an FTP customer. And then you can download the source folder to your local computer. One of the most recognized FTP customers today is FileZilla. The origin folder is usually named public_html, right-click on it and choose "Download."
3. Take all the backups of the database
In most cases, hosting organizations suggest cPanel- a control panel for most things you need. Inside cPanel is a WordPress database managing option named phpMyAdmin. Choose this option, then visit the "Export" tab and download the WordPress database to your daily computer.
4. Import the old database to the new host
On the latest web visit cPanel, go to the MySQL Database choice, and make a new database. Then go back to PHP MyAdmin, choose that new database, and go to the "import" Key. Choose the WordPress database you committed to your local computer in the last step and click "Import". You've accomplished most of the work. All that stays is to move WordPress files to the latest hosting account.
5. Copy the WordPress file to the hosting server
You will require an FTP customer for this action. Attach via an FTP customer to your unique hosting server, visit the source folder and right-click inside it and choose "Upload." Find the WordPress files from the old web host. It is essential to mention that uploading can bring several hours, and it all depends on how multiple files you have within your WordPress structure. Now you will require to modify the wp-config.PHP file.

Once the upload was complete you must complete small changes within the wp-config.PHP file. Open the wp-config.PHP file and adjust the username, MySQL database username, and database password to the unique values you entered when you completed the MySQL database. Keep the file and you are ready to go.
6. DNS configuration
Each hosting provider has its personal DNS servers. To guide your domain "peek" into the latest hosting version you require to modify the DNS servers.
See your domain clerk and text the DNS logs of the latest hosting server in the domain choices. When you complete this entire migration cycle of the WordPress site is finished. If you own observed all the above steps you should have no issues.

Migration of a WordPress site utilizing a plugin is a relatively easy task. There are a lot of plugins on demand that will do very great work.
The whole process is reduced to the structure of the plugin, backup of the entire site and database, and then import to the latest ghosting server.
We have already included that there are multiple plugins for site migration to share WordPress to a new host, but we resolved to relate the two that we want the most.
List of the best plugins to migrate a website to a new host
WordPress offers different plugins for the migration of any particular website into a new host. Here in the below list, we have mentioned a few best WordPress website migration plugins.
1. All-in-one WP Migration
This plugin choice accomplishes a whole migration process of your WordPress pages in only 3 steps.
The first step is to install the plugin, the second step is to choose the "export" option that will keep the whole site with the database, and the third step is to unload the file at the unique location. The whole WP Migration plugin has had more than 6 million functioning WordPress sites since then. And exact some of the world's biggest companies use this plugin.

There are retail extensions that will extend the abilities of this amazing plugin, some of the multiple interesting ones are the attachments for migrating the site to Dropbox, Google Drive, Amazon, OneDrive & many more. Selecting a good hosting provider is the most essential step to a victorious business and a steady WordPress site.
2. Migrate Guru
One of the quickest WordPress website migration plugins is Migrate Guru. With this plugin, you can easily migrate WordPress websites that are about 200 GB in size, and it exactly works logically with multi-site webs. With this plugin, your URLs will be automatically rewritten and the whole website migration will take location on their servers, so you will not possess to be concerned about your site hitting or operating out of storage space.
The only limitation with this plugin is that it does not permit you to migrate WordPress sites from a local host, or does it permit migration of sub-sites on a multi-site web to a new domain or vice versa.
3. WP Migrate DB
WP Migrate DB is also a very famous plugin for shipping and migrating your WordPress database. With this plugin, you can fastly find and return data in your WordPress database, export it in SQL design, and then import it also into your new database.
The plugin keeps serialized data and collections, which means that you can migrate WordPress databases without concern about data corrosion.
WP Migrate DB is also a very famous plugin for shipping and migrating your WordPress database. With this plugin, you can fastly find and return data in your WordPress database, export it in SQL design, and then import it also into your new database.
The plugin keeps serialized data and collections, which means that you can migrate WordPress databases without concern about data corrosion.
4. WP Staging
Another famous plugin that you can utilize is WP Stand. You can operate this plugin to replicate your WordPress site and migrate it easily to different web hosts. You can even use this plugin to make a staging domain for your website and then migrate it to your presentation site.
List of the hosting provider that migrates WordPress Website Free
In the below list, find the best hosting provider for WordPress websites.
1. FlyWheel
FlyWheel is one of the most reputed and famous managed WordPress hosting providers. Although their pricing plans begin from $15 per month, they deliver excellent protection and great hosting service to their customers with frequent nightly backups. Most significantly, they will migrate WordPress sites for you from your old host to the new one at no extra cost.
2. InMotion
A very famous web host service provider, InMotion has been in the ambition for 20 years. Not only do they offer hosting assistance at a really reasonable price, but they also deliver free application rollbacks and much more.
3. GreenGreeks
Yet, we have GreenGeeks who are well-known for delivering eco-friendly web hosting assistance. Their plans start as low as $2.49 per month and they deliver free website migration benefits as well.
Conclusion
Congratulations! You now have the ability to move your site to any host you like. Determinate to take your time, double-check everything, test your site before you edit the DNS, and run out to your new host if you have queries! WordPress migration is a major task because so many things can go haywire for the smallest reasons. The most useful way to migrate a WordPress site to a unique host or server is to utilize a free plugin that is customized-built to manage site migration seamlessly.