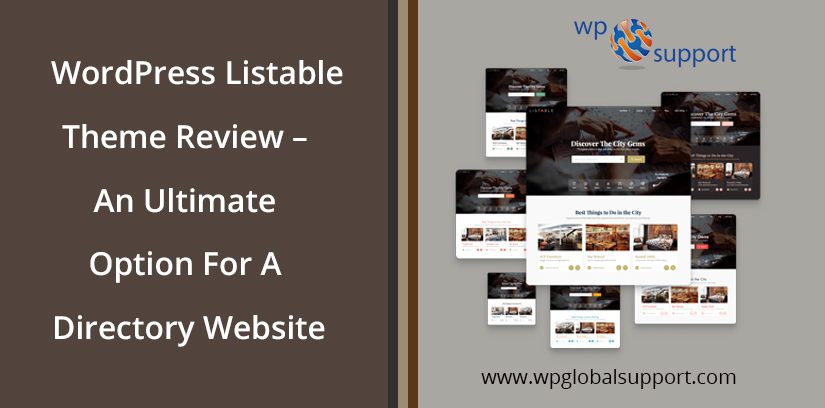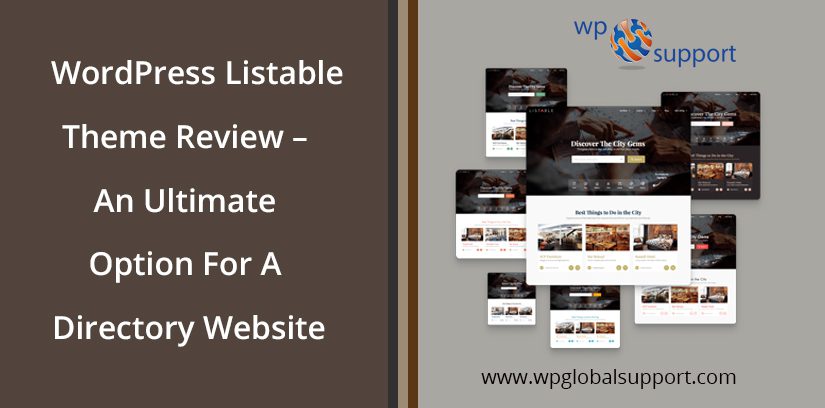 The WordPress Listable theme is a very good option to create an effective Directory WordPress website that allows you to manage and monetize your online business locally or globally. With the Listing theme, you can all set to promote your brand by putting your products and services in a perfect Directory blog which you can think is the right place.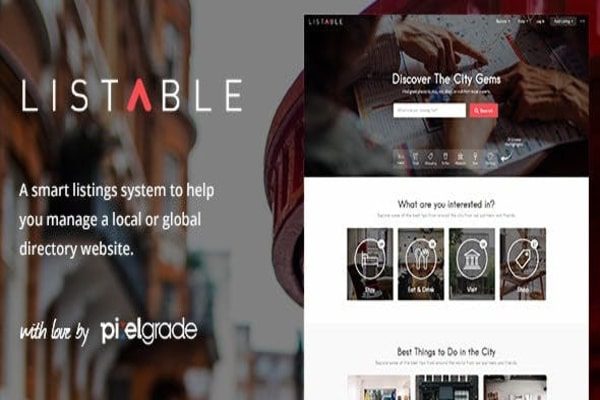 ---
Overview
'Listable' is a WordPress theme developed by Pixelgrade, one of the best ways to create a directory website that can help you to organize the various services provider's information or addresses. With the help of this site, you can easily find a restaurant, movie theatre, car mechanic, etc.
In other words, it is a collection of various links that are divided into different categories, topics, and interesting areas.
This WordPress directory theme lets you create various directory websites like a hyper-local service directory, a comprehensive tourism website for a large metropolis, a job board, and a global directory world travelers.
Further on, it helps you to create and manages any type of listing in a site like for restaurants, city trips, furniture shops, car rentals, and many more. It is compatible with WooCommerce, which means you can start your own e-commerce business.
If you wish to start your blog with something new thought then we recommend you to use the Listable WordPress theme. It is the best theme from both a site owner and a visitor's perspective. Apart from that, it comes with a number of features & functionalities, let's discuss;
Key Features
Well, the online directory will let you and your visitors submit listings to the website. Also, it gives you the chance to add all relevant information about the entity. Although WordPress Listable theme for directory website will also provide you front-end submission forms.
These forms will help you to add the listings directly. In addition, the custom fields can store the data for each listing more efficiently. However, it is also best to have the option of monetizing websites, when you creating your own listings website.
Basically it provides you the popular monetization methods. Which offers pricing plans and packages to those users, who want to add listings, creating a sponsored listing, and displaying adverts. However, there are some other useful features too.
Although you can see these features in a directory website builder. That has e-commerce capabilities for selling the products from the website. The Listable theme provides you easy to use customization tools, an attractive design, layout, and a mobile-friendly user interface.
Let's now find know more about all the features of the WordPress Listable theme, that used to run a professional online directory or listings website. These are as follows:
Easily Customizable
Although the Listable theme provides you a large variety of highly customizable options. Also, your visitors can see the attractive site pages which increase the user experience. However, with the help of customization options, you can create a custom homepage layout very easily. Also, is changing the appearance of your website in a number of ways will be very easy for you.
Flexibility
The main thing that makes it unique in the market is its flexibility. It is flexible, simple, and easy to use the theme on the surface. It has a powerful listing card system that helps you to represent virtually your desired information on the site. Note that the listing can be anything a restaurant, an activity, a place, an attraction, an item, even a job.
Monetize
The term monetize refers to earn money. With the Listable WordPress theme, you can charge to submit a listing. Further, you can take fees for the service you offer and can ultimately make money through the listings.
Responsive Design
Although when you creating a directory website. No matter either it is for a listing remote jobs around the world or the best meditation centers in a particular city. All of them must require a certain set of essential features. However, the design provides by the Listable theme will make the project appear best on many devices.
Also, the Listable theme has some beautiful blog post layouts and templates. If you are creating an online directory, then your website must have a blog post. However, adding a post will allow you to use content marketing to attract more visitors to your website. In addition, you will have a way to provide more useful information to your target audience.
Mobile Friendly
Additionally, the Listable directory WordPress theme features a highly modern design. These designs will give your listings website a professional look and feel. Also, the design of your website will be fully responsive. This can let you ensure that all your visitors can access your site as easily, who use mobile or tablet as everyone else.
However, the blog posts on your own website need not be forced by the limits of the default WordPress post editor. In addition, with the help of a Listable theme, you are able to create some attractive layouts for your blog posts. Also, you can present your blog content in many types of different ways.
Interactive
The theme is interactive uses an advanced filtering system. You just have to define the information of your project, the rest of the thing will take care automatically like easy management, multiple filtering details, interactive filtering, easy management.
Style Presets
It has many beautifully designed styles presets to choose from. You can also create your own style without any coding knowledge just by changing colors and fonts. All the changes you have done will appear to you.
Setup Wizard
Although during the process of creating any directory website. This theme includes many essential elements, and steps. Also, it will let you know where to start, and it make sure tat you have completed all of the necessary tasks which can be difficult sometimes. Besides that, the Listable theme provides you a helpful setup wizard.
Basically, the set up wizard will guide you through the complete process of building your own online directory. In addition, you can also have the option of importing the demo data. Therefore you can quickly build up the foundation of your website and populate it with sample content. So that you can launch your website very quickly.
Besides, you can also ensure that you have the required or recommended plugins installed on your website or not. Because it will help you to create the required pages that your directory will need.
However, it looks like it includes all the tools you will need to build your own directory website with WordPress.
Widget ready
Its layouts are easily controllable. You can add or change a single listing page layout's elements and also add the map to the new layout. Powered by Widgets, the theme's layouts can provide an awesome look to your blog with powerful customizable features.
Premium assistance
Listable WordPress theme comes with premium supports that provide the best help in due time. The best thing you can access to us through your site dashboard.
Easy translation
The theme uses the WPML plugin (WordPress multilingual plugin), it means, it is fully multilingual. You can extend your business at an international level.
SEO optimized
'Listable' WordPress theme is fully optimized and friendly with Search Engine Optimization. It helps you to rank your website higher in SERP.
Mobile responsive and retina ready
The theme's versatile design is mobile responsive that allows you to run everything smoothly and efficiently as well as retina-ready that can fit in any device or gazettes.
Fast load speed
Speed matters, therefore, the theme includes load speed feature so that your site runs faster and smoother than ever.
40+ available add-ons
The main thing that makes a listable theme unique in the market is the extensibility available by the use of WordPress plugins. However, it has 40+ free and premium options available, some have more important functions which includes;
Monetization
The theme is available by WooCommerce, its subscription & paid listings. With this, you can also charge for listing, subscription, or reservation.
Job listing
It is also supported by multiple plugins that permit for a paid listing, application deadline, resumes managers, custom job descriptions along with indeed and CareerBuilder.
The core bundle
This one is a pre-packaged collection of 13 add-ons available at WP Job Manager with a discounted price. This core-bundle can save your huge money over purchasing add-ons separately if you want to use listable as a job board.
Highly Extensible
Although there are plenty of other extensions to choose from, as well as the monetization related add-ons for WP Job Manager also available. However, these options opens up a complete environment of functionality for your directory website.
Demo Content Import
However, to install the demo content is the best part to start after installing and activating the theme and the required plugins. This process will gives you a good template to work during the set up of your website. The sample content also makes it easier to understand how the theme and its plugins work.
Although you can import all of the content with just a few clicks. Also, you can have a site that closely resembles the demo version of the Listable theme. Therefore now it is the time to configure the settings of the website to ensure your directory works in the way that you want.
Additionaly, the demo import feature works really well. After accessing the corresponding menu item through the WordPress Customizer, you can import all the demo content and have your website set up and ready for use instantly.
Easy Configuration
Through the Listings settings page, you can configure how the listings in your directory are handled. This includes your preferences related to handling expired listings, how the listing filters work, and whether to enable categories for your listing entries. Through the settings, you can decide whether visitors need an account before they can submit a listing.
Well, if so what user role they are assigned when signing up. You can also define how their account details are generated. The Submission panel allows you to configure how listings are accepted and published as well as who can submit them. As Listable gives you a good amount of control in this department, you should easily be able to set your online directory up in the way that you want.
When it comes to configuring how the listings on your site are published, you have the option of enabling listing moderation to ensure nothing is published on your directory without your approval. You can also set the expiration period for listings and whether you want to accept edits to pending submissions.
Listable theme documentation
The Listable theme documentation includes the following useful and important tasks that can make Listable a complete directory theme with ease of customizing the contents and design.
Installing the theme
Adding demo contents
Using the child theme
Making listing archive page
Making homepage or Frontpage
Managing a single listing page
Installation of listable theme
Installing pixelgrade listable theme is quite simple, just follow the below-detailed steps to accomplish the task;
Open your dashboard and go to Appearance>>Themes.
Thereafter click on the "Add New" button on the top of your page.
Enter your theme name and click on the Search button.
As you find it, press the "Install" button to download the theme.
Once you have downloaded and activated the theme, it will notify you of the missing and required plugins. Basically, the required plugins are;
Customify WordPress plugin: It lets you customize the theme from within the WordPress customizer.
WP Job Manager plugin: As the name says, it allows visitors to post a listing on your website.
PixTypes plugin: This plugin works to manage meta descriptions and custom post types.
Category Icon plugin: It helps you to add a custom icon to any tag, category, or taxonomy.
Comments rating plugin: With this plugin, you can convert comments into reviews. In addition, it has full control over the label, also, it identifies comments that are rating attached.
How to set up the theme?
By installing and trying a theme or plugin you can easily know how it may be. However, some themes and plugins will leave you asking to read the instructions manual. But, the listable WP theme doesn't ask you ever to read instructions. Its setup is quite simple and intuitive.
Homepage customization
This directory theme has a template that helps you to customize the homepage. This listable template also allows you to control the key layout options includes highlight categories, background image, page subtitle.
You can access much more functionality as well as use the page editor via its customization panel. Here you will get 4 pre-configured sections that you can change. One more thing you can also add additional WordPress widgets.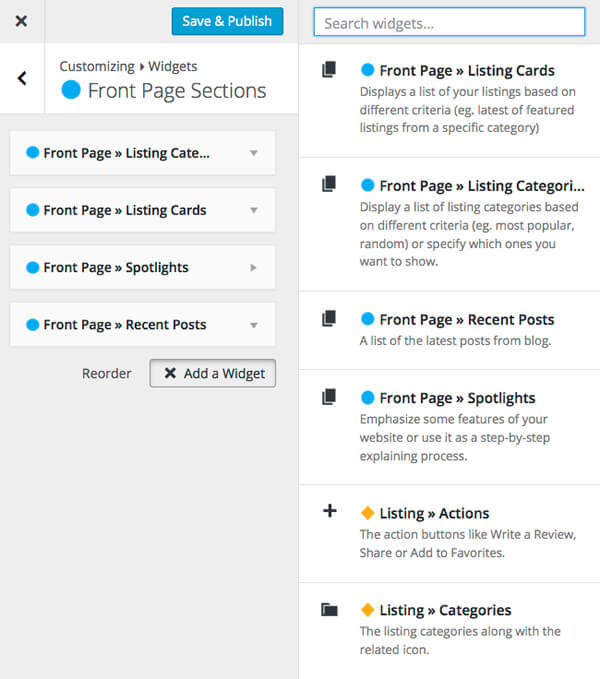 [Image source file: www.wpkube.com]
You can easily configure the homepage to display the exact information to your visitors.
Other customization options
Like all WordPress themes, all customization options of this theme are also located in the Appearance>>Customize page. See the below screenshot;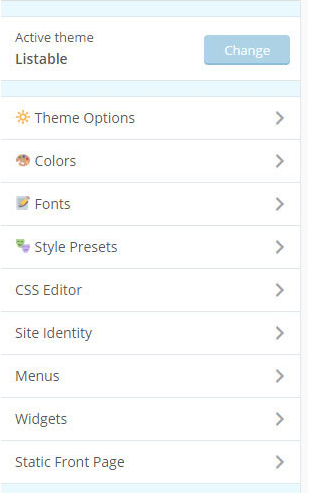 Theme options- This option has a lot of sub-sections;
General: It allows you to add a custom footer copyright text.
Custom Javascript: It allows you to insert javascript codes in the header & footer section.
Demo data: With this option, you can import demo data to your site. If you want to get quickly started on your site, then this option will be useful.
2. Colors– It also has various sub-sections;
Site header: This option lets you select the colors for the site title search, header background, nav link, nav button, nav active, etc.
Main content: Here you can choose custom colors for the page background, content background, text, buttons, titles, subtitles, etc.
Footer: This option allows you to select colors for text, footer background, and credits.
Other colors: Here you can select the accent color, meta fields color, and micro-elements colors.
3. Fonts– In this option, you can choose custom fonts for body text, navigation text, meta & forms, site titles, page titles & subtitles, etc. In the next section, you can customize many more functions such as weight, size, font family, letter spacing, and text-transform, etc.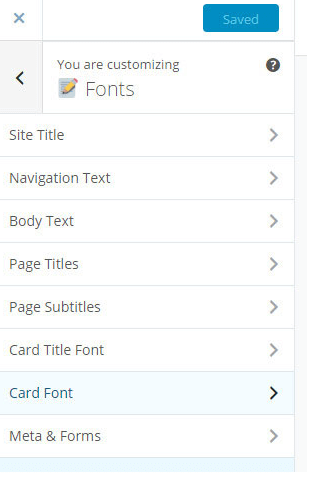 4. CSS Editor– It allows you to add custom CSS code to your site. If you have a basic knowledge of CSS, so it is the best way to make and changes the design in your site.
5. Site Identity– It hosts the usual options such as a tagline, logo, site title, and the site icon.
6. Menus– Here you can select the primary menu for your site.
7. Widgets– You can select widgets for the footer section.
8. Static front page– You can choose a custom front page for your site.
9. Style Presets– If these built-in customization options are not fulfilling your requirements, you can choose also from one of 7 styles presets or add your own CSS.
Once you have made changes to your site, don't forget to click the 'Save & Publish' button.
Now, you have a customized homepage and all your theme options.
# Note that you can also change some other elements like main content, header, footer, listing cards, etc via customization panel.
How to create and manage the Theme?
We have discussed above, listable is a special theme and has many features & functionalities to create the listing. It has the option to use a built-in listing or create itself;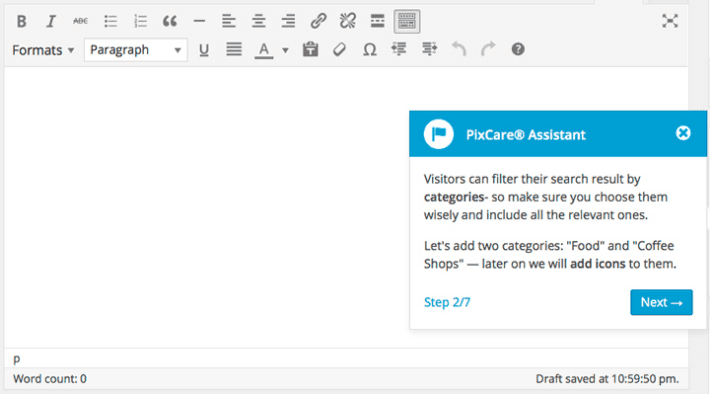 You know that listable is a directory theme, so it should have strong list management, but that's not true in reality. It completely depends on the Automattic's WP Job Manager listable plugin that allows you to add and manage your listing.
To add a listing, open your WordPress dashboard and go to Listing>>Add new page. This Add new page is very similar to the new post page.
Each listing has some specific details that you fill at the time of creating a listing. You can also update these details later on;
Your listing title
Company tagline
Location/Address
Phone number
Company website
Business hours
Gallery images
Twitter account
The listing expiry
Option to make specific listing sticky
# Note that all the information is filled in the backend.
Enter this listing details that theme asked to you like title, company tagline, location, address, phone number, business hours, etc.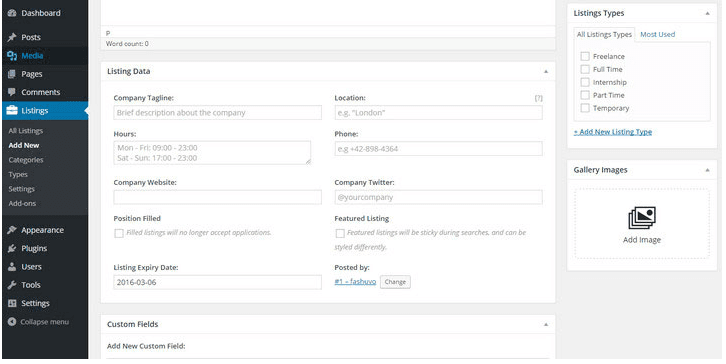 Listing Checkbox
Next, you can also enable the featured listing checkbox to make your listing sticky. The sticky listing will make you look different than the regular listing. By enabling the "Position filled" checkbox you can update your entry if the position gets fulfilled.
Set expiry
Further, the Listable theme lets you set the expiry date for the listing and can also mention the user who publishes the listing.
Categories and listing types
Additionally, from the listing menu, you can choose the categories and listing types for the listing. The theme also provides some default options for freelance, internship, temporary, part-time & full-time. And it also provides the "+ Add New Listing Type" option to add a new listing.
Images
You can also add images to the listing by going to the Gallery Images option. When you provided all the required fields, then click the Publish button. Now your listing is successfully published.
Manage Listing
You can go to Listing>>All Listing to delete, edit, or view all listing. Not only this much, view your all listing details like listing name, posting date, expiry date, location, and categories. You can also manage the Categories and Types by going to its sub-pages.
Further on, go to the Listing>>Settings for all settings options. The setting page is divided into three tabs; Listing, Submission, and Pages.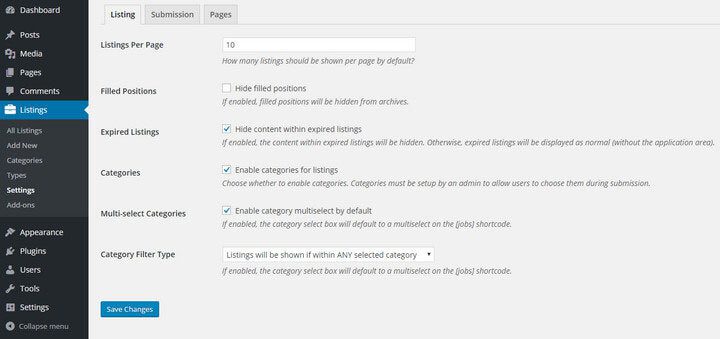 The "Listing" section allows you to;
Hide filled employment positions.
Hide content with an expired listing.
Display maximum listing per page.
Select the category to submit the listing.
Select multiple categories during the creation of listing.
Apply the category filter.
The "submission" section;
Lets you elect to allow unregistered users to submit a listing.
Lets users create an account to post a listing.
Has the ability to auto-generate username.
Apply for the new account role by default.
Moderate new submission.
Allow the pending listing to be edited by the creator.
Allow adding an automatic expiry for all listing.
Lets to select a default contact method for listing inquiries.
Lastly, the "Pages" section allows to choose the default pages that use three pre-configured shortcodes to create;
The submit listing page.
The listing dashboard page.
The job listing page.
Once you have made all changes, click the "Save Changes" button to save your changes.
That's it! You have created and managed your listing.
Other theme options
Apart from the features that we have discussed above, the theme also has some other best options;
Monetize
First, the theme provides you several ways to make money from your site. Among them, the best one is you can sell listing packages to your visitors. Alternatively, using the WooCommerce subscription plugin you can sell subscription packages. Also, you can use some other earning methods like selling reservations, physical or digital products, etc.
Customizable homepage
Another useful feature, the theme comes with a completely customizable homepage. By choosing various widgets, you can change your homepage look within minutes. Further, by dragging & dropping widgets you can change their location as your desired position.
Plugins Compatible
The theme is compatible with all popular page builder plugins such as Beaver Builder, SiteOrigin, Visual Composer, and MotoPress, etc. This means to say, you can create the unique layout of your site using any of these plugins.
Location Assistance
Finally, if you feel like Google maps is not good enough, so the listable theme can provide you the integration with Mapbox. It's Mapbox free plans are available for 50,000 views per month.
Pricing & Support
When it comes to pricing, listable is starting from $85. Note that, for additional functionalities, you have to use some free or premium plugin.
The listable theme provides 6 months of free support. Thereafter, you can also extend your support for 12 months by paying $27.38. Pixelgrade's experts provide ticketed support and knowledge base community forum.
Summing Up
Listable WordPress theme is a flexible and highly customizable theme that comes with tons of features & design options. The best thing is that it is compatible with numerous plugins to increase your site functionality. It provides the best free and premium support, so we recommend download a Listable WordPress theme and take advantage of this.
We hope that the blog discussed above helps you to meet your requirements for a perfect Directory Website. If you have any queries, you can contact our WordPress customer service phone number +1-855-945-3219 (Toll-Free). You can also use the provided below comment box for any suggestion.