In this digital era, social media has become an essential marketing tool for any business or company. However, there are a lot of Social media analytics tools that are used too much than simply getting your message out there.
In other words, it is key to gaining positive reviews, answering customer inquiries and giving people the ability to click to call.
Additionally and most importantly – we can say, a social analytics strategy is now a highly important factor in search engine optimization. Having a buttoned-up social media strategy means helping your company's website rank high in relevant searches.
However, a social media strategy doesn't end simply by ensuring you are putting out great content on a frequent basis. It is more important than ever to make sure you are utilizing the right tools to measure the results of your social media strategy.
We have discussed here a lot of social media reporting tools, but before that let's get in-depth information over social media analytics.
What is social media analytics?
We can say that Social media analytics is a collection of data from social media platforms that helps to inform us and guide our business decisions. However, with the help of social media analytics, you can evaluate your performance level on the social media network's goals.
Basically, social analytics tools are used to accompaniment of social media management tools. These tools also allow you to schedule and plan your social media content during the former that lets you evaluate the performance level and informs your business strategy.
Further, to guide your business strategy it takes numerous forms but it is always about gaining actionable social insight.
However, social media analytics can get a bit complex. There are three stages at its core;
1. Identification of primary business goals
Whether it's building positive brand perception, increasing downloads, growing traffic, or setting up the objective of your business gives you analytics purposes.
2. Identify social key performance indicators (KPIs)
What matrices show – failure or success? However, as per your goals, they all will different, but these may contain;
Sentiment: Means – how people see about your product, brand, and category.
Engagement: Especially, earned, owned, and paid media comparison.
Conversion: Means – how social strategies affect on revenue and sales.
3. Measure and analyze social data
When you will know what and why matters, then the time to analyze the real data. You can access your business state by using illustrated below tools and create informed adjustments as per requirements.
What to look into a social media analytics tool?
Remember the listed below key considerations when you choose social media analysis tools;
Purpose: How you are doing plan to use social media analytics? For the measurement of PR monitoring, social performance, product insight, and much more. Note that, you would not be able to choose the best price and features until you will not know what you need of your tools.
Scale: Scale of your requirements – Means to say,
Whether you want to use social data analytics in your business in different departments.
Will you use social analytics tool in your marketing team.
Will you find the terms that provide the result in quantities? And/or will you find more targeted words and phrases?
Are you need to monitor two or more topics.
Are you want data from the various variety of sources or simple data is sufficient.
Note that, here some of the questions can be a bit difficult to answer without showing the demo of various platforms.
Features: Here what features do you need;
Choose the platform that has search query creation and comprehensive filtering options (Boolean operators)? Basically, you will need this when you wish to analyze brand/competitor mentions.
Are you want a tool that has the feature to analyze images and text.
Find the tool that integrates other data sources like print media or broadcast.
Opt for the platform that provides the top level of customer support.
You need a platform that creates reports fastly without any problem.
Price: Now come to the most important point – Cost & Price. If you have gone through the three points mentioned above, then you can only get this stage. Now hand over the cash as per specification and features and purchase social media analytics tool.
Reasons: Why you should use social media analytics?
Generally, Social marketing analytics tools provide you the best focus groups – where people talk about new products, good & bad customer services, brands, and your competitors.
Whenever you publish a post on a social media platform, so the social data generate every time. More so, this data generates via sentiments, shares, likes, consumer's comments, retweets, etc. and will help steer your social media marketing campaigns to win a big victory.
Now let's see why the use of social media analytics is must;
Use social platforms for your brand
Use the social media analytics platform that works for your brand. For example, if you are publishing a post on Facebook and your users uses Twitter……that's not beneficial for you.
Use the image-based network like Instagram for a visually attractive product like automobiles, beauty products, fashion labels, food.
By using the inbuilt analytics tools of the platforms, understand your social media performance.
Understand your users
Check your users whether they are online,
Understand their interests – target your content to be more relevant?
Customer segmentation – will help you to create targeted campaigns.
Brand Reputation
See how your brand seeing on social networks, forums, and blogs. However, the best social media analytics platform will allow you to integrate media monitoring data along with social media analytics data.
Create good content
To inspire future campaigns, identify the content that is providing results.
What resonates with your users – links, text, images, and videos.
Competitive benchmarking
Analyze your competitors what's they are doing. Follow their success and avoid their drawbacks.
Save your brand assets
Image recognition displays you how your logo (brand assets) is being used online. However, up to 80% of online images featuring a brand logo does not include the brand name in the text. As photos and images, image recognition provides you a large picture of your brand visibility.
Recognize the potential misuse/trademark non-compliance of your logo, tagline, etc.
Track social campaigns
Monitor the once launched social campaigns to see whether they are working. – Could you make their improvements? Is it bringing results according to your expectations? Should it be stopped?
You can use sentiment analysis to know how users feel about your campaigns, products, and brand.
How does social media analytics work?
Same as Google, social reporting tools also use crawlers so that they can collect the public information from the internet. When a user searches any query, so the platform finds each & every instance of the same query over the internet.
In this social media analytics platform like Instagram, Twitter, and Facebook and some other news sites, review sites, forums, and blogs are included.
However, some of the social media competitive analysis tools allow scanning of secured databases like offline content databases and online academic journals.
Further, some of the advanced social media evaluation tools do the analysis of image shared online that we also called – image recognition.
They all have the pioneering AI-powered technology – by using this, they can recognize scenes, brand logos, and objects in an image.
In addition, you know that crawlers are fully loaded with information, so let's get organized.
However, by using various filters you can categorize the information, elaborated are as follows;
Language
Country of origin
Sentiments
Media types
Content-type and more.
Now, let's analyze somethings;
Here all your information has been collected and filtered. The next thing is data visualizations that help the platform's users to process the information.
Next, illustrated below the image can be a simple graph and pie chart – on the left side, the graph is representing the number of times of a specific brand or keyword that has been mentioned on each & every media platform.
And on the right side of the graph, it is representing the shares of mentions in these various media types.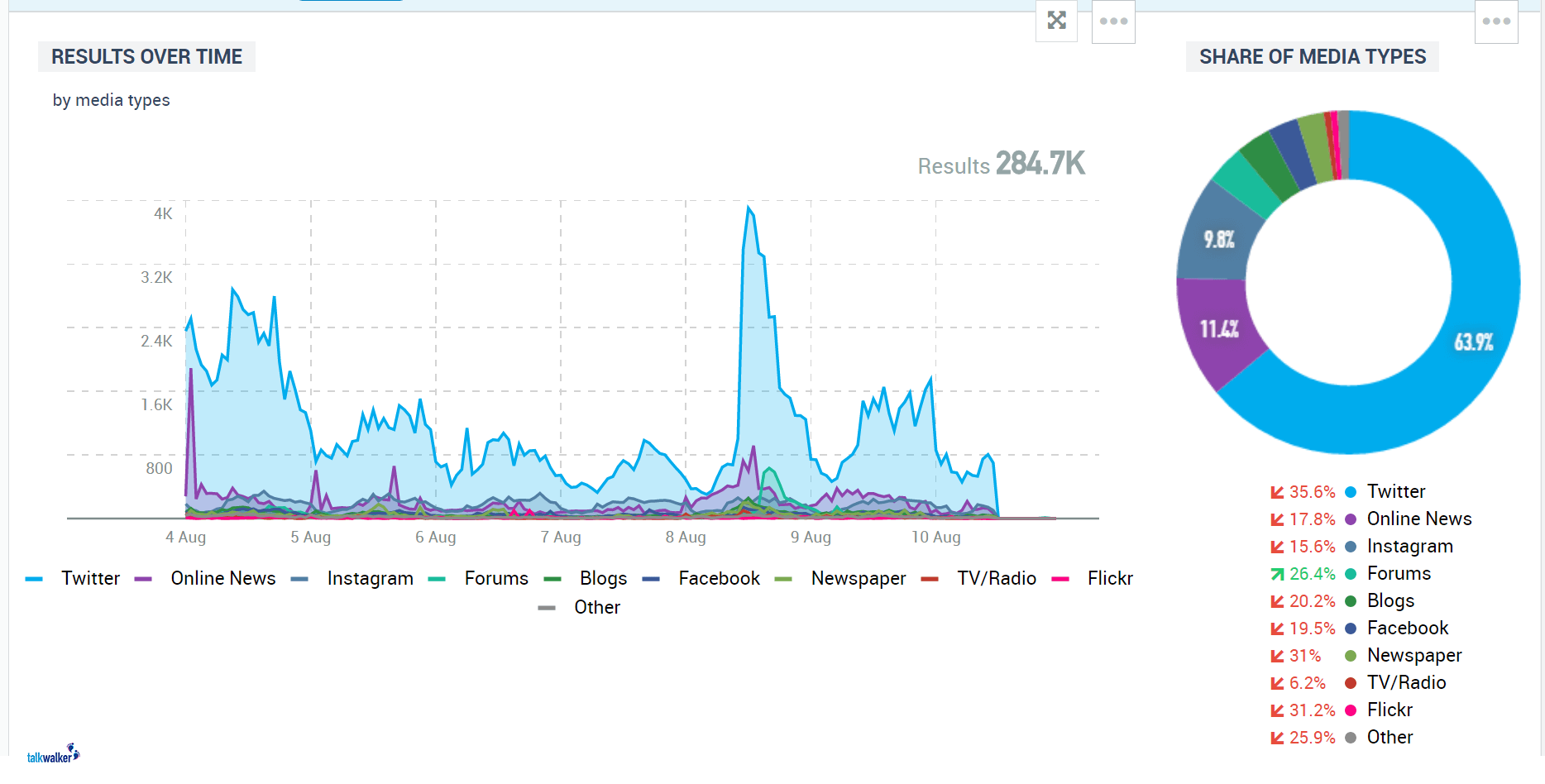 [Image source file: www.talkwalker.com]
Over to this, illustrated below image represent a bit complex visualization like virality map that indicates you how a content, post, or article spread online.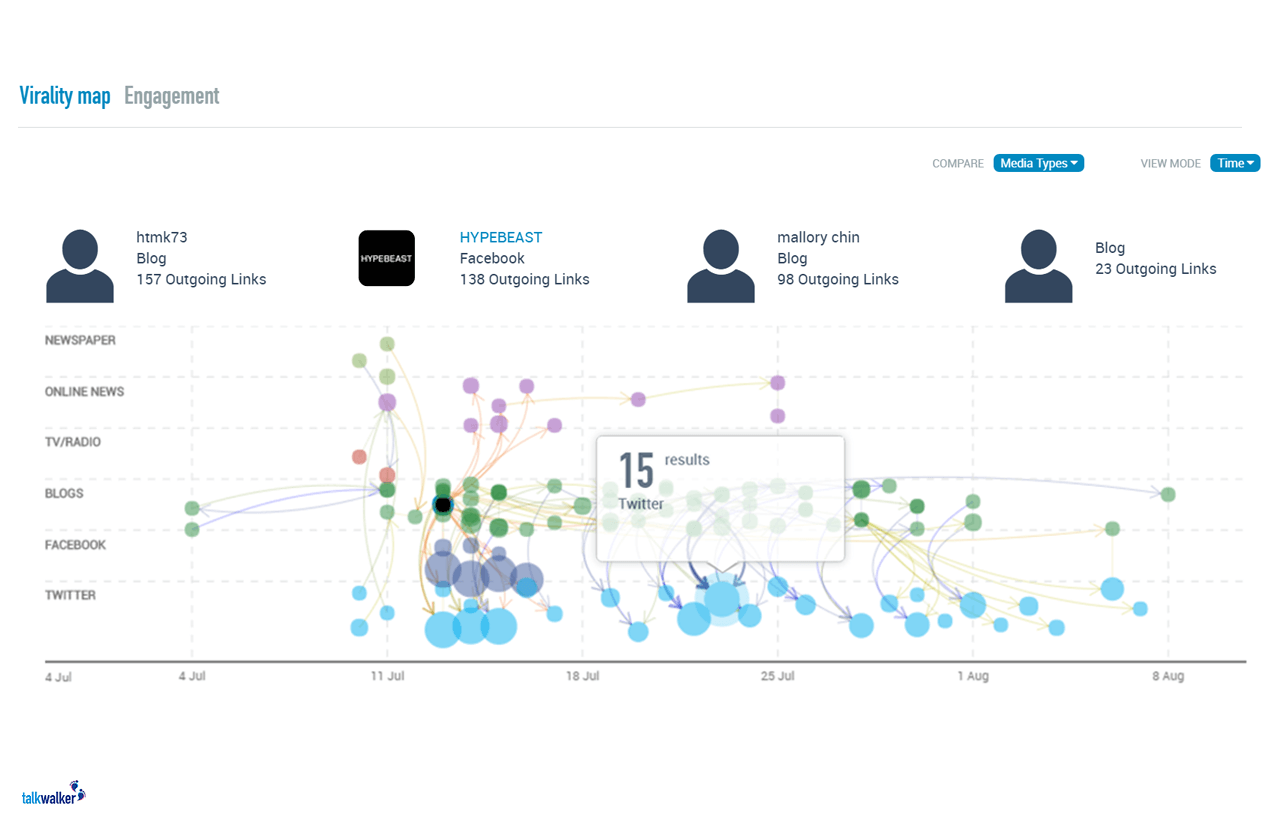 Topic clouds such as hashtag clouds, emoji clouds, graphs, and word clouds – show terms linked to a specific keyword, they all are also common with various ways to show the result.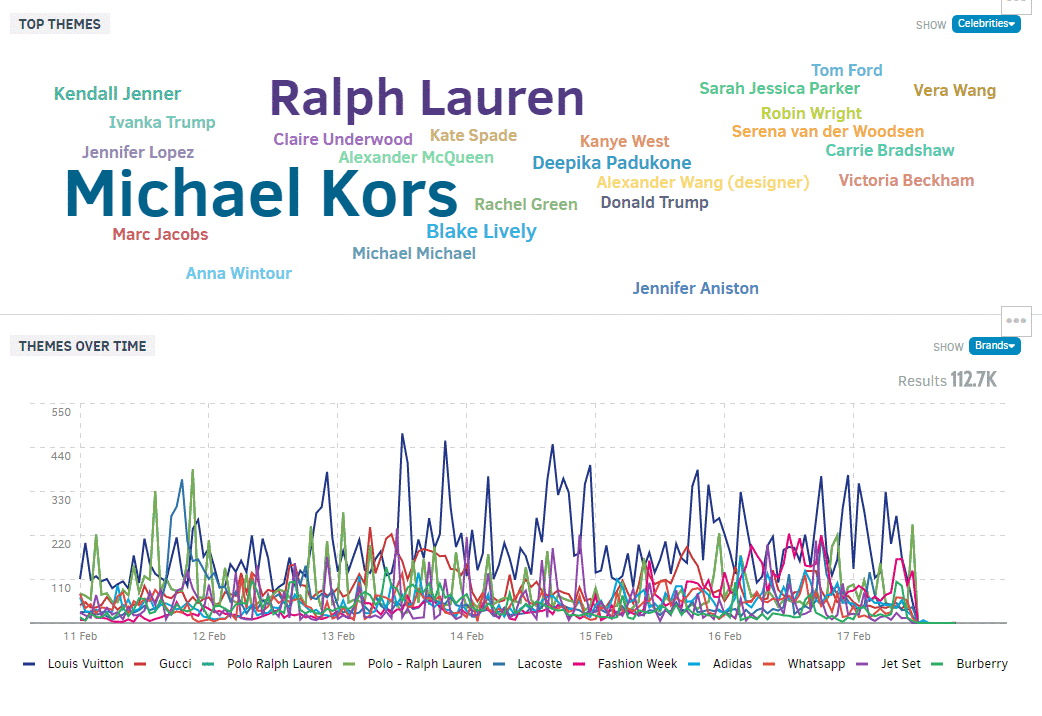 To get the maximum value out of social media analytics, you can compare the result with other business metrics in which sales figures, site conversion, polling numbers and more – depends on how you plan to use this data.
How should you use social media analytics?
There are various ways to use social media analytics tools. It depends on what you want to track & measure.
Listed below are some of the key metrics' let's see;
Engagement: How much engagement a post nearby a specific keyword that receives shares/likes/comments on Facebook, likes/retweets on Twitter, likes/comments on Instagram, shares of blog and news post on social media.
Sentiment: Sentiment towards your industry, social page, brand, and competitors.
Virality: Means Speed – In other words, how much speed a post is being shared and how it's spreading online.
Share of voice: An online discussion that is going about your brand, a trend or topics in comparison to the same topics.
Visual mentions: Visual mentions is the number of times of brand logos that we see in images and photos that have posted online and on social.
Bending towards the point, let's get cracked!
Best free and paid social media analytics tools – 2019

1. Hootsuite
This is a more robust platform for scheduling social media profiles. You can schedule 30 messages across up to 3 profiles through its free version. Often, Hootsuite provides plans for individual, SMBs, and enterprise-sized brands.
However, with conversion maps, sentiment-driven insight, reports, and customizable dashboards, it is a contender for those brands who are in need and they can spend more.
Fast forward, with this platform, you can analyze in-depth information – from which you will get a clear understanding of your performance on all social media platforms.
Key features
By choosing more than 200 metrics it customizes reports and exports them in Excel, PDF, or Powerpoint formats.
On some social platform i.e. Facebook and Twitter, it can analyze resolution time and customer care team response.
By integrating with some best tools such as Talkwalker and Brandwatch, it tracks brand mentions properly.
Social media channels
Youtube
LinkedIn
Instagram
Facebook
Twitter
Pinterest
Analytics – You will get for free;
All features for one month.
Unlimited real-time reports
Key metrics overview
Team performance measurement
Price
Depending on your needs – starts from $19, $99, $599/month + enterprise pricing.
2. HowSociable
HowSociable is a social media monitoring and tracking tool showcases how much activity has been going on in social media around your brand. All you just have to enter your brand name in the search icon, thereafter, it gives instant access to your brand's magnitude. Brand's magnitude means – the level of activity indication around a brand during a given week, its range is 0 to 10.
Further, with this tool, you can see your brand magnitude on 12 social networks in which Tumblr, YouTube, Reddit, and LinkedIn will be included. It also allows you to see which one out of your 12 brands performs best and where you need to improve your strategy. The cons are it will not indicate to you what you are doing wrong and how to fix it.
Social media channels: Free and Paid
Free;
Tumblr
Blogger
WordPress
Reddit
And 8 other social platforms unlocked
HowSociable Pro;
Facebook
Twitter
Pinterest
Posterous
And 32 other social platforms unlocked.
Price
Basic plan – $9/3 months include;
5 brands/topics/names
Top 360 mentions
36 social site metrics
Free historical data for 3 weeks
Support forum
Plus plan – $19/3 months include;
20 brands/topics/names
Top 360 mentions
36 social site metrics
Free historical data for 3 weeks
Support forum
Max plan – $99/year include;
100 brands/topics/names
Top 360 mentions
Top 360 pages
36 social site metrics
Free historical data for 3 weeks
Support forum
3. Buffer
This is another simple tool that allows you to easily schedule posts and see which posts were the most popular or the least popular.
Buffer comes with pro and business plans that give you all great engagement stats for each & every post you published on social media – With its free version you can schedule your post up to 10 posts at a time, per network on Facebook, Twitter, Google+, LinkedIn, and Instagram.
And it's pro version allows you to see analytics on mentions, retweets, clicks, likes, and potential reach for each & every post. This means to say, with this plan you can analyze which content performs best on the social media platform. Further, you can see your most engaged and influential followers, along with this who sharing your post – which is the best for building relationships. Not only much but you can also monitor and schedule your more accounts.
Whether you are searching and exploring anything, this unique social media analytics tool access you the exact metrics that you require to track and improve your social media performance.
Fast forward, by analyzing, a buffer can tell you which tool has advanced features & functionalities like Instagram stories analytics.
Key features
It provides various level of access and can add team members to your account.
Analyze top-performing posts and give the edit option, thereafter, add them to your queue again.
Price
Depending on your needs its price – $15, $65, $199 per month.
4. Sprout Social
Sprout Social is monitoring and social media management tool. More so it provides the host of enterprise-level options. With its cross-channel social listening features, you can do a qualitative analysis of your hashtags, topics, and keywords.
Further, from its intuitive and visual reports, you can also analyze how your content performing on various social networks.
However, AI capabilities and sentiments (which are stakes for a tool at this level) are not mentioned. More so it does like competitive, brand intelligence side, inbox integration, trend, and hashtag monitoring, etc.
Key features
You can get a group report of your social media profiles.
You can analyze the performance of your team such as response rates, task performance, etc.
Analyze premium campaign performance on social networks.
Social media channels
Twitter
Facebook
Instagram
LinkedIn
Pinterest
Analytics – you will get for free
All features for one month
Reports for every social media channel
Reports for internal team performance
Report builder.
Price
Pricing starts from $99, $149, and $249/month.
5. Zoho Social
Zoho Social is also one of the best powerful and unique software. It comes with advanced features such as collaboration, CRM, and some other SaaS options. However, these options take care of your complete operational workflow.
Further, with this social media management company, you can understand your social media audience and see how they engaged with you.
Not only much but, you can also listen to multiple channels and respond to them in real-time from a single dashboard. Additionally, to measure their reach and engagement you can also dig deeper into each & every post.
Fast forward, this social media analyzer allow you to monitor messages, post, connections, and mention on multiple platforms like Facebook, Twitter, Google+, LinkedIn, and Instagram. Those brands who managing many clients at a time, you can connect your every channel with them. This tool invites team members and collaborates them at the same place.
Key features
Form a huge list of pre-defined segments creates intuitive reports.
Compare other people reached vs fans for each & every post.
Get a break from the content formats you are engaging and compare it to those you publish.
Social media channels
Twitter
Facebook
Instagram
LinkedIn
Analytics – you will get for free
All features for 15 days
View stats for individual posts
Analytics for the best time to post, content type, etc.
Price
Depends on your requirements, starts from $10, $20, $200, $300 per month. Annually pricing also available.
6. Boardreader
Incredibly simple, but incredibly useful. You simply type into a search bar and it will showcase reviews and a variety of forum posts, letting you know what is being talked about.
Fast forward, Boardreader is a social media analytics tool that is also known as a forum search engine. Further, it is used to view and analyze activity on discussion boards.
This tool makes it easy to find great trends and some other tracking information inserted between forums and boards. Remember that it is not readily accessible from some other methods.
To use this, you just have to enter the query that you are looking for, thereafter, it provides you the results with some forum discussion of the same query.
Key features
Ease of use
Multi-languages supported
Displays search trends
By using the advanced search it can sort by time, relevance, and language.
It can choose whether you want to see forums or posts results.
7. Followerwonk
With Followerwonk you can connect a single profile for free in case your social data need is limited to Twitter. And also you can track and sort your followers to analyze how many followers you have lost and how many new followers gained in the past 120 days.
Further, you can also get insights on social authority rankings from your Twitter followers. With this tool, you can also search Twitter profiles and bios for keywords – which is the best way to collect insights about how audience segments see itself. , In addition, you can get advanced features if you subscribe to it.
Key features
Search Twitter bios to integrate with anyone.
To search overlap and target new influencer it compares Twitter account.
Breakout your followers via bio, location, who they follow, and much more.
Follow and unfollow in-app to your social graph's hone.
Price
It's subscription starts from $23 per month, it also offers annually option.
8. Friends+Me
Friends+Me platform allows you to schedule up to five posts from your Google+ profile and share it to a variety of social media platforms.
To save time and a huge amount of money, it lets you more focus on Google+ while achieving your goals by publishing your content on social media platforms.
However, there is a SEO benefit of this tool is- it's more focused on the creation of good content – which is the best to boost your brand visibility.
Key features
Mobile application: It works with Android and iOS app from anywhere.
Desktop application: Use macOS, windows, and Linux desktop apps, Save browser tabs.
Browser extensions: For later use save the content from anywhere on the web.
Draft support: Save your post in draft and post it when ready.
Content cross-promotion: Publish once, save the time with cross-promotion post of Google+.
Link shortening: Track the success of your post.
Bulk Schedule: Schedule numerous posts with a single click.
Team Support: Invite your friends and co-workers to help you to publish your post.
Price
It comes with a free and paid version. Depending on your needs it comes with various plans;
Individual – $7/month
Small – $24/month
Medium – $49/month
Large – 215/month
9. Google Alerts
In 2003, Google (Search engine company) launched this Google alerts. It is a service that is change content detection and notification. Further, when it finds any new results like blogs, newspaper, articles, webpages, or scientific research, it sends a quick email to the users.
In other words, this platform delivers alerts to your inbox to know when your company or a competitor's company is mentioned.
10. SumAll
This platform lets you connect your various social media accounts to see how their overall performance. With this tool, you can automate actions such as sending thank you as retweet your content. And/or on social media channels engage with your audience automatically.
In addition, you can view a comparison of all Facebook pages and see how they are performing against some other SumAll users. And also you will get the email of the accounts that you select on a daily or weekly basis.
Price
Social Media in-built analytics dashboards tools
1. Facebook Insights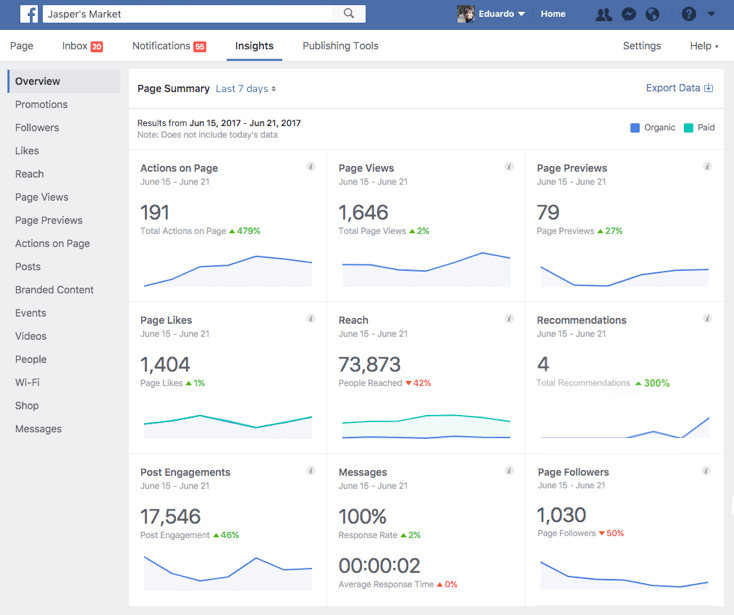 Facebook analytics tool offers a wealth of information. It provides you with information such as your page's reach, how many pages views you are receiving as well as recommendations tailored to your content.
Further, you can look back over the past 28 days to see an overview of how your content is performing. This will help you to craft content that performs best with your audience. It is also extremely easy to navigate.
However, it also allows you to set up a list of pages to watch, which shows you the performance of some other Facebook pages.
Access way: To access you have to click the Insight tab in the menu bar on the top of your Facebook page.
Tip: To see a pop-up of the full stats for a post, click on the people reached number in your page timeline at the bottom of any individual post.
2. Twitter Analytics

Twitter analytics tool provides a lot of the same information like the Facebook Insights platform. It also allows you to monitor what hashtags are trending so you can craft content to join the popular conversations in order to gain more followers.
Further, it also provides you a 28-days summary of your profile and allows you to see how your post performs in terms of follower growth, profile visits, mentions, and tweet impressions.
Not only much but, it shows you the complete analysis of impressions of your tweets that you are receiving and details on engagement as well i.e. mentions, favorites, retweets, and clicks. And also you can export your all data and run reports itself.
Access way: Just log in to your Twitter account and navigate to analytics.twitter.com.
Tip: To see a complete breakdown of your engagement on the tweet in which all things are included like clicks on images, clicks on URLs click on the username, and expanded details.
3. Pinterest Analytics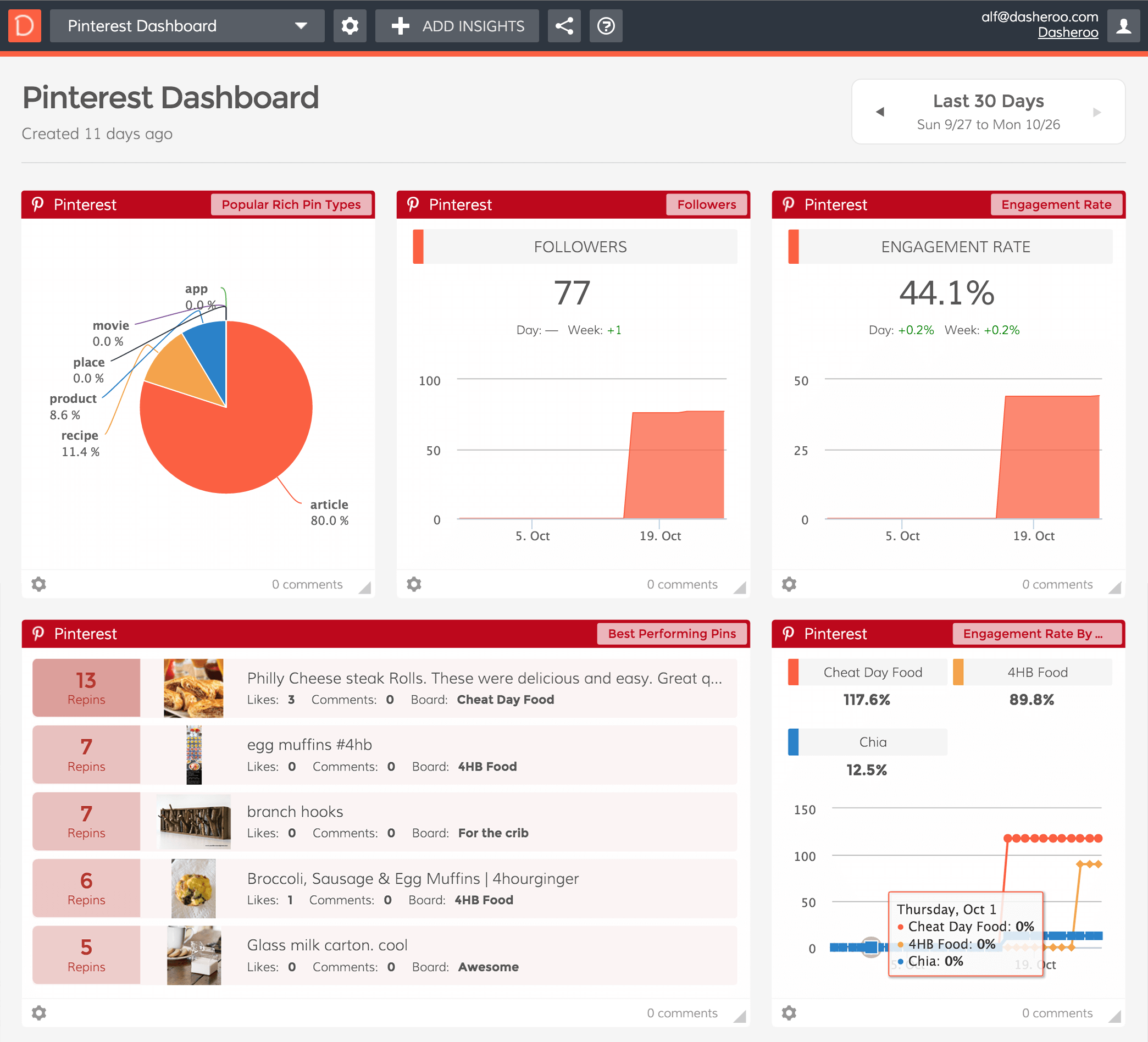 This shows you exactly what content people are pinning, giving you a better idea of what you should pin. That's how you can peruse analysis and grab traffic on the post. However, its dashboard also shows growth in followers and impressions, website engagement, and audience stats.
Further, you can see which boards and posts perform well by clicking on more in-depth reports.
Access way: You know its analytics is only for business accounts. That's why migrate your personal account to business for free, thereafter, log in to Pinterest and navigate to analytics.pinterest.com.
Tip: It has a new audience report that shows you a breakdown of interest and demographics of your audience.
4. Instagram Insights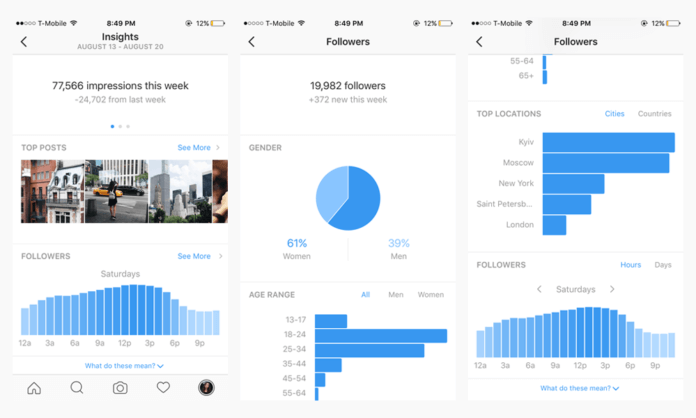 This platform gives you insight into things like activity, content and audience insights. It also shows you when your followers are most active during the day and week. This allows you to post content that is most likely to be seen by followers.
Further, it gives you access to Instagram Insights (Instagram's native in-app analytics) in case you have an Instagram business profile. More so, it also gives you the entire data range about your stories, posts, and ads.
Access way: First, you need a business account that's why if you have a personal profile, change it to a business profile. Thereafter, visit your profile page in the mobile app, and press the menu icon in the upper-right corner and tap Insights.
Tip: In the Audience section, while your followers are online, you will get data on the average times.
5. YouTube Analytics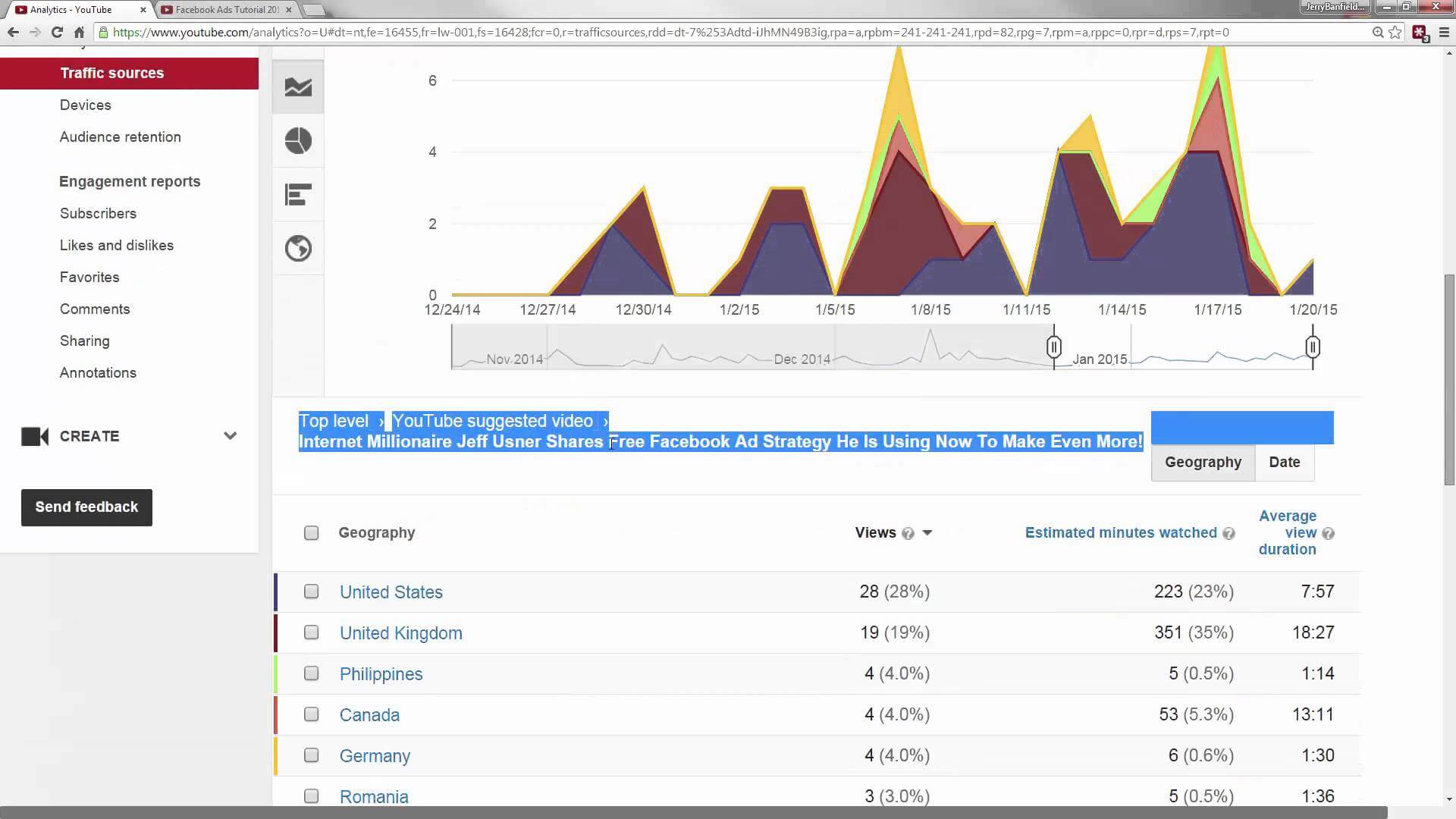 This dashboard shows you what videos your users are watching most. It also shows demographic information about your follower base.
With this, you can track the performance of your channels and videos. It reports a plethora of metrics in which watch time, views, traffic sources, earnings, ad performance, subscribers, and audience retention are included.
Access way: Log in to YouTube and navigate to youtube.com/analytics.
Tip: You can go to the detailed channel analytics page by clicking See More button below the main dashboard. Thereafter, navigate to more>>playback location to check where people are watching your video on YouTube channel page.
That's All!
Wrapping the end! having the right tool is necessary. That's why we have listed a comprehensive list that proof enough a number of option to track consumer attitudes, sentiment, opinions, and behaviors.
Depending on your requirements choose the best one that suits you. We hope, given list helps you to resolve your problem. Use the comment box in case you have any problem or contact our WordPress support developer by dialing our toll-free no. +1-855-945-3219 in case of any issue related to WordPress.