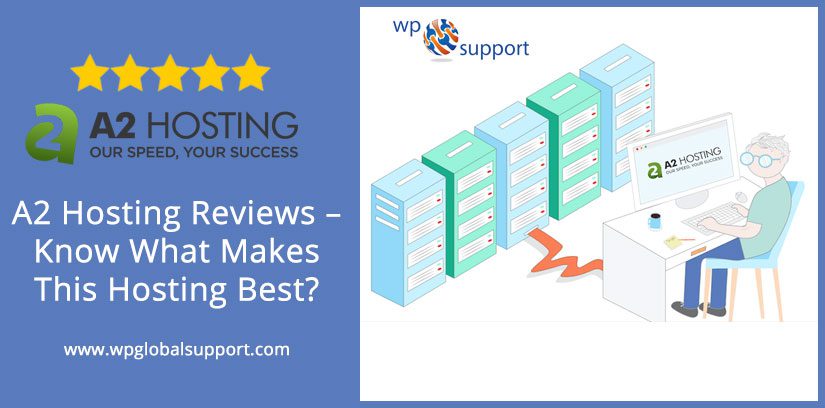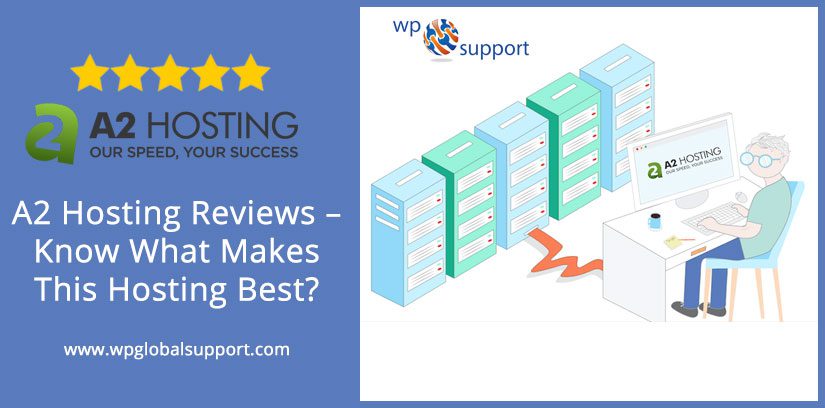 Well, In the current time there are many web hosts available in the market. So it needs to provide some special service to become different from the crowded field and prove itself worthy. Although, A2 Hosting Reviews will tell you that A2 web hosting proving itself with its incredible uptime, attractive packages, and ready to serve customer service. certainly, A2 hosting has high-quality affordable plans for WordPress and others.
On the website of A2 hosting, you can read that 97% of their customers are satisfied and that they promise Up to 20x faster servers. We will see later if their servers are as fast as others or not? On top of that, their first-term pricing seems like a bargain, but what about the renewal fees?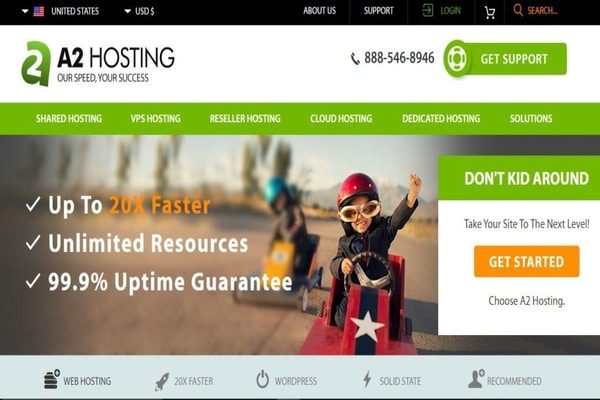 Here in this article we are giving the review of A2 Hosting and tell you all about their products, prices, advantages, and disadvantages. All things in one place. Just go through it to know more about A2 hosting.
What Is A2 Hosting?
A2 Hosting is one of the oldest providers company founded by Bryan Muthig. They are originally from Michigan and started in 2001 under the name "Iniquinet". Later on, in 2003, the name was changed to A2 Hosting, named after Ann Arbor, Michigan, the town where it all began.
However, A2 Hosting was originally designed to handle a small number of clients. But, by the year 2003, the company had gained more clients than they desire. Also, A2 Hosting builds its reputation with the high powered hosting.
Because they making speed and reliability their top priority. A2's SSDs called Turbo Servers. Becan load pages are up to 20 times faster than a typical non-SSD server.
Why Choose A2 Hosting?
Well, A2 Hosting has won lots of awards as top hosting providers. Also, they rank high on the best hosting lists consistently. Certainly, they promise 99.9% uptime on all their servers. Besides that, still, if you have any problem? then their Guru support team is available around the clock for you.
Well, A2H is a green hosting company, that is is committed to green energy practices. Also, they have partnered with "Carbonfund" to offset and reduce their carbon footprint with the "FutureServe" program. Carbonfund is a major company, which is working to reduce the effects of climate change worldwide.
In addition, A2 Hosting has claimed that they are 100% carbon neutral since the year 2007. Its Icelandic datacenter has no carbon footprint due to its geothermal cooling system.
A2 Hosting Reviews of Performance
Well, as A2 Hosting promises that they give 99.9% uptime guarantee. But, there are various instances that affect performance, Such as power outages and other problems which is beyond their control. Although A2 hosting mentioned that they are not responsible for such instances like "Distributed Denial of Services" and issues with browser caching and ISPs. These issues are just oftentimes caused by a lack of maintenance and upgrades.
Well, whenever any issue or shortcoming arises, Then A2 Hosting professional staff runs the routine maintenance and installation of upgrades. After performing such tasks, If still, the issues are present. Thereafter A2 Hosting will then take full responsibility and will try to make things work again, professionally responding to the promised guarantee.
A2 Hosting Uptime
Another point search engines monitor closely is how much time your website was offline? If you don't have a decent uptime like 99.95% or higher, then your organic rankings could suffer. Because such projects like online stores are highly dependent on their site. Thus they need to bring it online all the time.
Although it can be deeply harmed by a server that has constant periods of downtime. Certainly, uptime is not A2 Hosting's wow factor. But this provider still covers all of the necessary bases to provide standard service. Basically, A2 Hosting's uptime will never leave your site behind.
Well, A2 Hosting claims 99.90% uptime. That translates to just under nine hours of downtime per year. However, the provider actually performed even better, with an average uptime of 99.95%. Although both of these statics show that 100% uptime is impossible to achieve by any hosting provider.
Besides that, the most competitive up times are between 99.97 to 99.99% range. Therefore A2 Hosting is middle in this scenario. If uptime is your top priority, it's worth learning more about HostGator. That offers 99.99% uptime. The fastest page loading times in the world may not make up for a site that is constantly offline.
Load Speed of A2 Hosting
Slow websites are not good because your site's speed is very important for having better user engagement. Also, many studies have correlated that slow sites have lower conversion rates. On top of that, Google and other search engines dislike slow sites.
For over a month, I closely monitored A2 Hosting's speed (and that of other competitors) using tools like Pingdom, GTmetrix, Webpagetest.org, and Google's PageSpeed Insights. Well, it is a fact that the speed of A2 Hosting is very impressive. Therefore it is one of the top providers with outstanding performance.
Because of that load speed is another factor to consider when choosing a hosting provider. It's a major reason too because just over half of visitors will leave a page that takes longer than three seconds to load.
However, to ensure great load speed, A2 Hosting provides easy Cloudflare setup from your cPanel control panel. A2 Hosting recommends Cloudflare, which is the Content Delivery Network (CDN). Also, you can choose between its "Free" and "Premium" tiers according to your needs.
A2Hosting Reviews of Services And Products
Like many other popular hosting providers, A2 Hosting has a lot to offer. Here we will tell you what products you can get from A2 Hosting and when to use them? However, A2 Hosting offers you the six different types of web hosting such as – Shared, WordPress, VPS, Cloud, Dedicated, and Reseller.
It can be overwhelming trying to decide which type is best for your site, so we have outlined the basics of each type. Besides hosting plans, at A2 Hosting you can get domain names too, and their prices are fair. Among other extensions, you can purchase .com, .info, .net and .org domains. Country specific TLDs like .co, .uk, .de, .fr, .es or .au are not available.
Click here to see the A2 Hosting Plans and Products
Shared Hosting
Well, If you desire to launch a site, but do not want to spend a lot of money. Then shared hosting will be best for your website. Because the shared hosting puts your website on the server with many other sites too. Therefore you share the server resources with others, thus it lowers your overall hosting fee.
Although it's a pure form of cheap web hosting. But it's not as powerful as other hosting plans. Therefore the main drawback of this hosting is other sites that share your server can slow down your site. Even it takes down your site when they get a huge traffic load or crash badly.
Besides that, Shared Hosting is known as the most common hosting. Thus the majority of people prefer to purchase it. Therefore Its most demanding web hosting used for the majority of entry-level sites. All A2 hosting plans have the same features like the shared hosting plans as well as some extras.
However, the main benefit of shared hosting is that you will get the privacy that usually given only to dedicated servers. But you have to pay only low shared hosting prices. Additional features include 24/7 network monitoring.
WordPress Hosting
WordPress hosting is similar to WordPress websites and blogs. Thus if you already have a site with WordPress or want to create one? this is your best option. WordPress is a name synonymous with web hosting. Also, it is a service that powers nearly 30 percent of the web. Because WordPress is easy to use with its rich WordPress theme.
Also, the WordPress plug-in ecosystem to let you utilize the content management system (CMS) as you want. They also offer managed WordPress hosting plans. These are shared hosting packages that are optimized for WordPress, come with some additional WordPress features such as staging, and their support agents are WordPress experts.
A2 Hosting WordPress provides you unlimited storage and monthly data transfers at each tier. However, it helps A2 Hosting to beat previous winner TMDHosting. That experienced serious uptime issues in the most recent tests. A2 Hosting is our top pick for WordPress hosting. If you're new to WordPress, take a few minutes to get up to speed with our piece on how to get started with WordPress hosting.
Therefore If you like to go with WordPress, then A2 covered you very well. Although Its three Linux-based WordPress hosting plans are similar to the shared web hosting plans. However, A2 Hosting can also offer more expensive managed plans. That gives your installation the white glove treatment.
In fact, even the pricing is the same. The advantage of using A2's WordPress hosting plan is that the optimized environment enables faster page-loading than its normal shared hosting package (the company claims that it's 6X faster than traditional hosting).
VPS Hosting
VPS hosting is great for small business sites. It goes beyond the basics of shared hosting but is not as expensive as dedicated plans. As compared to A2H shared hosting plans, A2 offers multiple Linux-based virtual private server (VPS) packages. Although the VPS hosting is more like shared hosting in that multiple sites exist on the same server.
So you are wondering now what's the difference? Well, the difference is VPS hosting offers more resources per site. Because there are very fewer sites on each server. Also, each one is isolated from its other server mates. VPS stands for Virtual Private Servers, that are usually used for medium to large-sized websites.
Therefore this hosting service is basically a "virtual machine" that can run a copy of its own operating system. A2 Hosting's Unmanaged VPS is a tier, that designed for experienced web site admins. Who have their own IT staff, also has at least, 2TB of monthly data transfers, 512MB of RAM, and 20GB of storage.
In addition, if you choose the Elite tier, then the RAM and storage increase to 1GB and 50GB respectively in total. Certainly, you are not bound into those spaces. However, A2 Hosting lets you spec out its Unmanaged offerings with up to 9TB of monthly data transfers, 250GB of storage, and 32GB of RAM.
Managed VPS offers a base Power+ plan that boasts 4GB of RAM, 75GB of storage, 2TB of monthly data transfers. A2 hosting's top-tier Pinnacle+ plan has 8GB of storage, 150GB of storage, and 4TB of monthly data transfers. The plans come with the HostGuard Management service, so you don't have to get your hands dirty with under-the-hood happenings.
Additionally, the Core VPS has the same specs as Managed VPS, but it grants root access for complete website control. These managed plans, lets A2 Hosting to handle the server care. Also, it doesn't allow you to increase the storage, RAM, or monthly data transfer.
Cloud Hosting
Cloud hosting is great for scalability and flexibility. Because the website is stored on multiple servers. That means you can get resources from a variety of different places. This makes it perfect if your site experiences hikes in dips in things like traffic. Cloud hosting is becoming increasingly common.
It is different from old traditional hosting in that it spreads resources across multiple servers, whereas traditional hosting pulls power from a single server. A2 Hosting like many other web hosts offers multiple tiers of cloud hosting. But unfortunately, they are limited to just the Linux operating system.
You can imagine cloud hosting as a network of interconnected servers. So your website will not be hosted on one server. But several at the same time. They are a great solution for those expecting traffic peaks as you can assign more resources as you need them. They start for 20 GB of storage and 512 MB of RAM – storage and resources can be increased.
A2 Hosting's Entry plan comes with 512MB RAM, 20GB of storage, and 2TB of monthly data transfers. The company's Mid plan increase the RAM and storage to 1GB of RAM and 30GB, respectively. The Elite plan increases the storage to 50GB. A2 Hosting's packages are good, but DreamHost is the co-Editors' Choice for cloud hosting services.
DreamHost's Linux-or-Windows-based packages provide 512MB of RAM, 100GB of storage, and unlimited monthly data transfers. Also, with 8GB of RAM, 100GB of storage, and unlimited monthly data transfers allowed. If you want enterprise-class cloud hosting for your website, then 1&1 Ionos can cover you. The co-Editors' Choice has all the specs and prorated plans that any big businesses want.
Dedicated Hosting
Well, Dedicated hosting servers are the most powerful web hosting among others offering hosting. Because your website shares zero server resources with other websites. Also, If you desire huge website traffic. Therefore you should go for A2H dedicated hosting plans.
But if your website is likely to get hundreds or thousands of visitors every month. Therefore you certainly need a dedicated hosting package for your site. On the other hand, a whole server to exclusively host your project. Thus these are not cheap, at A2 Hosting they start with a good monthly amount plan.
A2 has many Linux-powered dedicated server packages. However, the managed, unmanaged, and Core Flex servers have at least two CPU cores, 8GB of RAM, and 10TB of monthly data transfers, and two 500GB hard drives. Although they mainly differ in their abilities which lets you obtain root access and use the HostGuard Management system.
Certainly, Dedicated Hosting is the most expensive web hosting. But also it is the most powerful and scalable type of web hosting. However, the A2 Hosting's dedicated plans averaged 99.94% uptime in research. However, there are various attractive web host offerings. But the AccuWeb is feature-packed Editors Choice for dedicated web hosting.
The AccuWeb provides you a choice of customizable or prefab dedicated servers of Linux or Windows. They start with 8GB of RAM, 1TB of storage, and 20TB of monthly data transfers. If you want more dedicated power, then there is also some other plan that comes with 16GB of RAM, 250GB SSD, and 20TB of monthly data transfers.
Reseller Hosting
The Reseller hosting means that you can get hard drive space and bandwidth from A2 Hosting on rent. But unlike every other hosting plan, it does not stop there. In addition, you can also rent that space to any third party such as a small business. This means you act like you are the hosting provider.
A2 Reseller hosting is only necessary for aspiring web hosting companies or developers. If you are looking to get into the web hosting business. But you do not want to deal with infrastructure matters of A2's reseller hosting packages. The A2 Hostings Reseller Hosting plans starting with unlimited email, up to 200GB of storage, and 2000GB of monthly data transfers.
A2 Reseller hosting offers a good mix of Linux-based servers, in the shared, dedicated, and VPS categories. In addition, A2 lets you apply your own branding to the servers you rent, and it provides24/7 tech support. If you have some clients of your own, who require hosting. Then you can opt-in for the reseller program.
Where you will be able to sell hosting plans too without A2 Hosting branding to your clients. These plans start with the best monthly amount. Well, it is said that A2 hosting's reseller packages are robust web hosting. The Editors' Choice winner has a variety of excellent packages. These plans are sure to suit anyone, who thinking about getting into the reseller business.
Conclusion
Well, here at the end of this article we hope that you got your answers for most concern queries and cravings. Also, all the information provided above will help you to decide whether you should go with A2 Hosting's plans and package, or you like to prefer another hosting.