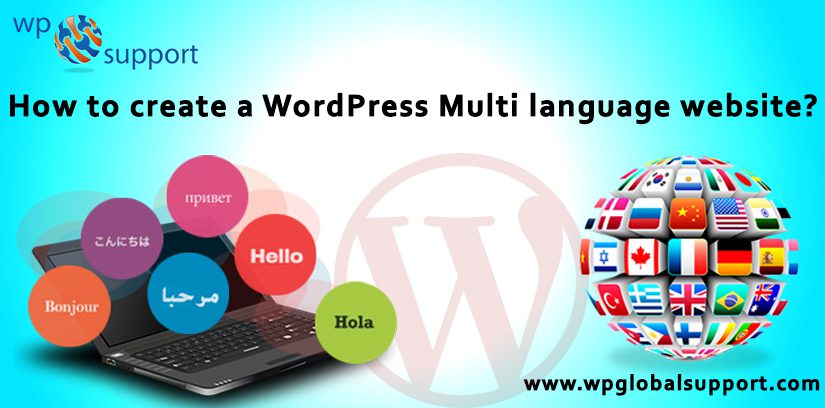 WordPress is not multilingual by default. It was designed to support only one language at a time. Do you wish to translate your WordPress website in many languages? If yes, then where to start from? Here, we are going to show you how to create a WordPress multi language website?
No, you don't require to set up a multi-site or have separate WordPress installed for each language. You will be able to translate your WordPress posts, tags, categories, pages, and theme into as many languages ​​as you like.
Here, take a look at both common approaches adopted by WordPress multi language site owners:
The first approach permits you to translate all the content manually into your preferred language.

And the second method really does not make a multilingual site, but instead, it adds machine translation of your existing content using Google Translation Services.
It goes without saying that, translating your content manually is a better approach. It allows you to maintain the quality on your website. Also, you can translate the content yourself or you have to hire professionals to do this.
It will add users a multi-language switcher to select a language, and the content will be translated by using Google Translate. The negative things of this approach is that the quality of the translation will not be as good.
Read Also: 3 Best Ways to Translate a WordPress Plugin into Your Language
Let's see to create a WordPress multi language website
Creating a Multilingual WordPress Site (Human Translation)
First thing, you have to install the Polylang plugin and activate it.
On activation, you need to see settings>>Languages ​​to configure the plugin.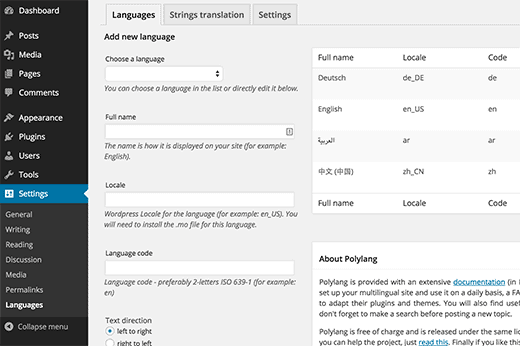 Thus, the language settings page is divided in three tabs:
The first tab is the labeled 'Languages'. This is that place where you add the languages and want to use on your site. You will have to add the default language, as well as choose all other languages, which users can choose on your site.
After that, switch to the 'String Translations' tab (the second tab). Now, you have to translate the site title, description, and after that choose the date and time format.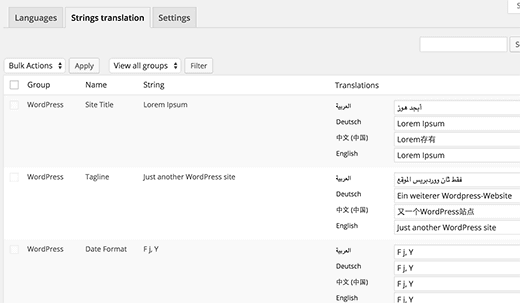 The last step in the configuration is Settings tab (The third tab). This is that place where you can choose a default language for your website and other technical settings.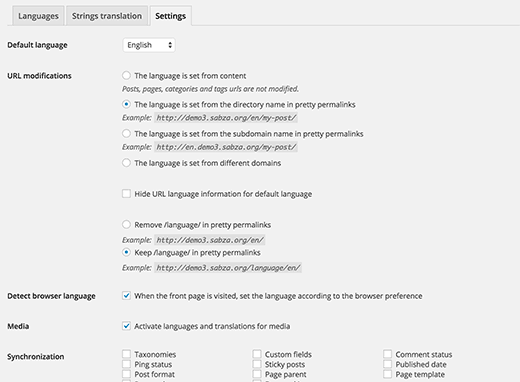 For most beginners, we do not recommend to changing the URL. So choose the first option. Why? Because if you ever turn off this plugin, all those links will be broken.
For those who want to take full advantage of multi language SEO. We suggest that as per the screenshots shown above, you choose the second option for the beautiful Permalink.
You should choose the option to locate the preferred language of the browser and automatically show them content in their preferred language.
By doing this, user will be able to see the content in their preferred language and can change the language if necessary. After that, click the save changes button to store your settings.
Adding Multilingual Content in WordPress
However, Polylang makes it easy to add content in different languages.
Create a new post/page or edit existing one. You will see the languages ​​meta box on the post edit screen.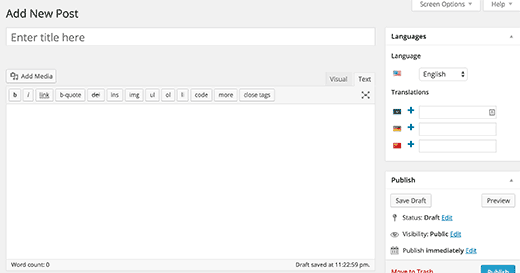 Your default language will be automatically chosen, so that you can add content to your default language first, and then translate it to others.
To translate, you have to click the + button next to a language and then add content for that language.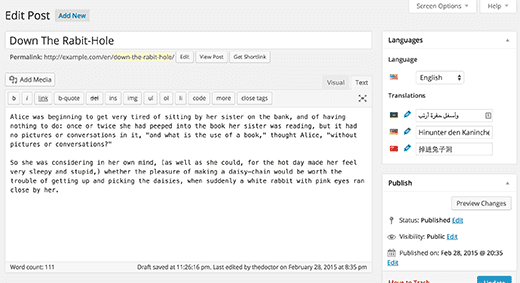 Repeat the same process for all languages. Once you have done, you can publish your post and page.
It is important to keep in mind that, Polylang works with custom post types. So it can definitely help you to make your WooCommerce store multilingual.
Translating Categories, Tags, and Custom Taxonomies
You can translate categories and tags, too or any custom taxonomies you can be using.
If you want to translate the categories, go to Post>>Categories.

After that, add a category to your default language and then click on the plus icon for each language to start adding translations.
Displaying Multi Language Switcher on Your WordPress Website
However, adding a language switcher permits the users to choose a language at the time of viewing your website. Polylang makes it super simple.
Just go to the Appearance>>widget and add the language switcher widget to your sidebar or any other widget-ready area.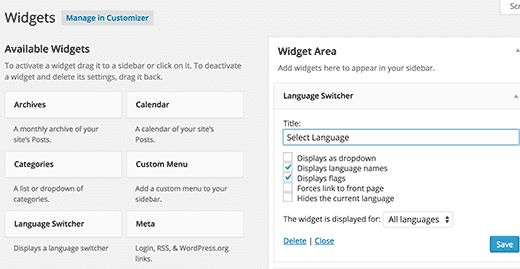 Also, you can choose drop down or use the name of the language with the flag. Once you've done your job, click the Save button to store your widget settings.
Thus, here you can preview your site to see the language switcher is in action.

Use Google Translate to create a multilingual website in WordPress
When adding human translations, certainly creates a better user experience, you may not have the resources or time to do this. In this case, you can try to use Google Translate to automatically translate content on your site.
All you have to do is install and activate the Google Language Translator plugin.
On activation, go to Settings>>Google Language Translator to configure the plugin.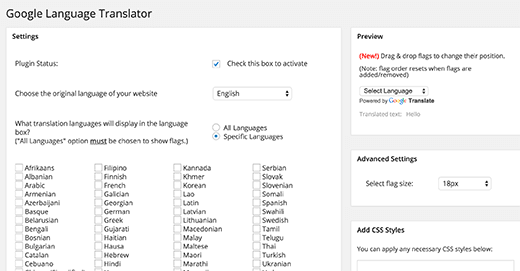 This plugin permits you to choose the languages ​​available with Google Translate. You can also remove Google's branding from translations. This is a very customizable plugin, so you have to go through the settings and configure it according to your choice.
Final Thought
We hope this blog helped you to create a WordPress Multi Language Website?
Often, we concluded step by step. Read Carefully and create a WordPress multi language site.
If you have any suggestion related to this, tell us in the comment section below!
We hope this article helped you. For any help regarding WordPress Multi Language Websites dial our Toll-Free number + 1 844 275 0975.
Read More Blogs: