Easy method to Improve WordPress Email Deliverability with SendGrid
Last Updated:

Sep 15th, 2018

Posted by:

Editor

Category:

WordPress Knowledge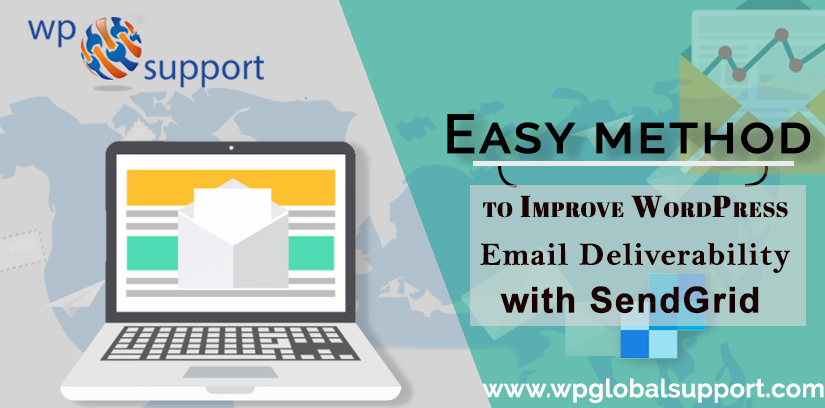 Are you wish to improve WordPress Email Deliverability with SendGrid? Often the web hosting provider has not properly configured the mail settings, which prevents WordPress from sending emails.
The SendGrid plugin is free to use and routes all of your WordPress emails by using SendGrid and offering better email deliverability.
Here, In this post, we want to show you how to improve WordPress email deliverability with SendGrid.
Problem with Emails in WordPress
By default, WordPress uses the PHP mail function to send the email. A lot of WordPress hosting providers do not properly configure this function. Some people also block it to ensure that their servers are not used to send spam.
Thus, this becomes problematic for the website owners because their WordPress website fails to send some or all emails.
However, WordPress email is important for resetting passwords, sending notification emails, running an online store, receiving contact form notifications and more.
In case WordPress cannot send the email, you can get locked out of your website or lose customers due to important notifications.
Let's see how to improve WordPress Email Deliverability with SendGrid.
What is SendGrid?
It is an email service provider. And they provide highly customized email servers which you can use to send your emails.
Also, they provide both transactional email service (one to one emails such as Order receipts, WordPress notice, password reset, etc.) and email marketing services.
Like as all good email service providers, SendGrid spends important resources to improve deliverability.
However, this ensures that your WordPress emails land in your users' inboxes, instead of being marked as spam. This is the reason that Uber, Spotify, Airbnb, Yelp, and thousands of other companies use SendGrid.
Read Also: 10 Ways To Improve Your Page Render Time With WordPress Website
Sending WordPress Emails Using SendGrid
To set up SendGrid on your WordPress site, first, you must to go to SendGrid website and then sign up for an account.
However, SendGrid is a premium service. But also they provide a free plan that allows you to send 12,000 emails each month. That's a lot for the smallest to medium-sized sites.
As your website grows, you can upgrade your premium plan, it starts from $9.90/ month for up to 40,000 emails. However, you can scale your pricing based on how many emails you need to send each month. But in our experience, the free plan is adequate for most folks.
Now, you have to install the SendGrid WordPress plugin and then activate it. For more detail, read our guide how to install a plugin in WordPress.
After activation, go to Settings>>SendGrid to configure the plugin.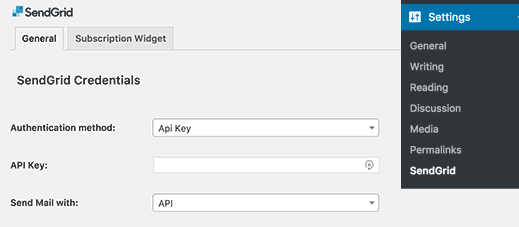 The plugin permits you to connect your WordPress website to SendGrid. You can do this by adding an API key or using your SendGrid username or password.
We recommend using the API key method because it is more secure, we will only cover the API method in this guide.
Start by going to your SendGrid Account dashboard and then click the Settings>>API Keys.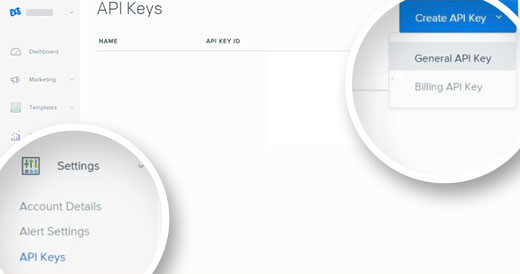 After this, you have to choose how to send mail. You can send it by using SendGrid API or with SMTP.
Also, the SMTP method requires swift mailer support. You can add it by installing and activating Swift Mailer plugin on your website.
But you do not need it. We recommend using the API method because it is more secure and easier to set up.
Go back to Settings>>SendGrid Page in your WordPress Dashboard. Under the Mail Settings heading, you must provide the sender name, email address and the reply-to address.

The name can be the name of your site name, and the sending address can be your professional email address.
In other alternative settings, you can select to use email templates from the SendGrid site and add their Template ID in the plugin settings.
Also, you can create and use categories for emails you send by WordPress.
Remember that do not forget to click the Save Changes button to save your settings.
That's all!
Now, SendGrid will replace the default WordPress mail function with SendGrid API, offering more reliable email service.
You can test it by taking any action that generates an email notification from WordPress.
For example, you can reset your password, add a new user, or fill out your contact form.
CONCLUSION
Here, We have discussed a simple method to Improve WordPress Email Deliverability with SendGrid.
Often, we concluded its definition, problem. Read the above steps carefully and improve your WordPress email deliverability.
We hope this post helped you to improve WordPress email deliverability with SendGrid. If you have any problem to improving it, tell us in the comment section below.
If you liked this post, please share it with your peers.
Get more information related to a wordpress contact wordpress support phone number, + 1 888 614 0555(Toll-Free). Our Experts will guide you instantly.
Read More Blogs: