How to Add Snapchat Snapcode in WordPress: Complete Guide
Last Updated:

Sep 15th, 2018

Posted by:

Editor

Category:

WordPress Knowledge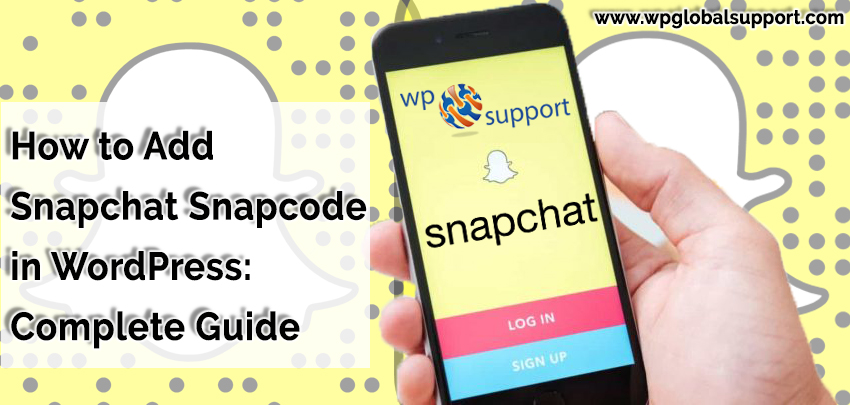 Dealing with the Snapchat; seems to be interesting – as we all know that, you can increase your snapchat followers by adding it to your WordPress website. Furthermore, it also provides a snapcode (QR code) that are used by various Snapchat users to follow you.
Hence, we brought the two best ways to add snapchat snapcode in WordPress site.
Thus, this is what we are elaborating here! Keep reading…
What is Snapchat Snapcode
Like Facebook & Twitter – Snapchat is also a social network platform that is mostly used in today's era by young people.
In addition, it's growth running too slow, but with approx 165 millions of users, it is the best photo sharing app. But, it automatically deletes your's posts after 24 hours.
Bending towards the Snapcode! Snapcodes are the QR codes within Snapchat! Continuously, it is a unique code image that is scanned through a camera in an easy way to do something more tricky.
Meanwhile to say! It is a pretty cool feature of snapchat.
How To Scan a Snapcode
As off, we have discussed above Snapcodes are the QR codes that allow you to open Snapchat and point their camera on the code. Thereafter, hold down and tap the screen, it will directly connect to web start snapchat account.
Consequently, you can use it to add somebody to your Snapchat friends list. With the help of this, both you & your friend can link to your Bitmoji accounts.
Once you connected, then tap on their snapcode with snapchat camera to see your friendmoji in action.
How To Make a Snapcode
Well, if you wish to create your own snapcode, you just need to swipe down while you are in camera mode. Now, you have to tap on it, here you will see additional options like sharing snapcode, saving snapcode as well as create Bitmoji.
Further, you can create a new Bitmoji to connect your audience to your site.
To create a new snapcode – From the camera mode, you have to swipe down and open the setting. Now tap on the snapcode and create it easily. Thereafter, type the url that you want to link and press create button. From here you can add, share, and save the images.
Adding Snapchat Snapcode in WordPress
The very first thing, you have to go to Snapchat Snapcodes site. After that, you have to login by using username and password. If you don't have snapchat account, then you will need to sign up.
After login, click the download button to download your Snapcodes.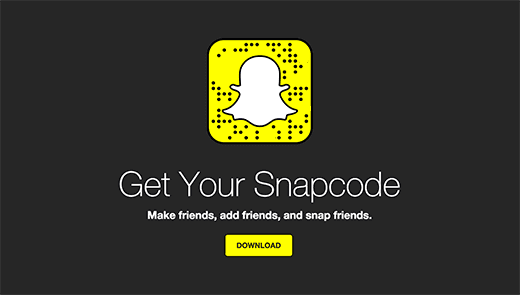 Continuously, the Snapchat will download a zip file. You have to remove that zip file. Now you will get two image files snapcode.png and snapcode.svg.
These image files are QR codes that users can scan by their snapchat camera. Now we have received the snapcode, the next step is to upload it to WordPress website.
Now, we will elaborate you the two ways to add snapcode to your WordPress site.
Method 1: Upload and Add Snapcode to WordPress Manually
We also have discussed earlier, the Snapcode is an image file. Hence, adding it to your website is like as add another image file.
You can just upload it by going to Media »Add New page. Thereafter add the image to a sidebar widget. However, you can do this easily by using the Image Widget plugin.
Now, you can add this entire snapcode to your posts or pages.
Method 2: By Using Snapchat Snapcode Widget Plugin
If you wish to add snapchat snapcode to your site by using a plugin, then you need to install & activate the Snapchat Snapcode Widget plugin.
After activation, you have to navigate to Appearance>>Widget Page and find the snapchat snapcode widget under the list of available widgets.
Thereafter, you have to drag it into a widget-ready area or sidebar.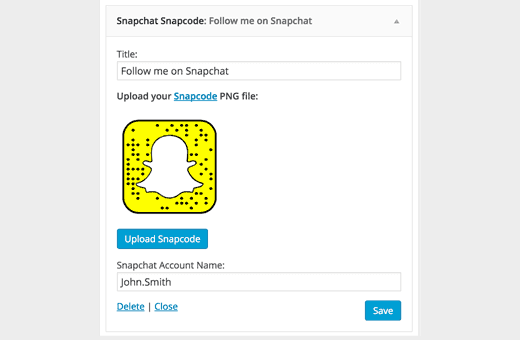 Now, you will see the widget in the sidebar column and you should be able to see its settings. Here, you just need to click on the upload snapcode button to upload your snapcode.png file. Also, you can offer your snapchat username as per your choice. Thereafter, click the Save button to store your widget settings.
That's all!
Now you can view your site, and also you will see snapcode in your WordPress sidebar.
CONCLUSION
Here, we have elaborated the two ways for the same; which are as follows:-
Method 1: Manually Upload and Add Snapcode to WordPress
Method 2: By using Snapchat Snapcode Widget
These points do add value to the entire blog post. And often, leads to the end of the blog.
We hope this content helped you. Whereas, if you found the post useful and interesting then don't forget to use the comment section. Also, share the blog with your near and dear. You are on your way to get more exposure.
In case of any related problem contact to our WordPress tech Support team now to get instant help. Dial +1 888 614 0555(Toll-Free).
Recommended Blogs: