WordPress vs. Medium – Pros and Cons ( Which one is better?)
Last Updated:

Sep 17th, 2018

Posted by:

admin

Category:

WordPress Opinion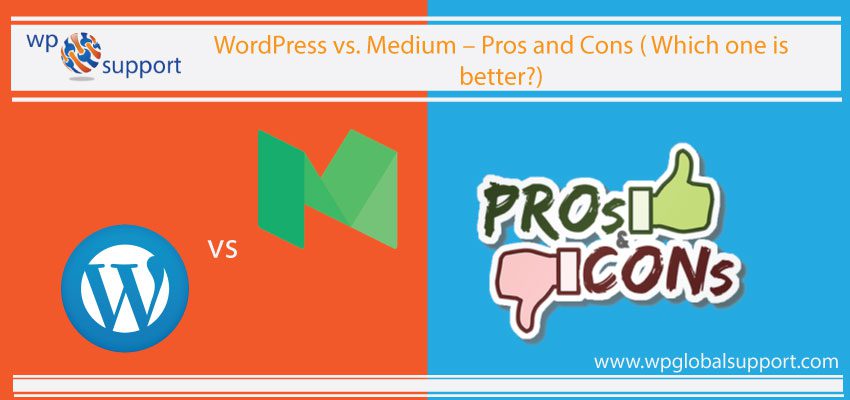 Do you want to know which one is Better WordPress vs. Medium? So users don't worry we will show you the comparison between both of them. Most of the bloggers will have the question about the 'Medium' platform. Medium is also a blogging platform like WordPress. Let's compare WordPress vs Medium to know entire details.
Also Read our article: Comparison between WordPress and Blogger: Which one is better for you?
WordPress
WordPress started in 2003 and it is an automatic product with more than 74 million users. Around the 27% of the total websites over the globe based on the WordPress platform. WordPress is a content management system. It allows no limits to its users that means you won't have any control and CSS and coding. It has free self-hosted premium plans.
Medium
It is heard that the medium will rule WordPress in few years because medium offers every features which we can see in WordPress. 'Medium' has excellent growth from the past 2 years.
Medium was found in 2012 by Twitter ex CEO. It is a blogging platform with social networking support. It had 30 million monthly visitors in 2016.
Take a look at the comparison between WordPress vs medium
1. Ownership of Your Content
Medium is a free online community where any people can share their stories. It is simple to use and has built-in social networking features.
You do not own Medium. It is owned by 'A Medium Corporation', and they can decide to close, announce new pricing plans, or cancel your account at anytime.
WordPress allows you to own your own content. As you host your own website, you have full control over your data and who you share it with.
2. Growing into Your Own Brand
Using Medium, you are publicizing their brand with your own stories. You don't get paid for that. If you are not a popular author, most of the possibility are that Medium users would remember reading a story on Medium without  reminding your name.
Medium is also a network which means content from other authors gets visible as next stories below your own story. Taking your users far away to read articles by other authors.
On WordPress, you have full authority on how you want to publicize your brand. As your site grows in recognition, you alone decide how to take advantage on your content and brand recognition. Your content and ideas are acknowledged by your name alone. As you have full control of your WordPress site, you can do a lot more to enhance the time users spend on your site.
3. Design Possibilities
Medium grants you to select a layout for your publication. You can add your own logo or image to the header. For layout you can select grid or stream based layout. This drag and drop editor is very simple to use and offers multiple customization options.
But, still your publications appearance is limited to the choices available in Medium. You cannot select your own design and layout for your website.
There are thousands of free and paid WordPress themes available. These themes are designed by professionals with creative designs and unlimited customization options. WordPress gives you the flexibility to create a site that looks differently yours. If you can spend a little more, then you can hire designers and developers to build any kind of website possible.
4. Freedom to Move
Medium allows you to move your data in HTML format. This makes it hard to export your data into other platforms like WordPress. Responses and likes on your articles cannot be exported.
Setting up redirects from Medium to WordPress is almost impossible. If you are using a custom domain on Medium, you will have to manually setup a redirect for each story.
WordPress gives you freedom to move all your content as it is an open source platform. You can import or export your data from WordPress by using importer plugins. You can also import/export users. WordPress also comes with amazing backup plugins that allow you to restore and move wordpress site to new host  or even a new domain name.
5. Support Options
Medium comes with large documentation and a ticket based support system. Now, support is free for all users. Answers are contributed by Medium staff and their response time depends on the number of support requests they have in pending.
WordPress is a community driven project. It influences more than 26% of  all websites on the internet. Free community support is available through WordPress.org website. You will find WordPress support on endless third-party platforms like Stack Exchange, YouTube, SitePoint, etc.
6. Security
Medium is a fully hosted platform, which means you don't need to worry about the software. Your content is served by highly secure Medium servers. Your private information is kept secure using the industry standard security measures.
WordPress is a self-hosted platform. This means that you are answerable for safety and security of your website. WordPress is well-known for its quick response to security issues with actual updates that are automatically installed on millions of WordPress sites.
Read Also: WordPress Security – Best Plugin to use
7. Publishing
When you are posting using 'Medium' that defines you are sharing your stories and promoting the 'medium' platform. Until you are a popular writer your visitors will forget your name.
On WordPress, you have the full control over your website and you can publish your own website. You can decide to make your website growth and after your website starts growing you can merge the content.
8. The Writing Experience
The writing experience on Medium is miles above what WordPress offers. There actually are no complications; it's just you and your content. What makes this even more influential is that you're actually editing content the way it will look when it's published.
WordPress does have a visual editor, but more often than not theme makers don't trouble to add the special CSS important for it to look like the final content. Even if they do, it'll most likely differ since the editor isn't in the same environment as the rest of the website.
CONCLUSION
 benefit from WordPress:
It's a powerhouse.
Plugins
Themes
Community of developers
eCommerce or shops
It is Free
advantages with using Medium:
It is Easy as blueberry pie
Free and Social sharing
We hope that this article helped you in knowing which one is Better, WordPress vs. Medium.
Talk to our WordPress Technical Support Team to get help related to WordPress, dial + 1 888 614 0555(Toll-Free).
Read More: