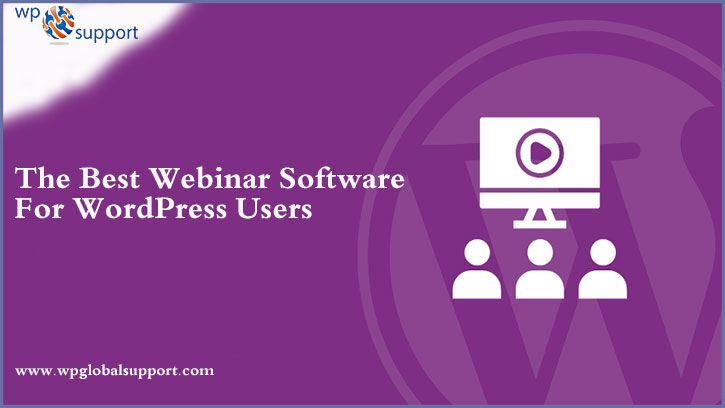 Webinars offer an interactive way to reach users, share their experience, and grow their business. It is an effective way to communicate with the mass and to know and exchange different ideas. For this, you need dedicated webinar software. To use it to good effect, there is various WordPress Webinar software available in the market.
These Webinar softwares are used as WordPress plugin. Where, WordPress plugin is basically a bit of code that "plugs in" to your self-hosted WordPress site.
Also, A plugin is defined as a type of software that contains a group of functions that can be added to a WordPress website. They are used to provide additional functionality to your application.
Here, in this post, we are going to share with you the 7 best Webinar Software for WordPress Users.
What is Webinar Software and When you need it?
The webinar word comes from seminars, a meeting to exchange views, learning, collaborate and meet. Only the difference is that webinars are on the web, and all participants are involved in using their desktop or mobile devices.
However, Webinars are popular on sites that provide online classes. The webinar software allows multiple users to join the video stream. Organizers and participants can all interact together, share content, chat, and conference.
7 Best Webinar Software for WordPress users
Best Webinar Softwares For WordPress
GoToWebinar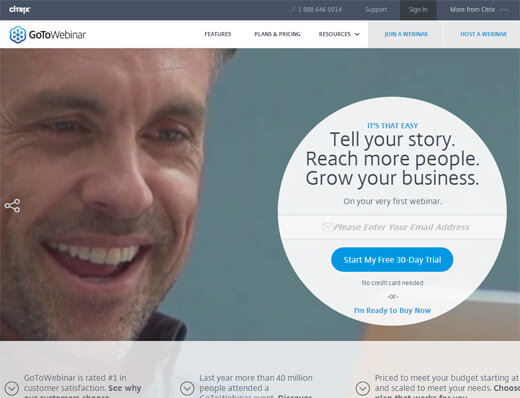 GoToWebinar brought to you by GoToMeeting is the most popular option for webinar software. They are known for their ease of use and their reliable platform. Also, it works beautifully on all devices and provides an equally great user experience.
They have the 'Pass the Control' feature that permits you to give your keyboard and mouse control to any participant in the meeting. Also, you can share desktop applications, presentations, screens, and files.
Furthermore, their training webinar solution permits easy registration and quick setup. Training webinar solutions also provide surveys and polls, course material sharing, and the ability to host small or large groups. Polls are an interactive way to connect with your audience, and collect information from them.
All the features that require a training provider from webinar software are packaged correctly.
GoToWebinar comes with various pricing plans for different usage scenarios. Their starter plan starts from $89 per month for 100 attendees, up to $299 per month for 1000 attendees.
Webinars OnAir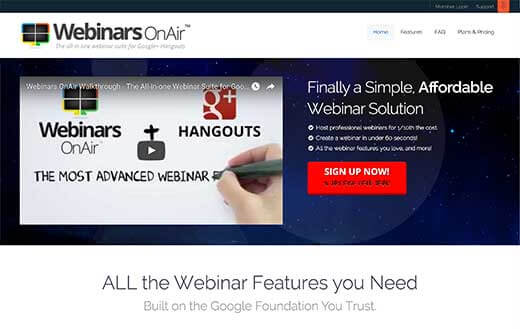 There is one disadvantage of using Google Hangouts is that you cannot charge users directly. Webinars OnAir is built around Google Hangouts and permits you to charge users to join the webinar.
Also, it always comes with all the features of Hangouts and so on. It has a built-in retaking pixel that allows you to track your audience on the web. You can display special offers to your attendees at the time of the webinar, generate leads and automatically save webinars to YouTube.
Webinars OnAir's pricing starts at $19.97 per month for a maximum of 25 participants. You can have a maximum of 5,000 participants and all the features for $99.97 per month.
WebinarJam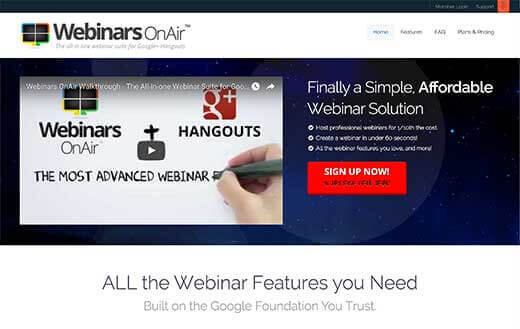 WebinarJam is another webinar software that uses Google Hangouts and adds marketing features to it. Also, it permits you to host a large webinar with all the powerful features of a professional webinar tool.
However, WebinarJam permits you to manage registrations, use screen, and file sharing, and all interact with the participants under the same software.
Moreover, it is designed for marketers and has custom landing pages that you can use for registration, email notifications, quizzes, polls, and live offers during the session.
It records all the webinar sessions automatically, you can decide if you want to publish them on YouTube or not. You can replay them again whenever you want.
The pricing starts from $497/year, which makes it one of the most cost-effective options.
StealthSeminar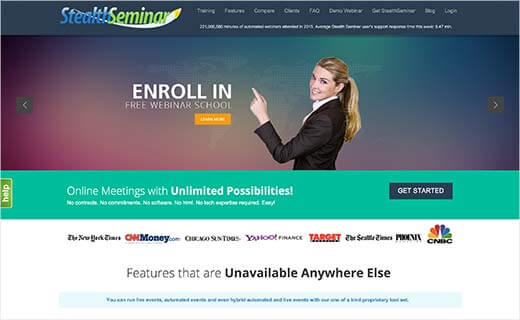 StealthSeminar is another easy-to-use webinar software. It not only provides live webinar software. It also connects with the recorded webinar or automated hybrid webinar. This software permits you to fully automate the process of running a webinar.
However, you get powerful control tools to control discussions and user flow. Also, StealthSeminar integrates easily with email service providers like AWeber, MailChimp, etc.
There are many features for marketers, such as making unlimited calls to action that can be automatically fired at any time. Also, it provides split testing and detailed analysis, so that you can analyze performance and improve on that.
The registration fee for StealthSeminar is $97.00, then costs $69.95 per month for 150 users' plans.
Google Hangouts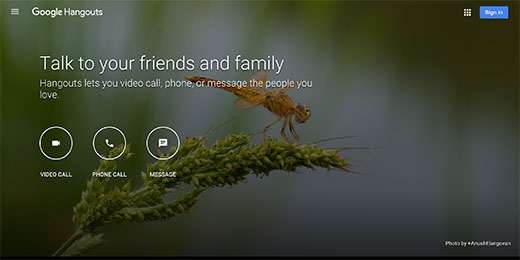 Google Hangouts is the easiest to use webinar software currently available. It's incredibly fast and free. Anyone with a Google Account can use it.
In addition to the usual voice and video calling, it allows multiple users to join the hangout. Users can share the files, share computer screens, chat, and more.
Hangouts On Air permits you to live broadcast webinar and share with specific people world. You can also record your hangouts and share them on YouTube.
The negativity is that it has not paid user registration or any marketing features that you will need to run professional webinars.
Cisco WebEx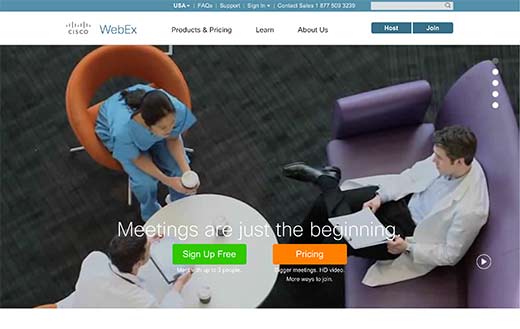 The Cisco WebEx software is the industry leader in conducting premium web conferencing and organizing professional webinars. Although, it has all the professional tools that you need to conduct professional meetings.
WebEx's training center permits you to create webinars targeted towards teaching and learning.
There are additional tools to get live polls, quizzes, track performances, conduct tests and surveys and so on. Also, users can share any app, screen, notes, and files.
The pricing starts from $24 per month for 8 users to $69/month for 100 users.
MyOwnConference
MyOwnConference is a robust and straightforward webinar and video conferencing software. It provides secure and reliable webinar sessions with 99.98% uptime. Besides, this is an easy-to-use solution for your online events. It permits you and your attendees to access the webinar from any device or browser without installing additional software.
MyOwnConference offers all necessary toolkits for holding webinars: video and audio mode, chat, screen sharing, whiteboard, recording, polls and surveys and much more. It also provided marketing features such as calls to action, follow-up emails, adding your logo, banner, and integration with Google Analytics for more detailed statistics and reports.
There is a free plan for 20 attendees with limits on the recording. The pricing starts at $36 per month for a maximum of 60 participants and includes all features. With MyOwnConference, you can hold significant events for a maximum of 10,000 participants for $6000 per month.
Zoom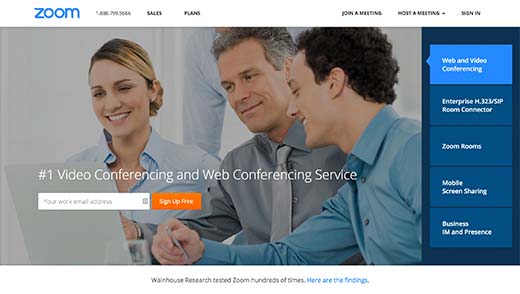 Zoom is another powerful competitor in the webinar software industry. This allows you to host highly interactive video conferences and meetings with HD quality audio and video.
It is one of the most interesting features of Zoom is the ability to share mobile screens from your phone or tablet. To show panelists and shared screens at the same time, you can also split the screen into two.
There is a free plan with limited features. Their basic plan starts at $14.99 per month. Also, they have an academic plan to learn the centers of all shapes and sizes.
Conclusion
Here, we have discussed the 7 best Webinar Software for WordPress Users. We hope this blog will help you to learn Webinar Software and its importance to mass communication.
However, if you have any issues related to this, then, let me know in the comments section. In fact, if you liked this post, please share it with your peers.
If you quickly want to Backup and Restore your WordPress Website then you can take help from our Experts and can ask your problem, dial +1-855-945-3219 (Toll-Free). They will fix all your issues instantly.

Thanks!
Recommended Blogs: