"Sidebar Below Content": How to fix this WordPress Error
Last Updated:

Sep 15th, 2018

Posted by:

admin

Category:

How to Fix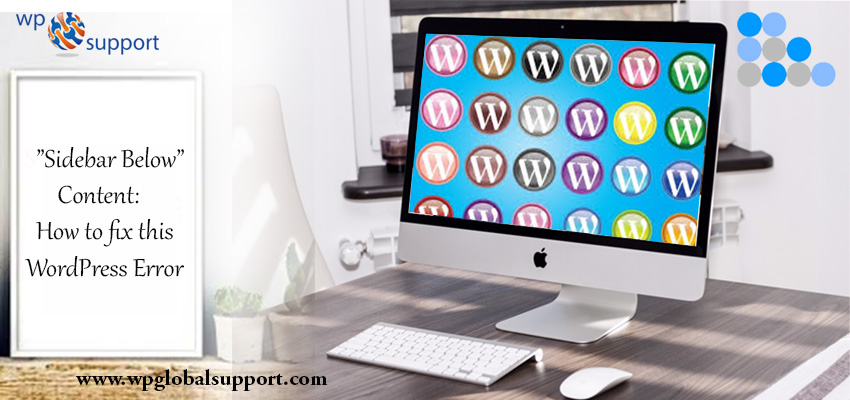 Do you want to get rid of Sidebar Below Content Error in WordPress? So, users don't panic. It is one of the major problems suffered by many people. In case your theme is facing the issue of sidebar below content issue then this article will surely help you to solve this.
You can also take help from our WordPress customer service team to get it fixed. Call Toll Free: +1 888 614 055 to start the conversation today.
What is Sidebar Below Content Error in WordPress?
The sidebar in WordPress is one of the effective theme features. It denotes a widget area for displaying information that is not a part of the main content of web page. If the sidebar drops down showing content below then this Sidebar Below Content Error will arise. It is an aspect when the sidebar from the left or right side of content area shifts below your content.
Read also: How to easily fix 500 internal server error in WordPress?
Main Reasons For Sidebar Below Content Error In WordPress:-
There can be multiple reasons for Sidebar Below Content Error to occur:
1. Your HTML code has an error:
The div tags might be open in one of your theme files.

There might be another <div> or </div> in the HTML code. Just find and delete it.
2. The CSS code has an error:
The height and width set for an element on the page might be excessive causing shifting of your layout. Just check the

style.css

file in your theme.
Float property used in a wrong way.
3. If you've changed your theme or the current theme does not support content or customization of the previous theme then this error can occur.
4. A plugin could be inhibited with the layout. More usage of plugins could cause it to clash with your WordPress theme and causing a sidebar error.
Fixing WordPress Sidebar Error
There are some places where you can check the error.
Firstly, take a quick look and observe which parts of your site are affected by this error. If:
In case only your pages are affected: you need to check out

page.php

or other page files you may have.

The error displays on all your blog posts: double check your

single.php

file

Only pages that a plugin automatically created are affected: there's an issue with that plugin or the theme you used that had the disturbing plugin wrapped with it

Any page is affected where you have added custom HTML or CSS: Just double check your customizations

You made changes to your theme: backup up your entire site, remove the changes, then

create a child theme

where you can include your customizations instead If you find you need to make customizations to a file

It's suggested that you keep track of your changes with comments. 

Once you know the exact file that's troubled, you can start to fix them. If your pages or blog posts are the showing the sidebar below content error, just edit them. It applies to any pages where you recently added custom HTML or CSS.
Open it using FTP, SSH or directly in cPanel by clicking the Edit button in the File Manager. Next, find the missing, closed or extra div tag, or fix your CSS. Save the file and if you downloaded the file first using FTP, upload the fixed copy and overwrite the old one.
If a plugin or theme is affected, contact its developer and outline the issue so that they can include a fix in their next update by providing you with an alternate solution.
If you used a plugin or theme to make HTML or CSS customizations, go back to where you added the changes, find where the error is, then save your changes once you have corrected them.
Tools to Make Troubleshooting Sidebar Issues More easier
There are free online tools you can use to automatically scan your code to check for any errors.
You can try any one of the tools to validate your code:
HTML:
W3C Markup Validation Service

Online Web Check

Validator.nu (X)HTML5 Validator (Living Validator)
CSS:
W3C CSS Validation Service
You can appropriate it with the steps defined above if the error caught automatically.
Need support & help
We hope that this article helped you how to fix the sidebar below content error in WordPress. Now you know how to troubleshoot and solve the clearly random sidebar below content error.
Still unable to resolve "WordPress Error: "Sidebar Below Content": Talk to our WordPress support team to get instant service. Dial +1 888 614 0555 .
Read some other blogs: