Simple Ways to Export & Import Your WordPress Theme from Dashboard
Last Updated:

Jan 13th, 2018

Posted by:

admin

Category:

WordPress Knowledge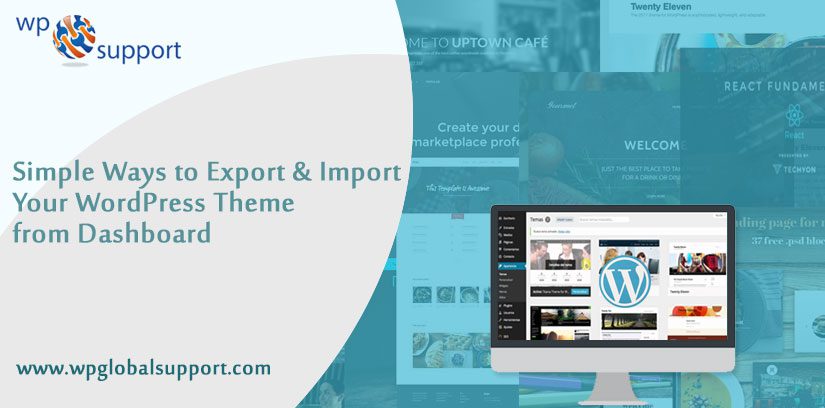 Are you looking to Export & Import Your WordPress Theme from Dashboard? Exporting your theme via WordPress dashboard is easier than accessing it through CPanel or FTP, generally for the average WordPress user. It is possible for anyone to download their theme without having to call a web designer or developer for help. In this article, we have shown how to export & Import Your WordPress Theme from Dashboard.
Why you need to export your WordPress Theme:-
Backup your theme

to your computer or Google Drive.

Download and use the same theme on multiple websites

.

Move your theme to any new domain with a WordPress installation. Just Take a look at how to install WordPress?

It will give you the opportunity to create a .zip file that allows you to

share your theme

with others.
How to Export Theme in WordPress?
To export WordPress themes from your dashboard you can use a plugin which is WP-clone-template. With this plugin, you'll be able to select the theme you wish to export from your WordPress dashboard and download a .zip file. That can then be uploaded and installed to any self-hosted WordPress website.
STEP 1: Install the Plugin
In your WordPress dashboard menu, go to "Plugins" → "Add New". If you've navigated to the "Add Plugins" page, use the search box on the right to type "wp-clone-template".
STEP 2: Export Your Theme
Next, Install and activate your plugin and navigate to

"Appearance" → "Export"

.

Choose the theme you want to export, simply hit the

"Export"

button.

Export your theme, you will see a download in progress in your browser.

Save it to the file location where you want to store it on your computer or online.  

Next, for importing your theme to another WordPress website, see "STEP 3" below.
STEP 3: Import Your Theme
While completing the download of your .zip file for your theme, you can then upload the file to another WordPress installation.
In WordPress dashboard, navigate to

"Appearance" → "Themes"

.

Then click the

"Add New"

button.

Click the

"Upload Theme"

button.  

After this Click on the

"Choose Now"

button to select the .zip file that you just exported from your other WordPress website.

Then click on the  

"Install Now"

to install the new theme.

Now, click the

"Activate"

link on the next page.
Read Also: How to Import / Export WordPress Theme Customizer Settings
Steps for Importing content from another blog are given as below:
Firstly open your WordPress

Dashboard.
Then select the Tools tab.
Next, click on the Import sub-tab.
Select a system to import your website.
Then install the WordPress Installer by clicking the WordPress link on the import page.
To install the plugin directly on your website appear box help you.
If the plugin has been activated in the displayed window you should upload your content.
Click the Submit button to import the content into your website.
We provide the instant support service to Install WordPress theme dial our Toll-Free number + 1 844 897 0441(Toll-Free).
Read More Useful Blogs: