10 common WordPress security mistakes many websites Make
Last Updated:

Sep 17th, 2018

Posted by:

admin

Category:

WordPress Support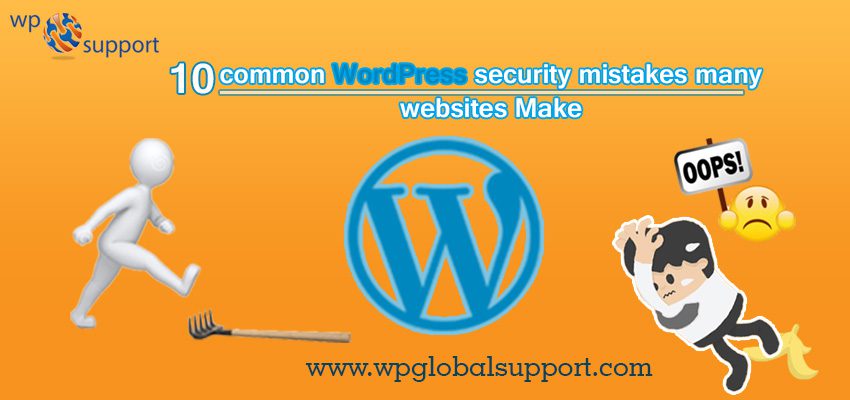 WordPress has become the most approved online content publishing platform and is obtaining popularity rapidly. So it has become the most useful target for hackers as the payoffs can be larger. There are many small and big mistakes that can be avoided. These mistakes if avoided will make it difficult for the hackers to enter our website and create problems for us. 
Here are some of the common WordPress security mistakes many websites make:-
Mistake no 1: Not Updating WordPress and its add-ons
WordPress community is very much alert to security issues, and it has its own team that issues updates regularly to fix security threats. But it's our duty to look out regularly for these updates and carry out these updates on our WordPress install and patch up any security holes. Main updates to the WordPress core takes place naturally and for minor updates you should pay attention to the notifications.
Mistake no 2: Not Purchasing Quality Themes and Plugins
Always keep in mind that themes and plugins which are poorly coded are threat to your website. They not only slow down your website but they can be unsuited with the WordPress version you're using, or with each other. They can also serve as an entry point for vicious software.
These issues can be easily overcome if you purchase themes and plugins only from quality sources. There are many best themes and plugins available for free in WordPress. If your choice is for a premium theme or plugin, look up Themeforest or CodeCanyon and other theme houses.

Select those Themes and Plugins which are better rated and enjoy a greater number of downloads.
Read up reviews of the themes and plugins and check out what other long term, genuine users are saying about them. Write to the authors to understand if that theme or plugin is right for you before making a purchase.
Mistake no 3: Not Updating Themes and Plugins
Just like WordPress you should update your Themes and Plugins on regular intervals for fixing bugs and security patches. It's important to test these updates and then install them to keep your WordPress website safe.
Note: One of the most common reasons people let their themes get out dated is because of custom code. This is why using child themes is necessary. If you are planning on making changes to your theme files remind to use a child theme so you can safely update your core theme in the future.
Read More: Top 8 WordPress Plugins for SEO 
Mistake no 4: Lack of Security on Login Page
Security of login page is very important. The login page is the area from where certified users enter the website. But there are chances that undesrable users can also smartly find their way into our websites from the login page and can even obtain admin level privileges. To prevent this, just enhance security on the login page.
You can change the username from the mostly used 'Admin' and impose strong passwords.

Limit the number of login attempts – this'll be especially useful in stopping brute force attacks.

Another protection method that's simple to adopt is two factor authentication.
Read Also: 7 important Tips to secure the Login Page in WordPress
Mistake no 5: Improper Use of User Roles
Always keep in mind that different users must have different advanatages on your website. It's not necessary that all of them should have same benefits on your website. WordPress has countless user roles – Administrator, Author, Editor, Contributor and Subscriber. When you add users to your site, be precise with the advantage you grant them at the backend. Allow only as much privilege as is necessary for them to accomplish their roles on the website.
You should note that granting unrestricted access to all users can make your website vulnerable to hackers. It's most important to give subscribers any access to the backend when all they need to do is read content. Editor level entry should be granted only to trusted users.
Mistake no 6: Not Deleting Unused Themes and Plugins
As time passes by we keep adding plugins and themes to our WordPress as and when the need arises. But once they are no longer required, we forget to delete them from our site. It's not enough to simply deactivate themes and plugins, always keep in mind to delete those that you do not intend to use. This simple step can reduce your risk of malware. These inactive plugins do not consume RAM, bandwidth or PHP, but do take up server space. This will not only slow down your site, they also can be used to run malicious code on your website.
Mistake no 7: Not Choosing a Secure Host
Hackers are not targeting your site, they may be targeting some other website that shares server space with you. You've just become a random victim. In this type of shared hosting scenario, one compromised website can bring down all the websites on a server.
Therefore, it's important to choose your web host with a great deal of care. It's always important to keep in mind that when it comes to hosting, you only get what you pay for. Always look for quality hosting as cheap hosting options almost always compromise on security and their servers are more prone to security attacks. Not only that, you'll often find support less than satisfactory when your website is under attack.
Putting down good money for quality hosting is really worth the investment. It'll save you a load of headache down the line, especially if you're business is linked heavily to your website.
Mistake no 8: Not Keeping Website Backups
Use a plugin for backup and take a secure backup of your site at regular intervals and keep them in a safe location. It's not enough to carry out a backup of just the database, a full backup of the website is necessary. Backing up website includes the themes, plugins, the wp-content folder as well as essential WordPress configuration files like wp-config.php, and .htaccess files. Use featured plugins like BackupBuddy or VaultPress and update them frequently.
Mistake no 9: Not installing a Security Plugin
One of the easiest ways to force the security on your website is to add a security plugin. These security plugins are designed to handle many security issues like enforcing strong passwords, setting up firewalls, protecting against brute force attacks and more. There are many free plugins like iThemes Security and many premium security plugins present. There are also many website security services like Sucuri that attempt to manage security on your WordPress website.
Mistake no 10: Not Checking for Malware
Malware can enter your website without you even being aware of it. It can remain invisible and do many things without your knowledge such as tracking your visitors, accessing sensitive information like credit card details or adding backlinks to other websites. When there's malware present in your website, Google begins to turn away search engines to prevent other websites from being infected. This can cause a drop in the traffic to your website.
There are many plugins and services available that can scan your website for malware. You have to visit the website of services like Sucuri SiteCheck Scanner and enter the URL of your website. A report will be generated that displays the malware detected as well as the guidance on how you should handle it.
If you need any help related to WordPress Security just contact to our WordPress Technical Support Team, Dial + 1 888 614 0555 (Toll-Free). Our doors are always open for you and we will help you to solve all your major issues related to WordPress.
Read More Useful Blogs: